The Colt M4 CQB Full Metal AEG airsoft rifle by Jing Gong (Golden Bow) has managed to impress sports enthusiasts and experts alike since it's first unveiling. This airsoft gun was intended to be a clone of the Classic Army M4 CQB-R but owing to its faultless construction and precise likeness to the original one the real firearm company "Colt" decided to put their marking on it and authorize it with full trademark. This has definitely added to the collector value of the M4 Full Metal AEG Gun.
The rifle comes with a fully upgraded and tuned up gearbox, RIS, hi-cap magazine, crane stock and everything else that you need to out-perform your rivals. This latest release is ideal for those looking for an affordable and up-gradable realistic M4 Carbine replica. An updated version of the venerable M16 service rifle, the M4A1 has been the default rifle for many factions of the United States Special Forces.
Purchase Now Or Read More Reviews On Amazon
[wpsm_specification]
Before moving further into the colt m4 cqb airsoft review, let's take a quick glace at the gun's features:
Officially Licensed COLT logos
Fully upgradeable internal
Hi-Cap full metal Magazine
Full Metal Charging handle
Stronger spring and reinforced internal parts
Adjustable hop-up system
Barrel assembly is full metal
Full Metal Sling mounts
14 mm counter-clockwise outer barrel
Full-metal body pins
Full-metal trigger
Full-metal adjustable rear sight
Retractable reinforced LE-Type stock
Overall Length : 840 mm
Muzzle Velocity : 390~460 FPS depending on BB type
Outer Barrel Thread Direction: -14 mm
Gearbox Type : Version 2; Fully upgrade-able, Tokyo Marui compatible gearbox
Firing Mode: Safety, semi-automatic, or fully-automatic
BB: High Grade BB's only
Hop-up Type : fully adjustable
Long type motor
Small NiMh Battery
Maximum effective range: 120 feet
Magazine : 300 rounds (450, 2500, 3000, 5000 round drum magazine available)
Inner Barrel Length : 363 mm to 370 mm
First Impressions
The overall feel definitely reminds of its predecessor's proven design—the Colt M4 Full Metal Airsoft Gun uses its heritage to the maximum, building further on a proven track record of being the toughest member of this fraternity. Even today, the Colt M4 is employed in several U.S. military units and is especially favored by the counter-terrorist and Special Forces units. The M4A1 is designed for fast action. The lightweight structure assists easy handling which is rather useful in airsoft tournaments.
Decoding the Colt M4 Design
The gun is a 1:1 scale replica of a real M4 and features authentic Colt trademarks on the receiver. A full metal M4 with metal body with detachable carrying handle, sling adapter and metal outer barrel system make it rank high on functionality, giving maximum value to the user. Since the carbine is fully upgradable it ensures that the AEG will never go out of service on you.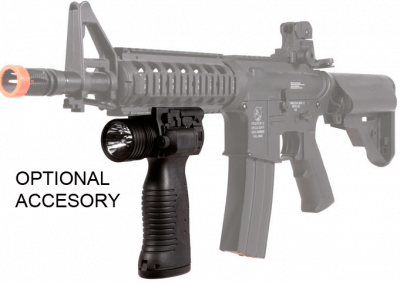 Colt M4 Full Metal AEG looks exactly like the Tokyo Marui M4A1 AEG with aftermarket metal body upgrades already installed. Its sighting system also features dual apertures. The major difference between the original Marui and this one is only the price and metal upgraded external parts.
With high power, reliable gearbox and retractable LE-Type Reinforced Stock it is the one of the top choices among airsoft players.
Overview of Shooting Performance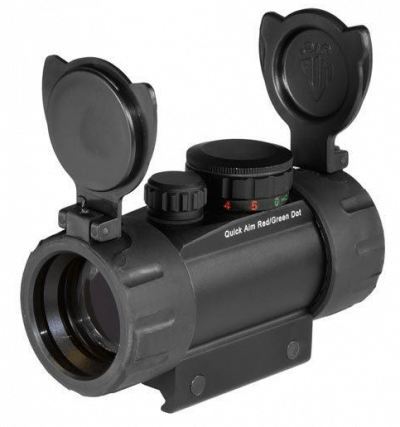 This versatile and robust rifle is capable of accomplishing every tactical role from close quarter battle to long range combat and everything in between. Colt M4 AEG Airsoft Gun's retractable butt stock having intermediate stops allows a high level of versatility without compromising on the shooting capabilities. Thanks to its 4-position adjustable stock, the rifle proves it self to be great for airsoft skirmish scenarios. An adjustable hop-up unit will enable you to hone the accuracy of your long distance shots.
This gun also features a high-capacity 350 rd magazine and a shot velocity of 390-400 fps (using .20g BBs). Weaver quad rail for mounting optional flashlights and scopes of your choice augment the performance of the Colt M4 Airsoft Gun. The Colt M4 CQB Full Metal AEG features built in rails to mount bipod, tactical light, scope and fore-grip which in our opinion are much better than the normal plastic hand-guards.
The externally mounted battery box is a big selling point as it provided maximum convenience while changing the batteries. Fully integrated forward rail system replaces the hand-guard to make this rifle a highly modular weapon platform allowing for the addition of everything from lasers to even grenade launchers with relative ease.
Our Verdict
[wpsm_column size="one-half"][wpsm_pros title="PROS:"]
Full metal body construction
Good price
Built in rails for attachments
Highly accurate with scope/dot sight
[/wpsm_pros][/wpsm_column][wpsm_column size="one-half" position="last"][wpsm_cons title="CONS:"]
Requires good strength due to 8lbs weight
Spare magazines needed
FPS varies with different BB's
[/wpsm_cons][/wpsm_column]
There is no denying the fact that this airsoft gun has been built with an emphasis on DURABILITY—the full-metal body augments aesthetics and physical feel too. Seasoned airsoft shooters will appreciate the officially licensed COLT logos that raise the overall credibility of the gear. Optimal pricing and a whole set of power-packed features make the Colt M4 Full Metal AEG a rather sensible purchase. However, it might fall short of impressing those who want performance-oriented guns.
Purchase Now Or Read More Reviews On Amazon
Thank you for visiting TacticalAirsoftMagazine.com. We hope that this review of the Colt M4 Full Metal AEG helped you make a decision. If we helped you in anyway on your purchasing decision please use one of our links above to go to Amazon and make your purchase. This site is part of the Amazon Affiliate program which means that we receive a small commission from Amazon at no extra cost to you for purchases made through our links. This allows us to keep bringing to top quality content. Thanks again for the visit.
Note to readers: If you found this colt m4 airsoft review helpful, help us out by sharing it via social media.