The Crosman Pulse R76 airsoft rifle is presumably the first entry from Crosman in the niche of AEG's that offer vivid similarity with Tokyo Marui AK Beta "Spetsnaz" models. The design has been perfected, pushing it to the top tier of airsoft shooters that impress with just their looks. However, the brownie points for this rifle don't finish with the sleek, ergonomic design. There is a lot that the Crosman R76 proves with its performance. In this discussion, we review the overall dynamics of this airsoft rifle, talking about all the factors you should consider when buying it.
Purchase Now Or Read More Reviews On Amazon
[wpsm_specification]
Before moving further into this Crosman pulse R76 review, let's take a glance at the gun's features:
Fire rate: semi and fully automatic
Rear Sight Adjustable
Removable Buttstock
Sling Swivels
High Capacity Magazine
Weaver/Picatinny Accessory Rails
Adjustable Hop-up
Removable shoulder stock
Caliber: 6 mm
Barrel: Smooth bore
Color: Black
Weight: 4.45 lbs
Velocity: 375 FPS
Buttpad: Plastic
Overall Length: 28 in
Capacity: 350 Rounds
Scope-able: Weaver mounts
Action: Semiautomatic/Full-auto
Front Sight: Post
Safety: Manual
Hop-Up: Yes
Rear Sight: Flip-up, adjustable
Power-plant: AEG
Repeater: Repeater
Material: Metal/ABS plastic
First Impressions: Construction of Crosman Pulse R76 Oozes Quality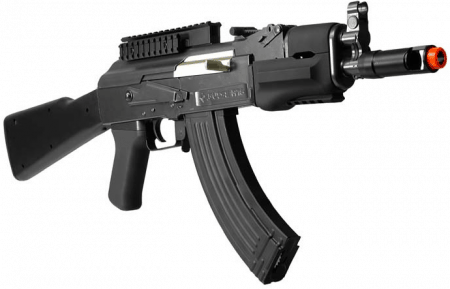 The first time you grab the Crosman Pulse R76, you feel convinced that the manufacturers had quality as their prime motive.
The external panel exhibits a plastic construction that makes it extremely lightweight to use—without compromising the structural strength. When loaded, this rifle weighs only 3 oz—making it extremely easy to maneuver. However, there quite a bit of plastic used throughout the construction and for some folks who prefer more steel and metal in their airsoft arsenal, this might prove compromising the visual aesthetics. Still, the finishing impresses. The external surface bears unmistakable similarity with clear-soft AEG's. Plastic construction is carried on to the dust cover, rear sight and trigger unit.
Again, this might not appeal to every gamer but it is a refreshing change from bigger airsoft rifles that often try to conceal the plastic bits. Unless you are a hardcore critic of synthetic materials, the overall styling should appeal to you, especially the compact manner in which the gun packs in many features.
Let Us Dig Deeper into the Composition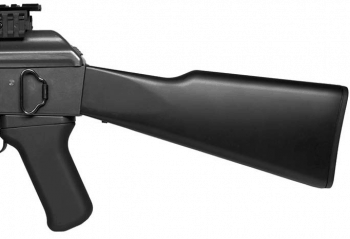 A removable butt stock ensures smooth operation, while a charging handle can be pulled to reveal the hop-up-dial. While operating the Pulse R76, the pistol handle makes an impression with its grip-friendly texture. Though rubbery, the surface gives a great grip even when rifling for longer duration.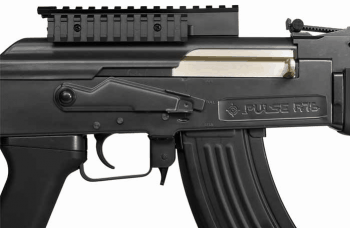 At first look, airsoft purists might find the Crossman Pulse R76 a bit below its premium billing but use it once and you realize the potential it holds. The sturdiness of internal components and precision-engineered technology make it a very capable performer. The TM-Style Version 3 Gearbox with metal gears is perhaps the first thing that will catch your attention.
Sporting a tactical look, the Pulse R76 comes with a high-capacity magazine that makes it suitable for all types of war games. When it comes to the trigger, don't expect something dramatically different but yes, the operation is crisp, optimized for user comfort. The hop-up function lends support to the functioning too though it is not the best hop-ups we have come across in this segment.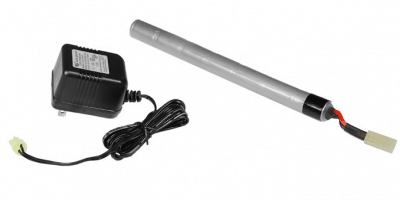 The Pulse R76 comes with a UL certified AC charger and rechargeable NiMH battery.
Evaluating Crosman Pulse R76 on Functionality
Any shooter proves its credibility only if it manages to garner appreciation when tested in the arena. The Crosman Pulse R76 offers the ability to suit varied needs. If you talk about the shooting speed, this gun delivers at 300 to 310 FPS with .2 g BB's. The amazing fire performance of this gun keeps you going for a long time.
The battery of Pulse R76 also impresses with its industry standard connection. It delivers smooth performance for a minimum of 4 hours at a stretch, that too in full-auto energy mode. As the batteries are smart-charger compatible, they are easy to use. A 375-round magazine features a rapid-feed dial that works brilliantly to support the drive system and a sturdy motor. For efficient loading, an accessible winding wheel is positioned at the base of the magazine. Its working velocity of up to 375 fps makes it more-than-reasonable airsoft rifle option.
In terms of sights, the Pulse R76 competes with standard AK-47 style sights owing to its ability to provide adjustable elevation. However, don't expect it to be as sharp as the former but yes, it hits the mark rather well. We found some issues with the rear sight—they tend to fall repeatedly and this can prove irritating.
Concluding Thoughts
The most important thing to keep in mind before reaching the final verdict is that don't expect the Crosman Pulse R76 to be extraordinary. Yes, it meets and exceeds some of the benchmarks for airsoft skirmishing. The pricing is extremely attractive. Its spare parts are equally inexpensive, making it a durable purchase that will last for many years. The magazine and battery are probably the best things at work here. You get precision in this airsoft rifle while the picatinny design makes it perfect for battlefield games. Worth a try!!
Purchase Now Or Read More Reviews On Amazon
Thank you for visiting TacticalAirsoftMagazine.com. We hope that this review of the Crosman Pulse R76 helped you make a decision. If we helped you in anyway on your purchasing decision please use one of our links above to go to Amazon and make your purchase. This site is part of the Amazon Affiliate program which means that we receive a small commission from Amazon at no extra cost to you for purchases made through our links. This allows us to keep bringing to top quality content. Thanks again for the visit.