The Crosman Stinger R34 airsoft rifle makes a good first impression with its military styling. From a distance, you might mistake it for the real stuff but hold it and you realize that it is among the more boldly and closer to reality designed airsoft guns.
The first impression that comes to any airsoft gamer's mind is the ease of handling the gun and its ability to hit the target each time without much effort. Invariably, lighter airsoft guns are the first preference. This is where Crosman Stinger R34 makes a case for itself. It is lightweight and the military styling has more to it than just the looks.
[quick_offer]
[wpsm_specification]
Let's give a quick rundown of the gun's specifications before getting into the details of the Crosman stinger r34 review.
Barrel: Smooth bore aluminum
Adjustable stock
Shot Capacity: 400
Body Type: Rifle
Mechanism: Single-action
Powerplant: Spring
Velocity: 300 FPS
Weight : 4.5 lbs
Ammunition: 6mm BB's
Magazine holds up to 418 rounds, has a spare magazine too
Safety lever
Material: Plastic/Synthetic
Weight: 3 lbs
Length: 33.5″
Front Sights: Blade
Rear Sights: Micrometer adjustable
Caliber : 6mm
Barrel Length: 4.37″
Gun Length: 23.75″
Function: Repeater
Appearance and Design
The R34 seems like a sturdy performer without an overload of accessories. Yes, there is room for customization but this bit has not been overcooked.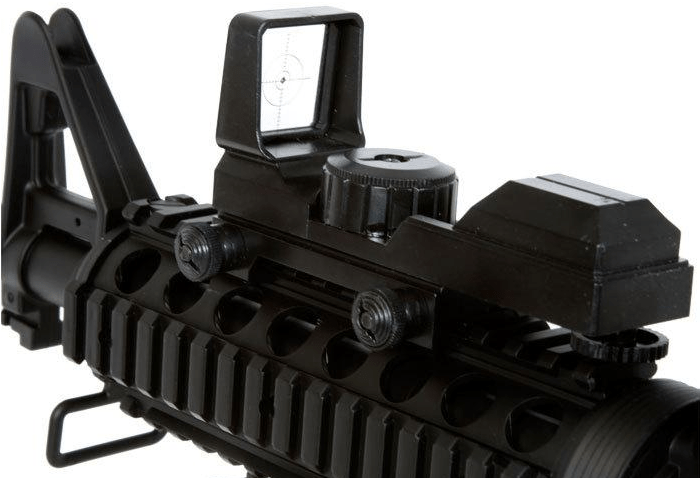 Many functionally important features such as shoulder sling and cross hair sight have also been incorporated in the design. Just like special ops gear, the Stinger R34 comes equipped with LED flashlight. This is rather useful for illuminating targets in light-starved situations. Using a smart hop-up system, the Stinger R34 provides better distance coverage and more accuracy.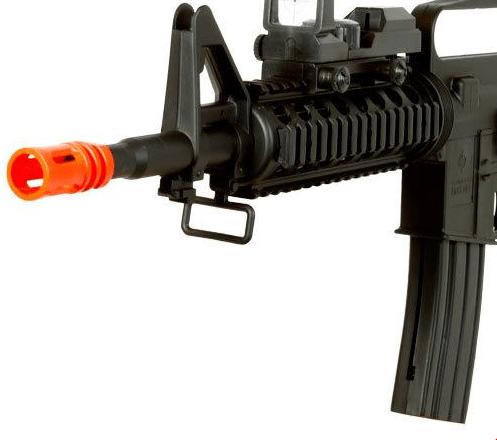 The Stinger R34 takes its designing cue from artillery used by special operations personnel. Similarities include an adjustable foregrip—very handy when spending long hours in airsoft locales as the grip can weaken due to sweaty hands.
Our limited handling of the Stinger R34 returned rather impressive results. For starters, the R34 can shoot up to 300 feet per second—this is impressive by all airsoft gaming standards. The rifle-model airsoft gun comes with crosshair sight and a quad rail system—prove rather handy when you are trying to mount accessories and don't have much time to explore your options.
The Stinger R34 impresses with its ease of handling. It features a Safety Leaver for additional protection. The smooth bore aluminum barrel and adjustable stock complete the core features. The enhanced shooting range performs rather well, placing what the Crosman Stinger R34 Rifle offers up there with the best this niche has seen. Vibration levels are rather low, recoil minimal and it requires very less cocking force.
Performance and Accuracy
Crosman R34 airsoft rifle delivers excellent consistency with each shot in terms of muzzle velocity, which is consistent across a wide range of BB ammo.
Constructed from synthetic material, the Stinger's military design has a single-action mechanism. The gun's magazine uses 6mm plastic BB's for ammunition and can hold up to 418 rounds.
The 33.5-inch long rifle is ideal for target practice or shooting irrespective of whether you are exploring this segment or happen to be a seasoned player. Telescope stock adjusts to the user's length or situation in an impressive, versatile manner.
You can adapt to your game by choosing a rifle configuration that works best for you, even if this means removing the stock for close-quarter strategy. Another positive attribute of Crosman Stinger R34 is that you will never run out of ammunition as the high-capacity magazine can hold up to 400 airsoft BB's.
Airsoft enthusiasts often talk about the quick loading capacity and the Stinger R34 impresses here too with its quick reloading chamber. You need minimal time for replenishing the plastic BBs. With a holding capacity of 400 BB's and shooting velocity reaching 300 fps, the Stinger R34 leaves little room to complain. Though the spare magazine deserves a mention, it is not really a performance-enhancing feature.
In terms of accuracy the Stinger can "sting" its targets from distances up to 120 feet away. Just check out the accuracy groups from a shooting test conducted at a 50 feet distance.
Concluding Thoughts: Impressively Versatile
This airsoft rifle features a winding wheel at the bottom of the magazine makes sure the magazine loads without any problems.
This high-powered gun dominates in CQB situations. The use of a quad rail interface system means shooters can easily attach scopes, red dot sights, and flashlights for increased performance.
The Crosman Stinger R34 features an easily removable stock—underlining its versatility. Its tri-rail system ensures enough space for your attachments and modifications. You get sufficient rails for mounting all the gaming essentials such as flashlights, lasers, and aiming sights.
Robust high speed steel spring ensures you get power delivery in a rather raw, unobstructed format. The steel spring powerplant must be among the best in contemporary airsoft rifles. The single cocking motion compresses a spring poised and stores the power until you release it upon firing the trigger. The standard picatinny rail design will allow you to mount any attachments you want to bring to the battlefield. You can overcome your opposition in a shooting competition or defend your stronghold rather well with the R34. When outgunning your rivals is your main motive and you want a power-rich airsoft rifle, the R34 emerges as a rather sensible option.
If you would like to leave a personal review of the Crosman stinger r34 feel free to drop a few lines in the comments.