In this week's edition, Tactical Airsoft Magazine brings a product review of the Gamo Hornet Air Rifle.
[quick_offer]
[wpsm_specification]
Caliber: .177
Velocity: 1200 FPS with alloy pellets (1000 FPS with Lead pellets)
Weight: 6.1 lbs
Length: 43.3″
Barrel Length: 18″
Trigger Pull: 3.74 lbs
Cocking Effort: 30 lbs
Trigger: Two Adjustable
Trigger Safety: Manual
Cocking Safety: Automatic
Mount: Dovetail
Cocking: Automatic
Action: Spring Break Barrel
Barrel: Fluted Polymer Jacketed Steel
Stock: All-Weather Gray Synthetic
Butt Stock: Twin Cheeck Piece/ Ambidextrous
Recoil Pad: Thick Ventilated Rubber
Appearance
The Gamo Hornet air rifle is a single shot rifle that features a spring operated break barrel with single cocking system. Its steel barrel is jacketed with fluted polymer and keeps you on target
Ambidextrous stock provides easy handling and shooting capability to both right-handed and left-handed shooters and its synthetic all-weather stock lets you shoot in any weather conditions.
It comes with a 4×32 scope and mount and 11mm scope grooves that allow to replace the stock scope if it doesn't suit your requirement.

For easy handling and shooting, it comes with a non-slip texture on grip and forearm that allows you to firmly hold the rifle. Twin cheek pads further aid in comfortable and precise handling of the rifle. Ventilated rubber pad as the butt plate forms an air cushion that reduces the impact of recoil, allowing you to quickly recover from the shot and get ready for the next one.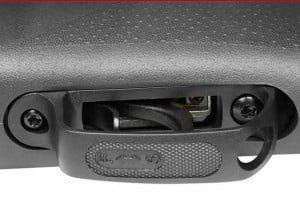 The gun is very lightweight at only 6.1 pounds and can be easily carried without a sling. A light trigger pull of 3.75 lbs. and 30 lbs. cocking effort, this gun is easy and effortless to use. 1200 FPS with PBA and 1000 FPS with Lead pellets mean that this gun is as good as for target practice as it is for shooting.
Performance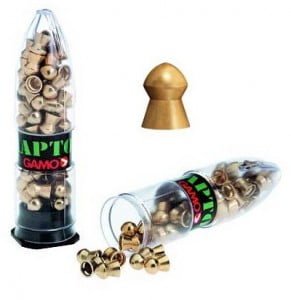 For its cost, the Gamo Hornet is a very dependable and efficiently performing rifle. It can fire at 1200 fps with PBA Raptor pellets, breaking the supersonic barrier and can manage up to 1000 FPS with Lead pellets. With 17.27 ft./lbs. Muzzle Energy, you can say that the rifle is pretty powerful and works great against small and large pests.
The Gamo Hornet is designed very basic like a regular rifle and there is not much artistry put into it. Weighing at only 6.1 lbs., this rifle is very lightweight for what it offers. It can be easily carried without a sling and is a delight to use. Its synthetic stock is textured with non-slip coating that allows firm grip and also adds to gun's longevity and durability. Its black steel barrel with fluted polymer jacket enhances the overall look of the gun.
Operation
The Gamo Hornet air rifle operates like a conventional rifle and is very to use. We will go through step by step instructions just give you a clear picture. Hold the stock and barrel
• Break the barrel
• Pivot the barrel towards the stock
• Insert pellet (With tip facing forward and skirt facing you)
• Swivel the barrel back to its original position
• The gun is now loaded and cocked; Ready, Aim, Bang!
A shooting speed of 1200 FPS makes is great for small hunting games and indoor/outdoor target practice. We performed a number of test shots and the pellets were found to fall in concentrated and consistent pattern. Its all-weather construction ensures you can use it in any kind of environment and the ambidextrous construction suits every type of shooter.
Accuracy
Use pellets between 8 to 10.5 grains and you will get amazing accuracy as we did. If you are not in a hurry and are patient enough to pull the trigger slowly, you will find your pellets hitting the same spot almost with every shot. The accuracy will be affected if you fire shots rapidly. You might find that the pellets do not reach the speed of 1200 FPS every time but the rifle is still powerful enough to cross the mach-one with PBA pellets.
Price
For what it offers, a price tag of $140 seems quite affordable. This rifle is designed to be a heavy performer and comes with a 4×32 scope and a weather proof stock. With fluted polymer barrel and synthetic stock, the after sales services of this rifle is pretty low and is very easy to maintain. With its high-penetrating power, supersonic pellet velocity, weather-proof construction and ambidextrous design, this rifle is must grab for shooting and hunting enthusiasts.
If you compare these issues with the performance and cost of this rifle, they feel very pity and can be easily fixed according to your own requirements. Talking about practicality, this rifle is powerful enough to shoot through a Snowshoe Hare's neck and is quite accurate up to moderate range of 30-40 yards. To get the best deal on the internet, be sure to checkout our exclusive deals section at the top of this gamo hornet review.
Verdict
[wpsm_column size="one-half"][wpsm_pros title="PROS:"]
The 1200 velocity
17.27 ft./lbs. Muzzle Energy
High penetration power
Ventilated Rubber Recoil Pad
Solid construction
Effective rifled and fluted barrel
Noise Reduction System
Lightweight Design
Non-slip texture
Synthetic stock for all-weather usage
[/wpsm_pros][/wpsm_column][wpsm_column size="one-half" position="last"][wpsm_cons title="CONS:"]
PBA pellets are a little expensive
Scope is not suitable for extreme long range shooting (40 yards and above)
Loading and cocking can be difficult for a physically weak person
Two-stage trigger can cause a feeling of "lag" and takes getting used to
[/wpsm_cons][/wpsm_column]
Many experts claim that the scope goes out of orientation or the crosshair starts waddling after a couple of rounds. If changing the scope seems a bit over-the-top solution, then making a red dot on the scope would be a cheap and almost reliable solution to this problem. Other than this, it is a great rifle that packs high power, is accurate like a laser-guided missile and will not disappoint you in the shooting arena or out in the wild.