The latest Kalashnikov AK-47 Airsoft Rifle is designed after the notorious AK Rifle. This high-capacity model is not meant for those just starting in the airsoft niche. It is more suited to those with some experience in handling heavy-duty airsoft artillery. The model you see above is the full metal black version. The AK-47 airsoft gun is also available with faux wood grips.
Purchase Now Or Read More Reviews On Amazon
[wpsm_specification]
Before moving further into the Kalashnikov AK-47 airsoft gun review, let's take a glance at the specifications:
Velocity: 380-480 FPS
Length: 36 inches
Magazine capacity: 550 shots
Front sight: Adjustable for elevation
Rear sight: Flip-up
Barrel: Smoothbore
Ammo: .20g – .25g BB's
Adjustable hop-up
Firing mode: Semi-automatic and Fully-Automatic
Caliber: 6mm
Safety: Manual
Powerplant: AEG (Automatic Electric Gun)
Construction: Full-metal
Weight: 6.8 lbs
First Impressions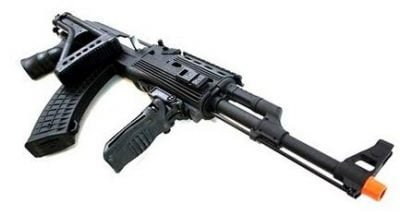 The Kalashnikov AK-47 airsoft gun comes across as a thoughtful creation. Why? Because it blends the best of both worlds—you get classic looks, with the Russian AK-47 being the obvious inspiration, and fine detailing that is the result of modern technology. A high-on-performance proposition, the Airsoft Kalashnikov AK-47 is likely to be your pick if you like the classics. After all, the real AK 47 is widely regarded as the most impactful weapon of the 20th century.
The rifle delivers across all parameters of performance, bringing together 430 RD high-capacity magazines along with 177 FPS of raw firing power. If you have not tested waters with big-on-power airsoft guns, that moment when you pull back trigger of airsoft AK-47 can be a revelation. This is a faithful and brilliantly rendered replica of the iconic AK47 rifle. The styling is sleeker than cutting edge to ensure aura of the legendary Russian gun is sustained. The realistic feel is augmented by generous use of trademark logos.
Design
The AK-47 airsoft gun is the perfect pick for those who take their airsoft gaming seriously. The design is simple, but impeccable, ensuring strength is never compromised. The construction of the Airsoft AK 47 underlines the approach—emphasizes on 100% structural integrity.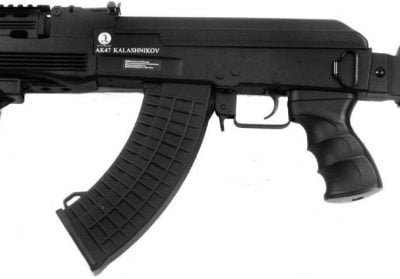 This is the perfect pick for those with a higher skill level and who don't chase the lightweight, synthetic-heavy plastic airsoft guns. The Airsoft AK-47 uses a full metal construction, and its durability will demonstrate itself to you on the battlefield. The reasonable weight of 6.1 lbs means ease of carrying around. Adding to the aesthetics is the sensible use of Full Kalashnikov Trademarks on the gun body—not overdoing it.
Performance
The Weaver/Picatinny tactical rail for mounting optional accessories along with shot velocity of 380 fps come together to deliver immense power. Using all-metal gears and gearbox ensures that you get the optimal blend of power and accuracy. The adjustable hop-up unit adds to the precision performance particularly when targeting faraway targets. 

This is what makes the airsoft AK-47 a recommend choice for hardcore airsoft enthusiasts. A solid full stock and an adjustable rear sight for locking onto your target makes shooting simpler.  Rails are integrated into the hand guard, making it easier to mount grips and optics.A tactical folding rear stock improves versatility when you need that edge on the field. For full-sized shooting performance, you merely need to fold the stock that is rather easy to do. Electric blowback of the gun is quite likeable as it adds a little more realism and masks the sound of the motor.
Accuracy that Impresses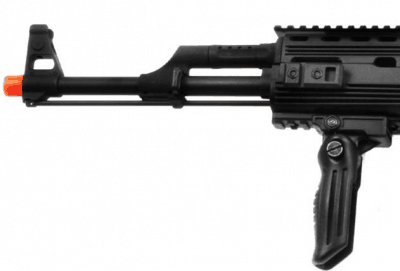 Airsoft Kalashnikov AK-47 shoots an impressive 370 FPS with 0.20g BBs—more accurate than what most users might anticipate. The factors that contribute to the high accuracy of this gun include an improved tight bore full metal barrel and the high-performance reinforced metal gearbox. The airsoft Kalashnikov employs AK-47M120 spring and reinforced gears and bushings along with a powerful ultra-high torque motor. This gives the AEG AK-47 firing power and speed—features that any high-end airsoft gun should have. Shooting at an impressive rate of 800 rounds per minute, the Kalashnikov airsoft AK-47 rifle is equally careful about maintaining high accuracy levels. In fact, a couple of extended sessions with this rifle might make you realize that it is a tad more powerful and accurate than some of the highly regarded rifles like the Tokyo Marui AK47 AEG that cost twice as much.
Kalashnikov AK-47 Airsoft Gun Operation
Electric airsoft rifles are fueled by heavy-duty batteries that should charge quickly to ensure you get a hassle-free shooting performance. While some AEG's come with semi-automatic fire, providing only 1 BB per trigger pull, others come with fully-automatic fire where multiple BBs are fired with every tap of the trigger. The AK47 AEG provides you the option of shifting effortlessly between these two modes. The longer you hold the trigger down, the more BB's are fired—making AK47 AEG a great pick for point & shoot users. We recommend using only .20 gram high quality BB's. Adjustable forward handhold makes operation more comfortable. Follow the steps below to operate the gun:
Open the receiver top and plug connector to charge battery. Push lock cover back into place once battery is charged.
Load the magazine with up to 550 shots, spin the wheel, and insert magazine into receptacle
Adjust sights by using the hop-up system.
Release SAFETY, select firing mode, and aim at intended target.
Pull the trigger.
Our Verdict
The big twist in the tale—there is no bayonet lug so you can't fit a grenade launcher! There are no serious drawbacks in the performance. Overall, this is an excellent gun for beginners and might be able to impress airsofters beyond the amateur level. The gun looks and feels premium and is fairly priced. Our verdict is in favor as long as you are ready to deal with little discomfort in changing batteries and can overlook the not-so-impressive rear sight.
Purchase Now Or Read More Reviews On Amazon
Thank you for visiting TacticalAirsoftMagazine.com. We hope that this review of the Kalashnikov AK-47 helped you make a decision. If we helped you in anyway on your purchasing decision please use one of our links above to go to Amazon and make your purchase. This site is part of the Amazon Affiliate program which means that we receive a small commission from Amazon at no extra cost to you for purchases made through our links. This allows us to keep bringing to top quality content. Thanks again for the visit.