This pistol is designed as an M1911 but custom-built to use double-stacked magazines. The wider magazines allow for greater volumes of gas and allow more BBs to be loaded. Unfortunately, due to difficulty with licensing and copyright laws, companies all across the airsoft industry have decided to call it the Hi-Capa. Not letting the name deter airsofters, the Hi-Capa market has begun to grow as a vast selection of aftermarket parts and custom built guns become readily available for purchase. Customized and enhanced pistols such as WE-TECH's new series, the REX, have sparked interest across the airsoft community. Would the TM Hi-Capa finally be dethroned? After this review, you will understand WE-TECH's new line of Hi-Capa pistols, the REX series, and their many improvements that all airsoft players should be aware of.
Before You Buy
This pistol is great for beginners that want to buy their first secondary. It performs well, shoots accurately, and is very gas-efficient. With a full Hi-Capa magazine, you should always be able to fire at least 31 rounds with some gas left over. Some issues, however, include a loose ambidextrous safety and distracting logo placements. The left thumb safety can get loose after lots of wear but can be fixed by simply placing it back into place. Airsoft players looking for a pistol that can perform well without much maintenance will greatly benefit. On the other hand, airsoft players that are looking to completely customize every part of the gun may want to look the other way.
The WE-Tech Hi-Capa 6" I-REX pistol is a highly accurate and near full-metal pistol with impressive gas efficiency. It comes in many different styles and the weight is not something to consider because, like many other pistols, it is extremely light. The pistol features cool acrylic rods for the front and rear sights so you will not lose your target even in the dark.
Normally when considering secondaries to buy, airsoft players will look towards the TM Hi-Capa. Currently, the TM Hi-Capa dominates the market because of its lighter slide, extreme gas efficiency and impressive out-of-the-box accuracy. The slide is lighter because it is plastic, and if you use green gas/propane to shoot this gun, it will crack. Also, the TM Hi-Capa rear sights can come loose and snap off.  Since the WE IREX is a ™ clone, you'll get all of the benefits that the ™ HI-Capa has, without having to deal with any problems.
Pros:
Fiber Optics allow for sighting in the dark

Strengthened internals + impressive gas efficiency

Can compete with ™ HI-Capa in performance

Aftermarket availability
Cons:
Distracting Logo placements

Ambidextrous Safety can get loose
Specs:                                                                                                               
GBB (Gas Blowback Gun)
Firing mode: Semi-Automatic
Gas Type: Green Gas, Propane
Weight: 2.5 pounds
Built-in rails
Strengthened Internals
Adjustable Fiber Optic Sights
Lightweight metal and polymer design
360 FPS – CQB READY
Functional beavertail safeties
Anti-glare grooving
Anti-glare grooving
Short-stroked spring guide for realistic kick.
Features & Benefits
Performance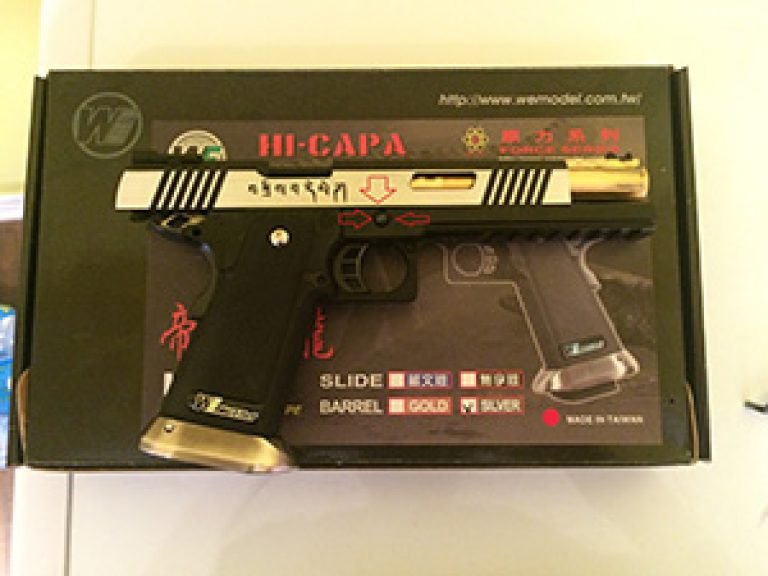 As said above, the WE IREX is known as a ™ clone. This means that the renowned accuracy of the ™ is on par with the IREX. The internals is designed to function long-term and since it comes with a short-stroked spring guide, the recoil of the gun is very realistic. Shooting at around 360 FPS, you will be able to compete in CQB without any disadvantages. The fiber optics allow you to be more accurate with your shot and it glows slightly in the dark. From personal experience, the IREX seems to be on par with accuracy when compared to the ™ Hi-Capa. The hop-up unit can also be adjusted if you need to shoot a longer distance.
Aesthetics
The pistol is not oversized despite being 6" and comes with anti-glare grooves. There is a built-in rail so you will be able to equip any attachments that you desire. If you do not like the silver look or any of the markings. You can opt for many different combinations which include the color of your barrel. If you think the gun is too big at 6" or you plan to get another slide, there is a 5.1 version which makes it compatible with most Hi-Capa slides.
Compatibility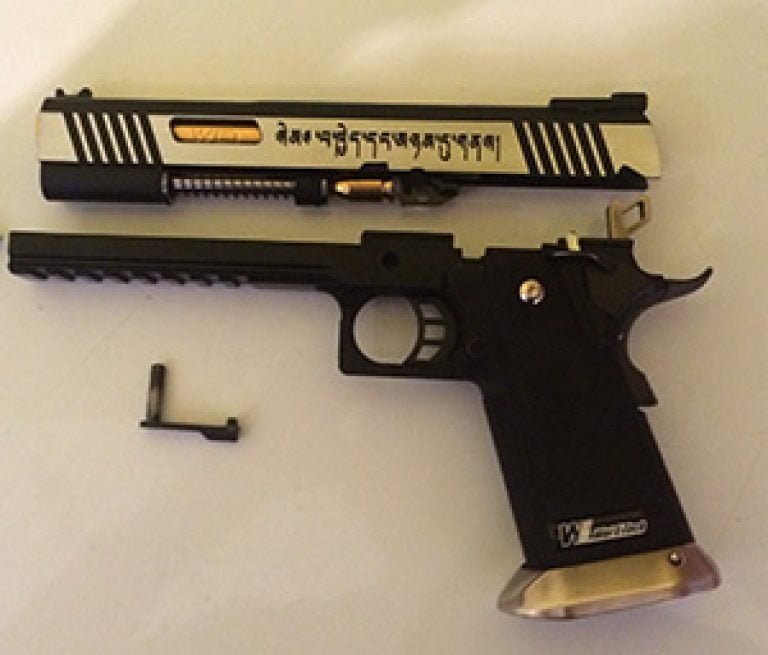 Since this is a Hi-Capa, aftermarket availability is vast. If anything breaks in this gun, you will be able to replace it without any problems. If you are looking to upgrade this gun, even more, you won't have any troubles finding the necessary parts. Keep in mind that the metal slide is 6" which means that airsoft masterpiece slides won't be compatible. Airsoft masterpiece slides are usually made for the 5.1 Hi-Capa series.7l
Disassembly
To disassemble the pistol, pull back the slide all the way and then proceed to push the pin that is connected to your mag safety. Once the mag safety falls out, you should be able to slide the upper part of your pistol off. Once your pistol upper is off, you can slowly take off the guide rod then the barrel. By doing this, you will be able to clean and maintain the parts of your pistol!
This picture indicates where to push after the slide has been pulled back. Look at where the red arrow is pointing, you'll have to push that out to release your pistol upper. This should be what your pistol looks after you've taken off the upper. You can adjust your hop-up or lubricate your gas unit now and put it back together, simply slide the upper back onto the frame and push the mag safety back in.
Social Proof
After doing additional research on the web, reviews seem quite positive overall.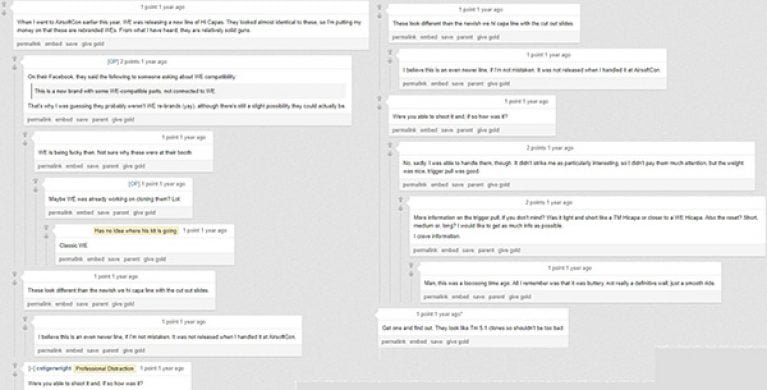 Alternatives
A great long-lasting starter pistol. This SIG pistol is great ergonomically, comes with a good quality metal, rails for attachments, sturdy and reliable internals as well as an ambidextrous safety. This pistol might be a good choice for those that are looking for a pistol that will last for a long time.
This KWA pistol is a good choice for beginners. It can shoot semi-automatic, fully-automatic as well as a three shot burst. It has an average of 380 fps and a magazine capacity of 48 rounds. As the consumer, you have the choice of getting it in plastic or full metal. It is recommended that if you use propane/green gas to opt for the full metal variant.
A great sturdy gun that won't break. The only downside to this ASG pistol is that there are not many upgradable parts available. If something breaks in this gun, it will be hard to find something compatible with it. Many people opt for this pistol instead of the Hi-Capas because these pistols are built incredibly well and have a low chance of breaking.
WE-Tech HI-CAPA Airsoft Pistol Review Final Thoughts
I've used this pistol for about six months now and it has yet to fail me. Aside from human error, the gun is quite accurate and the fiber optics can help you see even in the dark. If you are looking for a long-lasting pistol that looks visually pleasing and provides a realistic kick, the WE IREX might be the right one for you. Good luck, and hopefully this review has helped you. 
Thank you for visiting iamairsoft.com! If you like any of the products that you see in this article, please click on one of the BUY NOW buttons to make your purchase on Amazon. As an Amazon affiliate, we make a small commission off any purchase made through our website. This commission is how we can provide you with informative articles. You will not pay more on Amazon if you click through our website because the price is the same. For more great products and information about the game, check out our Airsoft Buyers Guides and Airsoft U!