With so many airsoft rifles on the market, it can be hard to pick your first one. Whatever it is, it has to be reliable, durable, and shoot straight. Newer isn't always better and if you're looking to get into the sport this 2014 AEG might just be your new best friend. With this Ares Amoeba CG Series review, we'll be taking a look at how the AM-009 takes the great baseline part support and compatibility of the M4 platform and wraps it up in a sleek, durable exterior with great internals straight out of the box.
Before You Buy
M4s are an extremely common style of Airsoft rifle. At every field you play at, you'll doubtlessly see dozens of similar M4s with only slight cosmetic differences if any. However, this lends itself to great options for aftermarket parts that can result in a truly unique AEG. Additionally, all those M4s on the field beside mean that if you run out of ammo, chances are someone can spare you a full, compatible magazine. If it's your first rifle, an M4 is a great choice.
Meanwhile, consider the length of the rifle and projectile FPS. A long rifle can be cumbersome in close quarters and can easily snag on plants when bushwhacking or crawling outdoors. Unlike real rifles, barrel length is a purely aesthetic choice in airsoft, so for maximum performance, you might want a short barrel rifle. As for the FPS, CQB areas are often limited to 350FPS or less – if you think you'll be playing at CQB-specific locations, check those fields' FPS limits before you buy!
When opening the box for this gun, you're greeted by the typical sight of an M4 with an orange flash hider, however, this gun is more than just any old entry-level M4. Typical to Ares' Amoeba line of guns, this M4 has an eye-catching exterior. Your eyes are first drawn to the bright orange flash hider, plastic and removable, before traversing across the gun's sleek, aluminum RIS barrel shroud and various rails. The stock features a quick disconnect swivel sling mount on both sides. As a whole, the rifle looks sleek and modern.
The fire selector switch snaps between safe, semi, and automatic with a pleasant, tactile click that's easy to feel even in the thickest and busiest of firefights. The 300 round high capacity magazine that comes with the AM-009 features the same textured grip as the rifle's handle, along with some transparent plastic segments that house fake 5.56 rounds beneath them. The magazine slides into the mag well with a solid thunk as you pick the rifle up and load it. It feels solid in your hands, lacking wiggling parts – it's not the heaviest AEG ever made but it feels incredibly sturdy.
Unfortunately, the one downside of this rifle is its sights. While perfectly functional they feel a little cheap and even feature the markings FOLDING BATTLE SIGHT TOYS INDUSTRIES, INC. on iron sights' front bases. The writing is quite small, however, so if your enemies are able to read it you've probably let them come too close. Internally, the Ares AM-009 is typical of Ares AEG in that it features some proprietary design choices that may make finding stock replacement parts tricky — however, that doesn't mean the internals can't be replaced with superior aftermarket parts.
Pros:
Sturdy metal and nylon polymer construction

Well designed with a sleek, modern

look

Capable of using 11.1v LiPo batteries

Performs well in outdoor environments

The included magazine has textured grips and faux bullets
Cons:
Low-quality sights

The receiver is not fully metal

Mag release is only on the right side of the AEG

No battery or charger included

Shoots a bit hot and is a bit long for CQB
Ares AM-009 Features & Benefits
Durability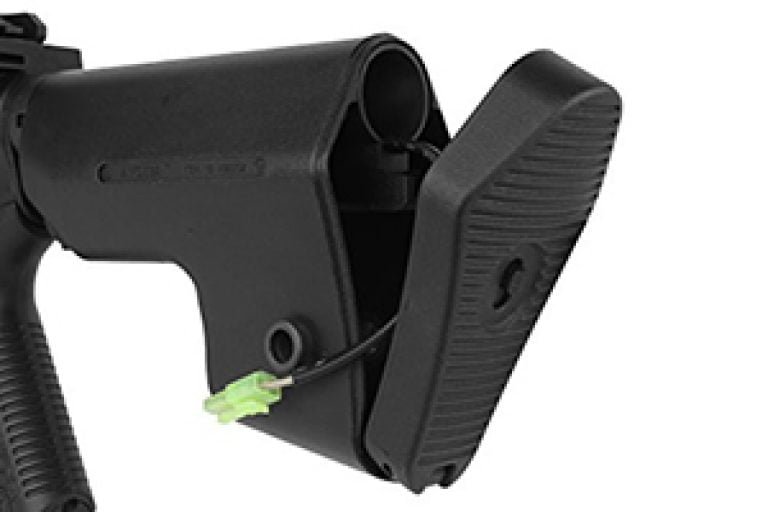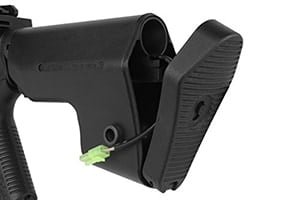 The Ares AM-009 features a metal barrel, metal rails, metal charging handle, metal buffer tube, and an aluminum RIS rail cover attached by plenty of hex screws, all of which we found to be well tightened out of the box. The lower and upper receiver is made from a durable nylon polymer plastic which is, as far as plastics go, incredibly tough.
Many first timers are often interested in a full-metal gun, but the trouble with most full-metal guns at entry-level prices is that they're made of cheap pot metals. The combination of nylon polymer and metal in this AEG make for a sturdy rifle that isn't going to break with you trip over a log and fall with it.
Performance
While the external features of this rifle are commendable, performance and capability are where this rifle shines. Ares is known for its distinct sound and feel, and the AM-009 is no exception. Thanks to its 11.1-volt lithium polymer battery-capable MOSFET, the trigger response on this AEG is extremely sharp. One tug of the trigger and the user is greeted with an immediate whirr from the metal version 2 gearbox and loud clap from the piston's air compression. It's a crisp sound that's sure to stand out and be noticed on the field. Additionally, should you choose to use an 11.1 volt LiPo battery with this rifle, the AEG will fire at a rate of 20-22 rounds per minute. Not bad for an entry-level gun straight out of the box.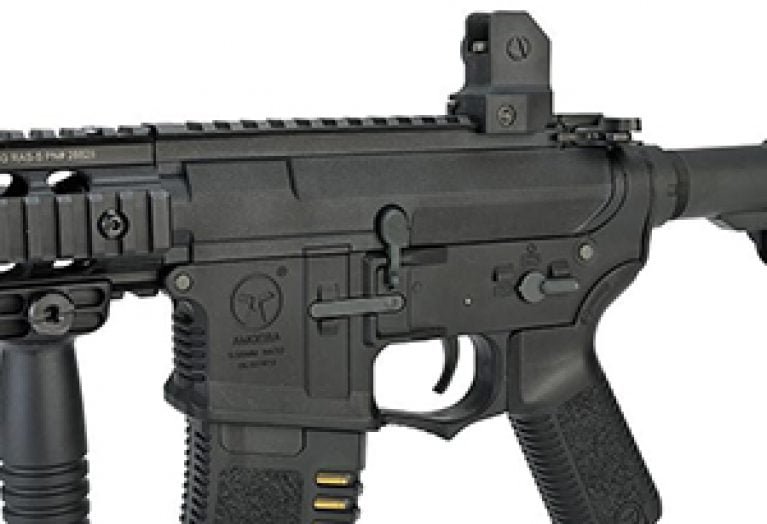 Clocking in on the chronograph at an average of 395 FPS, the Ares AM-009 boasts an impressive out of the box power. While it might shoot a bit too hot for CQB areas, it shoots just right for in outdoor environments. The accuracy of the AM-009 is also worthy of mention as it's rare for an entry level rifle to be capable of reliably hitting exceedingly small targets at distances of over 70 feet. Like all of the guns from Ares' Amoeba line, the AM-009's fire selector can be modified with the Amoeba Electronic Gearbox Programmer. With this device, the AEG can gain three round burst capability. The possible fire selector configurations for this AM-009 are:
SAFE-SEMI-AUTO

SAFE-SEMI-BURST

SAFE-BURST-AUTO

SAFE-SEMI-SEMI
As an entry-level AEG, it's also important to note that the AM-009 is highly upgradeable. The rifle comes with ample Picatinny rail space for attachments and the RIS barrel shroud can easily be customized any user's liking. The stock of the AM-009 features ample storage room for various types of batteries, and with quick detach mounts on either side of it, is completely ambidextrous. The AM-009, like most other guns in the Amoeba line, also features a quick change spring system, allowing you to easily change your spring to achieve an FPS that suits your field's limits. This rifle's gearbox, piston, and barrel, while good quality for the price, are also easily replaced with high-performance parts should you wish to turn your AM-009 into a custom rifle.
Social Proof
My primary AEG is an Amoeba AM-007, which I think is a rather fantastic little rifle with some minor, easily ignored flaws, so I was expecting to see plenty good things being said about the AM-009. What I wasn't expecting, however, was almost exclusively positive reviews. Nearly everyone only has good things to say about the AM-009, with most being limited to wiggling that can be taken care of by the most basic of AEG maintenance (tighten your screws!). As a result, I'll conclude that Amoeba's quality control is fairly high and that you're unlikely to get a lemon if you go for this AEG. The sights are quite cheap, but if they irritate you that much you can always get some budget aftermarket iron sights online.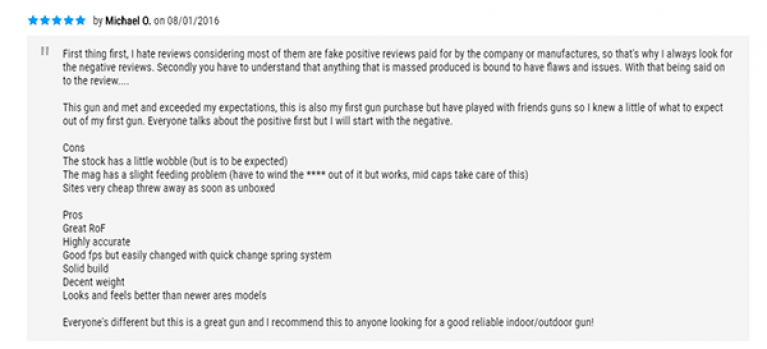 Alternatives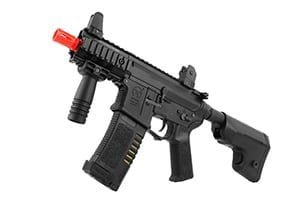 Another Ares product. This rifle shares a lot of similarities with the AM-009, however, the barrel is much shorter — in fact, the rifle is smaller than an MP5! It's a personal favorite of mine and makes for fantastic maneuverability in both dense woods and tight CQB areas. While not as powerful out of the box, it features the same quick change spring system for FPS adjustments on the go.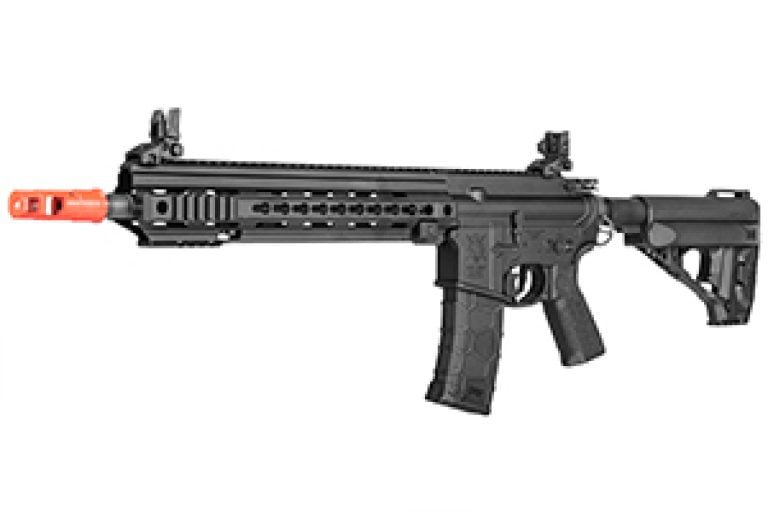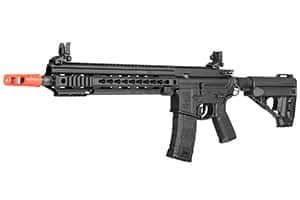 The VFC Avalon is a more expensive AEG but features a fully metal receiver. This rifle is currently extremely popular as it is a new release with outstanding quality and value for its price bracket. It also features an attractive keymod barrel and comes with a scope.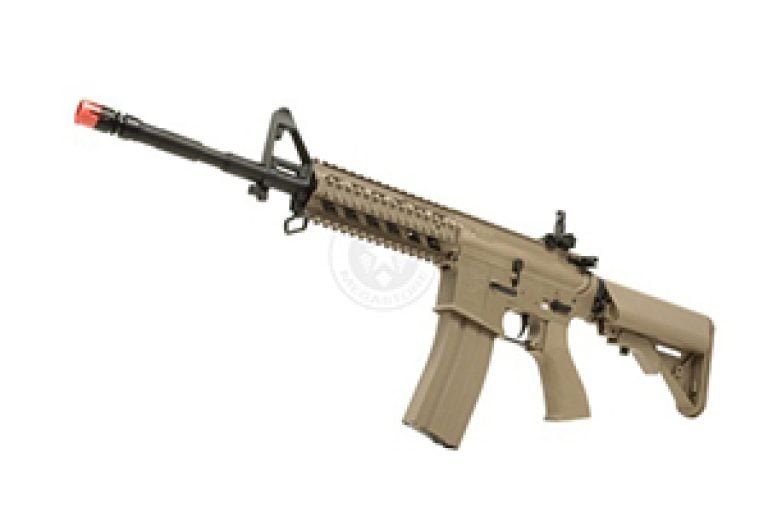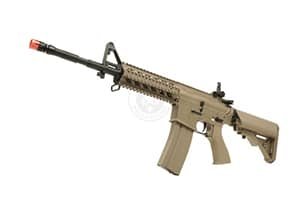 G&G's Raider plays it safe as far as M4 designs go — this AEG absolutely will not stand out in a field full of M4s with its classic, conservative design. While it only delivers 350-370 FPS stock, that's still enough power for outdoor shooting. Where the Raider shines, though, is its quality vs price.
Ares Amoeba CG Series Review Final Thoughts
While there are other, somewhat cheaper entry level rifles, the Ares Amoeba AM-009 provides solid, reliable bang for your buck with a unique look to boot. It might not come with its own battery and charger, but the manufacturing costs that would go towards a token charger and cheap, heavy NiMH battery are put towards great performance. It would be a waste for ARES to provide batteries with this rifle given the potential that the LiPo-ready MOSFET allows for. If you're looking for an all-season, outdoor AEG, and if you're willing to spend a little more than the bare minimum for an AEG, you'll have a rifle that lasts as long as your interest in the sport of airsoft and then some.
Thank you for visiting iamairsoft.com! If you like any of the products that you see in this article, please click on one of the BUY NOW buttons to make your purchase on Amazon. As an Amazon affiliate, we make a small commission off any purchase made through our website. This commission is how we can provide you with informative articles. You will not pay more on Amazon if you click through our website because the price is the same. For more great products and information about the game, check out our Airsoft Buyers Guides and Airsoft U!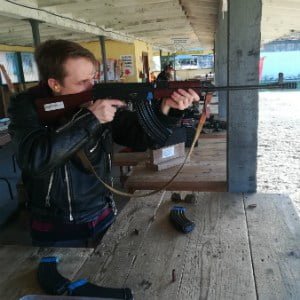 C.S. Wilhelm has is a 28 year old ex-military guy who's been playing airsoft regularly for over a year in the forests of west coast Canada. Less interestingly, he's also a tremendous nerd. C.S. Wilhelm has a degree in both Creative Writing and English, is a former editor of Portal magazine, and is currently an IT student.