Easy to use, easy to store, and very little maintenance – These features, when clubbed with accuracy, make the Benjamin 392 an exceptional performer. Contemplating over facts that it is a .22 caliber multi pump pneumatic rifle, suitable for small game hunting and target shooting; its simple design with the timeless performance and dependable accuracy have made this rifle everyone's favorite. Let's take a look as Steve Keary further explores the Benjamin 392 by Crosman in our exclusive review.
[quick_offer]
[wpsm_specification]
Caliber: .22
Powerplant: variable pump
Action: bolt action
Barrel type: rifled
FPE: 14.90
Front sight: fixed
Rear sight: adjustable
Material: hardwood
Magazine: rotary
Trigger: single stage
Stock style: wood
Safety: Crossbolt
Appearance: A Glance at the Benjamin 392's Craftsmanship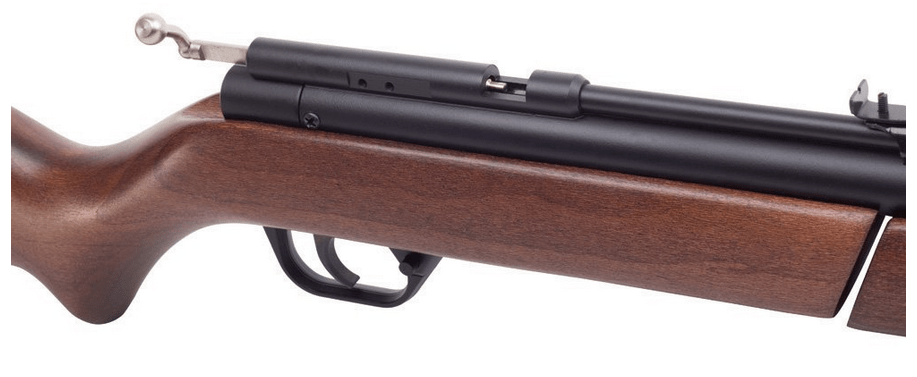 Made from American hardwood, the custom stock of the Benjamin 392 is capable of enduring all types of stress, shock, load, etc. with minimum impact and abrasion. The best thing about hardwood finish is even if it catches up some scratches, you can always refinish it for a shining and spot-free look. The Monte Carlo stock with slightly raised comb and lower heels, plays an important role in improving accuracy. It is due to the fact that the eyes line up more naturally with the Monte Carlo stock, with reduced recoil and putting down small game is easy with fast follow-up shot (if needed). Plus it'll look good when I show all my friends it on my gun display.
The swell fore grip makes the pumping easy, although it will never be easy enough for the lazy folks. The multi-pump pneumatic design lets the user choose the pressure being pumped into the gun. Looking on the other side of coin, you will need to pump at least one hundred times if you are going for 15-20 shots in a shooting range.

Although it is easy to pump, the absence of scope, and the provision to fix one on it makes it a bit tiresome. You may order a good quality scope but installing it is a bit of a headache. Either you install a scout style scope on the front with large eye relief, or compromise with the ease in pumping. Fabrication and cutting in weaves or rails aren't a good option too. There is a possibility though, with the B272 intermount. Any of the scopes or dot sights listed in the accessories link on the official website will need either the Crosman 3/8″ Intermount or the Air Venturi Weaver/Picatinny Intermount.
How to Shoot the Gun
Steps involved in operation:
Pumping the gun
i) Put the gun on safe
ii) Hold the stock firmly with one hand
iii) Open the forearm all the way up with other hand
iv) Do this at least 3 times and a maximum of 8 pumps is recommended
Loading pellets
i) Again, put your gun on safe (Don't bother if it already is)
ii) Push the bolt handle up and pull it back to open the bolt
iii) Insert the pellet into the port with the pellet's nose lying forward
iv) Push the bolt handle forward into its position
v) Pull the handle down to lock the gun
Now you are ready to shoot at target.
A few things to take care:
• Over pumping may damage your gun
• Always keep a single pump in this rifle when you are done shooting
• The pumping action may take time, so be patient and wait until it becomes a reflex
For further information on operating the gun, refer to Crosman's manual.
How Accurate is the Rifle?
Achieving an average velocity of 630+ FPS is easy with the Benjamin 392, with 3 out of 5 pellets falling in a small sub group, as small as 0.75" (from 30 feet). A few test results are listed below to get a closer idea: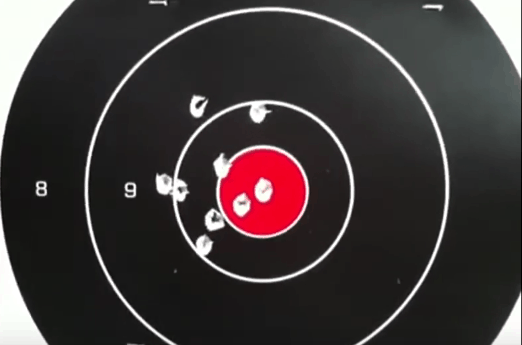 | | | |
| --- | --- | --- |
| Pellet | Velocity | Energy |
| Crosman Premier 14.3 grains pellet | 637 FPS | N/A |
| Daisy 14.3 grains flat nosed pellet | 633.8 FPS | 12.76 FPE |
| Crosman 14.3 grains pointed hunting pellet | 612.1 FPS | 11.9 FPE |
Consistency and accuracy are the main highlights of this rifle and these are the features which make this gun a hot seller. To measure the velocity of each shot, I used the competition electronics digital chrony which I believe is a top contender for the best shooting chronograph. Seeing the test results, the velocity seems to be in the medium range, but the knockdown power is enough to put down pests and small game.
Performance
With the Benjamin 392 pump-action rifle capable of shooting pellets with velocities higher than 650 FPS, you can enjoy small game hunting and target shooting with accurate and consistent results. The .22 caliber rifle's power is decided largely by the user given how many times you choose to pump the gun.
When fully pressurized, the rifle has been noted to shoot pellets towards targets at 685 feet per second, but as discussed, it solely depends on the air pressure. However, its accuracy is worth a crisp mention here. The rifle is so accurate; an average shooter can expect to easily hit 3 out of 5 shots within a 0.75" subgroup, and even better with experience.
It comes in two variants, the .177 for target shooting and .22 for hunting. The rifle lets you hone your shooting skills, and is a good cure for cabin fever too, if you can arrange a little shooting range in your basement or hall.
With a mid-level noise profile, the Benjamin 392 has a loudness level from medium to high. It is not as quiet as expected, but is great for shooting ranges hunting, although, would pose a problem if you are an urban or suburban resident with complaining neighbor. The trigger pull is quite consistent at 5 lbs. and takes very less time to get used to.
Concluding Thoughts
The Benjamin 392 is conveniently priced at around $170, and is available through many vendors around $210 with a bundled scope. It's a grab at this price, considering the accuracy and functionality. It is also a performer and incorporates durability in its well-built body, stock. The rifle is fairly consistent and will serve you for years. The hardwood finish of the Monte Carlo stock is certainly well crafted and the $180 (approx.) price tag is fair.
[wpsm_column size="one-half"][wpsm_pros title="PROS:"]
Sturdy Construction
Good Velocity
Fine Accuracy
Solid Durability
Adaptable to Different Conditions
[/wpsm_pros][/wpsm_column][wpsm_column size="one-half" position="last"][wpsm_cons title="CONS:"]
Medium velocity
Tiresome Pumping action
Not very good provision for scope
[/wpsm_cons][/wpsm_column]