When buying an airsoft gun, durability, accuracy, strength and appearance are the biggest considerations. It seems better to rely on gun brands that have earned the reputation with consistency in quality and performance. The Cybergun Famas is one such proposition. It has found a loyal audience across the airsoft globe. The pricing is tempting and there have been no slip-ups in quality.
Purchase Now Or Read More Reviews On Amazon
[wpsm_specification]
Before moving forward with the cybergun famas review we take quick glace at it's features:
Caliber: 6mm
Max velocity: 445 FPS
Safety: Manual
Ammunition: 0.2-0.25 grain BB's
Gun weight: 6.12lbs
Barrel: Smoothbore
Magazine capacity: 300 rounds
Operation: Electric Automatic
Overall length: 29.5″
Function: Repeater
Extremely realistic
Full metal adjustable bipod
Maximum effective range is about 140 feet to 220 feet
Full metal barrel assembly
Polymer grenade launcher sight
Steel bipod along upper hand-guard
Adjustable hop-up unit
Reinforced internals
Metal charging handle
Full metal gearbox
Rear Sight adjustment features
Inner Barrel Diameter: 6.04 mm / Length: 472 mm
Adjustable Hop-up
Semi-automatic and Fully-automatic firing modes
Detailing the Plot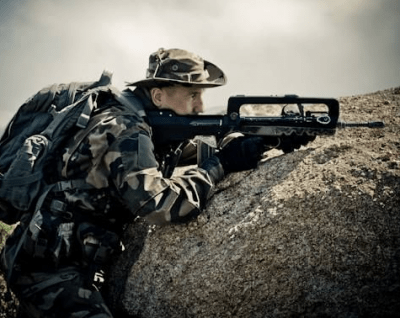 Now let's read more about what makes Cybergun Famas a sensible airsoft choice, we dig a bit deeper into its history.
French bull-pup rifles were invented between 1946 and 1950. They did not hit mass production stage but gained popularity later, sought as collector's items too. However, it was the conceptual design that has managed to be a part of mainstream French artillery with its inspirations clearly visible in service rifles of their military.
It was no wonder that Cybergun Famas replicas were an instant hit as soon as they were launched. More gun gaming enthusiasts were attracted because of the classical design and power-loaded features. This is how airsoft Cybergun Famas has managed to gain global popularity.
Owning a Cybergun Famas officially licensed by Cybergun USA can be a thrilling experience for airsofters as this gun impresses with its high accuracy and convenient usability. So, let us start by discussing the design of this AEG Rifle and then move on to the more specific details including accuracy and performance.
Airsoft Cybergun Famas Design Basics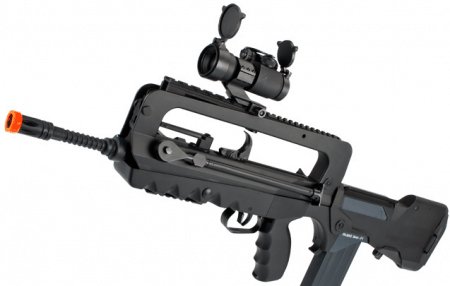 The fully-licensed FAMAS airsoft AEG rifle comes with next-generation full metal gearbox—underlining the robust composition at work here. Add, full metal barrel to this and 300-round high capacity magazine and you have the very best of airsoft gunning options. The metal adjustable bipod adds to the maneuverability. Like the Crosman Stinger R34, its military styling gives it an intimidation factor.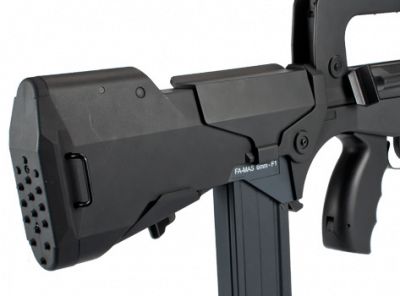 Full FAMAS F1 trademarks on gun's body add to the realistic appeal. It also commemorates the fact that the real gun has been the preferred rifle used by the French Foreign Legion for a very long duration. If you are a fan of the original FAMAS, you will definitely love the Cybergun FAMAS for its realism. weighing at about 7 pounds, the gun is great for sniper gaming. Expect each airsoft Cybergun FAMAS to come with rifle, 8.4v mini battery, charger, and integrated bipod. The presence of bottom screw tightens grip onto the weaver/pictanny rail, enabling a tactical vertical grip.
Performance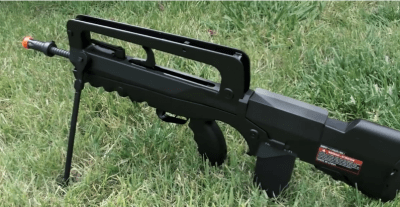 Cybergun FAMAS shoots at over 350 FPS with 0.20g BBs which is quite impressive. The full metal barrel along with a new reinforced metal gearbox renders this gun a high level of accuracy. Full metal gearbox is equipped with high-powered spring and reinforced piston.
Compared to its sole rival in the market, the Tokyo Marui FAMAS, the Cybergun option is more reasonably priced. The bipod works efficiently and the gun fires rather well, even for amateurs. The full package comes with two spare magazines—a FAMAS scope mount and 2,000-round bottle of BBs and some other accessories.
Our Verdict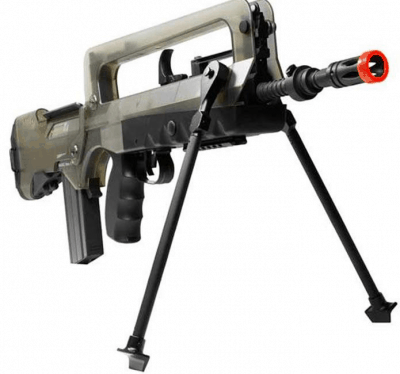 If you love to hear the sound of each shot you fire, the Cybergun FAMAS can be a great prick. It is surely loud, powerful but easy to handle. The optics are fully adjustable. Even though you have to spin the magazine after every 20 to 30 shots, versatility of the rifle makes up for this small shortcoming—not a huge disadvantage actually! Our short experience with this airsoft rifle proved that this airsoft gun comes with impressive long-range shooting capacity. For top level performance and accuracy, it is recommended you use BB's with better spherical consistency and density.
The rate of fire (ROF) is great for a fully automatic airsoft gun that can work as a deft sniper option. It is good for anybody in airsoft gaming, even the ones who enjoy more progressive, more automated options.
One point that you might want to think about twice is that Cybergun FAMAS guns tend to run out of ammo real quick. So, investing in a few back-up magazines is not a bad idea. You might want to spend on a scope or dot sight too because sight capabilities on this gun are rather restricted. Buy this one if you prefer a relatively solid build quality and the assurance of zero wobbling.
Purchase Now Or Read More Reviews On Amazon
Thank you for visiting TacticalAirsoftMagazine.com. We hope that this review of the Cybergun Famas F1 helped you make a decision. If we helped you in anyway on your purchasing decision please use one of our links above to go to Amazon and make your purchase. This site is part of the Amazon Affiliate program which means that we receive a small commission from Amazon at no extra cost to you for purchases made through our links. This allows us to keep bringing to top quality content. Thanks again for the visit.