The Daisy Powerline 880 bb and pellet rifle is one that appeals to young shooters. Some air gun enthusiasts even go to the extent to suggest it is one of the best youth air rifles on the market. It surely is one that makes for a great gift on Christmas, birthdays, or for any other special occasion. If you own or plan on owing the Daisy Powerline 880 check out the Ten Lesson Curriculum for Shooting Education instructor's guide. The Ten Lesson Curriculum is book that gives instructors the knowledge on how to train junior shooters. In the meanwhile, take a look below at our offers to find the best bargain on this gun:
[quick_offer]
Highlighting Features & Benefits before we dissect it further:
Accepts .177 caliber BBs for semi-automatic firing or .177 caliber pellets for single shot
Multi-pump, pneumatic action
Rifled steel barrel for accuracy
Molded, wood grained synthetic stock and forearm Monte Carlo
Receiver is made from engineered resin for durability
Dovetail mount for a scope
TRUGLO® fiber-optic front sight and an adjustable rear sight
Maximum shooting distance of 291 yards
Cross bolt trigger block for safety
Recommended Use:
Target shooting, plinking, pest control, small game hunting
For ages 16 years and up with adult supervision
Not a toy
Adult supervision is required
Misuse or careless use may cause serious injury or death
May be dangerous up to 333 yards
Performance and Accuracy
One of the most popular rifles by Daisy, the Daisy Powerline 880 is a bolt action BB and pellet gun with multi-pump pneumatic firing mechanism. The multi-pump pneumatic has the capability to send ammo far downrange at up to 750 fps velocity.
The gun has been tried and recorded to send BBs down the range at 750 fps and pellets follow them with up to 715 fps. But the velocity depends on the number of pumps too, which is limited to a maximum of 10 (recommended by manufacturer).
Going by its design, pointed lead pellets would be any seasoned hunter's first choice. But if you are shooting it for plain fun, plinking, BBs would be the ammo of choice. The weapon is as accurate as you are and is fast enough to cut through tin cans (after 10 pumps). Once you master the reloading ritual, it can be used for pest control too. Lets take a look at its velocity:
| | | |
| --- | --- | --- |
| No. of pumps | Type of ammo | Velocity (fps) (Average of four shot groups) |
| 1 pump | Crosman wadcutters (7.9 grain pellets) | 196 |
| 2 pumps | Crosman wadcutters (7.9 grain pellets) | 374 |
| 3 pumps | Crosman wadcutters (7.9 grain pellets) | 438 |
| 4 pumps | Crosman wadcutters (7.9 grain pellets) | 496 |
| 5 pumps | Crosman wadcutters (7.9 grain pellets) | 545 |
| 6 pumps | Crosman wadcutters (7.9 grain pellets) | 569 |
| 7 pumps | Crosman wadcutters (7.9 grain pellets) | 602 |
| 8 pumps | Crosman wadcutters (7.9 grain pellets) | 627 |
| 2 pumps | BBs | 433 |
| 8 pumps | BBs | 705 |
Hitting the Target
It is easy to shoot several 5 shot groups with an average group size of 3" (the largest). Since, the groups were at 15 yards, the number wasn't quite impressive. But after tweaking the trigger a little and sighting in the scope, it became fairly accurate. Using the Daisy pellet and bb ammo supplied with the gun yields the best accuracy.
Review: Design and Appearance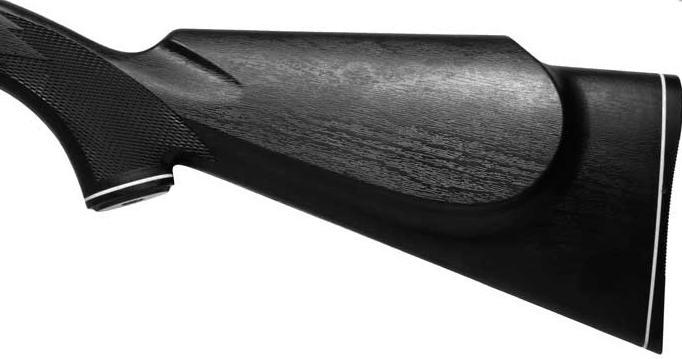 Impressed by its power, we moved on to its design. The 880 powerline looks much like the 881, with a polymer receiver. Its stock is the good old, tried and tested Monte Carlo, and is a classic design.As soon as stating out the "Monte Carlo" stock, an image of classic rifle begins to form. The design is pretty comfortable, and the raised cheekpiece means the rifle is meant to be used with scopes. The stock is synthetic, but the black wood grain finish reduces the cheap effect that is so common with synthetic stocks. I guess some things just never get old with time, and the Monte Carlo stock is one of them.
The design is comfortable to the users and offers better accuracy with better grip and holding position. It is ambidextrous which means you can use it right out of the box, whether you are left-handed or right-handed.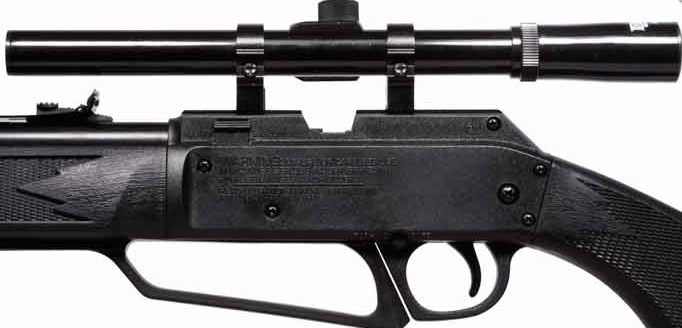 The dovetail receiver features a mount and the gun comes with a scope, although the scope is no good. The standard sights with this gun are rear v-notch sight with an elevator, front "fiber optic" insert and are good enough for pellet guns.

The gun looks like a serious shooter with front and rear sights, and the polymer receiver reduces the weight to a bare minimum, easy for carrying. In fact, when I removed the gun from the packaging, the aura from the 880 reminded me of my childhood airsoft adventures.
Operation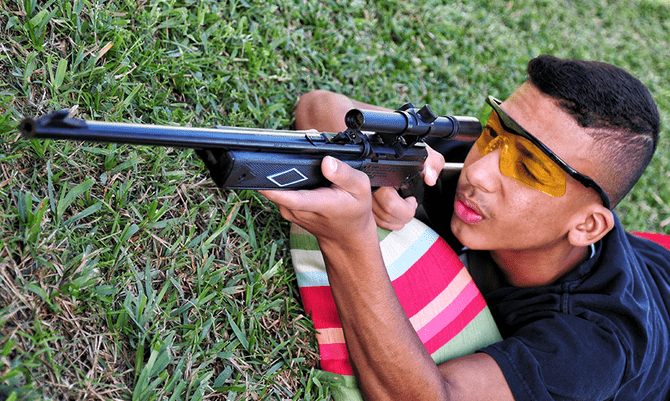 The bolt-action mechanism is a manually operated cocking mechanism that lets you load and cock your gun manually. Every time, you will need to open and close the breech with a small handle, which will load and cock the gun for use. The pellets/BBs are propelled by and pump action pneumatic propeller, and you will need to pump a little, every time. Seems like a lot of work?
Here are the steps of operation:
Pull back the bolt handle to open the bolt. The loading port will open but don't insert the pellet yet.
Immediately put the trigger safety on, after opening the bolt.
Now, pull the pump lever with its handle and start pumping it (not more than 10 pumps).
Now that the gun is primed, load a pellet and push the bolt handle to close the bolt.
Now, wipe off your sweat, take your aim and squeeze the trigger (but don't forget to release the safety first).
With BBs, reloading is a completely different story. Use the BB loading door, load the BB magazine with 50 BBs. But you will need to pump in any condition.
For more information on operating the Powerline 880, along with additional mods, parts, schematics, and dis-assembly instructions read the Daisy multi pump pneumatic owners manual.
Is the $60 Price Tag Worth It?
The Daisy Powerline 880 is a grab for $60 price tag. Plus to get a discount, scroll up to the offers section to get exclusive coupon codes. There are a few bolt action guns with better accuracy, but you will have to pay up double the cost of the 880. So, it's a wise choice.
The gun is short, light and easy to carry, with the ability to shoot pellets and BBs. There are only a few air rifles at this price range, which can do what the rifle does.
Let's wrap things up and take a look at the pros and cons of the gun:
[wpsm_column size="one-half"][wpsm_pros title="PROS:"]
Accurate
Easy to load
High velocity
Great seals
Lightweight
[/wpsm_pros][/wpsm_column][wpsm_column size="one-half" position="last"][wpsm_cons title="CONS:"]
Manually loading a pellet into the receiver is a jam
The rifle won't pressurize by pumping until the bolt is pulled back and a BB is loaded.
Too much manual work in operating the gun
[/wpsm_cons][/wpsm_column]