Lightweight and small in size, the GAMO Mp9 Blowback Co2 is a beautifully and very realistic replica of the B&T MP-9 9 mm submachine weapon. Loaded with features like velocity of up to 450 fps, semi-auto mechanism and dual technology (pellet and metal BB's), this gun has managed to impress airsoft enthusiasts and experts with its tactically progressive design. The gun is extremely compact, fabricated using robust 'polymer' plastic, something which has been specifically taken care of by the manufacturer.
With an added Leapers UTG CQB R/G Dot sight (3.9″), GAMO Mp9 blowback co2 gun is surprisingly accurate to around 25 feet. The windage-adjustable rear sight along with an authentic blowback action add on to the performance of this tactically created airsoft gun. Mp9 blowback co2 Gun also features locking, folding buttstock that gives you immense power on the field.
[quick_offer]
[wpsm_specification]
Before moving further with the Gamo MP9 review let's take a glance at the gun's specifications
Real replica from the B&T MP-9 9mm submachine weapon
Self-locking fold-able stock
Rear sight: Windage adjustable
Barrel: precision rifled steel
Safety: Manual
Trigger: double/single action
Velocity: 450 ft per second with PBA platinum
Semi-automatic blowback CO2 pistol with 16 shots
CO2 capacity – 80 shots
Fires: 16 shots in 2.4 seconds
Trigger Pull Double Action: 9.46 lbs
Body Type: Submachine gun
Folded length: 12 inch
Expanded length: 21 inch
Weight: 3 lbs
Ammunition: .177 pellets or steel BB's
Caliber: .177
Weight : 3.0 lbs
Overall Length: 21.0″
Max Shots per Fill: 80
Fixed and consistent power delivery
1-year warranty
Appearance and Design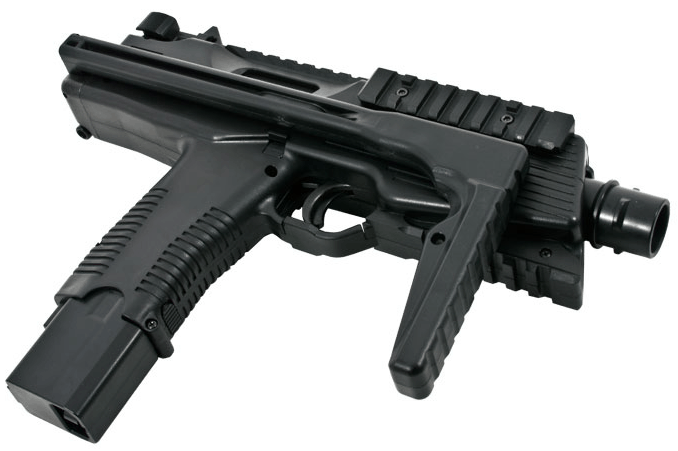 GAMO Mp9 Blowback appears to be built reasonably well with a fine finish and light yet robust chassis. The gun features both polymer and metal construction just like the real B&T. Rear stock swivel, CO2 magazine, trigger and internal barrel are the obvious metal parts with some other internal parts also being cast in metal.
All the parts are placed correctly but not all of them work as many are molded into the plastic shell. The interesting thing about GAMO Mp9 Blowback Co2 Gun is that the magazine for both the pellet magazine and CO2 magazines are not placed in the traditional locations. Licensed by ASG, this airsoft gun has an impressive design that not only looks good but also provides ease of operation.
How to Shoot the MP9
Here's a quick rundown on how to operate the gun:
Fit the CO2 cylinder by removing the cap on the bottom of the handle
Using pellets or steel BB's to load the magazine
Insert magazine and release the safety
Aim at your intended target and squeeze the trigger.
Performance & Accuracy
Initial shooting experience with the Gamo MP9 Blowback in a full-field shooting environment yields rather impressive results. It is clear that advanced features have been incorporated into this airsoft gun—pellets fire with impressive accuracy.
Anyone seriously contemplating buying it should spend a few minutes with full CO2 using RWS 7 grain flathead lead pellets. You will be quick to realize that shooting par 400 fps is rather easy as is achieving shots around 430 fps. We doubt anyone who has some airsoft experience will fire under 370 fps with this gun. More consistency comes in the form of 1-inch groups from each shot group when using a semi-rested position—this is at par with popular contenders in this category including the Umarex EBOS
Trigger pull for the GAMO MP9 Blowback CO2 Airgun is stated to be a single and double action trigger but this aspect might not be the best in this segment. You can pull the charging handle back for pulling the internal hammer for a single action hammer release. However, it is difficult to shoot this pistol in double action only unless the charging hammer has been comprehensively pulled back. Even with the hammer backed up, the trigger has to rotate the pellet magazine with each shot. However, the trigger even though stated to be around 9.5 pounds of pull feels much lighter—works well from a strictly airsoft gaming perspective. Easy rapid-fire and trigger pull is not at all tiring, taking no toll on the fingers—you don't need to worry about the single or double action trigger debate.
Our Verdict
Here are the breakdown of the pros and cons of this gun:
[wpsm_column size="one-half"][wpsm_pros title="PROS:"]
The construction is good and it is light in weight
You can easily add a red dot as the rear sight is adjustable for windage
Blowback action gives a bit of recoil feel
It is very realistic as the CO2 and magazine are both well covered
Even though the trigger is claimed to be 9.5 pounds of pull, the trigger feels decent on operation
Fold out stock.
Lots of rail accessory mounting locations.
[/wpsm_pros][/wpsm_column][wpsm_column size="one-half" position="last"][wpsm_cons title="CONS:"]
Fold out stock is a bit flexible—more rigid construction would have worked better
Pellet magazine release is a bit awkward—pro gamers might find this a turn-off
There is no slide catch or any other way of knowing that you are out of pellets other than counting or listening to the sound change—big disadvantage when engulfed in serious gunning action.
Not-so-impressive low range of shots per CO2
[/wpsm_cons][/wpsm_column]
The trigger safety works efficiently. It is not there just for enhancing the display. We recommend using the standard-skirt pellets. The long-skirted pellets might induce some damage to the gun's magazine—a risk not worth taking!
Overall, the actual licensed replica-Gamo MP9 Blowback CO2 Gun is quite likeable. It makes for a relatively affordable addition to one's replica airsoft gun collection.