Launch of Umarex EBOS Tactical BB gun put an end to the anticipation that BB gun enthusiasts and shooting pros had regarding this tactical BB rifle. Initial testing with the Umarex EBOS air pistol has provided some pretty decent results which will allow us to say that the rifle has not disappointed in terms of accuracy, performance and operation. Allowing you to shoot in 1, 4, or 8 shot bursts with a high velocity of 540 fps, the rifle provides immense power on the field.
Purchase Now Or Read More Reviews On Amazon
Powered by a single 88 g CO2 capsule, the rifle features an ergonomic pistol grip and removable fore-grip allowing you to shoot comfortably for long hours. The 4-sided tactical railing lets you customize your gun with any enhancements that you would like to add such as a compensator or barrel extension.
Before getting into the specifics of the Umarex Ebos Review let's take a look at the gun's specifications:
[wpsm_specification]
Electronic Burst of Steel (EBOS) rifle
Brand Umarex
Capacity 360
Length: 24.75″
Action Semi-Auto
Power 88 gram CO2
Barrel Length 9.7″
Caliber .177
Velocity: 540 FPS
Ammunition: Steel BB's
Trigger Power: (2) AA Batteries not included
Built-in (non-removable) mag
Electronic trigger control
Weaver/Picatinny rails
Optic Compatible Tactical Rail
Rear Sight Type Adjustable
Tactical foregrip
Front Sight Type Adjustable
Trigger Type Electronic
24-rd mag, 400-rd reservoir!
Burst mode for 4 or 8 rounds at a time
If you use the bulk-fill CO2 adapter, the buttstock won't fit on the gun
Appearance and Design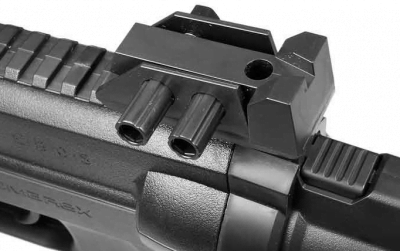 This semi-automatic gun has an impressive design with top and bottom tactical railing that allow you to customize your gun by adding flashlight, point sight, or laser enhancement as per your need.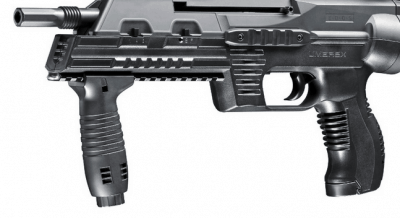 The EBOS is an almost all external polymer air gun with some metal components on the inside. While the steel body gives the rifle a solid feel, the removable and adjustable front grip allows ease of operation.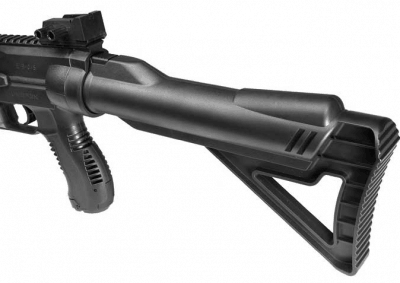 The CO2 compartment is hidden in stock and the rifle features a concealed battery compartment in the grip.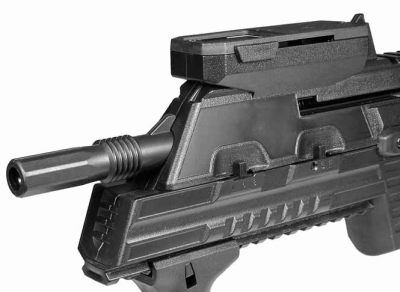 The design is realistic, robust and much liked by most of the air gun enthusiasts. Our only concern with the design is regarding the front barrel which protrudes from the EBOS a bit and since it is made of plastic, it may be prone to breakage in the event of a drop directly onto the barrel.
Operation
Umarex EBOS CO2 BB gun fires pretty well and with slight mod is very accurate and powerful. You might need to insert a small wedge under the rear sight to raise it up as some other users have reported. At more than 50 plus feet you can put all shots into a 3 inch circle.
The 88 gram air cylinder is quite durable; just put a tiny drop of grease on the top and then tighten all the way to preserve the gun's inner seals and prevent leakage in the CO2 cylinder.
The trigger on the Umarex EBOS is electronic so it does not have any real distinct break point or resistance to it and works rather well. Even in single fire mode you can fire very quickly.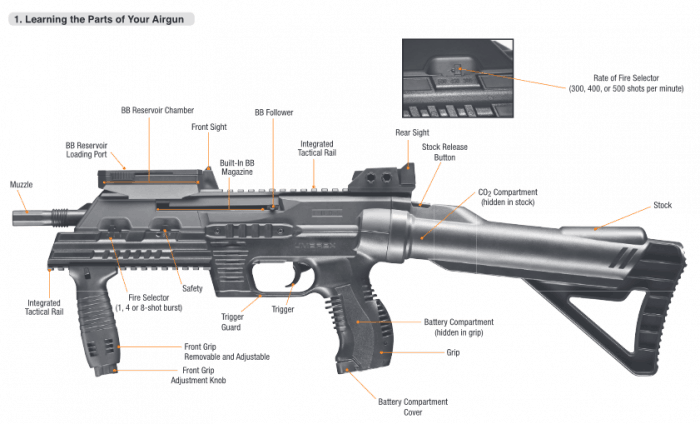 To operate this gun follow the steps below:
Wear your safety goggles.
Install the CO2 capsule by removing the stock.
Load up to 400 BB's in the BB reservoir.
Release the safety and choose firing mode.
Aim at your intended target and pull the trigger.
For further information on operating the gun I suggest reading the supplied umarex ebos manual.
Performance & Accuracy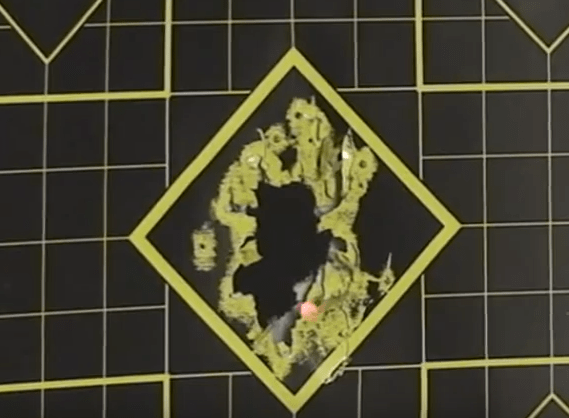 The EBOS has a user select lever for firing 1 BB, 4 BB's rapid fire or 8 BB's rapid fire which means that the 4 and 8 BB 'bursts' are fully automatic. The electronic trigger requires six AA batteries but these are not included with the gun. It will not operate without the batteries and to avoid repetitive replacement of the batteries it is best to remove them when you are not using the gun.
It uses a 90 gram CO2 canister for propelling the BB's at 540 feet per second. The Umarex EBOS is easy to load, charge (attach CO2), and adjust for preferences. The accuracy is pretty good too as shooting hanging cans at 40 feet away resulted in hitting them correctly 90% of the time. However, the accuracy is most from 30 feet away.
On performing the test in full auto 8 round burst mode the grouping did get a bit larger but the EBOS still stayed well on target. We went a step further to use 88 gram CO2 cartridge and were able to get a 481 fps average 8 shot result which was quite impressive.
Our Verdict
If we look at the pros and cons this semi-automatic rifle appears quite balanced. With slight improvements in the sight and battery consumption, the Umarex EBOS will deliver complete worth for your money.
[wpsm_column size="one-half"][wpsm_pros title="PROS:"]
he first pro is the gun's inexpensive pricing at just over $100 with full features.
The 24 round "internal magazine" with nearly exactly the same controls and control values.
Nice stock design and easy CO2 access.
Excellent power – right around the 500 fps mark even on a well-used CO2.
At 1/3rd the price Hopper for quick 'magazine' reloads.
The ability to shoot for a longer period before reloading is a plus and having a choice of rate of fire is a bonus.
For a gun of this power this rifle is surprisingly quiet and the noise levels can be further reduced by installing a compensator. If you add tape to cover the holes on the compensator, it becomes as quiet as a gun with a silencer fitted on to it.
[/wpsm_pros][/wpsm_column][wpsm_column size="one-half" position="last"][wpsm_cons title="CONS:"]
Fire rate is far slower than the Force/Storm which is disappointing because most of the people pick this gun due to the fire rate.
The 88/90 gram cartridges get quite expensive, so easier adaption to bulk CO2 would have been better.
The rifle eats batteries if you don't remember to turn it off, so a timed disconnect or a trigger disconnect from the power source would have been nice.
The sights are not as impressive and need improvement. In fact, you might need to buy an aftermarket one for improved accuracy. Putting a red dot sight such as the Leapers UTG 30 mm on top to increase accuracy is also recommended.
The rear sight is way too wide so we would suggest replacing or upgrading it.
The all plastic exterior may put off some people looking for a heavier more metal gun
[/wpsm_cons][/wpsm_column]
We would rate the Umarex EBOS Tactical BB Rifle ten out of ten on the fun factor. Then the reasonable pricing of the gun is another factor that goes in the favor of the gun and enables the enthusiasts to add it to their collection without any qualms. High velocities going up to 540 fps, very good accuracy even in full auto mode and a high capacity CO2 and BB feeding system make this one worth purchasing. This BB gun offers versatile shooting selection of 1-4-8 shot burst and 300-400-500 rounds per minute and allows adding accessories on top and bottom. So, go ahead and order one for your prized collection today!
Purchase Now Or Read More Reviews On Amazon
Even More Related Articles:
Thank you for visiting TacticalAirsoftMagazine.com. We hope that this review of the Umarex EBOS Tactical helped you make a decision. If we helped you in anyway on your purchasing decision please use one of our links above to go to Amazon and make your purchase. This site is part of the Amazon Affiliate program which means that we receive a small commission from Amazon at no extra cost to you for purchases made through our links. This allows us to keep bringing to top quality content. Thanks again for the visit.