For those looking for a cost effective and high quality BB gun pistol The Crosman C11 should not be over looked. The Crosman C11 BB Pistol has been designed to give you precision and accuracy in what ever you are doing, whether you are target shooting or trying to hit your pests that are running around your property. Our first trial with the gun gave positive results—as soon as you pull the trigger, BB's start flying with flawless precision. The look is highly realistic and with the right add-on accessories, you will be hitting all of the targets that you want. We recommend the Crosman C11 BB Pistol for its accuracy and long-term durability. Note, this is a BB gun not an airsoft gun.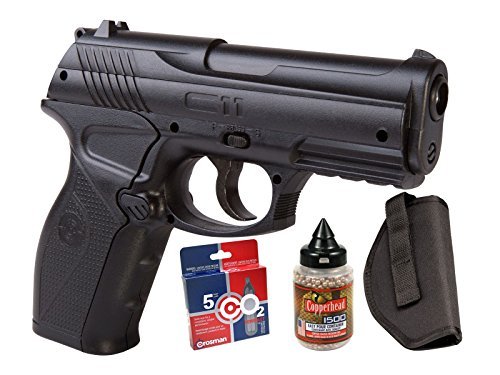 Purchase Now Or Read More Reviews On Amazon
Crosman C11 BB Pistol – Design that Does Most Things Right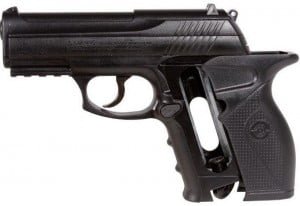 This solid BB Pistol has a very impressive, realistic look that gives it a solid feel. Quality components fitted in the CO2 pistol are complemented by its muzzle velocity of 480 feet per second. Designed for ensuring hand-held comfort, the C11 features grips that slide back to reveal the CO2 powerlet. The pistol has a plastic body, an in-built metal BB magazine and C02 housed in the grip.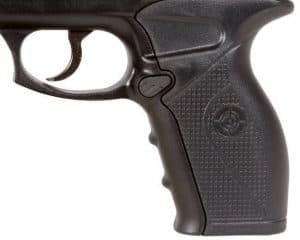 Featuring removable magazine for BB's, fixed blade front sight and a fixed notch rear sight, Crosman C11 BB Pistol comes in an impeccable finish for enhanced aesthetic appeal. An accessory rail is provided under the barrel for uninterrupted, smooth firing. The gun has been textured precisely, encompassing finger grooves that allow for an easy-yet-firm grip when you pump out the BB's. At no point, sweatiness of the palms becomes a serious issue.
Handy weaver rail in front of trigger guard is a part of the easy-to-fire setup that allows you to use accessories that are a perfect fit and those that need some adjustment, including the most critical ones like laser or flashlight. The uncomplicated design is one of the strongest points that make this gun a must-try among BB pistol enthusiasts.
[wpsm_specification]
Accessory rail under the barrel
CO2 power
Removable magazine for BBs
Picatinny Mounting Rail
Single Stage Trigger
Fixed Blade Front Sight
Fixed Notch Rear Sight
Manufacturer- Crosman
Caliber- 0.177 cal
Velocity- 480 feet per second
Ammunition – BB's
Weight- 1 lb
Gun Length: 6 3/4 inches
Loudness- Medium
Fire Rate- Semi-Automatic
Barrel – Smooth
Magazine Capacity- 18 rounds
Mechanism- CO2
Use- Plinking/Leisure
Operation of Crosman C11 BB Pistol

The grip shroud pulls back to open the co2 powerlet. Loading metal BB's into the magazine is very easy. Simply press the button near the trigger to release the magazine and begin loading. The sights are not adjustable and aiming using the fixed sights will have to do.
Follow these simple steps to operate your Crosman C11 CO2 pistol:
Put the gun ON SAFE and pull back the shroud to expose the CO2 outlet.
Insert a CO2 cylinder and tighten using the piercing lever. Once completed, close the shroud
Press the magazine release button to take out the magazine and begin loading the metal BB's. Insert loaded magazine back into pistol.
Release the safety, aim gun at safe intended target, and pull the trigger.
For more information on safely operating your Crosman pistol, refer to the Crosman C11 manual.
Performance and Accuracy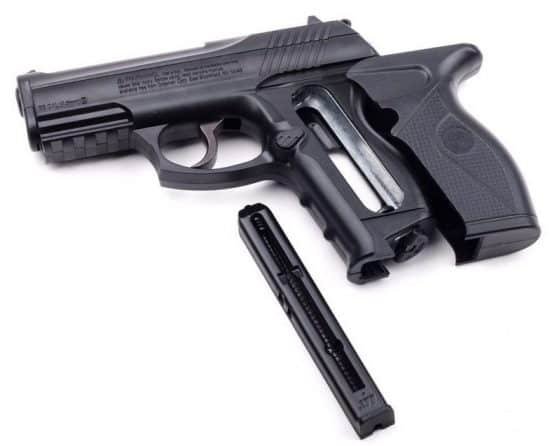 Considering the cost of the Crosman it has decent accuracy and is very easy to use. This C02 12g powerlet powered 18 shot boasts of an impressive 4.5 mm caliber. Delivering an impressive velocity of 480 FPS, C11 is a double action gun. Although the pistol can't be field-stripped, it can be taken apart to make slight changes or for fitting aftermarket accessories. You will realize the immense power as soon as you pull the trigger- 18 shots can be fired in a go, without interruptions.
We performed the bean tin test to find that the C11 can shoot straight for 80-50 feet based on how recently you changed the CO2. This accuracy is maintained to some extent with clips 3-10 of ammo (380-340 fps) which is quite acceptable. However, with slightly heavier pellets (.20 gram), the FPS is at least 40 to 50 less. After 60 full capacity shots, the ammo accuracy may deteriorate due to CO2 pressure—not a major disadvantage.
We recommend adding some standard accessories like bridge mount, red dot sight and spare magazines for enhancing the performance. Since, the magazines for this gun are not too pricey we recommend buying two spare magazines as this will assure 54 shots in less than 15 seconds. This gun is provided with a metal trigger that works much like a double action revolver, rendering the desired fire rate. The metal spring clips are thin because they do not hold the CO2 cartridge. These can be best loaded by a speed loader where each clip holds 15 rounds.
Our Verdict
The C11 pistol from Crosman comes at a good price and performs much better than some of the guns in the same price range or even beyond it. Some people find the plastic body of the pistol a bit unimpressive as it affects the stability and makes the gun body susceptible to breakage—first impressions don't suggest this is going to be an issue. We won't say that there are no negative points related to this purchase but considering the overall performance, these can be neglected. However, before making the purchase you should have an idea about the issues that you might face.
The major pros and cons associated with choosing this BB gun pistol include:
[wpsm_column size="one-half"][wpsm_pros title="PROS:"]
The design is impressive, the gun has a solid and realistic feel to it
Easy trigger pull combined with good blow-back operation
Metal trigger and magazine contribute to the robustness of the gun
Optimal weight- the gun is not too heavy, not too light
Suitable option for beginner level target practice
Smooth bore, high velocity
The trigger let-off is really smooth
[/wpsm_pros][/wpsm_column][wpsm_column size="one-half" position="last"][wpsm_cons title="CONS:"]
The sights are non-adjustable
Since the body is majorly plastic, the pistol is not very durable.
You might face a problem with CO2 in cold weather conditions.
The clips have poor spring strength and do not last at all in some models—spring may even jam or come loose if the pistol is not used carefully.
[/wpsm_cons][/wpsm_column]
Crosman corporation is counted among the most dependable manufacturers and creators of shooting sports equipment. It has carved a niche for itself in the air gun landscape. The Crosman C11 BB Pistol might not be exceptional but it carries forward the company's tradition of producing world-class BB air rifles and pellet pistols. Exceptional in every sense, C11 BB Pistol is a superb combination of power and accuracy. Weighed perfectly, the gun is neither to heavy nor too light and provides a solid feel on wrapping the fingers around the grip. The bolt-action of C11 BB Pistol is smooth and bold, the shots are fired without problems and with precision. Rear stock is both comfortable and sturdy, so you don't need to think too much for buying this stunner—you are buying yourself something truly impressive!
Purchase Now Or Read More Reviews On Amazon
Thank you for visiting TacticalAirsoftMagazine.com. We hope that this review of the Crosman C11 helped you make a decision. If we helped you in anyway on your purchasing decision please use one of our links above to go to Amazon and make your purchase. This site is part of the Amazon Affiliate program which means that we receive a small commission from Amazon at no extra cost to you for purchases made through our links. This allows us to keep bringing to top quality content. Thanks again for the visit.