Living up to its name, the Crosman 1322 air pistol delivers more than what you paid for. This is the .22-caliber version of the popular 1377 pistol, which is an American classic. Intelligently designed this pellet pistol makes a great starter gun for learning to shoot airguns or firearms. The modern version of the classic Crosman P1322 pistol, leaves the older medalist version behind.  It arrives in a shooter's kit with removable stock, pellet pouch, pellets, and airsoft goggles. When this gun was launched some comparisons were made with the .177 version but the .22 caliber version hits with more kinetic energy which is preferable for a survival situation.
Although it is inexpensive and has a plastic stock, the gun has managed to gain a faithful following because it is so much fun to shoot. Since you can vary the velocity with the number of pumps, no extra power is needed to do some plinking and target practice. In this review we seek to discuss the design, operation, performance and the pros & cons that come with the purchase of this gun.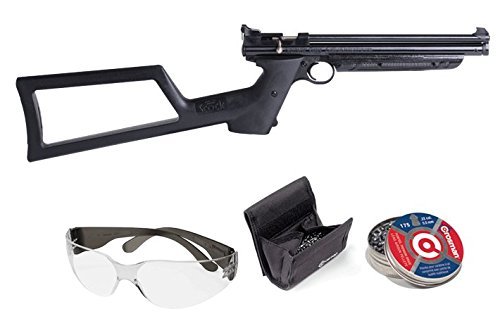 Purchase Now Or Read More Reviews On Amazon
[wpsm_specification]
Before moving further into the crosman 1322 air pistol review, here's the full list of the gun's features and specifications:
Color -Black
Caliber – .22
Velocity: 500 FPS
Ammunition – Pellets
Weight – 2 lbs
Overall Length – 13.63in
Barrel Length – 10.25 in
Capacity – 1 Round
Cocking Effort – 1-10 pumps
Barrel – Rifled
Action – Bolt-action
Rear Sight – Adjustable for Windage and Elevation
Front Sight – Blade
Safety – Manual
Scopeable – No
Suggested For – Plinking & Fun
Powerplant – Spring
Repeater
Trigger Pull – 5.5 lbs
Material – ABS plastic
Pump Action, No Battery or Co2 Required
Single Shot
Only 1-10 pumps (never pump more than 10 times)
Ambidextrous Grip With Thumbrests on Both Sides
Textured Plastic Grip & Pump Arm
Ideal for Plinking
Aperture Rear Sight Adjustable For Windage and Elevation
Design and Appearance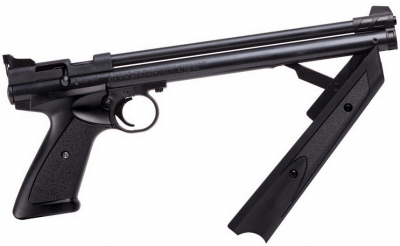 Crosman 1322 pellet pistol is the archetype American pump pistol with a new sleek and modern design. The.22 caliber pneumatic air pistol boasts a single-action bolt design for faster cocking and loading along with an easy-to-pump forearm for variable pump power and a rifled steel barrel for increased accuracy. Variable pump is intended to let you control the velocity in any kind of shooting operation. The weight is 2lbs which is pretty decent and assists in easy handling of the gun. The overall build quality is good but the receiver is plastic which is a bit disappointing.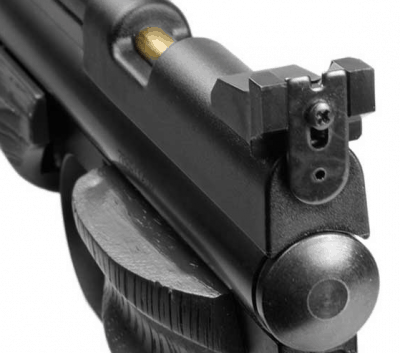 Fully adjustable rear peep or open sights and a fixed blade front are a part of the P1322 pistol's smart design. The fit and finish are appreciable too, apart from the fact that the front site is bent to the left which leads to the curling of the gun in that direction. While the open sights are effective, it is a good idea to buy 459MT mounts that can be installed onto the barrel as they have a 2-piece 3/8″ optics rail for a dot sight, pistol scope, or laser.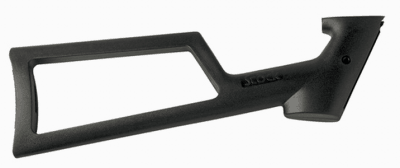 The kit comes with a removable plastic stock that contributes to the accuracy. To install the stock, remove the two screws on the plastic pistol grips. Connect the stock and re-tighten the screws.
Operation
Crosman 1322 pellet pistol's integral pump lever mechanism is located underneath the barrel, central to the forearm. To be able to store pressurized air in a chamber, the pump lever must be cycled up to a maximum of ten strokes. As the trigger is pulled, an air valve will relocate the pressurized air into a transfer port built-in the breach, discharging the pellet from the barrel.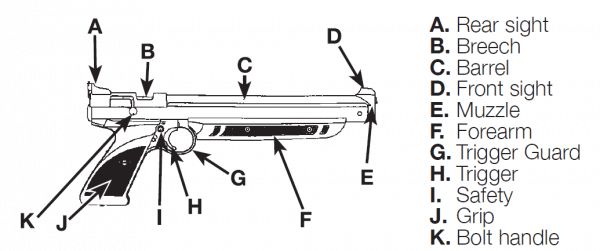 The Crosman 1322 draws attention to its front fixed blade sights and fully adjustable square notch rear sights. With ten pump strokes you can achieve a maximum velocity of up to 440 FPS using standard Crosman 14.3-grain .22 pellets.
To operate the gun follow these steps:
Cock the bolt and load the pellet.
Close and lock the bolt.
Turn off the safety and aim gun at your intended target.
Pull the trigger.
Performance & Accuracy
This Crosman air pistol needs about 100 shots to achieve consistent accuracy. Once you are able to break in the air pistol you will be able to hit targets such as cans at 10 and 15 yards pretty much every time. The 1322C will punch through six layers of cardboard with only three pumps at ten feet.
The pellets are twice as heavy for the Crosman 1322 vs Crosman 1377. We tried the gun for accuracy using different sights and breach. With the given stock sights and plastic breach, we achieved dime sized groupings at 10 yards while with a steel breach and a 3-9×40 scope, quarter sized groupings were achieved at 30 yards distance.
Verdict
This gun is a good survival tool as the stock is excellent, making it an excellent survival or hunting weapon. Whether you are shooting at cans, pests, or varmints, this one is a great pick. Sturdy construction and user-friendly design ensures that you have a firm grip and a weapon that will serve you for years to come. The FPS of 460 is pretty impressive for a gun of this price. So, go ahead and add this one to your arsenal for owning your enemies and obtaining superior power on the field.
Here are the pros and cons of the 1322C pellet pistol:
[wpsm_column size="one-half"][wpsm_pros title="PROS:"]
Great accuracy with the open sights and plastic breach
Nylon ammo pouch lets you holster the gun on your belt or carry in your pocket
Abundant aftermarket modifications including shoulder stock, silence, and 4×32 scope.
Well balanced and good grip
Power and velocity increase with each pump (max 10 pumps)
Smooth, clean trigger.
Consistent, tight, and accurate groups
Affordable price
[/wpsm_pros][/wpsm_column][wpsm_column size="one-half" position="last"][wpsm_cons title="CONS:"]
Pumping mechanism may take practice. Consider using Crosman's pellgunoil to solve this.
Plastic breech instead of steel breech.
The rear sight is hard to adjust and hard to aim with. The lack of a dovetail groove means you can't replace the rear sight with a micro click sight.
The stock trigger is a little heavy but it does not affect the accuracy.
[/wpsm_cons][/wpsm_column]
Purchase Now Or Read More Reviews On Amazon
Thank you for visiting TacticalAirsoftMagazine.com. We hope that this review of the Crosman 1322 helped you make a decision. If we helped you in anyway on your purchasing decision please use one of our links above to go to Amazon and make your purchase. This site is part of the Amazon Affiliate program which means that we receive a small commission from Amazon at no extra cost to you for purchases made through our links. This allows us to keep bringing to top quality content. Thanks again for the visit.
Even More Related Articles:
Note to readers: If you found this crosman 1322 review helpful, help us out by sharing it via social media.