There is no dearth of BB and pellet guns in the market. Both of them come with their share of pros and cons. However, the Crosman 760 Pumpmaster offers a great fusion of both. According to Crosman, over 12 million rifles have been sold in the past 51 years, that's 644 new 760 pumpmaster owner's per day! There's no stopping yet, because these rifles are growing popular as ever.
Purchase Now Or Read More Reviews On Amazon
[wpsm_specification]
Before moving further with the Crosman 760 Pumpmaster review, let's take a look at the gun's specifications:
Caliber: 0.177″ (4.5mm)
Velocity: 625 fps (615 with lead pellets, 700 with alloy pellets, 645 with steel BB's)
Gun Weight: 2.1 lbs.
Loudness: Medium
Action: Bolt-action
Safety: Manual
Barrel Length: 16.75″
Overall Length: 33.5″
Trigger Pull: 4.0 lbs.
Shot Capacity: 18
Cocking Effort: 3-10 pumps
Mounting rail: 11mm dovetail
Barrel: Smoothbore
Front Sight: Fixed Blade and Ramp
Rear Sight: Adjustable for elevation
Trigger: One-stage
Buttplate: Plastic
Suggested for: Plinking/Fun
Powerplant: Multi-pump pneumatic
Function: Repeater
What to Expect From the Crosman 760 Pumpmaster

Okay, let's see what Crosman 760 Pumpmaster has to offer.
One of the things that appealed to me was its price — this rifle is not very expensive.
In order to add something in your arsenal that is earning accolades worldwide, this rifle is worth experimenting without digging a big hole in your pocket. For someone who is a novice in using air rifles, this one is surely a safe bet to begin with as it weighs less than 3 lbs and is easy to handle.
If you want something to try your hand at target shooting games or plinking, this air gun is simply perfect. But, remember you should never aim at metallic objects when dealing with BB guns. As this gun comes with a fixed front sight it strives to provide unbelievable accuracy while mounting a red dot or a scope on the 11mm dovetail. One thing that is worth mentioning about this rifle is that like the Daisy Powerline 880, it is capable of shooting both BB's and pellets. It's versatility to provide dual functionality of a pellet rifle and a BB gun means can easily switch between different hobbies.
Understanding the Design
The first thing that appeals about this rifle is that it is a perfect combination of BB and pellet gun. For more clarity you can say that it is a BB gun, which is a single shot pellet rifle at the same time. If small pests are bothering you or you demand something that can help you enjoy competitive shooting games, the Crosman Pumpmaster 760 claims to be of great use. If you talk about its visual presentation, then this rifle is bound to appeal with its sophistication, which stems from its classic BB gun-style design. Its pin-point accuracy is something that will never fail to catch your attention as it is has been engineered to deliver the same with great precision.

This air rifle is a fantastic replica of the pneumatic rifle, which is capable of firing BBs and small pellets. The velocity you can expect from each pellet is around 600 feet per second. The use of durable synthetic material in the construction of stock and forearm lends it the resistance to withstand repeated usage without compromising on the aesthetic appeal.
Testing It on Functionality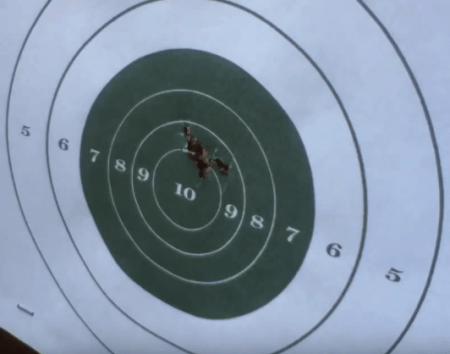 The Crosman 760 Pumpmaster surely delivers what it promises. All multi-pump pneumatics will love to be engineered like this amazing air-rifle and its credible performance is evident from its successful reputation that has been built over 5 decades. This rifle shoots .177 pellets with great power and accuracy. It takes 3 to 10 pumps to deliver pellets up to 700 fps and BBs up to 645 fps. This pumpmaster can provide a 200-shot reservoir that works well in giving you a feel of a real rifle that too with the benefit of safety.
In terms of usage convenience, the pumpmaster comes with checkered-detailing on the grip that is supported by indentations on the pump handle to provide a firm grip to the user. This comfy surface aids in better performance as you can focus on the target in a better way. Being a two-in-one version of BB and pellet gun, this device allows you to adapt well with 5-shot pellet clip and 18-round BB magazine. To cock the gun all you need to do is, point the gun in a safe direction, get a good grip on the forearm and pump the gun one time. For best results, pump at least 3 or 10 times.
Operation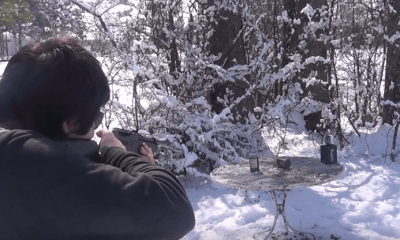 The Crosman Pumpmaster 760 is a gun that can be shot not only by hobbyists, but also for hunting small pests such as rats. The trigger pulls fairly at 3.5 pounds and you won't encounter any jams even up to 50 shots.
To load BB's into this gun, first put the gun on SAFE mode and then swap the BB loading port on the left side. Pour the BB's and close the port to secure their position.
For shooting the BBs you need to slide the bolt rearward so that the magnetic pole on the front is able to pick up BB automatically. When the BB is picked up, slide the bolt forward and you are ready to shoot.
For further information on safely using this gun be sure to review the owner's manual.
Conclusion
It's time for the final verdict.
[wpsm_column size="one-half"][wpsm_pros title="PROS:"]
Low upkeep cost
Doubles as a BB repeater or a single shot pellet gun
Shoots up to 645 FPS (alloy)/615 FPS (lead)
Recoil-less
Shoot both BB and pellet
Total control over gun power
Fixed blade front sight with adjustable rear sight
Large shot capacity
Decent scope
Ideal for target shooting
Includes slide bolt for added safety
[/wpsm_pros][/wpsm_column][wpsm_column size="one-half" position="last"][wpsm_cons title="CONS:"]
A little improvement is needed in the latch that holds the pumping arm in position.
Made mostly of plastic, which may not appeal to advanced shooters.
Requires strength to pump the gun 10 times, for maximum velocity and power.
Some shooters report the smooth bore trigger decreases the effectiveness of the gun and needs redesign or you can buy a replacement trigger.
The rear sight assembly is not firmly attached and lacks lateral adjustment.
Pumping action can be tedious at some points
[/wpsm_cons][/wpsm_column]
Is the Crosman 760 Pumpmaster good or bad from the customer's point of view? Well, the answer would be: good. This air rifle definitely impresses with its sound engineering. It may not be an exceptional performer, but it is worth a try if you are looking for something that is capable of warding away pests that are posing a danger to your property.
If you get bothered by noisy devices, this pump-master will not disappoint you as it is a very quiet gun that uses a pump action mechanism. Even if you look at the numerous reviews posted online, you won't be able to see any complaint about its noise. This attribute makes it suitable for both indoor and outdoor use. If you wish to get the best out of this air-rifle, we recommend that you use it from a distance of 30 yards. In addition to all the features that we have discussed above, the price at which it is offered makes it a worthy purchase!
Purchase Now Or Read More Reviews On Amazon
Even More Related Articles:
Thank you for visiting TacticalAirsoftMagazine.com. We hope that this review of the Crosman 760 Pumpmaster helped you make a decision. If we helped you in anyway on your purchasing decision please use one of our links above to go to Amazon and make your purchase. This site is part of the Amazon Affiliate program which means that we receive a small commission from Amazon at no extra cost to you for purchases made through our links. This allows us to keep bringing to top quality content. Thanks again for the visit.