Few air rifles can compete with the M14 combat rifles in terms of having an impressive history. The Winchester Model 14 has historical significance being the standard service rifle for Marine U.S. Army infantry. During the 1960's and 70's more than 1.3 million M14 rifles were issued to the U.S. Military Veterans. Developed in the 1930's, the M14 was a modification of the famous M1 Garand. It was widely used in World War II. This Winchester M14 Co2 Airsoft Rifle review covers this iconic firearm which was developed as a tribute to the chivalrous US military. Here, we will analyze the replica airsoft M14 Co2 rifle manufactured by Daisy, in detail…
Purchase Now Or Read More Reviews On Amazon
[wpsm_specification]
Features of airsoft M14 Winchester:
Model: 991014-301
Semi-automatic CO2 air rifle
Length: 44.25 inches
Weight: 4.4 pounds
Rifled steel barrel
Sights: blade front sight and adjustable rear
Velocity: 700 feet per second
Modeled after military-issued M14 combat rifle
Durable composite stock
Trigger block safety
Manufacturer's warranty: one year from date of purchase
Basic Specifications of M14 Winchester:
Action: CO2 semi-automatic
Overall Length: 44.25 inch
Weight : 4.4 lbs
Max. Velocity: 700 fps
Sights: Blade front/Adjustable rear
Stock/Forearm: Brown composite
Max. Shooting Distance: 280 yard
Safety: Trigger block safety
Ammunition: .177 cal. pellet
Barrel: Rifled steel
Capacity: 16 shot
The Winchester Legacy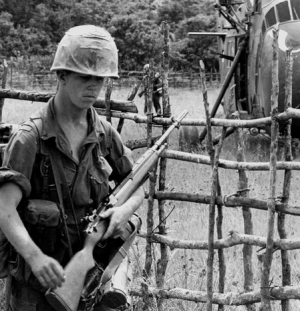 The M14 without a doubt had set high standards for accuracy, power and reliability and so much was expected from the replica of this power-loaded weapon. M14 Co2 air rifle by Winchester has managed to live up to most of these expectations with an optimal level of accuracy and efficient design. The M14 features a rifled barrel made of steel, and is equipped with blade front sights and rear adjustable sights for accurate shooting.
Equipped with durable composite stock, the M14 Co2 rifle is a semi-automatic dual ammo gun capable of shooting both BB's and pellets. The CO2 compartment fits two standard 12-gram cylinders which generate a maximum muzzle velocity of 700 FPS. All you need to do is load two CO2 cylinders into the compartment then insert it into the gun. Another positive feature is that the CO2 clip also holds an ammo magazine with an 8-shot cylinder at each end for an impressive 16 shots.
Design Overview of M14 Winchester for Airsoft Combat
This is not just about any other air rifle. You own a piece of history with the Winchester M14 . This air rifle carries a honorable military tradition with its durable composite stock and rifled steel barrel. If you tend to prefer guns that look like true military firearms, you should definitely consider adding the Winchester M14 to your gun collection—the replication of design is at its organic best.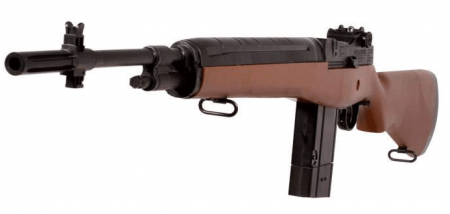 The design is a reminder of the craftsmanship associated with actual Winchester air rifles and pistols. In addition, you get the assurance of great shooting performance. With significantly more power than many of the youth BB guns, the M14 Semi-Automatic CO2 air rifle has managed to capture the attention of the biggest critics in this niche. With an overall length of 44.25 inch and 4.4 lbs, the gun is not too heavy and quite easy to handle.
Operational Overview of Winchester M14 Airsoft Rifle
Winchester's M14 is designed to provide ease of operation. The rugged and composite stock with fixed front and adjustable rear sight allows you to fire the BB's quite smoothly. Simply load BBs, pellets, or both into the magazine then insert the magazine into the gun. After 8 shots, remove the magazine, flip it upside down, re-insert and continue shooting. M14 Co2 Air Rifle provides an optimum level of consistency while shooting and has a 16-round BB or pellet clip.

Do not shoot steel BBs at hard objects or water as they tend to ricochet and always wear your safety glasses. You might pick up the Winchester Air Rifle M14 for its historical roots, but the extreme backyard fun makes it a highly enjoyable air gun, providing worth for your money. You can continue to shoot the gun until either the ammunition or CO2 cylinder needs reloading. It is rather easy to load ammo into the magazine, simply insert a pellet or BB into each of the visible clip openings and rotate until all the ammo cylinders are full. If you need more information about the Winchester Model M14 semi-automatic CO2 powered dual ammo rifle, check out the owners manual.
Accuracy of Winchester M14 Airsoft Rifle

The thing we liked most about the gun is that it is a Consistent Performer. It easily gets down on the sandbag, delivering without fail. It easily delivers 8 accurate shots before stopping. Winchester M14 Co2 Air Rifle has an amazing aperture sight, giving precise visibility up to 10 yards so that you do not need anything else. With a maximum velocity of 700 fps, the gun shoots quite accurately in the 280 yards range.
The magazine is well designed with the CO2 staying in when released and the mag seal keeps all the CO2 intact until you are ready to use it the next time. The release tab pellet mag is an asset in this gun. The 16 round clip fits very snugly with a positive lock is quite impressive too. The CO2 mag contains two tabs with the first tab discharging it from the chamber and the second tab discharging it from the gun to prevent the shooter from dropping it.
Our Verdict on the Winchester M14 Airsoft Rifle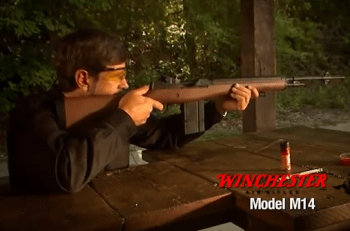 In the past few years, sport shooters have started feeling the squeeze of limited space and budget for recreational shooting. It is for this reason that Winchester Air Rifles, including the M14 Co2 Air Rifle, have been able to make an impression—are apt choice for shooting enthusiasts who want low cost shooting for year-round training, both indoors and outdoors, even in space-starved arenas.
The BB/pellet gun is manufactured and marketed toward dedicated shooters who are interested in shoulder-to-shoulder competition at a target range while meeting their needs of space and budget. The Winchester M14 Semi-Automatic Rifle replica ranks high in terms of durability. The Winchester branding adds to the credentials.
Purchase Now Or Read More Reviews On Amazon
Thank you for visiting TacticalAirsoftMagazine.com. We hope that this review of the Winchester Model M14 air rifle helped you make a decision. If we helped you in anyway on your purchasing decision please use one of our links above to go to Amazon and make your purchase. This site is part of the Amazon Affiliate program which means that we receive a small commission from Amazon at no extra cost to you for purchases made through our links. This allows us to keep bringing to top quality content. Thanks again for the visit.