A gun this well-built and priced so economically is a rare sight in the world of air rifles. The Benjamin marauder air rifle has been a best seller ever since the first model with wood stock was launched. Colloquially known as "Mrod" among enthusiasts, the marauder is a leading PCP air rifle with great accuracy and consistency for a gun at its price range.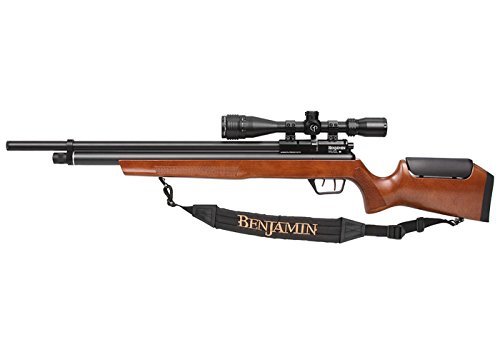 Purchase Now Or Read More Reviews On Amazon
Experience the accuracy and consistency with more than 20 pellets falling into same group, that too as small as 2-inch (at 50 to 60 yards distance). The rifle offers near match grade accuracy and is best suited for pest control, small game hunting and target shooting. It is very quiet, and is best for hunters.
People may try to find design and performance related flaws, but those are relatively insignificant as the Marauder is tried and tested. Although, there have been reports of people receiving "duds", or rifles which are just off, however hard you try to calibrate them. This might be a quality control issue, or just some shots going haywire due to human variable. With the quality check these guns undergo, and the all-American manufacturing, these guns are reliable and bestsellers.
[wpsm_specification]
Multi-Shot, bolt Action, PCP (pre-charged pneumatic) hunting air rifle
Delivers up to 32 consistent shots per fill
Adjustable, two-stage, match-grade trigger
10-round magazine delivers fast follow up shots
Rifled, shrouded barrel
31.7 foot pounds of energy (fpe)
Dovetail mounting rail
Sling mounts
8.2 lbs overall weight
The Benjamin Marauder air rifle is available in .177, .22 and .25 caliber variants and a synthetic stock version with black finish is available too. Since, it has been flying off the shelf, a little insight into what makes it so special and likable is in order.
Performance
The Benjamin marauder air rifle is in rage among hobbyists, air rifle hunters due to its performance and accuracy. With a multi-shot magazine (the magazine size depends on the caliber), it is a multi-shot killing machine which is super silent too. Although the air consumption is high and needs to be refilled after every 30 shots (recommended refill after 20), the power and speed of this rifle makes it a hunter's favorite. The multi-shot with high-power PCP shooting makes it great for pest control and hunting.
The speeds are also relative to the caliber. Here is a chart of caliber and respective speed:
Caliber
Energy
.177

.22

.25

21 FPE

32 FPE

45 FPE
The .22 and .25 with more than 32 Foot-Pounds of energy are able to put down a fox, if you can get them hold still. That too won't be a problem since the gun is super-silent with a built-in de-pingerwhich muffles down the sharp ping of the projectile leaving the rifle to a dull thud.
The .177 can be used for light hunting too, with turkeys, raccoons etc. with heavy pellets, but is better suited for pest control and target practicing.
Benjamin Marauder's Design and Appearance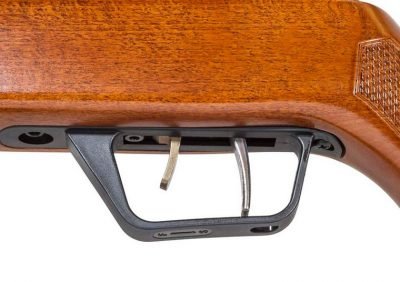 Designed and manufactured in the U.S.A by Crosman, one of the leading air gun manufacturers, the Benjamin marauder air rifle may be accused of being too simple or too bulky to handle. But the fact is, it is accurate as hell, offers great power for hunting and most of the shots fall into same small subgroup, fair enough?
The hardwood stock of the Mrod is designed and balanced keeping in mind that it has to be carried a long way in fields, bushes etc. It also features an adjustable comb, which offers a custom fit. A very small but innovative change, the trigger is moved a bit rearward to offer a comfortable hand position, making the holding, waiting for the game and aiming a bit less stressed. This in turn, relieves the shooter from extra pressure and improves the accuracy.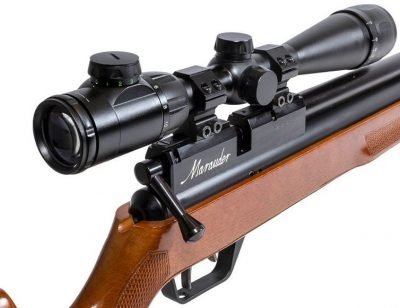 Another design feature which is carried forward from the marauder pistol and adapted into the marauder rifle is the reversible bolt. The mouse hole (bolt stud protrusion) has also been eliminated and the breech design has been simplified.
Stand down or get pinned down, the Benjamin marauder air rifle isn't just the performance. It features elegant look with sleek lines and fierce looking stock and barrel. The simplified breech offers a better platform for different scopes and the satin black "Hunter's Finish" looks great with both wood stock and black synthetic stock.
Operation
Hunters fell in love with this gun as soon as they tried their hands on one. If we eliminate the fact that it needs to be pump filled after every 20 shots, the Mrod are is a great hunter with great power and easy handling. Among quiet air rifles, these are the ones which have been accepted by expert reviewers and hunters as silent.
We are always under impression that any mid-range air rifle will need one or two replacement (usually the scope and the trigger). But the Benjamin marauder air rifle proudly exhibits its match-grade trigger which comes standard with the rifle. The pull is light enough to not hamper the accuracy and can be adjusted further (just do a quick search for tips and tricks), so no need for a trigger upgrade here.
With the scope of adjustments in so many aspects, the marauder might be the easiest PCP air rifle to use and dial till date. The popularity of the gun is also complimented with the fact that the simple design makes it easy to find various compatible parts too.
So, grab it anytime and start shooting BB's in your backyard, patio or basement, the ultimate cure for the cabin fever is here. It is silent, does not disturb your spouse, and is accurate, pleasant to shoot with multi-shot options.
For further information on operating this gun, check out the Benjamin Marauder Owner's Manual.
Accuracy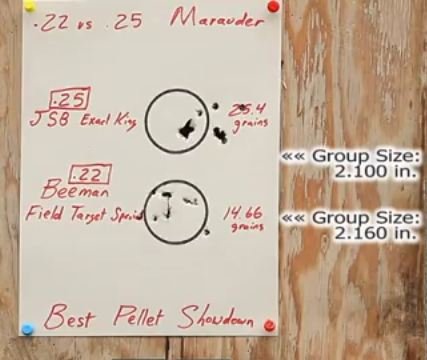 Since we have talked about its accuracy in every section, we know that the rifle is accurate. But how much accuracy does it provide?
The point here is, the Benjamin marauder air rifle is accurate, and that too directly out of box. It doesn't need much time to break in, calibrate or tweak, adjust its various aspects. With test results falling into same group, the group being as small as 2" – 2.5" (human variable involved).
The high-quality barrel with match-grade stock trigger offers an experience close to rifles used in competitions. And no tuning is required, whatsoever to achieve this type of precision either.
Wrap Up
Although the verdict is clear in our minds, let's address the elephant in the room. The Benjamin marauder air rifle could be the next big thing in the world of air-rifles, as it is professionally designed, easy to use, adjustable to a great extent, and offers competition grade accuracy with consistency. If you are up for the task of pumping air after every 20 shots, there is no other reason one shouldn't get this gun. It has everything a hunter loves in an air rifle – multi-shots, power, speed, accuracy, precision, out of the box performance with little need of tuning, adjustments, and the fair price tag.
[wpsm_column size="one-half"][wpsm_pros title="PROS:"]
Incredible power
Competition-grade accuracy
Consistency
Requires very little active maintenance
Adjustable in several aspects
Super-quiet with the four chamber silencer
[/wpsm_pros][/wpsm_column][wpsm_column size="one-half" position="last"][wpsm_cons title="CONS:"]
A bit on heavier side
Even heavier after adding a scope
Is a workout in disguise, need to pump a lot unless you've got a scuba kit
Again, carrying the pump or scuba kit is a drag
[/wpsm_cons][/wpsm_column]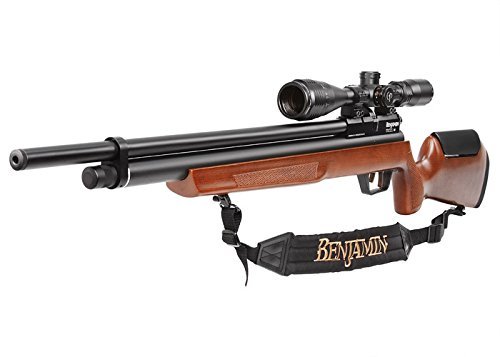 Purchase Now Or Read More Reviews On Amazon