The Gamo Whisper Silent Cat air rifle has been creating some noise in the pellet gun category with its 52% more silent design than the Big Cat 1250 or any other air rifle for that matter. In fact, it is such a popular gun among the community that it has over 800 customer testimonials on Amazon.com!  The air rifle is great for small games and can be used in large pest control situations too. After having a hand on experience with the Silent Cat, we found a little to dislike, but we are all praise for its professional performance. In this review, Tactical Airsoft Magazine's Steve Keary will give an unbiased report on the gun's accuracy, design, operation, performance, and price.
[quick_offer]
[wpsm_specification]
.177 Caliber
1200 FPS velocity
46.00″ length
1 shot capacity
3.79 lbs trigger pull
Manual safety
Spring-piston/break-barrel power plant
5.28 lbs overall weight
Ventilated rubber butt plate
Rifled barrel
Fiber optic front sights
Wind and elevation adjustable rear sights
Scope: 11mm dovetail
What Design Features of the Gun Stand Out?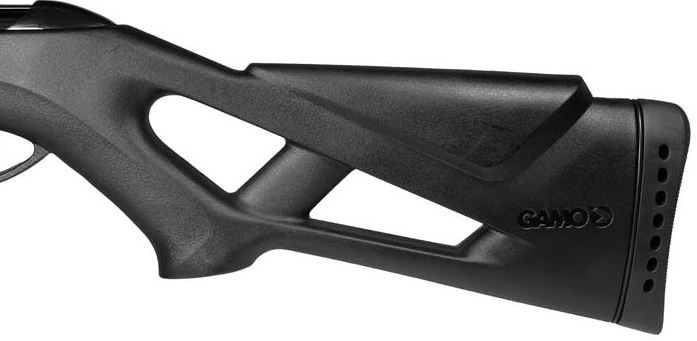 Getting your aim right and waiting patiently for the game largely depends on the stock. The skeleton stock of the Gamo Whisper Silent Cat  stands out because it allows for a great grip with relaxed muscles, reduces tension, and improves performance with every shot. It is comfortable to hold and stays firm even when you aren't using a rest.
Similar to the grip of 10/22 (thumb hole stock), the stock of Gamo Silent Cat is the main reason you should go for it. The stock allows you to get the muzzle locked on target quickly, and increases the accuracy of the shot too. It features a mounting rail for scope and comes with a stock 4 x 32 air rifle scope which is interchangeable with compatible scopes.
The rifle features a tough all-weather synthetic stock which is strong enough to endure recoil and other shocks. It also features twin cheek pads for ambidextrous shooting and a ventilated rubber pad butt plate for absorbing recoil. The all-weather synthetic stock is durable and lasts-long with lesser care.
It appears bulky and beastly, but is lightweight and comfortable to handle. The skeleton stock, which is common in 10/22 AR rifles improves the appearance, offering a very ergonomic positioning and a professional look to the rifle. The top raised rail for scope comes with a stock scope but can be easily replaced. The complete unit ships to your front door black with metal black barrel, muzzle, suppressor, and matte black synthetic stock.
Actual Shooting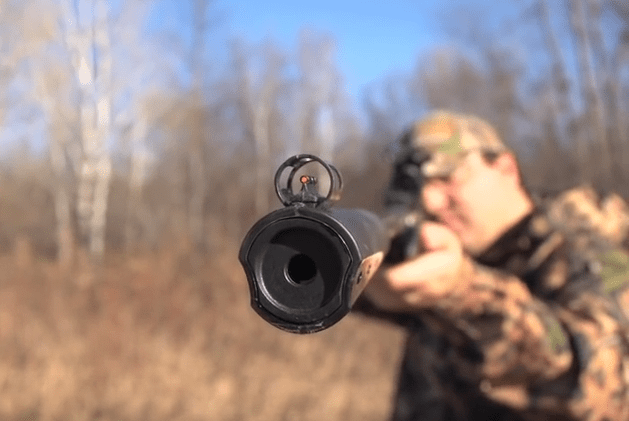 This gun is marketed by Gamo as one capable of hunting large pests and small game, so I decided to go for a few rounds of responsible hunting. Shooting iguanas and rats is a great sport and I enjoyed eliminating our backyard from these pesky intruders. The rifle was an ace with bull's eye precision and after a few rounds; almost every bullet resulted in a head shot (at 20 ft.). When operating this gun, just remember to shoot a few hundred pellets before you start calibrating the scope and aim, it lets you get to the scope and the muzzle gets in sync with  your aim.
Steps involved in shooting this gun are:
Grab a pellet,
Break open the barrel
Insert pellet
Close the barrel back
Take aim
Pull the trigger and claim your prize
The trigger is of adjustable length, but a more needed feature was its sensitivity. It is a bit on the tighter side and spoils the game till you summon the power in your fingers to pull the trigger. For the first time, the psychological pressure and inner-conscience were way too light in comparison to the actual power required to pull the trigger. Although this was an exaggeration, and the trigger works just fine, I would have preferred it to be a little lighter in terms of pull.
The suppressor rifle muffles down the sound to a large extent but the PBA pellets sounded like a BB gun every time a shot left the muzzle. It is more silent with other pellets but since you don't need to do a surgical strike the noise level is apt for small game and pest control.
The gun is easy to cock and requires 30 lbs. (or less) to cock it. Once you find the right position, you can go all day cocking your rifle and shooting without straining your wrists. So, grab one soon and start hunting!
Performance Overview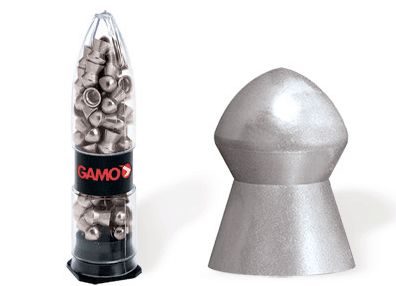 The first thing you would notice about the rifle is its performance. Highly accurate with a long barrel and silent with the non-removable noise suppressor, the rifle offers clear shots with "52% lesser noise". The non-removable noise suppressor is merged with and protects the muzzle. After a few hundred shots, pellets start to fall in the same group-hole within 20 yards (personal experience, not a factory specification). It offers around 1030 +/- 10fps muzzle velocity with the sound output of a 650 FPS or lower gun.
Great for small game, this rifle goes a long way and can be used with different types of pellets. Although, the recommended pellets are PBA pellets and lead pellets, a number of cheaper and more accurate ones can be used with the Gamo Silent Cat. Use any 8 grain pellet for accuracy and precision.
The Silent Cat is a Highly Accurate Rifle
Accuracy was the part everyone wanted to talk about after getting a hands on experience with the gun. Boy, did we score? After a few scores of pellets, I was able to get the scope and muzzle aligned . With the recommended PBA pellets by Gamo, I was able to land 99.9% of my shots in single hole at 20 ft. distance.
It gets better with other professional scopes, a different trigger for those who like less effort kill shots (preferably a GRT III). Once you try a few hundred shots, align the scope, splurge, and use machines pellets instead of default/recommended ones. Any target within 50 yards cannot escape the wrath of this rifle.
Even More Related Articles:
A Bargain at Online Prices marked up to 50% off
The Gamo Silent Cat claims to reduce noise by up to 52%, but we can reduce your expenditure on this gun by a similar percentage. Some of the best online deals on this gun can be found on AirGunDepot.com where you'll get 44% OFF and receive a FREE rifle sling. Or you can head over to Amazon.com and buy the rifle for a bargain of $130 USD (48% OFF).