If 1000 FPS muzzle velocity and an option to upgrade to the Vortex Gas Piston isn't enough to lure you into buying this Air Rifle, a look at the beautiful Turkish Walnut Stock will do the trick.
The Hatsan Mod 95 Single shot break barrel Rifle is a rage among Air Rifle enthusiasts with its three caliber choices (.177, .22, and .25 caliber), and is suited for pest control, small game hunting and plinking /target shooting.
Purchase Now Or Read More Reviews On Amazon
Experience smoother shooting cycle, extended product life with fewer moving parts with the Vortex upgrade. The Mod 95 delivers what it promises, with different types of pellets. Tested using lead pellets, the Hatsan Mod 95 crosses its claimed FPS rate of 1000 fps easily, and offers great penetration, knockdown power.
[wpsm_specification]
Quattro Trigger – Advanced two-stage match trigger only available from Hatsan
Shock Absorber System (SAS) –  Reduces vibration and increases the life of the gun, optics, and accessories
TruGlo® Fiber Optics – Micro adjustable rear sight and front sight to lend more accuracy to every shot
Integrated Sound Moderator – Sound moderator in muzzle break for reduced down-range noise. Includes front open fiber optic sight.
Safety – A drop safety interlock device has been incorporated to eliminate the possibility of the air gun accidentally firing if it's dropped (whether or not the safety is on).
Design and Appearance
The Hatsan 95 is available in three calibers: .177 caliber, .22 caliber and .25 caliber. The single shot Air Rifle works on spring piston mechanism and a Vortex Gas Piston upgrade option makes it an even better shooter.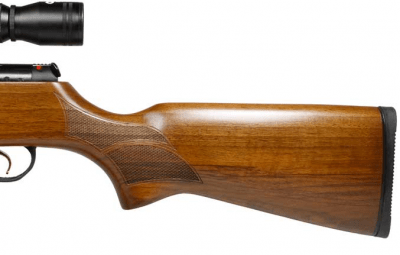 The rifle measures 44.3" (end to end) and weighs around 9 lbs. with the combo scope. The Turkish Walnut stock and the gold colored metal trigger offer it a more serious and sturdy look. A soft rubber butt pad dampens any recoil further, and the ambidextrous stock makes it suitable for both left-handed and right-handed.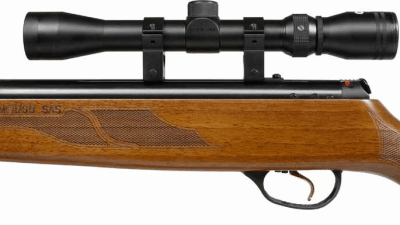 Pistol grip is slightly textured for better grip and the fore-stock bears a similar texture to offer a good grip while cocking. The muzzle of the barrel is a molded polymer muzzle brake, which also serves as a mount for the front sight. The receiver features dovetails for mounting a scope, and at the end of the receiver sits a push-pull type safety, which prevents the rifle from going off if fell accidentally from hand.
Although, the gun is not an exact replica of any firearm, it is close to real firearms in its design and appearance.
The design is comfortable, ambidextrous and the gun can be carried easily. The rifle comes with combo scopes too, and has some serious killer looks.
Operation
Shooting with the Hatsan Mod 95 is a real pleasure, the powerplant generates some vibration, but is quiet overall, with less recoil. Here are the steps to get the Mod 95 ready for shooting:
Grab the muzzle, break and pull it down until the cocking mechanism latches
Now insert the pellet into the breech
Return the barrel until it clicks, i.e., it is tightly secured.
Now you are ready to fire. Turn off the safety and take your best shot.
The gun needs a minimal 30 lbs. of cocking effort to cock the gun, and with the single-shot design, needs to be cocked every time. The two-stage trigger mechanism requires 1 lb. 3.3 oz. for the first stage and fires down the pellet at 4 lb. 14.2 oz. The air rifle is equipped with Shock Absorber System, and dampens out most of the recoil.
Although the bundled scope and mounts doesn't have much to offer, the overall operation of this gun is smooth. The accuracy is decent for plinking and the noise suppression is average with loudness a little over 100 dB. An Auto Drop Safety Interlock Device has been integrated with the rifle to keep it safe. The interlock prevents accidental firing if the gun is dropped. For more information on safe shooting with this rifle, check out the Hatsan 95 Manual.
Accuracy
Once you get the feel of its trigger and break in with a few shots, the guns become a real pleasure to handle with great accuracy. After trials, the shots were found to be perfect:
5 shots sharing a hole at 15 yards
Less than 1″ group at 25 yards
The rifle works good right out of the box and doesn't need much adjustment/tweaking.
Final Judgement
You might as well waste another few hours going through various summaries, reviews and flip through a few YouTube videos, but the great shooting experience the Hatsan Mod 95 offers at around $200 (an average of different price options for different variants) is just priceless. The gun is rated "The Best Pellet Gun Under $200" on YouTube (by expert reviewers), and with the Walnut wood, gold plated trigger, German steel internals and barrel, is value for money.
[wpsm_column size="one-half"][wpsm_pros title="PROS:"]
Best value for money in terms for quality and performance at this price range
Lives up to the manufacturer's specifications with regard to pellet output velocity
Cheek rests and ambidextrous design facilitate easy shooting to both right and left hand shooters
Improved shock absorption technology
Automatic safety and anti-bear trap mechanism ensure no injuries occur
Good accuracy in close range (under 35 yards)
No need of barrel seasoning to get good shots off
[/wpsm_pros][/wpsm_column][wpsm_column size="one-half" position="last"][wpsm_cons title="CONS:"]
Scope bundled with this air gun does not have adjustable objective
Some recoil is still evident
[/wpsm_cons][/wpsm_column]
Purchase Now Or Read More Reviews On Amazon
Even More Related Articles:
Thank you for visiting iamairsoft.com! If you like any of the products that you see in this article, please click on one of the BUY NOW buttons to make your purchase on Amazon. As an Amazon affiliate, we make a small commission off any purchase made through our website. This commission is how we can provide you with informative articles. You will not pay more on Amazon if you click through our website because the price is the same. For more great products and information about the game, check out our Airsoft Buyers Guides and Airsoft U!