Airsoft combat can be laidback, recreational or involve some heavy-duty, intense combat scenarios. No matter how you approach airsoft gaming don't ignore the basics and this includes safety. Going into airsoft combat without wearing protective gear for your eyes can be a fatal mistake! I'm sure that you have used a chronograph and you know how fast these pellets go. You can never predict when your opponent would make that perfect headshot with an airsoft pellet. While body shots can be easily sustained using basic protective gear, even minimal impact on or around the eyes can lead to severe injuries, including risk of temporary blindness or partial loss of vision.
Short On Time? Here Is The Bullet List:
**Below are our more detailed reviews. Click the links above to see current prices or read customer reviews on Amazon.
Helping You Choose the Best, More Easily
Contemporary airsoft gear marketplace offers a wide array of eye protection equipment—gear fine-tuned for this niche after a lot of research and consumer feedback. This helps you with lots of options but it also creates one challenge—the options are so exhaustive that making the right pick can be overwhelming. Like every year in the recent past, this year also witnessed many Airsoft Safety Goggles challenge existing contenders for the top slot. We here at Tactical Airsoft Magazine have done the research to create a curated list of the best airsoft goggles for your consideration:
The Best Airsoft Goggles in 2023 Overall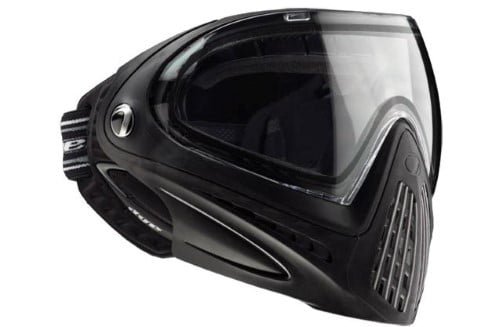 For serious airsoft players, serious high-impact certified goggles are a must. You only get one pair of eyes, and protecting them thoroughly should be of utmost importance. These Dye goggles can double as paintball and airsoft goggles, all the while you will look like you just popped out of the Halo game.
If you are looking for goggles that offer an anatomic fit, superb eye protection, and airsoft goggles with a mask you may have hit the jackpot. Actually, you may need to hit the jackpot to buy these, but who cares? You can eat off the dollar menu for a few months in exchange for the best airsoft goggles!
This goggle and mask combination offers 100% UV protection and extremely clear optics due to its thermal lens and anti-fog technology. Compression formed ears also make this mask low profile with great protection.
What's to like
25 color schemes available

Rapid lens change

Scream venting system makes you voice carry

Tiger Teeth strap retention

Airtight anti-fog goggles
What's not to like
These goggles are lightweight, comfortable, low profile, and support ultimate protection. If you wear glasses, even better – your glasses should fit comfortably underneath. The Toroidal Impact Lens is coupled with Hardcoat, which will limit scratches and abrasion on both sides.
There are so many things to like about this full-face airsoft mask that it is hard to even list them all.
The Best Budget Airsoft Goggles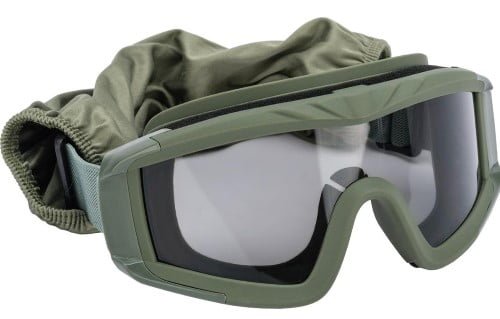 Matrix goggles are a great budget choice due to their thermoplastic polyurethane lens and polycarbonate frame. With this composition, they should be strong enough for you to carry into any field match you desire.
There are 3 lenses included that are interchangeable, allowing you to adjust the style to the level of light provided. You will also benefit from a large field of view, allowing for excellent vision in the field.
What's to like
Foam covered breathing vents

Molded inner liner adding comfort

Adjustable headband and lens protector sleeve

3 inclusive interchangeable lenses
What's not to like
Minimal fogging may occur

Frame may cause discomfort around bridge of nose
While these may not be full seal goggles for some consumers, these could be a great choice for your airsoft goggles on a budget. The headband can be compatible to fit around a helmet, hat, or just your head. A polycarbonate frame will offer good durability and protection, although they may become uncomfortable for extended wear.
A carrying pouch could also come in handy, which happens to be a nice perk included. The lenses are impact resistant and the user will have 3 lenses to choose from as they play airsoft. Overall, a great value choice!
The Best Airsoft Mesh Goggles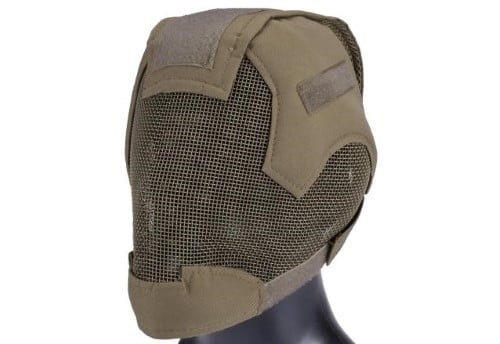 Clearing the fog from your airsoft goggles while you are in the midst of a match can be very unsafe. If you are looking for a good alternative, check out this full face mesh mask.
Since it covers almost your whole head you can feel very safe. The iron mesh covers the full face including ears and they velcro sections allow you to customize with any patch you want. The huge benefit with these is the openness so you do not have any fog and you can hear everything. You might want to also wear some low profile shooting glasses along with these.
What's to like
Protects the full face

Adjustable straps – one size fits all

Excellent peripheral vision

Very comfortable for extended wear
What's not to like
Still need to have low profile shooting glasses
Even though you should also wear a light pair of shooting/safety glasses this will still be way more comfortable than a full helmet or even most goggles that fog. Add to that the ability to hear way better and this is a great setup.
These should certainly be considered some of the best airsoft goggles that don't fog. Looking for airsoft goggles that fit over glasses? Check them out further below!
The Best Budget Airsoft Mesh Goggles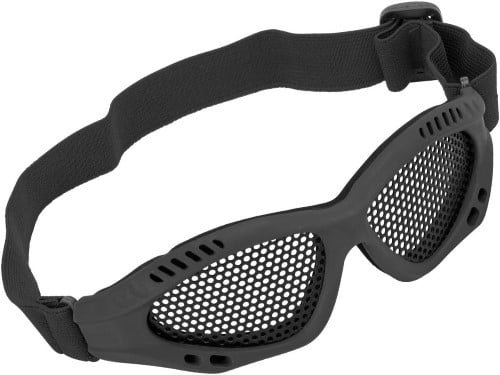 Very light and quick to put on and off and you never have to worry about fogging. This protective eyewear can withstand BB impacts up to 400 FPS (Feet Per Second), although it is likely they can withstand much more.
With a strong metal mesh lens, which for the user will compare to looking through a screen door, these goggles should provide suitable visibility and breathability. As with any mesh eyewear, we would recommend wearing some safety eyewear underneath.
What's to like
Adjustable head strap

Rubber lining to prevent slipping on your face

Bendable to mold to your face

Excellent value airsoft goggles
What's not to like
Low visibility at night

Not rated for most CQB events
If you play airsoft matches at night, these may not be your pick. However, for casual airsoft games these are a solid choice. Airsoft goggles that fit over glasses also open up opportunities for any user to use these mesh goggles.
Picking the best budget mesh airsoft goggles gets a little easier now that you have found these. These glasses are well made and come in a pale green color to help you blend in as much as possible.
The Best Airsoft Goggles That Fit Over Glasses
These Revision Military goggles are designed to be proficient in all weather circumstances, even the most severe! They also provide top-notch comfort and fog resistant airsoft lenses. You could even have prescription inserts placed in these goggles, making these one of the best airsoft goggles for glasses wearers.
This kit includes the goggle frame with a yellow high-contrast lens and an anti-reflective sleeve.  With the maximum wide field of view range offered, and a high grade of optic lenses these could be compared to one of the best military goggles.
What's to like
Dual-pane thermal lens

OcuMax coating to prevent fogging and scratches

Comfort foam seals your eyes from the elements

Compatible with Rx lens
What's not to like
B

ulky goggle design may not fit small framed faces
The lens in these goggles is of the highest quality. With a dual-pane thermal lens and the OcuMax coating you should get a long life out of these. Shooting a BB at them shouldn't leave a mark! Most users should benefit from a full seal, anti-fog goggle.
Without quality eyewear, you can forget competing in regulated airsoft matches. Choosing highly rated, certified goggles is a must, and these goggles from Revision are among the best airsoft goggles on the market.
The Best Airsoft Goggles With Fan
Sometimes an anti-fog coating on your lens just won't do the trick. The day is too hot and humid, or you aren't moving enough to keep air flowing through the vents. All you need then is a pair of ESS low profile goggles with a turbofan.
These goggles with a fan meet several US safety standards, including the US Military .22 caliber ballistic test. You will have fresh airflow drawn in and the humid air pushed out with the battery-operated fan, which only requires one AA battery for operation.
You may also benefit from the 100% UV protection due to the 2.8mm polycarbonate lenses. This kit includes the goggles, clear or smoke grey lenses, a speed sleeve, soft storage case, a flannel lens sleeve, and one AA battery.
What's to like
Lightweight and comfortable

2 speed Turbofan

Great battery life

Water resistant casing

ClearZone Flowcoat lens limits abrasion and fog
What's not to like
Battery pack on headband limits ability to wear helmets

"High" fan setting can be noisy
Comfort can be a crucial component in having a successful day of airsoft. With this purchase you should find yourself with quality, full seal, anti-fog goggles. ESS is a well-known and reputable company, and these low profile goggles with a Turbofan might just be the perfect match for you.
The Best Anti-Fog Airsoft Goggles
The best way to prevent fog is to purchase goggles with dual-paned, thermal lenses or with a fan. However, sometimes value is important. These airsoft safety shooting glasses will minimize fogging at a value price.
ZJchao includes 3 high quality, interchangeable polycarbonate lenses, which are able to withstand high impact. The black, clear, or yellow lenses also offer UV-400 protection as well. A large adjustable strap should easily accommodate a helmet if needed. If you have the extra money to spend, go ahead and pick the best airsoft goggles listed above. However, some consumers may not get excited about spending loads of money for safety gear. With 3 interchangeable lenses and anti-fog vents, consider this a great value selection for anti-fog goggles.
What's to like
3 interchangeable lenses to match lighting levels
Foam-lined and vented interior frame
Wide, nylon elastic strap
Great value product
What's not to like
Not a full seal goggle
Not ANSI certified
The Coolest Airsoft Goggles And Mesh Mask
Sometimes we like big and flashy. If you want to look awesome and be unique compared to your competitors, you should check these out. Full-face airsoft protection with a Call of Duty look probably equates to you playing with confidence.
The helmet portion of this mask is made with ABS plastic, which should be strong and durable enough for the hardest days of airsoft. The facemask is composed of low-carbon steel and covers from your ears, down to your chin, and back up around to the other side.
Most importantly, polycarbonate lenses will shield your eyes from 100% of UV rays. This helmet is a new design, but it has been tested to protect your eyes at speeds of at least 420 FPS (feet per second). A tactical flashlight can be attached, as well as cameras.
What's to like
Unique appearance

Full head protection

Accessory rail connectors

Adjustable chin/neck pad
What's not to like
Adjusting the helmet may be tedious
The coolest part about this helmet/mask with goggles is that your accessories can be attached easily. If you enjoy recording your matches, or use a flashlight at night, this helmet will accommodate. Add on the anti-fog capability of the lenses, and you've got yourself one hell of an airsoft helmet!
Concluding Advice
Every airsoft enthusiast should invest in safety gear and goggles are at the core of this approach. This article covers almost the entire list of options, ranging from amateur to ultra-lightweight and high-tech eye protective gear. We cannot say that this is the conclusive list of the best airsoft goggles but we have managed to discuss nearly every serious performer in this segment. There will always be opinions and more contenders but we have tried our best to be unbiased and use real-life performance as the primary parameter.
Thank you for visiting iamairsoft.com! If you like any of the products that you see in this article, please click on one of the BUY NOW buttons to make your purchase on Amazon. As an Amazon affiliate, we make a small commission off any purchase made through our website. This commission is how we can provide you with informative articles. You will not pay more on Amazon if you click through our website because the price is the same. For more great products and information about the game, check out our Airsoft Buyers Guides and Airsoft U!