Even in you have a few extra magazines in your pocket, you'll probably run out of ammo in an intense game out on your favorite airsoft field. Reloading those mags quickly is a must to keep your opponents from getting a free shot on you. That's why every member of your team needs the best airsoft speed loader. These allow you to quickly fill your magazines, so you're back in the game before you know it.
Short On Time? Here Is The Bullet List:
**Below are our more detailed reviews. Click the links above to see current prices or read customer reviews on Amazon.
Why Do You Need a Speed Loader
The main reason airsofters add a speed loader to their airsoft gear is efficiency. Nearly all of the airsoft magazines can be easily loaded from one of these pieces, getting all the BBs into the magazine fast with no spilling. The airsoft magazines that require a speed loader include low- and mid-capacity AEG mags, gas pistol and rifle mags, shotgun shell mags, and sniper rifle mags.
There are few magazines that don't require a speed loader, though, including high-capacity or box magazines. Instead, you fill them by pouring the BBs directly into their reservoir. If you're using airsoft guns that include these types of magazines, a speed loader won't add anything to your game.
Another great reason to use a speed loader is that it gives you the ability to fill multiple magazines quickly. The faster they're filled, the faster you're back on the field with the rest of your team. This is especially important when you consider that most airsoft fields only allow about five to seven minutes between each game, which doesn't leave you much time to restock and get organized. The better and faster your speed loader is, the more time you get to play.
When you're playing longer games, a high-quality speed loader lets you refill quickly right on the field instead of leaving you on the sidelines watching the rest of your team win the battle.
How Does a Speed Loader Work?
A good speed loader is easy to use. Most of them have a reservoir for the BBs, so they can be filled with anywhere from 100 to 1000 BBs. When your magazines are empty, the speed loader channels the BBs directly into the mag.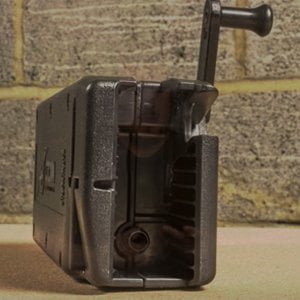 Most of the speed loaders available are manually powered but there are a few electronic models designed specifically for use on an airsoft field. The most common type of speed loader is the handheld model. These include a plunger that loads 4-6 BBs at a time, though some models can load an entire magazine all at once on a single pump. Other speed loaders use a crank that allows you to continuously load the BBs into the magazines.
What Features Should you Look For?
If you're thinking of adding a speed loader to your airsoft gear, there are a few features to check out to ensure you have the right one for your specific needs.
Speed
These items are called speed reloaders for a reason. The faster they work, the less time you spend filling up your mags and the more time you have on the field playing games.
Magazine Compatibility
Speed loaders are not necessarily one size fits all, so you need to make sure it's compatible with the magazines you have before buying one. Many of them are universal, with a nozzle that can fit into any of your magazines when its time to fill them. The more efficient speed loaders on the market tend to be built for a specific purpose, though, so will only work with specific mags.
Form Factor
If you plan to fill all your magazines when you're in the safe zone of the airsoft field, the size of your speed loader likely won't be a concern. For those who prefer filling their mags out in the field or during a scenario game, a speed loader that will fit inside your magazine pouch or a pocket will be much handier.
Durability
You want all your airsoft guns and tools to be well-built but this is especially important when it comes to your speed loader. When these pieces break, you're going to have at least 100 BBs spilling out and rolling in every direction across the floor. Not only is this a pain to clean up, but you'll also likely lose some in the process. Avoiding this with a durable speed loader is the best possible choice.
More Related Buyers Guides:
Best Airsoft Speed Loaders on the Market
Best Compact Airsoft Speed Loader:
The MetalTac speed loader is one of the most common on the airsoft field. It is meant for AEG magazines, though there is an adapter available for use with GBB and sniper mags. It holds 100 rounds, with a plunger action that loads 5 BBs at a time that can be locked for a more compact piece, making it small enough to fit in a pistol mag pouch.
The construction isn't the best, so you need to be careful with this model. The transparent body makes it easy to keep track of the ammo in the reservoir, plus it has a great low price.
Pros:
Cheap
Clear construction
Compact
Cons:
Check Amazon
Best Mid-Sized Airsoft Speed Loader:
This Evike speed loader is designed for AEG magazines but can be used with an adapter for sniper or GBB mags as well. It has a 400-round capacity, with a plunger that loads 5 BBs at a time into the mags and can be locked for a more compact size. This piece is designed to fit in a standard M4 mag pouch.
Though a bit more expensive when compared to the more common speed loaders, this one is well-built, with a metal feed nozzle that prevents splitting. It also comes in several translucent colors for constant BB viewing.
Pros:
400-round capacity
Durable
Multiple color options
Cons:
Check Amazon
Best M4 Magazine Airsoft Speed Loader: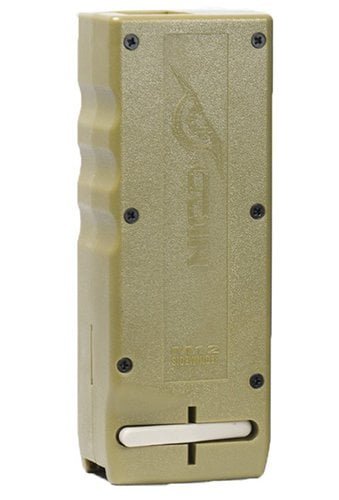 The Odin Innovations M12 Sidewinder is likely the best speed loader there is for M4 magazines. It isn't compatible with any other mag type and it's on the expensive side but it's well-built and should last for years.
With a 1500-round capacity in the reservoir, the M12 holds enough BBs for about 10 full M4 mid-capacity mags. It uses a crank handle for smooth, fast loading. This piece fits nicely in a dual M4 mag pouch, so you can use it on the field whenever needed.
Pros:
Well-built
1500-round capacity
Fast loading
Cons:
Learn More
Best Modular Airsoft Speed Loader: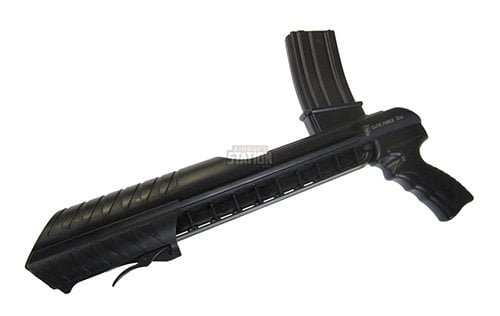 If you want the fastest manual airsoft speed loader on the market, the Elite Force SL14 is a great choice. It is a large pump-action model, with adapters available for most airsoft AEG mags, including M4, AK47, and G36. This speed loader is relatively inexpensive, as are the adapters.
Though it's a bit large to use on the field, the SL14 is great for fast mag filling in the safe zone. It holds around 1800 BBs in its reservoir, which is enough to fill about 13 M4 mid-capacity mags. It also loads 40 BBs per pump, so it can fill a standard M4 mid-cap in only 3 or 4 pumps.
Pros:
Multiple adapters available
Huge capacity
Decent price
Cons:
Learn More
Best Airsoft Speed Loader Final Thoughts
A quality airsoft speed loader gives you the ability to quickly fill up all your mags. This not only keeps you in the game, but it also gives you more time on the field and less in the safe zone restocking your ammo. There are also several different styles available, so you should have no trouble finding the right one for the mags you're using.
Thank you for visiting iamairsoft.com! If you like any of the products that you see in this article, please click on one of the BUY NOW buttons to make your purchase on Amazon. As an Amazon affiliate, we make a small commission off any purchase made through our website. This commission is how we can provide you with informative articles. You will not pay more on Amazon if you click through our website because the price is the same. For more great products and information about the game, check out our Airsoft Buyers Guides and Airsoft U!