Have you ever been on an airsoft field at night and seen glowing BBs flying around you? If so, you may be wondering what exactly those other airsofters are using to create this effect. These pieces are called airsoft tracer units, which are becoming quite popular in the airsoft world. They are easy to attach and have some great advantages. If you're thinking of adding the best airsoft tracer unit to your favorite gun, keep reading.
Short On Time? Here Is The Bullet List:
**Below are our more detailed reviews. Click the links above to see current prices or read customer reviews on Amazon.
How Does an Airsoft Tracer Unit Work?
The majority of the airsoft tracers are mounted right on the front of the gun. These units generally look like a mock silencer or suppresser, with 14mm counter-clockwise threading. When looking into tracers, make sure to check out the threading on the airsoft gun you're using and compare it to the listed threading for the tracer. If needed, there are adapters available to match them up.
Airsoft tracer units use a motion sensor to detect a BB that enters the tube. It flashes the BB with a strobe light, energizing the glow-in-the-dark compound in the BB. This lights up the BB, so you can see it as it flies through the air.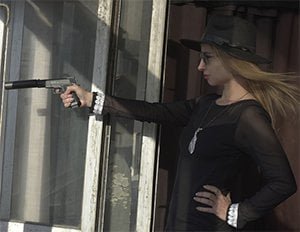 Some types of airsoft tracers energize the BB before it's fired. One option for this is a hop-up unit that is attached inside the rifle. This type of unit shines a light on the BBs as they are fed into the firing chamber.
This tracer type is quite effective since it doesn't weigh down the gun's barrel. It has a simple, durable design, plus it's powered by the AEG's battery, so it doesn't need a separate power source. It does have some disadvantages, though. It can't be easily swapped to another gun and if you haven't used it in a while, the first shot won't be illuminated.
The last option for tracers is a magazine that includes an illumination element. These magazines are cheap, plus they can be used in any compatible airsoft gun. They are also great for those who want to try a tracer before spending their money on more expensive options.
The disadvantages are that it's pricey to buy a full loadout of these magazines. Since the BBs are fed from the magazine into the hop-up before they're fired, they may also lose their illumination if they aren't fired quickly.
Why Use an Airsoft Tracer?
There are several advantages to using an airsoft tracer unit. The first and most obvious one is that they work great at night and in many CQB environments. This is because they light up the BBs, making them glow in the dark. You can see where every shot goes to pinpoint your aim. This helps you adjust where you're shooting if you keep missing your target.
If you're in charge of suppressing fire to help your teammates flank your opponents, the airsoft tracer can help you in this area as well. It shows the other team where you're shooting from, so they will focus on you instead of your teammates. Those glowing BBs also look really cool flying through the air during a night game.
There are a few drawbacks to using an airsoft tracer unit. These don't all have exactly the same design and some are heavier than others. This adds some weight to your gun's barrel, which could throw off your aim.
Though you may want the opposing team to focus on you during suppressing fire, there are times when you'd like to be more inconspicuous. A tracer unit won't allow that. Those other airsofters will know where you are every time you pull the trigger. They also don't work very well in the daytime, when the sun diminishes the glowing effect.
Another issue with the tracer units is that they often require their own power source to work. They also require the use of specialized BBs that glow in the dark. These aren't always easy to find, especially if you prefer a specific weight or brand.
Key Features
When looking for a new airsoft tracer, check out the following features: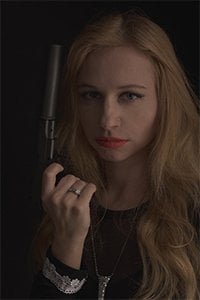 Durability
Since they're located at the front of the rifle and you primarily use them at night, they may get banged up a bit, so be sure they won't fall apart.
Standardized Battery
It's rather inconvenient if the tracer you buy can only be used with the battery it came with. Be sure it can run on standardized batteries like AAs or AAAs as well, or a replacement is available for the stock unit.
Long Battery Life
It's hard to change a tracer's batteries during a game, so be sure it has a long life. This can be determined by reading the manufacturer's claims and checking out the user reviews for it.
Good User Reviews
Known tracer brands like Acetech and Xcortech are usually pretty reliable but cheaper tracers from manufacturers in China or Taiwan may not be as good. Check out the user reviews to find out how well the tracer works in the field.
Best Airsoft Tracers
Best All-Round Airsoft Tracer:
The Acetech AT1000 is a no-frills tracer unit with support for up to 1800rpm/30rps firing. It comes in 2 colors, black and flat desert earth, weighs only 7 ounces, and is about 1.5 inches in diameter. This unit uses 4 AAA batteries, plus it is compatible with rechargeables. Other features include a low-battery indicator and an auto-shutoff.
Pros:
AAA battery compatible
Low-battery indicator
Cons:
Check Amazon
Best Airsoft Pistol Tracer:
This Xcortech tracer has a compact size that's perfect for an airsoft pistol, with support for up to 2100 rpm/35 rps. The XT301 is powered by a built-in lithium battery that is rechargeable using the included USB cable. It has 11mm positive threads but comes with an adapter for 14mm negative threads as well. An automatic power up and down simplifies its use.
Pros:
Compact size
Rechargeable
Cons:
Only for green tracer BBs
Check Amazon
Best Smart Airsoft Tracer:
The iTracer includes three parts, the tracer, a control box, and an inline MOSFET/fire controller, all for a decent price. You can use the tracer alone, or you can pair it wirelessly with the control box to give you real-time feedback on your gun's FPS, rate of fire, and muzzle energy. The CD also wirelessly controls the fire controller to alter the fire mode to bursts of 1-20 rounds.
Pros:
Programmable bursts
Low ammo warning
Cons:
Check Amazon
Best Hop-Up Tracer: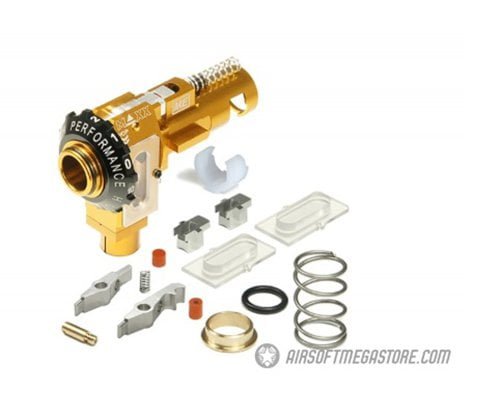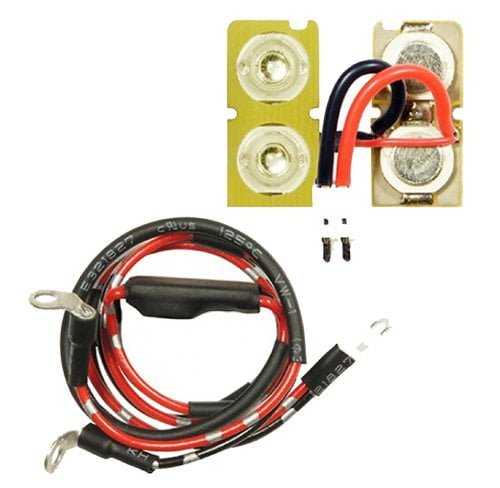 The Maxx tracer system uses an ultra-high-end hop-up setup that pairs with Maxx's LED boards to give you tracer fire without using a tracer unit. This one is for M4-type rifles but are other hop-up setups are available. It connects to the motor terminal, so you don't need a separate battery. The only flaw is that it won't illuminate the first shot you take.
Pros:
High-end hop-up setup
Connects to motor terminal
Cons:
Doesn't illuminate first shot
Learn More
Best Magazine Tracer: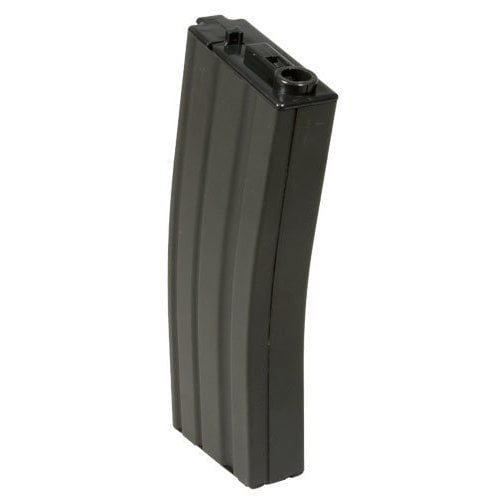 The G&P Illuminated Tracer Magazine is a mid-capacity piece that holds and charges 130 rounds. It uses a simple pressure switch that's triggered when the mag is loaded into the gun. It has a great price, works well with almost all AEGs, and is reliable. Since the BBs are fed from the magazine into the hop-up, they do lose their illumination if they aren't fired quickly.
Pros:
Cons:
BBs lose illumination if not fired quickly
Learn More
Best Airsoft Tracer Unit Final Thoughts
An airsoft tracer unit is a cool piece to add to any airsoft gun, especially if you're playing at night. It illuminates your BBs, allowing you to track your shots, plus lets you to draw the opposing team's focus during suppressing fire. There are a few options to choose from, so you can get the exact type of tracer you're looking for with ease.
Thank you for visiting BestTacticalFlashlights.net. If you like any of the flashlights that you see in this article, please click on one of the Buy Now buttons to make your purchase on Amazon. As an Amazon affiliate, we make a small commission off any purchase made from a click-through from our website, which is how we are able to provide you with these informative articles. You will not pay more on Amazon by clicking through our website because the price is the same as if you go to Amazon directly. Please take a look at our other flashlight reviews or our Best Flashlight Buyers Guides for all your flashlight needs.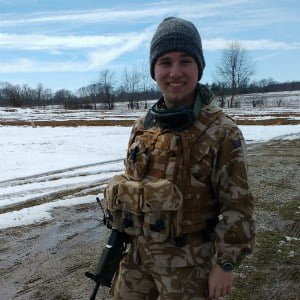 Noah Mains is a writer, an airsofter, and most importantly, he's stuck in the 80s. From Colt SMGs to David Bowie to brick phones, he has an acute appreciation for the greatest decade, and is more than happy to share his enthusiasm for the ALICE gear system (the superior loadout, of course) with anyone who'll listen.