Whether your airsoft games are in your backyard or at a local airsoft field, you need to take precautions to be sure no one is injured. This means using the proper gear, including the best airsoft mask. These give you the protection you need to prevent any serious facial injuries. If you're in the market for a new airsoft mask, keep reading!
Short On Time? Here Is The Bullet List
**Below are our more detailed reviews. Click the links above to see current prices or read customer reviews on Amazon.
Why Get a Mask or Goggles?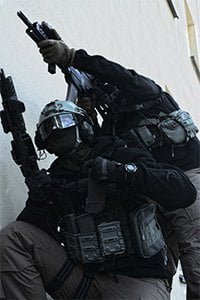 The main reason for adding some type of protective gear is because your face is the most vulnerable part of your entire body. There are a lot of areas that could be permanently damaged if you aren't wearing a mask or at the very least a set of goggles.
The worst place to get hit is your eyes. Doing so could blind you, even if those around you are shooting at the lowest speed possible. A decent set of goggles can prevent this damage, keeping your eyes and vision intact.
There is also the possibility of chipped or broken teeth. Getting hit on your cheeks or forehead could cause injuries as well, leaving pits or scars behind when the broken skin heals. Masks give you the protection needed to keep your entire face safe from injury. If you choose to go with protective goggles or glasses, a mouthguard is something you may want to look into as well, to keep your dentist visits to a minimum.
Another reason to get your hands on this type of gear is the fact that many playing fields actually require the use of it to participate. At the very minimum, you'll need a Z87+ rating for your protective gear, which includes a full seal around your eyes for the safest game possible.
Types of Masks
When looking at protective gear for your face, there are three main types to choose from.
Ballistic Glasses
These are similar to regular eyeglasses, using stems that fit over your ears to hold them in place. If you choose this type, be sure to find a pair that has a seal made of foam or rubber over the eyes. This will keep those BBs from getting between the gaps.
Ballistic Goggles
Ballistic goggles are another type of eye protection, though they have a bit more to offer than the glasses. The majority of these have a seal that holds them tight to your face. They also have a band, usually made of elastic, to hold them securely in place while you're running around.
Full Face Masks
The full face mask gives you the maximum amount of protection. As well as giving you the eye protection the other options offer, they also protect your entire face from the BBs flying through the air. This makes them the safest type by far.
Though the best safety gear of this type is made of impact-resistant polycarbonate, it is possible to find some that are made of mesh instead. These don't fog up while you're using them in various conditions, but there is a downside to them. The mesh gear doesn't come with any safety standards, so there is no guarantee that they are safe to wear. Rather than risking an injury, it may be best to try out an anti-fog spray with your goggles. If you prefer the masks, a built-in fan can give you the circulation needed to keep it from fogging up.
Mask Safety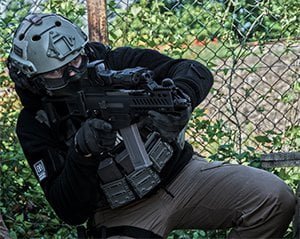 When you're buying impact-resistant eyewear in the U.S., there are two certified standards to watch out for.
The Civilian Eyewear Standard ANSI z87-1 is found on most of the industrial eyewear available, as well as consumer airsoft goggles. The gear itself is usually marked Z87+ for this type of certification.
The Military Eyewear Standard MIL-PRF 32432 isn't usually found on the gear that uses this type of certification. If you're interested in what gear uses this standard, check it out here.
The goggles and glasses are tested differently, depending on which standard is used, though goggles have higher impact testing in both of them. The Military standard is much more strenuous since that gear needs to withstand actual combat.
The Z87-1 standard is acceptable for less damaging projectiles, like the BB impacts from an airsoft gun. If given the choice, the Civilian gear is fine but the Military gear is guaranteed to give you the ultimate protection at a much higher standard.
Remember, there is no standard for the mesh eyewear, so there is no guarantee that it will give you the protection you need. You may also want to avoid using surplus goggles or gas masks unless you're sure they have complied with one of the above safety standards.
Many products, like the U.S. Sand-Dust-Wind goggles from the 80s and 90s, don't have the necessary ballistic rating, so can be easily shot out. Most gas masks from before 2000 don't have any ratings either, so don't give you the eye protection you need.
Best Airsoft Masks on the Market
Best Budget Goggles:
Though the I-Force Goggles aren't actually designed for airsoft, they still make a great addition to your gear. They meet the MIL-PRF 34232 High-Velocity Impact Standards, so BBs are no match for them. They also have a great low price, which makes them a good option for beginners or those buying their gear on a budget.
The outer lens is scratch-resistant polycarbonate that protects you from UVA, UVB, and UVC rays. This lens is also coated with H2X Anti-Fog Technology, to keep them nice and clear. The inner lens is acetate, which prevents fogging on the inside as well. The foam carriage offers some ventilation but still gives you a full seal to keep the BBs from getting underneath.
There are a few lens color options to choose from, too, each with its own benefits. For instance, the smoke color is good for sunny days. The yellow is better for snow or water, plus it reduces blue-spectrum eye strain. The clear lenses give you great resolution. This makes it easier to get the right goggles for any situation.
Pros:
Anti-fog works well
Lightweight
Decent price
Cons:
Check Amazon
Best Military Goggles:
The Revision Desert Locust goggles were developed with military use in mind. This is why they were given the more rigorous MIL-PRF 32432 testing to meet higher standards. Not only does this make them a popular choice for soldiers deployed overseas, they are also great for those using these goggles for airsoft or paintball.
The lenses and frames both have great impact protection. The OcuMax Anti-Fog coating keeps your vision clear, plus resists chemicals, scratches, and smudges. Revision has also designed these goggles to give you the widest field of view as possible.
These goggles are fully sealed for protection but foam vented to keep you cool while you're wearing them. They have a great retention system as well, with an adjustable strap that fits nicely over a helmet. There is even an integrated cover for the goggles that can be slid to the back when you're wearing them so it never gets lost. There are a few color options to choose from, depending on the conditions you're using them in, plus they come with easily-replaceable lens inserts for added convenience.
Pros:
Tight seal
Comfortable strap
Integrated cover
Breathable
Cons:
May not fit well over glasses
Check Amazon
Best Budget Glasses:
Some people find glasses like the Pyramex Highlander to be lighter and more comfortable than goggles when it comes to airsoft adventures. These ones are Military standard, so they have high impact resistance. Though designed for industrial use, the cool features and low price tag make these glasses a great choice for the airsoft field.
The lenses are polycarbonate, which resists scratches and gives you great UVA, UVB, and UVC protection. There is a removable inner foam lens clip that offers some protection from dust and other airborne particles, plus adds a bit of comfort. There isn't much in the way of anti-fog protection, but they are easily wiped if they start to fog up on you.
If you want a bit of extra security when running around, there is an adjustable elastic strap included with the glasses. Just attach it to the arm and adjust it to fit your head. There is even a handy buckle to secure it. With five color options, you should be able to find one that suits your needs.
Pros:
Very low price
Foam backed
Tinted
Adjustable and removable strap
Cons:
Some issues with fogging
Possible strap discomfort
Check Amazon
Best High-End Goggles:
Though the price of these ESS goggles is extremely high, the quality of the goggles and the features included may make them worth the price. These goggles are commonly used by the military, especially those doing special operations in humid or cold areas, mainly due to their durability and a fantastic built-in fan for anti-fogging.
First off, these goggles are both MIL-PRF 32432 and Z87-1 tested, so they meet all the necessary standards. They come with common goggle features like a full seal, foam venting, a solid retention system, and a rubberized frame to increase impact resistance. The ESS Turbofan goggles also include lens inserts, which are easy to replace.
The anti-fog feature is where these goggles stand apart from the rest. They include a two-speed fan that uses a single push-button to give you some much-needed ventilation if your goggles start to fog. Included with the fan is a AA battery, which should give you about 150 hours of use before needing replacement. The lenses also include ESS's proprietary fog treatment to help keep your lenses as clear as possible.
Pros:
Built-in anti-fog fan
Fan battery included for 150 hours of use
High quality
Cons:
Very expensive
Fan a bit loud on high
Check Amazon
Best Beginner's Full Face Mask:
The Dye Special Edition full face mask was designed for paintball players but has become popular with those who prefer airsoft. It is perfect for beginners because it is a cheaper option, plus it gives you the protection you need. It isn't the best choice for taking aim down the length of a rifle barrel, though, so it is best used for CQB or high-speed games where careful aiming isn't a necessity.
This mask comes with some great features, too, like the double-pane lenses, which include a Thermoformed inner lens for fog reduction and the SLS Tirodial lens for better peripheral vision. The lenses use a patented 1/4 turn buckle, which lets you change the lenses in record time.
This lightweight mask also includes a built-in visor, a padded foam liner, and great retention. Unidirectional venting keeps fog down, cools you off, makes it easy to breathe, and projects your voice so your teammates can hear you at all times. The multi-ported ear pieces let you hear everything around you, so no one can sneak up on you.
Pros:
Easy to change lenses
Complete protection
Padded foam lining
Cons:
Check Amazon
Best High-End Full Face Mask:
This is another mask designed for paintball but which has been picked up for airsoft as well. It is a more high-end product, giving you decent face protection, though it lacks a bit on the forehead and jaw area. It also comes with a higher price tag, though the features it includes may make it worth those extra pennies.
First of all, there are two sizes. The I4 is for those with smaller heads, while the I5 fits the larger members of the group. The full face protection hinders careful aiming down the sight but this mask if perfect for more fast-paced games. The Dye mask is also known for easy modifications, such as fans for extra fog reduction.
Other great features include the Tiger Teeth Strap Retention system to keep it in place, the Horizon Peripheral Vision, and the Scream Multi-Directional Venting that helps you communicate with the members of your team. The easily-replaced injected thermal lens has both anti-fog and anti-scratch coatings, as well as UVA, UVB, and UVC protection. There are also a number of colors, giving you flashy or more subtle options to choose from.
Pros:
Multiple color options
Fits well
Lightweight
Cons:
Expensive
Limited forehead and jaw coverage
Check Amazon
Best Airsoft Masks Final Thoughts
Though you may be on a budget, it isn't a good idea to scrimp on your safety gear. Luckily, there is a wide range of properly-certified eyewear options that give you the protection you need on the airsoft field. They have a wide range of prices, too, so it should be no trouble finding gear that you can afford.
Thank you for visiting iamairsoft.com! If you like any of the products that you see in this article, please click on one of the BUY NOW buttons to make your purchase on Amazon. As an Amazon affiliate, we make a small commission off any purchase made through our website. This commission is how we can provide you with informative articles. You will not pay more on Amazon if you click through our website because the price is the same. For more great products and information about the game, check out our Airsoft Buyers Guides and Airsoft U!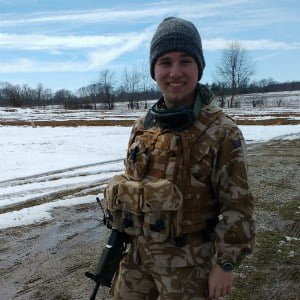 Noah Mains is a writer, an airsofter, and most importantly, he's stuck in the 80s. From Colt SMGs to David Bowie to brick phones, he has an acute appreciation for the greatest decade, and is more than happy to share his enthusiasm for the ALICE gear system (the superior loadout, of course) with anyone who'll listen.