Inspired by the original H&K MP7, this airsoft gun is perfect for people who wish to own something that is easy-to-use but does not compromise on functionality. An impressive performer in the niche of personal defense weapon, this airsoft gun was designed with the aim of replacing larger caliber SMG's and sidearms as it had an advantage over standard sidearms due to its chambered 4.6X30mm round design. Similar air-soft sub-machine gun's you find in this category include the Gamo MP9. Considering the price of this airsoft gun it is hard to go wrong if this is the style of gun that you are looking for.
Purchase Now Or Read More Reviews On Amazon
[wpsm_specification]
Prior to moving forward with the H&K MP7 airsoft gun review, let's take a look at the specifications:
AEG ( automatic electric gun)
Firing mode: Semi-automatic/Fully-automatic
Drop-free magazine
Adjustable stock
Ammo: 6mm BB's
Weaver/picatinny rail
180-round capacity
Removable foregrip
180-round capacity
Hop-up unit
Adjustable rear-sight
Adjustable front-sight
Lightweight metal/polymer design
Safety: manual
Weight: 1.7lbs
Barrel style: smooth bore
Robust Construction
If you are looking for a durable performer, the MP7 is surely a safe bet. Constructed from high-impact ABS polymer, the body of this gun is strong enough to last a lifetime. If we talk about similarities with its real steel counterpart then a similar trigger well magazine release, flip up iron sights, retractable stock, and plenty of accessory rail space are easily traceable.
Understanding the Design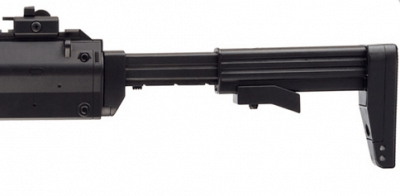 The H&K MP7 airsoft gun features a fully ambidextrous design that gives you the leverage to switch hands while using it. . This in turn enhances your combat effectiveness too. The gun's ambidexterity starts at the removable and retractable stock. This feature allows for quick and effortless movement in close quarter battle situations and increased portability to be carried in small gun cases. You can slide the stock between positions to utilize the MP7 as a short range CQB dominating airsoft gun to a steady shooting platform from a considerable distance.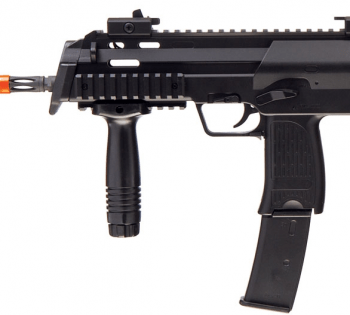 The removable front foregrip is nicely supported by the adjustable stock to provide excellent weight balance, which assures a comfortable shooting experience.
The flip-up sights, integrated accessory rail, and a detachable grip are worth acknowledging. The inclusion of three picatinny rails made as per military standards employ the use of premium-quality metal which allows you to mount possibly any military accessory on this airgun. It is safe to say that aftermarket accessories such as lasers, vertical fore grips and flashlights render a more tactical look to this airgun as these can be easily attached to the 20mm accessory rails.
How Successful Is It in Meeting the Customer Expectations?
As realism and practical functionality were among the topmost goals while designing Umarex Heckler and Koch MP7 airsoft submachine gun, it successfully bridges the gap between the customer demands and what the product offers. This airsoft version stays true to the original design by imbibing similar features, making it suitable for mid-range as well as close-range firefights.
Performance – Impresses to the Core!
The H&K MP7 airsoft rifle is really good for beginners as you can aim at any target without feeling the slightest of hesitation. A host of features work harmoniously to aim in the smooth functioning of this air gun, while the compact design adds to its efficiency. One thing that impresses the most about this airgun is that it is accurate and fast shooting. Here, the hop-up also helps a lot. A detachable grip provides complete support in maintaining a firm grasp especially during an intense fire session. Designed with a powerful reinforced polymer gearbox and rigor metal internal barrel, you can hit targets up to 100 feet away at a velocity of 240 FPS with 0.12 grain BB's. The rate of fire is over 12 rounds per second which is pretty impressive too.
The Final Verdict
If we weigh all pros and cons of the H&K MP7 Airsoft Gun, it seems like a perfect weapon for a beginner.
[wpsm_column size="one-half"][wpsm_pros title="PROS:"]
Made from high quality polymer
Flip-up front and rear sights
Integrated tactical rails allow for red dot sight attachment
Included battery and charger
Ambidextrous firing selector switch, bolt release, mag release and charging handle
[/wpsm_pros][/wpsm_column][wpsm_column size="one-half" position="last"][wpsm_cons title="CONS:"]
More than half the gun is plastic which spoils the appeal and feel of the gun.
The fore-grip is not as sturdy and dependable as it should be
Battery life could have been longer
Mag capacity is a bit on the low side
[/wpsm_cons][/wpsm_column]
It will also appeal to younger airsoft players — they will find it comfortable to use as it is compact and light in weight. Remarkable features like flip up iron sights, textured pistol grip, retractable stock, and generous accessory rail space will surely catch your attention. This amazing performer is accompanied by a 7.2v rechargeable battery and utilizes a reinforced polymer gearbox & rigor metal inner barrel in the best possible way. You can remove the front fore grip which gives the you lots of balance for a comfortable and satisfying shooting experience. The affordable price means it does not dig a big hole in your pocket, so you can budget aside extra money for accessories or additional airsoft equipment to maximize your game.
Purchase Now Or Read More Reviews On Amazon
Thank you for visiting TacticalAirsoftMagazine.com. We hope that this review of the Umarex H&K MP7 helped you make a decision. If we helped you in anyway on your purchasing decision please use one of our links above to go to Amazon and make your purchase. This site is part of the Amazon Affiliate program which means that we receive a small commission from Amazon at no extra cost to you for purchases made through our links. This allows us to keep bringing to top quality content. Thanks again for the visit.