Whether it's for role play, functional or historical purposes many airsoft enthusiasts often try to replicate the "loadout" of their favorite PMCs. The problem is as more and more people in the airsoft world are trying to adopt these loadouts the more unrealistic it is becoming due to multiple flaws. Creating a realistic PMC loadout for airsoft requires research, which we have done. To discover what we have found out over the course of our research and to design the most realistic PMC loadout for your next airsoft game keep reading.
Short On Time? Here Is The Bullet List:
Recommended Items For Your PMC Loadout Kit
Best Chest Rig for a PMC Loadout Kits
Best Primary Airsoft Gun for a PMC Loadout Kit
**Below are our more detailed reviews. Click the links above to see current prices or read customer reviews on Amazon.
What is a PMC?
A PMC, also known as a Private Military Contractor, is a company that provides national governments, corporations, wealthy individuals and non-government organizations armed support or logistics. There are numerous PMCs from the past and in the present, some of them are pretty mainstream, while others are highly controversial. Some of the mainstream PMCs include DynCorp, G4S, and MPRI, while the controversial ones include Executive Outcomes, Blackwater (now Academi) and several international firms.
Why a PMC Loadout?
As PMC gear has no specific standards that need to be adhered to, most private contractors allow their teams to purchase their own gear. Without the standards in place, PMC-inspired loadouts allow for flexibility in equipment choice. We strongly advise using any equipment and airsoft guns you already have rather than going out and buying everything brand new.
One of the biggest benefits to PMC loadouts is you can use gear you like rather than gear that is simply assigned to you. PMC loadouts are also modern-day gear that is up-to-date compared to standard-issue gear that was developed ten to twenty years ago. Most PMC loadouts are lightweight and don't incorporate sustainment gear, unlike traditional military service loadouts. This makes them a great fit for short rounds and close-range combat on airsoft fields.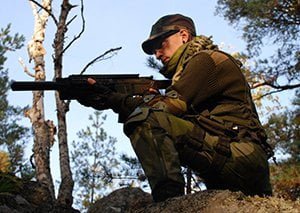 Dos and Don'ts For Your PMC Loadout
When creating your airsoft approved PMC load out there are few things to keep in mind as to what to do and what not to do. When putting together the loadout you are going to be mixing and matching civilian and military gear to get as close as possible to the real thing. Not all military gear is available for the general public to purchase, which is understandable. To get a realistic look that isn't as military as an actual PMC loadout rugged outdoor gear is used in place of military gear.
Creating a Realistic Loadout
One of the most important things you can do when creating a airsoft PMC loadout is to wear lightweight gear that is compatible with the weather you are facing. For example, if you are trying to replicate somebody who is operating in the Middle East or Asia regions you need to opt for short sleeve shirts and breathable clothing.
When piecing together a realistic PMC loadout for your airsoft games what you wear is important. Part of your job is to be as unobtrusive as possible. This means you need to select clothes that allow you to blend in. You want to avoid wearing anything that draws attention or causes you to stand out in a crowd. Most importantly if you don't like the gear you have you don't have to just deal with it. You have the right and ability to modify your gear to your liking.
Clothing to Avoid for a Realistic Loadouts
There are also things you don't want to do when it comes to clothing. One of the most important things to avoid is wearing any kind of camouflage. Most PMCs ban camouflage for their employees because it can be seen as a representation of a specific government or nation. As most PMCs are not wearing camo, realistically creating your PMC loadout means you should steer clear of any kind of camo.
When dressing you don't want to overdress, as the heavier your clothes and gear the more they will slow you down. Only wear the minimum required for your job at hand. Avoid heavy clothing, including cotton shirts and denim. Natural fibers may be good for a lot of things, but keep in mind when wearing them as clothing they heat up quickly, they retain body heat, and they will absorb your sweat.
Recommended Airsoft PMC Loadout Kit Items
Best Boots for a PMC Loadout Kit:
These lightweight "jungle style" Oakley 2 Assault boots were built with mobility and protection in mind. The boot offers a 8 inch high ankle for superior ankle support. The high support of the boot is designed to prevent rolled ankles and sprains. A mesh and suede construction allows for maximum breathability for ventilated comfort. An EVA midsole and outsole is designed to move naturally with your foot while providing shock absorption. The sole is relatively flat, which makes it the ideal shoe for sand, dirt or concrete terrains.
Although this boot is highly recommended, any other lightweight boot will work. Hiking or trail shoes will also work just fine.
Pros:
Ventilated
High support
Moves naturally with your foot
Cons:
Check Amazon
Best Pants for a Kit:
These nylon and polyester pants are a thin synthetic pants that provide protection from sun, sand, and low brush without sacrificing breathability. The Columbia Silver Ridge Convertible Pants use a finely woven fabric with a high thread count to provide maximum protection from the sun. The weave and construction of this fabric helps to keep you cool and dry as it pulls moisture away from your body. The convertible design allows you to somewhat adapt the pants to fit the weather.
When in desert or plain regions, you want to opt for a light tan or khaki color pants. Those colors help keep you cool as they reflect the sun, but they also provide some kind of camouflage in sandy regions. Green pants should be chosen for airsofters who are working in woodland or temperate regions.
Pros:
Protection from elements
Breathablity
Color options
Cons:
Check Amazon
Best Shirt for a PMC Loadout Kit:
The Under Armor Men's Tech Polo is 100% polyester and offers men a fuller cut for maximum comfort. Wearing an athletic polo, like Under Armor's, is great when working in places like the Middle East region. If you want to dress the part of Protection Detail for a VIP, namely a dignitary or leader, the athletic polo allows you to look somewhat formal while still being able to function.
The poly/elastane construction of the shirts allows for maximum breathability and provides the fabric with plenty of stretch. The stretch in these shirts allows you to have full mobility and flexibility. When picking out a color you should stick with neutral colors, as most of them are acceptable in a variety of situations.
Pros:
Lightweight and comfortable to wear
Numerous color options
Breathability
Cons:
Check Amazon
Best Hat for a PMC Loadout Kit:
Boonie hat or baseball cap of your choice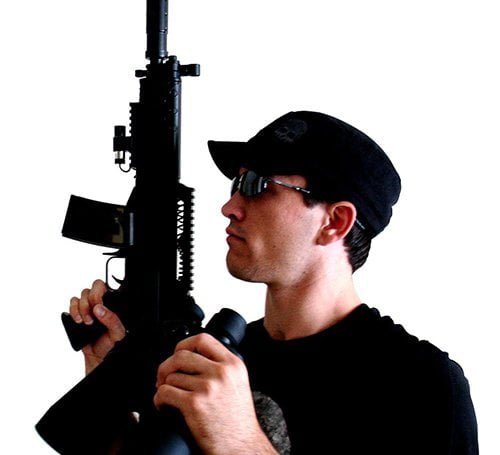 Adding a boonie hat or a baseball cap to your loadout attire does three separate things. The first thing is it provides your head with some protection. The hat provides a barrier between your head and the BB being fired at you, so if you do end up taking a head shot from a BB it will be a little less painful. Hats of all types provide some much needed protection from the harsh rays of the sun. This is important if you are playing during the heat of the day, as you can find yourself in a game for several hours at a time. Boonie hats or baseball caps will also break up your head's silhouette. The color you opt for will depend upon what PMC loadout you are mimicking.
Pros:
Different options
Protection
Aids in camouflage
Cons:
Can get hot or uncomfortable to wear
Best PMC Loadout Kit Eye Protection:
Eye protection is a must in airsoft games. If you are after something that offers decent protection at an affordable price, take a closer look at the Valken Tango Goggles. These goggles are easy to adjust and come with three different lenses. The yellow lens reduces reflected eye strain, the clear lens provides unaltered vision, and the smoke colored lens is perfect for bright, sunny days. Each of the three lenses come with an anti-fog coating that helps keep your vision unobstructed while running around the battlefield.
Valken Tango Goggles do not provide any kind of UV protection, not even the smoke colored lens, so you need to avoid looking directly at the sun. Other options used for military surplus that are affordable include the ESS NVG-Profile Goggles and the Revision Desert Locusts. While affordable these two options usually don't come with three sets of lenses.
Pros:
Three lenses
Carry bag
Great and comfortable fit
Cons:
Check Amazon
Best Chest Rig for a PMC Loadout Kits
Best Low End Option:
If you are on a limited budget, the Condor Modular Chest Rig offers reasonable protection for a low price. The one thing to be aware of when purchasing this chest rig is after a couple of years of heavy use you will need to make some minor repairs, so brush up on your stitching now. The good news is even as a low end option the Condor Chest Rig comes in multiple color options. The chest rig features padded shoulder straps and an adjustable and removable chest platform.
The Condor Modular Chest Rig has plenty of storage space, which allows you to easily carry with you the items needed for a successful mission. You can store and carry up to six M4 magazines in the integral pouches, plus the rig offers MOLLE attachments for more pouches. The internal mesh pockets, which there are two, are ideal for carrying maps and other items, plus the rig offers an admin pouch mount point. The built-in hydration pouch is necessary to prevent dehydration especially when out playing in the heat of summer.
Pros:
Numerous pouches
Fully adjustable
High quality and comfortable
Cons:
Check Amazon
Best Mid End Option:
For a chest rig that is still affordable, but offers a higher quality take a look at the Helikon TMR. The chest rig offers a lightweight design that is available in multiple colors and pattern options. The chest rig is fully adjustable allowing it to be custom fit to your body size and shape. A true one size fits all option in chest rigs. The chest rig offers a quick-removable design.
What is important for airsoft enthusiast isn't just the fit and style, but what they chest rig can hold. The Helikon TMR offers an integral double rifle magazine storage with a second modular pouch. The second modular pouch is able to hold another two magazines. All pouches offer kangaroo-style retention. The Helikon TMR also features integral pistol mag pouche4s and a main pouch that offers extra storage for BBs, rags, food, etc.
Pros:
Comfortable to wear
Multiple mag pouches
Solid construction
Cons:
Lack of PALS webbing on rear
Check Amazon
Best High End Option:
If money is not an object when creating your PMC loadout, you need to consider purchasing the CRYE JPC 1.0 Chest Rig. This chest rig is what we would consider to be top of the line for airsoft enthusiast. The Cyre JPC 1.0 is the original version and is relatively inexpensive compared to the new version, the Cyre JPC 2.0, which was just released.
One of the most notable things about this chest rig is the high SPI, fray-resistant treated cordura, partial Hypalon construction. The durable chest rig won't need repairs after several years of heavy use. The rig offers integral mag pouches along with a reasonable amount of modular MOLLE space. The lightweight set up even offers the ability to fit 10 X 12 ASC body armor plates.
Pros:
Fray-resistant
Lightweight
Numerous mag pouches
Cons:
Been replaced by a new version
Learn More
Best Primary Airsoft Gun for a PMC Loadout Kit
Best Low End Option:
If you are just getting started in airsoft games, take a closer look at the CYMA Keymod-S Polymer Airsoft Gun. This beginner-level M4 carbine offers a mostly plastic construction and uses common M4/STANAG magazines. The polymer components are a nice feature as it greatly reduces the weight of the airsoft gun. The CYMA metal gearboxes and internals are extremely well built for the price you are paying. Even better is the performance you get from the CYMA Keymod-S Polymer is considered above average based on the price you are paying.
The desert tan color is ideal for games that take place in a dry and sandy environment as the desert tan color allows it to really blend in with the surrounds. The CYMA comes with full RIS with a keymod attachment points so you can further customize to your liking. The battery and its charger are not included with your purchase, but you store the battery inside the stock. The 6 position adjustable stock offers an ergonomic motor grip. An ambidextrous magazine release and selector switch allow for better firing control and manipulation.
Pros:
Lightweight
Excellent range and accuracy
Good trigger response
Cons:
Size makes it a bit unwieldy
Check Amazon
Best High End Option:
If you are looking for the best primary weapon for your airsoft PMC loadout design, look no further than the G&G SCAR-L. This airsoft weapon of choice is fully licensed and comes with a laser engraved FN Herstal Trademark. What makes this weapon so high end is the full metal upper receiver, rails, barrel assembly, and fore grip. The motor grip, stock assembly, and lower receiver offer a nylon fiber reinforced polymer. Both the upper and lower receivers offer a realistic design.
The G&G SCAR-L utilizes the common M4/STANAG magazines and features a folding or retractable stock for vehicular or CQB use. The stock features an integrated cheek riser and a rubber butt pad for superior comfort. A railed flat top receiver allows for easy optics mounting and the flip up front and rear sights are fully adjustable. Full metal integrated rails allow for accessories.
Pros:
Rubber butt pad for comfort
Retractable folding stock
Hi-capacity magazine
Cons:
Wires show when stock is folded
Check Amazon
PMC Loadout Secondary Airsoft Weapon:
If you are on the lookout for a secondary weapon choice for your airsoft games, consider purchasing the KJW KP-13. The KP-13's layout is based off the Glock 17, which is a favorite full-sized pistol used by private contractors and one which they frequently customize to their liking. The KJW KP-13 offers a lightweight design as it features a polymer frame, so weight is never an issue during game play. To upgrade parts and magazine the KJW KP-13 uses common Tokyo Marui-patterned parts.
With the KJW KP-13 you won't have to worry about purchasing a special holster as it fits nicely inside standard-size Glock 17 holsters and several universal holsters as well. The KP-13 offers a high magazine capacity of 24 rounds. The airsoft weapon is CQB-friendly FPS (320 FPS). The fiber optic front sight is ideal for fast target acquisition. The KP-13 offers an aluminum alloy slide with rear and front cocking slide serrations. Filed stripping is fast and as realistic as it comes with an airsoft weapon.
Pros:
Textured grips
Fiber optic front sights
Metal slide components
Cons:
Check Amazon
Airsoft PMC Loadout Final Thoughts
When it comes to creating a realistic looking PMC loadout for your next airsoft game what you choose will depend on what look you are trying to recreate. The important thing to keep in mind is that you don't have to spend a fortune to create a realistic PMC loadout for your games; you can use and even re-use many items that you may already have on hand. Colors and style are far more important than brands and designers.
Thank you for visiting iamairsoft.com! If you like any of the products that you see in this article, please click on one of the BUY NOW buttons to make your purchase on Amazon. As an Amazon affiliate, we make a small commission off any purchase made through our website. This commission is how we can provide you with informative articles. You will not pay more on Amazon if you click through our website because the price is the same. For more great products and information about the game, check out our Airsoft Buyers Guides and Airsoft U!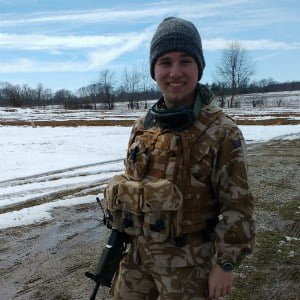 Noah Mains is a writer, an airsofter, and most importantly, he's stuck in the 80s. From Colt SMGs to David Bowie to brick phones, he has an acute appreciation for the greatest decade, and is more than happy to share his enthusiasm for the ALICE gear system (the superior loadout, of course) with anyone who'll listen.