Airsoft gamers were delighted when SoftAir and Cybergun licensed the SIG 556—regarded as one of the most advanced battle rifles that meets and exceeds the contemporary standards for performance and durability in this segment was introduced. A SIGARMS battle rifle, the SIG 556 made an instant impression with its full metal body and possesses the durability found in similar assault rifles such as the airsoft AK-47.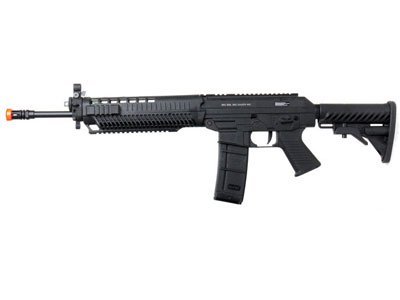 Purchase Now Or Read More Reviews On Amazon
SIG 556 RAS impresses where many of its contemporaries fail, i.e. structural integrity. The 556 RAS is an absolute stunner. The full metal body is far removed from airsoft rifles where synthetics are used in abundance. Use of metal in lower receiver and a full-metal upper means the aura of a rifle is enhanced. This is accentuated by the metal gearbox. Combined with a torquey motor, the 556 RAS has very little competition. The SIG 556 is surely one of the most reliable options when you want airsoft rifles with full-duty, three metal gearboxes—not the easiest to find in a reasonable price range. More compactness comes with the use of fully integrated hand guard bottom rails apart from the two shorter side rails.
[wpsm_specification]
Prior to moving further into the sig sauer 556 airsoft gun review, let's have a quick glance at the specifications and attributes of this power-packed rifle:
Operation: Electric Automatic
Weight : 3.85 kgs
Firing Modes: Semi-automatic and Full-automatic
Barrel: Full metal
Effective Range : 110-150 feet
Hop-up: Adjustable
Gearbox: Full metal
Motor Type : Long Type Motor
Muzzle Velocity: 360-410 FPS with 0.20g BBs
Magazine: 2 x 400-rd high capacity magazines w/ clamp
Inner Barrel Length : 363mm
Weight: 8.59 pounds
Magazine Capacity: 400 rounds (6mm BBs). Use all M4 Series Compatible AEG Mag.
First Impressions on the Sig Sauer 556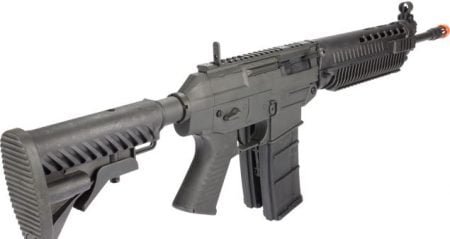 Upon opening the package, you get almost the entire deal. The standard package includes a rechargeable battery, charger, TWO (x2) magazines with dedicated connection clamp and of course, the 556 AEG Rifle.
Most airsoft gun experts will tell you that such a premium offering is best used with only the best of .20g and .25g BBs that money can buy. At its listed price, the 556 AEG does not make sense to be risked with cheaper BBs or exploring what kind of ammo it can handle.
Something like ProSlick series of BBs might do justice. You would want to invest that much more in BBs that promise spherical consistency. Adding some iron sights might have made perhaps the most comprehensive offering in this segment. However, with the kind of quality expected from Sig Sauer, this is not a big grouse.
Accuracy and Performance
The 556 RAS AEG impresses with its accuracy—very palpable, from the first moment you use it. The inner barrel guarantees precision. You won't find it difficult to shoot targets in the 125 to 175 feet range. Use of standard M4 magazines is one of the handful of similarities the 556 RAS has with other airsoft rifles. The steel gears seem to work in perfect harmony with the reinforced internals, complementing the high-torque motor for mind-blowing performance. High capacity magazines that are easy to line up along each other via the magazine connection unit—this means nearly 800 rounds of reload every time!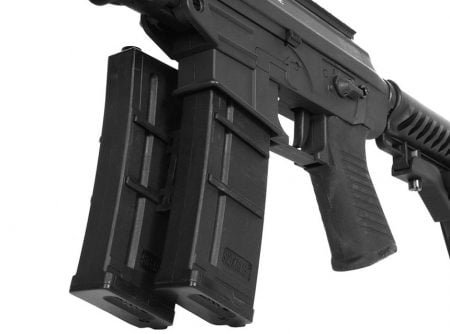 The more time you spend with the 556 RAS AEG, greater are the chances of discovering unique advantages that are not initially visible. For instance, you can fully upgrade this AEG to a DMR. This is partly because of the high-powered motor, negating the need to invest in an additional motor. This AEG employs a hop-up unit that is clearly inspired by the very dependable G36 hop-up units. This means ease of adjustment and high endurance levels. However, this is not a replica of any kin. The patented hop-up set-up is precisely engineered for easier adjustment of a BB trajectory. From a user's perspective who does not want to dig into the technical details, this amounts to greater accuracy in every shot—a huge advantage! More precision comes from the inner barrel that adds to the effective range. The SIG 556 is a delight when you have a sniper-like mindset and want to accomplish seemingly impossible targets.
While structural strength and range coverage remain the defining aspects of the SIG 556, there are some technical bits too that need a quick mention. For instance, the stick-type battery—very easy to install, smartly incorporated into the hand guard. What strikes most is the flawless finishing that delivers a dose of realism to the SIG 556. As if the all-metal body was not sufficient, you also get laser-engraved trademarks.
Purist airsoft gamers who choose to play only the best might be impressed with the SiGARMS trademark etched across the range of supplies, including the grip and stock.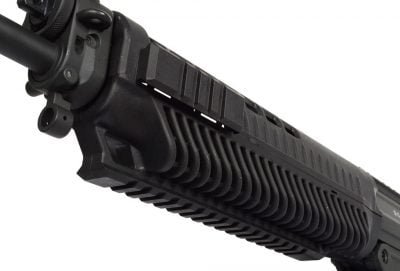 While many AEGS are defined as automatic, it seems that most of them seem to trade the automated features, compromising on the overall performance. The 556 RAS AEG is a step away from this norm. A fully automatic airsoft rifle, it is a complete package. Designing influences from the M4 are clearly visible. Sig 556 even uses M4 magazines. What impresses further is the attention to smaller details such as smart battery function. In a digital-heavy era, this comes across as a very handy feature.
The standard wall charger of this airsoft rifle seems too humble for a rifle of this size. However, smart charger functions ensure sufficient charging without any risk of overcharging. While this might not seem like a huge utility, understand that airsoft guns are known to suffer from compromised performance due to overcharging. How fast is the charging? Extremely quick, at nearly 800% faster than the average charging cycles.
Concluding Thoughts
Sig Sauer again underlines why it is trusted as the best of global makers of highly advanced airsoft rifles. The Sig Sauer 556 does not do something dramatically different but excels at everything you expect from your airsoft rifle. You need to approach the Sig Sauer 556 AEG with the right mindset. This is a premium offering, not just another lightweight airsoft gun. It is meant for those who have spent some serious time and understand the nuances of shooting down targets over longer distances. Similar, AEGs might come close or seem similar to the 556 but clearly, this is the much better option.
Purchase Now Or Read More Reviews On Amazon
Thank you for visiting TacticalAirsoftMagazine.com. We hope that this review of the Sig Sauer 556 Airsoft Rifle helped you make a decision. If we helped you in anyway on your purchasing decision please use one of our links above to go to Amazon and make your purchase. This site is part of the Amazon Affiliate program which means that we receive a small commission from Amazon at no extra cost to you for purchases made through our links. This allows us to keep bringing to top quality content. Thanks again for the visit.