The Cybergun Thompson M1A1 Airsoft Gun has emerged as the ultimate choice for airsoft enthusiasts with its innovative features, high accuracy and sleek design. Take aim and fire with the high-powered and reinvented Tommy gun M1A1 AEG that sets a high standard for fierce rapid firing in the battlefield. You may come across different brands such as Tokyo Maraui, Cyma, Double Eagle, and King Arms when shopping for this gun. The best versions to buy are either the Cybergun or Soft Air fully licensed and trademarked versions that include unique serial numbers.
The tommy airsoft gun arrives to your front door battle ready with a 8.4 V 450 mAh battery and a charger that provides 2.5 hours charge time, bonus package of airsoft BBs, gun sling and a cleaning rod. For additional safety during shooting, there is provision of Manual Safety that is rather easy to switch on/off. Let's take a further look at the specs before diving into the Cybergun Thompson M1A1 airsoft gun review:
High power Automatic Electric Gun
Imitation wood stock
Adjustable hop-up
Weight: 7 lbs
Length: 32 inches
High-capacity drum magazine
Manual safety
Battery and charger included
Velocity 466 with 0.12g and 380with 0.20g BBs
Energy: 1.21 Joule
Full metal gear box with reinforced steel gears and metal bushings
Semi/fully automatic firing
Works best with 0.20g BBs or heavier
Body Type – Submachine gun
Caliber – 6 mm
Barrel – Smoothbore
Function – Repeater
Rear Sight – Adjustable for windage and elevation
Suggested for – Skirmishing
Max Velocity – 370 fps
Stock – Full metal
Shot Capacity – 380
Front Sight – Blade and Ramp
Ammunition – 0.2-0.25g
Scopeable – No
Electronic Power Booster—the Performance Difference Maker
First Impressions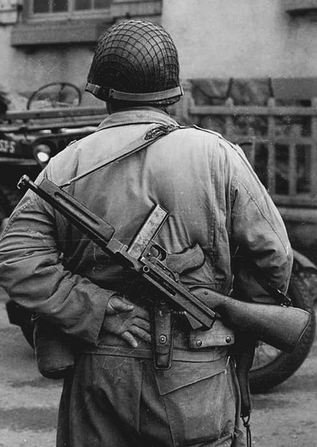 This semi and fully automatic sub-machine gun features a full metal body with imitation wood stock, a high-capacity 380 round stick magazine, and a shot velocity of 370 FPS. Choosing to switch between semi-automatic and fully-automatic firing mode is easy; just move the fire selector switch to the desired position.
Similar tommy airsoft gun models were also popularized by gangsters and mobsters during the prohibition era and are portrayed in popular crime movies such as Gangster Squad and Public Enemies.
The M1A1 features a hop-up unit that you can adjust to balance the accuracy and performance of the gun when shooting from long range distances. Full metal body and gearbox with simulated wood grain finish add to the aesthetic appeal of the M1A1 AEG giving it a very realistic feel.
Design Inspirations
The airsoft version of the Thompson Submachine Gun is an authentic replica. Used by the US Army Cavalry in World II, it is referred to as the gun "that helped to change the world". Over the years, it has definitely earned its reputation and name as a classic.
Over 1.75 million Thompson Submachine rifles were manufactured by the Auto Ordnance Corporation to assist in warding off the German Nazi's from Europe. The Cybergun version of the Thompson M1a1 is a fully licensed replica of this gun with remarkable detail.
Cybergun Thompson M1A1 Gun impresses with its laser imprinted Thompson & Property of U.S. Army trademarks with unique serial numbers for the kind of realism airsoft gunners want. The battery compartment in the butt of the rifle holds a dark grey foam insert that can be taken out using a long wood screw to fit a SDERBAT6-MINI battery.
This high power automatic electric gun has a full metal gearbox with reinforced steel gears and metal bushings that adds to the powerful look.
Power Booster—the Performance Difference Maker
Thompson M1A1 submachine gun comes with Swiss Arms Power Booster which is essentially plug & play burst control unit—a very popular option among contemporary airsoft gunners. If we talk in terms of performance, this unit allows the gun to fire in 1 to 15 round bursts which is at par with competitors in this segment. The power booster adds an additional dimension to the overall performance featuring two plugs—one long and the other short.
The short plug needs to be plugged into the gun while the long plug goes into the power booster for uninterrupted power supply and superior performance. Yes, you need to program the power booster to accommodate your gun's AEG battery but this is should not overwhelm you as the interface is rather simple to operate. Further, the gun supports a wide range of AEG battery types including the 11.4 & 7.1V LiPo & 8.4 & 9.6V NiMh.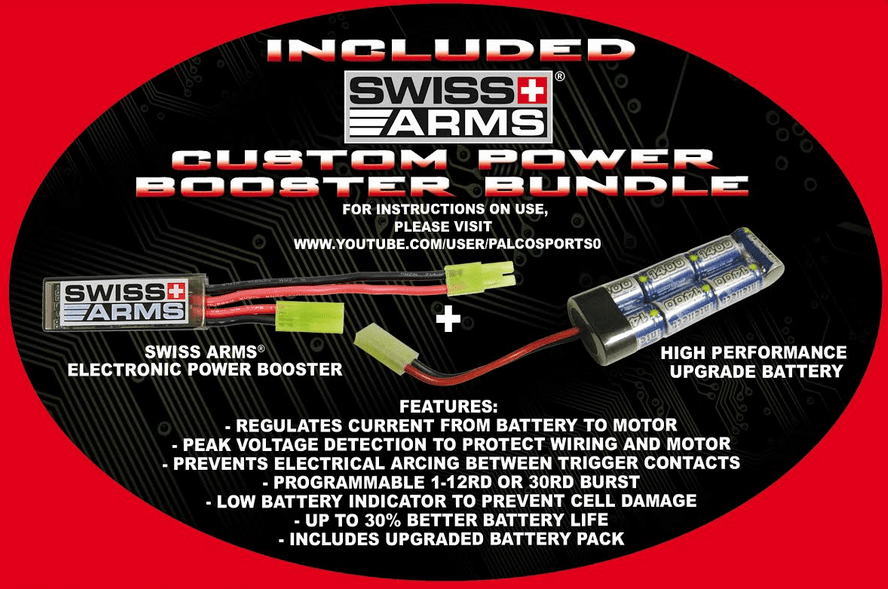 We recommend exercising a little bit of caution in programming the unit to the type of AEG battery you are using for optimal performance. Similarly, using a small pin is always a better choice with this airsoft stunner. The power booster can also be programmed to shoot any number of burst fire shots ranging from 1 to 15.
Full metal parts make this replica feel like the real gun and this solid feel is being particularly appreciated by airsoft enthusiasts who have taken a trial with the Cybergun Thompson M1A1 Airsoft. There is plenty of FPS for any skirmish kind of airsoft scenarios. Owing to the short barrel, the accuracy of the gun is quite good and it delivers good results in long range shooting situations too.
 Unobstructed Performance
Over 1000 rounds in the magazine provide this gun a monstrous capacity for providing you that unbeatable edge over your rivals. A slight disadvantage you might come across with the Thompson Airsoft M1A1 Gun is the lack of dot on the front post—this makes it a little difficult to judge direction of BBs with extreme precision. Using a 9.6-volt battery makes more sense to increase the rate of fire. Unlike, some of the other airsoft guns available in the market today that seem to struggle when moving between the auto and semi-fire modes, resuming and sustaining shooting with the Cybergun Thompson M1A1 Airsoft Gun is rather effortless!
Operation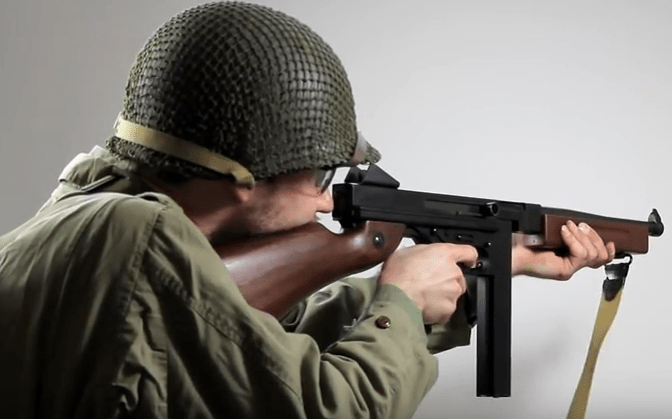 Cybergun Thompson M1A1 Airsoft Gun has been designed to provide ease of operation. The faultless construction and optimum weight are intended to provide a hassle-free shooting experience. To program the burst fire, hold down the trigger to let the gun cycle until you feel a vibration. After you feel the vibration, release and pull the trigger as many times as the number of burst fire shots you'd like the gun to shoot.
Explaining with an example—for a 4-shot burst pull the trigger down five times and hold it down the fifth time until you feel a vibration in the grip. Release and pull the trigger for the 4-shot burst. The airsoft gun is easy to clean and upgrade as it can be disassembled quite conveniently by removing two screws and then pushing the button on the back—it easily slides apart!
Our Verdict
Cybergun Thompson Airsoft M1A1 Gun convinces as an admirable replica of the legendary M1A1 military rifle. Airsoft enthusiasts would appreciate the impeccable design and top-of-the-line  internals. Thompson M1A1 features both full and semi-automatic firing modes along with an adjustable rear sight making it perfect for any style of tournament or battle. The capacity to shoot at an incredible 328 fps justifies its top billing.