So you want an airsoft sidearm, but you don't want to deal with the quirks of a gas powered system. You have more experience with airsoft electric rifles and you'd like that knowledge to transfer to your pistol. Maybe you just want something a little different. If you've had any of these thoughts, an airsoft electric pistol should be on your shortlist. As always, sorting through the chaff to find the wheat can be difficult. Fortunately, Tactical Airsoft Magazine is on your side.
Short On Time? Here Is The Bullet List:
**Below are our more detailed reviews. Click the links above to see current prices or read customer reviews on Amazon.
Pros and Cons of Airsoft Electric Pistols
If you are new to airsoft, it might surprise you to learn that, yes, AEPs are a thing! They blend the best parts of the AEG world with the compact size of a pistol. Gas powered pistols are great. But even the best gas-blowbacks suffer from temperature issues. In extreme cold and heat, the pistol may not work as well or at all. Not to mention the cooldown that happens when you rapid fire the pistol. An AEP will work in those extreme conditions just like your rifle will. You won't get the realism of blowback action from any AEP. The electric motors don't have it in them to both move the frame and fire the BB. Because most AEPs fire in both full- and semi-auto, they make great sidearms for snipers.
There are a few electric airsoft pistols available in Asian airsoft markets. Tokyo Marui makes electric Glocks, as well as the upgrades necessary to make them even better. Unfortunately, these pistols aren't available in the States because of copyright issues. See our article on why it's so hard to find airsoft Glocks here.
Upgrading Ideas
In general, performance for most AEPs is going to be lackluster out of the box. In fact, there are few true quality pistols. And even fewer are actually pistols. One of the best things about AEPs is actually something that makes them difficult to work with. Because of their compact size, there really isn't much going on under the hood. It's rare to find an electric pistol that fires hotter than 300 feet per second.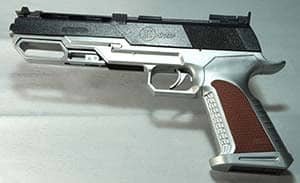 Upgrading is an option. And the upgrades you choose will be like those you'd make to improve the FPS of an AEG. Keep in mind that the instant you crack open your electric pistol, you've voided any warranty. Upgrade the spring to get more power. Upgrade the gears to get a cleaner action. Getting a higher rate of fire will be more complicated, however. You'll need to put a more powerful battery inside. To do that, you'll need to prepare the entire system to handle the extra electrical load. Stronger gears are essential since the extra oomph you'll get from a larger battery would wear out stock parts.
Pardon the jargon, but you could change the wiring of the battery from Tamiya to Deans. In short, Deans-wired systems offer less electrical resistance, which means less damage to the electronics. To make this happen, you'll need some skills with a soldering gun. There are plenty of guides online explaining this process. Now, you'll need a place to put that larger battery. In some cases, the best you can do is tape it to the exterior of the gun. It sounds like a ramshackle solution, but that's because it is. If you're skilled with fabrication of any sort, you could make an exterior compartment.
The Best Electric Airsoft Pistols on the Market
Best True Airsoft Electric Pistol:
The GameFace AP13 is your best choice if you want something that will fit in your pistol holster. It even looks remotely Glock-like. It fires in both full- and semi-automatic. And with a deep 30 round magazine, you'll actually be able to keep up that fire. It has a hefty weight to it and has a metal gearbox like most AEGs. The gun comes with a charger. You'll need to remove the slide to insert the included battery. It's an easy process, and the gun comes with a manual to help you get it ready for the field. While the GFAP13's FPS will mean you'll have to lead your shots when firing at moving targets. At least you can fire in full auto, though. Because of this, you'll more likely hit the enemy.
Pros:
Railed lower frame

30 round magazine

Lengthy battery life
Cons:
Low 250 FPS out of the box.

No realistic trademarks

Mostly plastic construction

No hop-up unit
Best Overall Airsoft Electric Machine Pistol: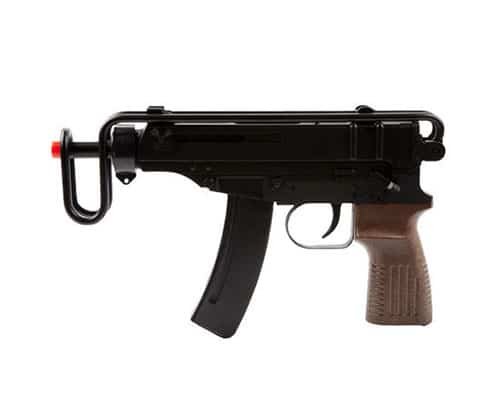 Look, in that holster! Is it an airsoft SMG? Is it a pistol? No, it's a machine pistol! From Action Sports Games comes the fully licensed Cesk Zbrojovka Scorpion Vz. 61. You can see the commitment to realism by looking at this airsoft machine pistol. Trademarks adorn the frame. It even has the narrow pipe-like muzzle like the real deal. With the collapsible wire stock, you can choose to shoulder fire or shoot one handed. ASG kept polymer plastic parts to a minimum. Those parts are the upper frame and the textured grip. The rest of the exterior is metal. With 38 rounds in its high capacity style magazine, you'll have enough ammo to protect yourself as well as provide suppressive fire in a pinch. It fires in both full- and semi-automatic. Again, the FPS is low, but that's what you get when you enter the AEP market. The rest of the features of the Vz. 61 make it the clear choice to fill your electric machine pistol needs.
Pros:
Realistic design and trademarks

High capacity magazine

Battery and charger included

The price
Cons:
220 to 260 FPS

Battery only lasts one to two hours
Best Electric Airsoft Pistol Final Thoughts
While the market for airsoft electric pistols is rather limited, the choices in our list present what the best AEPs have to offer. They provide reliable electric performance in a compact package. The ASG Scorpion wins out because of its versatility, build quality and commitment to realism. However, the GameFace AP13 is still a strong choice. For this list, it's more of a tie. The GFAP13 wins out in the true pistol market and the ASG Vz. 61 takes the top machine pistol spot. Either pistol is a solid choice if you're looking for your next sidearm.
Thank you for visiting tacticalairsoftmagazine.com. If you like any of the equipment that you see in this article, please click on one of the Buy Now buttons to make your purchase on Amazon. As an Amazon affiliate, we make a small commission off any purchase made from a click through from our website, which is how we are able to provide you with these informative articles. You will not pay more on Amazon by clicking through our website because the price is the same as if you go to Amazon directly. Please take a look at our airsoft gun and rifle reviews or our informative articles on our website.