In a perfect world, all of your airsoft equipment would work 100 percent of the time. But what do you do when your rifle fails on the field? Pull out your sidearm. What if that fails? Your only option is to call yourself out. Now your team is less one member, which is especially hampering in an objective mode. What you need is a holdout spring action pistol. It may not make you the most competitive player on the field, but it beats the walk of shame back to respawn. They also make great secondaries guns for new players.
Short On Time? Here Is The Bullet List:
**Below are our more detailed reviews. Click the links above to see current prices or read customer reviews on Amazon.
Advantages and Disadvantages of Spring Action Pistols
Spring action pistols make great backup airsoft guns. You're not going to pull off sniper shots with a springer, but you can cover an entrance until it's safe to ready your primary again.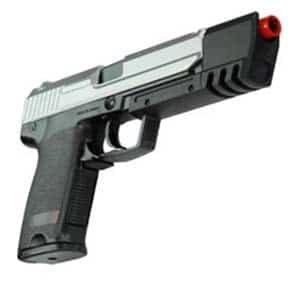 Most spring airsoft pistols are inexpensive, so you're not going to break the bank. They make great gifts for newbies and veteran airsofters alike. They're also a great option if you're looking to get a young family member into airsoft without handing them an expensive piece of equipment to break.
An arsenal of airsoft spring pistols opens up many options for some interesting games you can play with small groups of friends. What if you fall into a large puddle or creek? You won't want to use your electric airsoft gun or your gas pistol until you're sure you won't do any damage to them. That springer in your pocket, though? It doesn't have a battery or a gas cartridge. It should work fine if you get soaked on the field.
If you're the type of player that looks to pump pure performance out of your primary, you're accustomed to dealing with engagement restrictions. A springer in your kit means you won't have to safety kill or surrender every enemy you meet within ten feet. Most airsoft spring pistols don't have high muzzle velocities. They usually clock in at 250 feet per second.
That said, the FPS of a springer is one of its limitations. Since airsoft pistols don't have hop-up units, the BB won't be very accurate either. You'll have a lot of trouble hitting a moving target. With a low FPS, your target may not feel or even hear the hit when you've shot them. You may need to hit them more than once. A spring pistol works best for holding a narrow passage or catching someone unawares.
Another problem with spring action pistols is they tend to be made of poor quality materials. For some pistols, a collision with a wall could crack the frame. Still, there's not a lot internally that could go wrong with the pistol. As long as you oil the pistol's spring and tighten any screws once in awhile, your springer will last a long time. Even if it does break, replacing it won't empty your wallet. Unfortunately, some of the airsoft spring pistols out there are sealed, so you won't be able to open them.
How do Airsoft Spring Action Pistols Work?
Spring action pistols are simple devices. Basically, the system uses collected air and a spring to fire the BB on the trigger pull. When you load a magazine into your spring pistol, you're not yet ready to fire. First, you need to add tension to the mainspring by pulling on the slide or hammer. This opens a chamber in the gun and allows air into it. A small notch in that chamber catches on another part connected to the trigger.
When you pull the trigger, that part disengages from the chamber. The released tension pulls the whole chamber forward. The collected air contacts the BB, sending it out of the barrel. Then, the spring in the magazine pushes another BB into the barrel, ready for another shot. Because of the simplicity of the system, there isn't much that can break inside the gun.
What to Look for in an Airsoft Spring Action Pistol
When you're in the market for a spring action pistol, the first thing you need to consider is exterior build quality. You don't want your holdout breaking on you from a drop. Some of them may even crack if you bend them wrong during a squat. There are a few full metal options out there for you and even they won't cost you more than $30.
Since performance is pretty much the same across all spring action pistols, you don't need to factor that into your decision. You do want to consider magazine size. After all, you don't want to have to reload your last resort. Since it's difficult to find extra magazines for individual models, you will usually have the one mag. And if that's the case, you want it to be a deep mag. 15 or more BBs is a good amount to have. After that, there's this factor to consider. Does it look nice? Is it the right size for your hands? Is it a replica of your favorite firearm? What about price? Will it be easy to replace if it breaks on you?
Now with all that in mind, here are a few spring action pistols that we recommend! All of the airsoft pistols are tested with .12 gram BBs. If you load them with the standard .20g weight rounds, you'll see a lower FPS, but a little more accuracy and range.
Best Spring Airsoft Pistols on the Market
Best Full Metal Spring Airsoft Pistol:
If you're looking for an airsoft pistol that's full metal, a good choice for you is the UK Arms Colt 1911. The only plastic parts on this piece are the mock-wood grip and the magazine. Expect this one to stand up to tough conditions on the field. Though the plastic grip plate may crack, it will only mar the cosmetic quality of the airsoft gun. It will not affect performance. And the iron sights, while very low to the frame, aren't of much use anyway. You're not going to be sniping with a spring action pistol, anyway.
Pros:
Tough full metal construction
240-275 FPS
18 round magazine
Two-tone World War 2 look
Cons:
Grip is poor quality plastic
Short hard to use iron sights
Best Spring Action Desert Eagle:
Nothing beats the feeling of the airsoft hand cannon in the hand. The SoftAir Desert Eagle .44 spring action pistol comes in all black and a shiny two-tone silver and black. The airsoft gun may be made of plastic, but it's still durable. Fully loaded, it weighs one pound, which is a lot for spring action pistols. The Desert Eagle .44 is surprisingly accurate and has great range for a spring pistol. While the price of this gun is a little high, the value is there. You could buy a low-end non-blowback gas pistol with the money you spend on the SoftAir Desert Eagle. That gas pistol would likely fall apart after the first few mags. And while it's too big for a pocket, why would you want to hide it? The SoftAir Desert Eagle is something you'll want your enemies to see on the battlefield.
Pros:
240 FPS
Deep 28 round magazine
Slide locks back on empty magazine
Full IMI trademarks
Cons:
Too large to fit in pocket
Pricey for spring action pistols
Most Powerful Spring Action Pistol:
A springer firing higher than 250 FPS is a rare find. The Firepower .45 fires at 328 FPS. While it will still be hard to hit a moving target because of your rate of fire, means your target will feel the hit. As advertised, the slide is metal and the frame is a good quality plastic. The Firepower .45 doesn't exactly have a real-world counterpart, which is why there are no impressive trademarks on it. And while the magazine is a little small, you won't empty it when it counts.
Pros:
328 FPS
Metal slide
Unique look
Stippled pistol grip
Cons:
Low magazine capacity at 12 rounds
Unrealistic trademarks
Best Budget Spring Action Pistol:
The BBTac BT M-22 is a strong choice if you're looking to save a little more money on your spring pistol. It's also great to stock up for special game modes to play with friends on a small scale. It looks a little like a Beretta M9 and is about the same size. It will easily fit in a pocket ready for the last stand. While this gun is made almost completely out of plastic, it doesn't have to be a problem. It will last you a long time if you treat it right.
Pros:
Included mock suppressor
Metal barrel
300 FPS
Low price
Cons:
Full plastic construction
Low 15 round magazine
Best Compact Spring Action Pistol:
The ASG CZ 75D is a great platform in a small package. It has a durable metal trigger that you won't have to worry about breaking with regular use. Most of the gun is plastic, though. It has an accessory rail on the frame. It would be best to use a flashlight if you put anything up front. Loading the magazine is pretty fast, though there's only 13 round in it. It can be disassembled to perform maintenance. The safety is especially exciting since it gives a nice loud snap to confirm you're on safe. It's rather accurate as well, out to 70 feet. I love the feel of compact pistols in the hand. While this pistol is made of plastic, it isn's the usual ABS plastic. It's the more rugged plastic polymer. The low FPS may be a problem, but your target should feel a hit if you hit them in close range. This is where any spring action pistol does best.
Pros:
Unique look
Most important parts are metal
Railed frame for accessories
Metal internal parts
Rubberized grips
Cons:
Low capacity 13 round magazine
Plastic construction
Low FPS of 210
Best Overall Spring Action Pistol:
This UTG Sport pistol is one of the best available. The only plastic parts on this piece are the grip covers and the outer barrel. The rest of it is made of a strong metal that won't crack under duress. Even the magazines are metal! While its magazines have a low capacity at 13 rounds, there's room for 90 BBs in a special compartment in the mag. To reload using this feature, turn the magazine upside down and pull down the spring. Then, shake the magazine until the channel fills. Like a real M1911, the UTG Sport has two safeties. One is on the grip, and the other is a slide stop style. You'll find the pull of the trigger actuates the hammer as well. This is a feature not included with most spring action pistols. It also breaks down like a real 1911, so maintenance is easy.
Pros:
Full metal construction
Two included magazines
Unique magazine speedloader feature
Cons:
Painted surfaces scratch easily
13 round low magazine capacity
Iron sights are short
Best Spring Airsoft Pistol Final Thoughts
The UTG Sport M1911 comes ahead in this spring action all-call because of its durability and the value of what comes in the package. The two magazines, while not especially deep, have a handy speed load feature that isn't available in gas blowback pistols four times its price. Most springers on the market only come with one magazine. The UTG Sport M1911 will not disappoint. Any gas blowback pistol will outpace your airsoft spring action pistol. But that's not why you buy a springer. Their value comes from their low price point and the simplicity of design. The spring action pistol shines when the rest of your equipment fails. Should the worst happen during a game, don't walk back to spawn empty-handed. Pull out your airsoft spring action pistol and go down swinging.
Thank you for visiting tacticalairsoftmagazine.com. If you like any of the equipment that you see in this article, please click on one of the Buy Now buttons to make your purchase on Amazon. As an Amazon affiliate, we make a small commission off any purchase made from a click through from our website, which is how we are able to provide you with these informative articles. You will not pay more on Amazon by clicking through our website because the price is the same as if you go to Amazon directly. Please take a look at our airsoft gun and rifle reviews or our informative articles on our website.