Have you ever finished up an airsoft game with a split knuckle from an unlucky BB hit? Or maybe your fingers have gotten so cold during a winter game that you can barely pull the trigger anymore? Although they often get overlooked in favor of other gear like helmets or chest rigs, gloves can be valuable safety equipment. Gloves aren't necessary for everyone, or for every type of game, but if you think you'll be playing in bad weather, running through a fast-paced CQB setting, or taking a lot of dives into cover, a good pair of gloves can make your experience a lot better.
Short On Time? Here Is The Bullet List
**Below are our more detailed reviews. Click the links above to see current prices or read customer reviews on Amazon.
Why Do You Need Gloves in Airsoft?
One of the cardinal rules of airsoft is, the less skin you have exposed, the less chance you have of showing up at work Monday morning with a nasty welt. Gloves do a solid job of keeping your hand safe from flying projectiles, but they also have a few auxiliary benefits.
Abrasion resistance is probably the most obvious- there are plenty of opportunities to bite the dust on the average airsoft field, and scuffing your gloves when you hit the ground is a much more pleasant experience than tearing your palms up. Depending on the kind of gloves you buy, they may also help you keep your grip; generally, this isn't a huge issue, but when your hands get wet, it's easy to have a magazine slip out of your hand or to drop your pistol. Lastly, gloves can help keep you comfortable and functional in poor weather. Cold, wind, and snow are not your friends, and when your hands get cold, they lose dexterity. Keep yourself warm and you play better every time.
What Qualities Should Airsoft Gloves Have?
If you're looking for a pair of solid tactical gloves, your first priority should be finding ones that truly meet your needs. Even a pair on a great sale may not be worth it if they don't work well for you or your playstyle.
Fit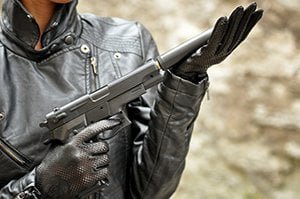 The biggest thing to be aware of is fit- gloves should fit, well, like a glove. If the glove is baggy, you'll struggle to get a good grip, and if the fingers are too long, it won't be easy to perform fine motor manipulation like using a fire selector. Tight gloves make tasks more strenuous and hurt circulation. Even if everything else about the glove is perfect, in the long run, you'll always be more happy with an ideal fit. When you're trying on gloves, you can run through a couple of tasks to see how well they work for you- try dropping a coin on the floor and see if you can easily pick it up, or try picking up a large, heavy object to make sure the glove won't slip off your hand.
Durability
Durability is also a key concern. Generally, gloves first wear out either on the palms (especially around the joints) or on the knuckles. If you expect to be taking dives into the cover or the like, palm abrasion resistance is important, and a thick leather palm will improve your day substantially. The same goes for events where you may be expected to rappel- thick gloves prevent rope burns. For CQB where you'll be moving in tight surfaces, a hard polymer knuckle plate makes banging your knuckles on a barrier a little less painful.
Weather Resistance
Lastly, make sure your gloves are right for the conditions you're expecting. Waterproof gloves are great for rain, snow, or heavy wind, but on a sunny day, they're just extra weight that breathes poorly and accumulates sweat. Insulation is great for winter games, but you'll look silly come spring if you keep those bulky gore-tex mitts around. For general all-weather conditions, I tend to recommend leather gloves treated with a waterproofer. They don't breathe super well, but they're light enough they won't make you sweat terribly in the summer and provide enough barrier that wind and snow aren't a huge problem.
Best Tactical Airsoft Gloves on the Market
Best Fabric Gloves for Airsoft:
The vented Mechanix Covert gloves are really something of a bargain and tend to be one of my favorite "lightweight" gloves. Keep in mind, Mechanix gloves are the economy model of the work gloves world. There are forty or so styles and they all work fairly well, but may not be as durable as more up-market models. That said, they're still a good choice for the average airsofter and will be a little less painful of a purchase than something by one of the really high-end manufacturers.
As the "Specialty Vent" name states, these are fully ventilated and are actually quite comfy during the summer, conforming nicely to the hand and providing good dexterity. They've got wrist adjustment like most gloves of the type. Note they do not have a "gauntlet" for extended wrist and upper arm protection, making them a little lighter and a little easier to get on and off. I've never attached a lanyard to mine since they're easy to stuff in a pocket when you're not using them, but if you want to do so lanyard loops are attached. Also, if you feel the need to use a touchscreen device during the game, there's some form of electrostatic mesh in these that allows them to work with phones, tablets, and the like.
Pros:
Cheap
Lightweight
Fairly elastic for fit
Breathes reasonably well
Good palm grip
Two-color options
Full-size range
Cons:
Fabric construction a little flimsy
Poor abrasion resistance
Very obvious "Mechanix" branding on back of hand
Not great for cold weather but better than nothing
Check Amazon
Best Hard-Knuckle Gloves for Airsoft:
Hard-knuckle gloves are the most "tactical" of tactical gloves; watch a low-budget action thriller and it's a pretty good bet the Navy SEAL main character has a pair. To be entirely honest, in the real world the application for said gloves is fairly limited to riot control cops and motorcyclists, but where they shine in airsoft is in CQB arenas: it's easy to round a corner and painfully bang your knuckles on a rough OSB wall. These save you that pain.
Although these Titan Ops Tactical Gloves are definitely in the "cheap Chinese gloves" category, they are elasticated and tend to fit pretty well. Stitching isn't great, but the knuckle insert is durable enough I'd trust it in a game, and they offer a couple of colors in full-size range, as well as fingerless options.
Pros:
Cheap
Good knuckle insert
Elastic fabric for reliably good fit
Multiple color options
Fingerless option
Cons:
Cheaply made
Questionable stitching quality
Velcro strip may wear quickly
Check Amazon
Best Leather Gloves for Airsoft:
Helikon-Tex is a Polish tactical gear manufacturer that started a business in the 1980s and has a reputation for producing good products at a fair price point. I'm a huge fan of their Rangeman gloves; for only a little more than a pair of Mechanix, you get a pair of proper leather palms (kangaroo leather, apparently) with a woven nylon backing. I've had mine four years and they're still in good shape. The branding is, like Mechanix, a little obnoxiously large, but that can be overlooked. Additionally, the gloves have a really solid lanyard loop and the fingertips are fully enclosed in leather. These may not be warm enough for use in the winter and the nylon mesh definitely isn't waterproof, but in almost any other weather these are my go-to.
Pros:
Reasonable price
Full leather palms and fingertips
Excellent stitching
Elasticated for fit
Lanyard loop
Full-size range
Multiple colors
Cons:
Very obvious, though tasteful, branding on back of hand
Thumb tends to be a little long
Check Amazon
Best Rappelling Gloves for Airsoft:
Petzl is essentially the go-to name for entry-level climbing gear, and it stands to reason they'd know how to make a good climbing glove. The Cordex is proof that reasoning isn't wrong. Although the gloves are a little bit on the pricier side, they're probably one of the least expensive choices for a safe rappelling glove. Notably, double-layered leather keeps most of the heat off your palms, and they last quite a while on a nylon rope. I've worked with Petzl climbing gloves that've been said to be six years old and they still hadn't developed any holes in the palms. My big complaint is that they're massive and thick; you lose a lot of dexterity in these, though that's to be expected; the woven stretch nylon joints help a little. The wrist strap is nicely oversized so they can be easily removed once you're off your harness, a nice feature.
Pros:
Very durable
Thick and insulated
Good cut for use with rappelling ropes
Comes in multiple colors
Full-size range
Carabiner hole
Oversized adjustment strap
Cons:
Poor dexterity
Somewhat pricey
Heavyweight
Not useful for wet conditions
Subpar fingertip protection
Check Amazon
Best Cold-Weather Gloves for Airsoft:
North Face's Montana cold weather gloves are one of the better pairs out there for serious business, with a number of really handy (I swear, that pun wasn't intended) features for any sorts of outdoor activities in the winter. They absolutely do their job; Mine has spent a few weeks in the Rocky Mountains with me and I can vouch that they're incredibly warm in any weather, and the Gore-Tex layer inside is great at keeping water out. They've got a relatively long gauntlet, providing good wrist protection and helping keep snow outside.
Like all winter gloves, they aren't great at fine motor tasks, and some times it feels like you're working with a spacesuit, but fortunately, they have built-in wrist strap lanyards, which is excellent for quickly doffing the gloves and performing tasks requiring hand dexterity. Just be careful to get your exact size- these don't accommodate a poor fit well.
Pros:
Highly resistant to water and cold
Effective wrist protection
Fairly durable against abrasion
Full-size range
Wrist lanyards are an excellent addition
Cons:
Fairly expensive
No color options
Check Amazon
Best Tactical Airsoft Gloves Final Thoughts
Between protecting against BBs, hard falls, and the elements, gloves offer a lot of utility out on the airsoft field and beyond. Gloves aren't always necessary for airsoft games, but when they are, make sure you have a well-fitting pair that provides the protection you need!
Thank you for visiting iamairsoft.com! If you like any of the products that you see in this article, please click on one of the BUY NOW buttons to make your purchase on Amazon. As an Amazon affiliate, we make a small commission off any purchase made through our website. This commission is how we can provide you with informative articles. You will not pay more on Amazon if you click through our website because the price is the same. For more great products and information about the game, check out our Airsoft Buyers Guides and Airsoft U!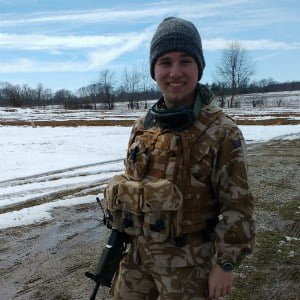 Noah Mains is a writer, an airsofter, and most importantly, he's stuck in the 80s. From Colt SMGs to David Bowie to brick phones, he has an acute appreciation for the greatest decade, and is more than happy to share his enthusiasm for the ALICE gear system (the superior loadout, of course) with anyone who'll listen.