Tired of storing your magazines and gear in the pockets of your cargo pants? If you're new to the airsoft scene, one of the best purchases you can make after your gun and your safety gear is a load-carrying vest, allowing you to keep your equipment firmly attached to your person even when rushing the next objective. Even if you're relatively experienced and already have load-bearing equipment like a plate carrier or a battle belt, a vest can be worn over those to provide extra storage and removed when you don't need it anymore. Take the time to find the best solution for carrying your kit- seconds count during a game, and more magazines mean more sustained firepower in a standoff!
Short On Time? Here Is The Bullet List:
**Below are our more detailed reviews. Click the links above to see current prices or read customer reviews on Amazon.
What is a Tactical Vest?
Load-bearing vests, often called LBVs or tactical vests, were a staple of military operations since the mid-1970s when soldiers would sew their own. Since then they've grown into a piece of gear that's found use everywhere from local law enforcement to the United States Army. Even though LBVs are seen less frequently in military usage, due to the ready availability of plate carriers with gear mounting solutions, they may still be the best choice for you if you're looking for an inexpensive way to mount your gear.
Kinds of Airsoft Vests
Load-bearing vests can be divided up into roughly three categories, although I'm sure you could make an argument for more categories if you wanted.
One type is the integrated vests, which come from the factory with all the gear pouches sewed directly onto the fabric or mesh material of the vest. These are generally pretty lightweight, but if you want to customize your vest at all, be prepared to learn to sew. There aren't many integrated vests available anymore, and most of the ones that are out there are clones of Blackhawk's cross-draw tactical vest, which attained significant popularity with police forces and some military units back in the early 2000s.
Another type is the modular vests, which are equipped with some sort of modular attachment surface like PALS/MOLLE. Generally, the modularity on these is nice, but they're heavier than a comparable integrated vest due to the weight of the attachment system. Also, with airsoft-grade gear, it's usually more expensive to buy a modular vest and pouches together than it is to buy the single vest.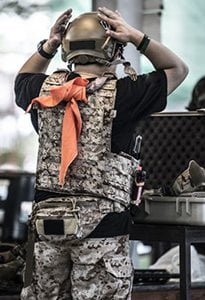 A third type is the body armor vests. These are usually made to fit soft Kevlar armor inside an interior pocket and rarely have integrated pouches, either opting for a modular design or no provision for gear attachment at all. When buying a body armor vest without a modular attachment system, consider buying a second lightweight vest to layer on top of it for gear attachment purposes. This all said, in airsoft, the utility of a body armor vest is fairly limited. If you're concerned about the sting from a BB hit, it's usually possible to layer some padding inside the armor pouch, but a sweatshirt would do the job nearly as well and cover your arms besides.
How to Choose A Vest
Fit
As with almost all equipment, the first thing to look for in a vest is a proper fit. While most vests will say that "one size fits all", this is in many cases a dirty lie. A lot of load-bearing vests available out there are optimized for a size large. While sizing up to an extra-large or down for a medium may be possible with the adjustment straps, taking them all the way down to small might end up looking like you're wearing granddad's clothing. Try to get an idea of how each piece of gear fits before buying, if possible. If you're planning to wear the vest over body armor or over a piece of clothing like a sweatshirt, go up one size from your normal.
Function
Next, you want to pick something that suits your gear needs. For example, most integrated LBVs are made for 5.56 caliber STANAG magazines, so if your primary uses larger 7.62 style magazines, they may not fit! In that case, you'd want to buy your own 7.62 magazine pouches and attach them to a more modular vest. Or, if you find yourself in a hot environment, it's wise to look for a vest that's constructed out of mesh instead of thick nylon fabric. Matching your gear to your needs is key; by only getting what you need, you can save weight and perform better on the field.
Price
Lastly, price should always be a consideration. While it's generally true that you get what you pay for, if you're willing to put in a little elbow grease, you can get gear of reasonable quality for much better prices than you'd expect.
The best way to do this is to buy military surplus gear and get it cleaned up. These are the cast-offs of the uniformed services, and while they may have some light wear or use a camouflage pattern that's a few years out of date, they have lots of life left in them. Expect some wear and tear and some Sharpie doodles, but in general surplus gear is a bargain buy if you find something you want.
Otherwise, even inexpensive Chinese-made tactical gear can be serviceable if you're willing to work. Try to find the gear that fits well and is made of sturdy material. In my experience, the place where most cheap vests fail is in the stitching, but if you're willing to add a row of your own stitches in the places where weight's being applied, you'll be miles ahead of the game. Get your thimble ready!
Best Tactical Airsoft Vests on the Market
Best Inexpensive Airsoft Vest:
UTG LE Tactical Vest
When you're starting out in airsoft, it's a good idea to test the waters with some relatively inexpensive gear. In this case, clones of Blackhawk's ubiquitous cross-draw tac vests are a pretty easy way to get into the game. While they're not out there to set any new standards of quality, most of them are pretty durable and have enough integrated pouches to carry a game's worth of gear. UTG's version, in particular, is pretty solid, coming with four 5.56-sized rifle magazine pouches, five pistol pouches, a cross-draw holster, shotgun shell holder, utility pouch, and pistol belt. While the number of pistol pouches is probably a little excessive, four rifle pouches are probably about right for the typical airsoft match. Besides, it's nice to have the pistol holster integrated into the vest rather than mounted on something like a drop-leg rig, just keep in mind that the holster's only easy to access with your right hand.
Pros:
Very inexpensive
Comes in multiple colors
Holds enough gear for a rifle-and-pistol loadout, pistol-only loadout, or possibly even a shotgun loadout depending on how you want to store your shells
If you aren't using the pistol, the holster can be replaced by an included double mag pouch
Cons:
Stitching is a little iffy
Cross-draw holster is only accessible from the right hand
Not a huge fan of the quality of the holster
Adjustments are present but don't expect this to fit XL or XXL
Check Amazon
Best Surplus Airsoft Vest:
US Surplus Enhanced Load-Bearing Vest
The Enhanced Load-Bearing Vest, or ELBV, was probably the second-best piece of gear the US military fielded during the 80s and 90s. The vest was made out of mesh for solid breathability, with sturdy nylon straps and a well-padded shoulder harness, all designed to last for years. What's more, it carries just the right amount of weight on the body: six 5.56-style magazines, in two single and two double mag pouches, as well as two grenades in lower grenade pouches. If any additional equipment was necessary, the vest has loops for attaching a belt with extra pouches on it for things like water bottles, sustainment gear, and more mag pouches. The vest has incredible adjustment capabilities; it uses standard paracord for the back closure so if you need additional adjustment length, just thread your own length of paracord through.
Pros:
The cheapest piece of indestructible gear you'll ever buy
Very adjustable in most dimensions
Carries a good deal of gear
Breathes very well for hot environments
Compatible with an ALICE-system belt
Cons:
Comes in only one color
As a surplus, may have some superficial wear and stains
Check Amazon
Best Modular Airsoft Vest:
US Surplus MOLLE II Fighting Load Carrier
While the Fighting Load Carrier isn't quite as fantastic as its older brother, the ELBV, it's an excellent choice for those looking for a modular load-bearing system as opposed to an integrated one. Made of lightweight mesh and covered entirely in MOLLE/PALS webbing for attaching gear and pouches, it's a highly adaptable system that can be easily put on or dropped depending on your situational needs. This doesn't have to be your only vest system; generally, these are sized large enough they can be worn on top of body armor if needed.
Pros:
Fairly well-made
Widely available
Inexpensive
Available in several colors, although the ACU pattern is the most widely available and cheapest
Cons:
As surplus, may have some superficial wear
Doesn't carry any armor
Relies entirely on additional pouches
Check Amazon
Best Armored Airsoft Vest:
The Outer Tactical Vest (OTV) was one of the iconic pieces of gear from photos of US troops in Iraq and Afghanistan. Capable of fitting large sections of soft Kevlar armor and E-SAPI trauma plates, although it was bulky and fairly heavy, it was an excellent defense against fragmentation and intermediate caliber bullets. While airsoft games aren't quite as hazardous as a war zone, FLYYE's variant of the IOTV is still capable of providing a little protection against welts and bruises while still retaining the ability to mount MOLLE gear on the front, back, and sides.
Perhaps more importantly, this vest's manufactured out of the toughest Cordura nylon fabric commonly used: 1000D, a high-density weave that provides extra protection against abrasion and tearing. I've been thoroughly impressed by every piece of FLYYE gear I've had; expect this vest to last for quite a while!
Pros:
Unlike the real thing, comes in multiple colors
Very durable; FLYYE has a great reputation for replica gear
Allows fitment of armor if desired
Plenty of space for MOLLE gear attachment
Optional neck and groin protection
Great price for something of this sort
Cons:
Fairly heavy, especially if armor inserts are added
Needs extra pouches to carry any gear
May be too bulky for some operations
Doesn't provide great ventilation for hot climates
Takes some time to put on and take off
Learn More
Best Sci-Fi Airsoft Vest: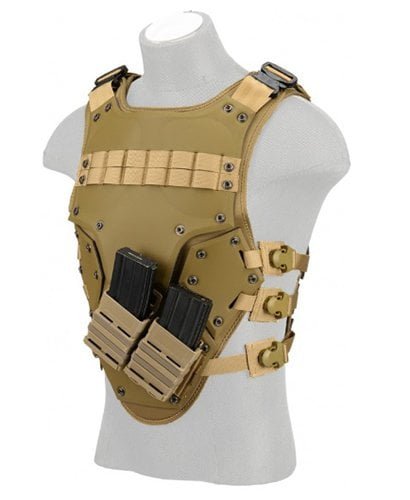 Looking for something a little more unusual? It doesn't get too much more unique on the field than Airsoft Megastore's TF3 "body armor" vest. An assortment of semi-soft plates covers the majority of the torso, providing a little padding against chest shots. Although you'll sacrifice some of the modularity of a vest with more MOLLE/PALS webbing, the appearance of the gear is the chief concern here. For what it's worth, the goal is to look cool! And, if I'm not mistaken, this particular vest was in fact cool enough to make a cameo appearance in an episode of Marvel's Agents of Shield, so you've got a bit of star power with your loadout.
Pros:
Definitely unique in the field
Provides some protection against welts and bruises
Has some attachment points for MOLLE/PALS gear
Comes in two colors, tan and black
Quick-release shoulder straps
Cons:
Somewhat pricey
Not much space for attachments
Learn More
Best Tactical Airsoft Vest Final Thoughts
All in all, a load-bearing or tactical vest should usually be your first step after you've got your gun and safety gear around. Regardless of how much experience you have with the sport, picking a vest that's right for you is a great opportunity to tailor your gear and protection to fit your needs, and it's incredibly convenient to have ammo and tools available right on your torso, instead of buried deep in a pocket. Always be sure to keep your needs in mind, acquire the gear that works best for your playstyle, and be safe out there!
Thank you for visiting iamairsoft.com! If you like any of the products that you see in this article, please click on one of the BUY NOW buttons to make your purchase on Amazon. As an Amazon affiliate, we make a small commission off any purchase made through our website. This commission is how we can provide you with informative articles. You will not pay more on Amazon if you click through our website because the price is the same. For more great products and information about the game, check out our Airsoft Buyers Guides and Airsoft U!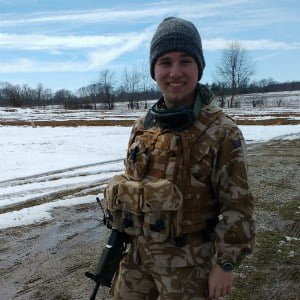 Noah Mains is a writer, an airsofter, and most importantly, he's stuck in the 80s. From Colt SMGs to David Bowie to brick phones, he has an acute appreciation for the greatest decade, and is more than happy to share his enthusiasm for the ALICE gear system (the superior loadout, of course) with anyone who'll listen.