If you've watched many action movies, played video games, or even seen leaked war footage from any part of the Middle East, you've almost certainly seen an AK-47 or one of its derivatives. Something you may not have known about the AK-47, though, is that it's so iconic that it's the only real firearm to ever be featured on a nation's flag (Mozambique, if you were curious!). Given that the AK is not only enormously popular, but is also amazingly wide-spread across the globe, you might just want to start looking for an AK for your collection! Whether you're looking to replicate a Private Military Contractor loadout, set yourself up as a Russian Special-Forces FSB operator, or act as an insurgent for your next milsim game, there are a wide variety of manufacturers and price points so you can find the best airsoft AK for your needs.
Short On Time? Here Is The Bullet List:
**Below are our more detailed reviews. Click the links above to see current prices or read customer reviews on Amazon.
All About the Airsoft AK
Who Makes AKs?
JG: Polymer AKs often sold under the "Golden Eagle" brand, some metal AKs, <$160
CYMA: Polymer and metal AKs, some specialty variants, from $70-$200
Dboys: Traditional metal AKs, $120-$180
Classic Army: Traditional and tactical metal AKs for $200-$260
G&G: Traditional and keymod AKs for $250-$300
LCT: All sorts of AK variants for $280-$400
E&L: Highly realistic AK models, tactical and traditional, $300-$385
What Should You Look For in an Airsoft AK?
Aesthetics That Fit Your Needs
Thankfully, if you're an AK fanatic, there's no shortage of styles available on the market today! Whether you want tactical or classic wood furniture, folding stock or fixed, AK-style guns have been seeing a rise in popularity lately, which means that current manufacturers are releasing more and more variants to fit their customer's requirements. In short, it's better for you to shop around and buy the exact model you want off the shelf, instead of buying a basic gun that you intend to customize down the road. Not only is it easier to get exactly what you want right off the bat, especially because it's hard to make sure that one brand's AK parts are compatible with another's bodies, it's also usually a lot cheaper!
Durable Metal Body
There are plastic airsoft AKs, but generally speaking, they're trash, with a good chance of breaking on their first game (The sole exception is the CM028, a CYMA gun that's fairly decent at its $70 price point). Avoid them as much as you can. Instead, save up and get one with at least a stamped steel receiver. Even $150 rifles usually come standard with this, but be sure to check! You'll thank me later.
LCT-Style Takedown
In the airsoft market, there are two main types of AK: the Tokyo Marui style and the LCT style. The Tokyo Marui was the first sort of AK to hit the market, but unfortunately, it relied on a lot of screws to hold the various pieces, which makes it not only a pain in the rear to disassemble, but also somewhat unrealistic. The LCT style, on the other hand, disassembles by removing pins from various places on the body and trunnion assembly, much more like the real thing. In general, I'd recommend an LCT-style assembly, and fortunately for beginners to the sport, most of CYMA and DBoys's mid-range rifles are LCT-style.
Deciding on an Airsoft AK vs. M4
Ah yes, the time-honored question: which is better, the AK platform or the M4 platform. The debate's been raging ever since the Vietnam War when US senators demanded answers on whether the American GI was "outgunned" in the jungle, and there's never been a definitive answer, not even in airsoft! Both platforms have things they do well, and things they do poorly- I'll list some of the qualities that stand out to me right away:
Durability
The AK definitely wins this round, and not just because I've seen videos of cars running over. Not only is the receiver on most airsoft AKs made from a stamped steel, protecting it from all but the hardest falls, the airsoft AK has several internal advantages that make it one of the most durable airsoft platforms out there. For starters, AKs use the Version 3 gearbox (as opposed to the M4's V2) which has an area of enhanced reinforcement around the piston head. As the piston repeatedly rises and falls in this area with every shot, it's a high-stress area prone to cracking in some gearboxes, and the reinforcement is a godsend, especially when you're working with stronger upgrade springs to increase FPS. Additionally, on an AK, the "wiring harness" that connects the motor to the battery is placed outside the gearbox, preventing the wires from getting unintentionally snagged on the gears inside.
Ergonomics
I think I can accurately say that the M4 has better ergonomics than the AK platform. The combination of an easily accessible fire selector, funnel-like magazine well, adjustable stock, modular grip, and modular handguard are extremely nice additions to what was already a good weapons platform, not to mention
the availability of ambidextrous conversion parts for you left-handers out there. That said, especially in airsoft, the M4 is also a lot harder to take apart than its Soviet counterpart, requiring more pins to be pulled and more screws undone.
Accuracy
To be certain, with enough money, it's possible to take nearly any base airsoft gun and turn it into a tack-driver. However, in general, I find the AK to be the better platform for inherent accuracy. For starters, the hop-up unit in an AK is actually screwed directly into the outer barrel, while a standard M4 only holds its hop-up in place by spring-loading it up against the gearbox. The slide-based hop-up system is easy to check and adjust, and unlike the gear-based system in an M4, has no take-up to throw off the adjustment. Additionally, the standard length for an AK barrel is 455mm, which is right about in the sweet spot for maximizing accuracy and FPS in airsoft.
Best Airsoft AKs on the Market
Best Airsoft AK (Budget):
CYMA's always been one of the best brands for inexpensive, reliable airsoft guns, and it's in their AK line that they truly shine! The CM048 is a VFC-based rifle, and it comes in a number of variants, like an AKM, AKs-74, black railed tactical, and even an under-folding stock version. No matter what version you get, the insides are the same: reliable, powerful, with a decently snappy trigger response. The only issue I ever had with mine was that the hop-up slider snapped after about two years of use, but that's an easy, cheap repair.
Pros:
Include basic battery and charger

Popular and widely available

Accurate to about 165 feet with .2s

Shoots around 420fps with stock spring, good for outdoor games

Steel receiver

Good weight at around 7.5lbs

VFC-style build
Cons:
Weak hop-up adjustment slide

Zinc-aluminum alloy trunnion

On models without a fixed stock, battery space is tight
Best Unique Airsoft AK:
This one's another CYMA, but the reason it's on this list isn't its budget-friendliness…instead, it's because it's a fairly unique replica of the helical-magazine PP-19 Bizon SMG. The real thing can hold upwards of fifty rounds in its magazine, but the airsoft version can hold nearly a thousand! It uses the same V3 gearbox the CM048 does, but with its enormous ammo capacity and the folding stock, the Bizon is especially well suited for CQB. Chances are, if you're playing at an indoor field, you'll want to downgrade the spring to shoot around 350fps, so be sure to get an m100 (335 FPS) or m110(360 FPS) spring along with it!
Pros:
Sells for between $160-190

Includes basic battery and charger

Highly compact

1000 round capacity with high-capacity mag

Steel receiver and stock
Cons:
FPS too high for many indoor games

Not much space for a battery

Short sight radius

Unusual magazine style may take some getting used to
Best Tactical Airsoft AK:
LCT's probably the biggest player in the airsoft AK game, and for good reason: their guns are good to go, both internally and externally. If you're looking for a high-end gun and you want an AK platform, you'll have to pick between an LCT, an E&L, or a Real Sword. Out of those three, LCT not only has the widest variety of models available, they also have the best availability within the United States, so you won't have to pay overseas shipping! This particular rifle is one of their TX-MIG series of railed AKs, offering a collapsible Crane stock for battery storage, as well as a SAW style grip and a forend rail for lights, lasers, and foregrips.
Pros:
LCT build quality

Full lower rail system compatible with all Picatinny accessories

Collapsible stock

Large battery storage area

Range out to about 190 feet with .2s

Shoots 415 FPS consistently, good for outdoor games
Cons:
Runs around $300

Short sight radius

Brass inner barrel isn't ideal for a rifle at this price point
Most Realistic Airsoft AK:
I've heard the rumor that E&L guns are built on many of the same machines that their real-world counterparts used to be produced on, and frankly, I believe it. From the weight to the tolerances to the blued finish, even, E&L produces a mighty fine replica. Although availability is patchy, you should be able to find one in stock in the US pretty easily, or if not, there may be a few available on classified sites too.
Pros:
Absolutely superb replica of the real thing

Gorgeous stain color on the wood furniture

Full steel build

Good, but not great, internals

Includes a real-steel cleaning kit- not particularly useful for airsoft, but fun anyway!
Cons:
Usually more expensive than LCT

Somewhat rare in the US market
Best Airsoft AKs Final Thoughts
There are eight manufacturers in the airsoft market who make decent AKs: JG, DBoys, CYMA, Classic Army, G&G, LCT, E&L, and Real Sword. Of those, I'd recommend sticking to CYMA, DBoys, LCT, and E&L, for a wide variety of good options at every price level! In particular, I'm a fan of LCT rifles like the TX-MIG I mentioned earlier – at around $300, they're a little pricier than a CYMA but their improved external quality and a wide array of cosmetic variants more than justify the cost. 
Thank you for visiting iamairsoft.com! If you like any of the products that you see in this article, please click on one of the BUY NOW buttons to make your purchase on Amazon. As an Amazon affiliate, we make a small commission off any purchase made through our website. This commission is how we can provide you with informative articles. You will not pay more on Amazon if you click through our website because the price is the same. For more great products and information about the game, check out our Airsoft Buyers Guides and Airsoft U!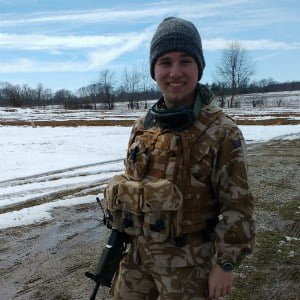 Noah Mains is a writer, an airsofter, and most importantly, he's stuck in the 80s. From Colt SMGs to David Bowie to brick phones, he has an acute appreciation for the greatest decade, and is more than happy to share his enthusiasm for the ALICE gear system (the superior loadout, of course) with anyone who'll listen.