When you're looking for an airsoft gun, do you want one that will fit in with nearly any loadout, takes common upgrades, shares magazines with all your teammates' guns, and can be modified to kingdom come? Then you might be well-suited for an M4-style rifle! Wherever there's an airsoft game, there will be a bunch of M4s. It's a lightweight, customizable rifle, it takes common, inexpensive magazines, and there's a huge aftermarket presence for you to customize nearly every internal and external aspect of your rifle.
Short On Time? Here Is The Bullet List:
**Below are our more detailed reviews. Click the links above to see current prices or read customer reviews on Amazon.
All About the Airsoft M4
Who Makes M4s?
Quite frankly, the M4 is so common in airsoft that it would be better if I listed the companies that didn't make M4s, but I'll try to put together a short, comprehensive list here.
Valken:

Produces a "Combat Machine" polymer-bodied M4 for around $130, supposed to be good for the price

JG:

Both polymer and metal M4s for $130-$220

CYMA:

Makes a quad-railed 14.5" metal M4 for the Cybergun brand, $190

Dboys:

Produces the widest variety of (mostly metal) M4s in the under-$200 range

A&K:

Produces many of the same models as Dboys in the same price range. Quality is

comparable, although I rate Dboys slightly higher

G&G:

Produces guns from $140 polymer "Combat Machines" up through $450 SPRs

G&P:

Makes some of the most aesthetically realistic M4s and replicates a combination of mil-spec and competition-style rifles, from $250-$400

VFC:

Produces high-end rifles that are known for excellent externals and so-so internals, also has the H&K license to build 416s, 417s, and IARs

Classic Army:

Builds a wide variety of polymer and metal rifles from $180 up, though they've been going through a lot of reorganization lately and they may not sell some of their rifles in the US

LCT:

Though they're known for their AKs, the company produces some M4s in the $350 range
A Word of Warning About Brands
If you're buying an airsoft gun from the brands ASG, Cybergun, Umarex, Elite Force, or Lancer Tactical, or the rifle is labeled with its real-world manufacturer, like Colt, Smith and Wesson, Kalashnikov, FN, or H&K, you should know that none of these companies are the original manufacturers (OEMs) of their rifles. Instead, they're "rebranders", companies that take one manufacturer's products and sell them, possibly in a new market, with their own brand label. While some of these companies, like ASG, are very upfront about who makes their products for them, many of the others are not. If you're absolutely dead-set on a product from one of these brands, do some research online to see who the original manufacturer was, and you might even find the same thing for a cheaper price!
Why Pick an M4?
As I mentioned above, there are a lot of great reasons to go with the M4 platform. If you like the looks, that's one great reason! M4s have been the "good guy gun" in movies for sixty years and half the world's special forces teams use an M4 variant in the field. They're stylish, attractive, have plenty of space for attachments, and can be modified to kingdom come. What's more, the M4/M16 magazine is a NATO standard (STANAG 4179), which means that in the real world, the magazine is compatible with more than just M4s. This is true in airsoft as well, which means that if you have an L85, F2000, Tavor, FNC, AK5C, SCAR, or any of a number of other STANAG-compatible rifles, you can share magazines across your various airsoft primaries! Since magazines average around $15 a pop and you should have five or six for every rifle you own, by keeping one type of magazine common across several rifles you could potentially save $90 per rifle!
Why Not Pick an M4?
There are some downsides to the M4 platform, though. For starters, though they're usually pretty tough airsoft rifles, the zinc-aluminum alloy they're usually made of can be somewhat brittle. If you're planning on lending your rifle to others, or just plain throwing your gun around, the M4 might work for you, but a steel-bodied AK, which is more likely to dent than shatter, will probably withstand the abuse better. Also, if you want to be unique on the field, an M4's definitely not for you- for the same reasons it's a great rifle, it's also the single most common platform at any airsoft game I've ever been to. While you can certainly customize your own rifle to make it your personal weapon, it still won't feel nearly as unusual as one of the more exotic primaries like an F2000, a G36, or even an MP5.
What to Look For in an Airsoft M4
Choose Between Metal and Polymer
One of the first choices you'll have to make when looking at entry-level M4s is whether you're comfortable with a plastic (polymer) receiver, or whether you want to spend extra cash for a metal receiver (usually made of an aluminum-zinc alloy, which can be easily melted and cast). While both will hold up just fine to the average stresses of the airsoft field, I've seen a few people take major dives on the field, and in general, the metal-bodied rifles have held up better, especially around the stock attachment point. Plus, metal bodies have a more realistic feel than the plastic ones and are a little heavier.
Worst case scenario, you can always buy a metal receiver set for around $80 and transfer your old internals into that new body. But, it's far cheaper to make the call and buy the metal receiver in the first place!
Get the Right Length
While there are scads of M4 variants out there, the most important decision you'll make after defining your budget is how long you want your rifle to be. In the real world, there are three vague barrel length categories that most M4s fall into Rifle-length (20"), midlength (16") and carbine length (14.5"). In airsoft, I'd advise sticking to one of these three lengths, too, although there is a place for super-short barrels (in the 7" range) in tight CQB play. Most airsoft M4s are 14.5" and that's a good all-around length- long enough for a reasonable FPS and accuracy, short enough you can play CQB without feeling encumbered. 16" are rarer, but in my experience, they're at about the "sweet spot" for airsoft accuracy, just long enough to get the most out of a standard cylinder but not too long that barrel harmonics interfere with the shot.
If you just want a long-range rifle and don't care about whether it has the looks to match, go with a 16" barrel. 20" are slightly less common than 14.5" and more common than 16", and they're about the maximum barrel length I'd advise for any airsoft rifle- any longer and the ratio between cylinder and barrel gets too small to provide an effective air cushion near the end of the barrel. That all said, if you care that your long-range rifle looks the part, then a 20" is a good choice for you.
Better to Buy Nice than Buy Twice
Honestly, it's really tempting to buy one of the more inexpensive rifles out there; in fact, most of the budget-conscious M4s actually perform fairly well even without modification. That said, if you're serious about airsoft and you're buying your first M4, I'd recommend spending the extra hundred dollars to end up with a really nice rifle that has the perfect features for you. By buying one expensive rifle, you'll almost always save money versus buying several cheaper ones, or even by taking the one inexpensive rifle and upgrading it to where you want it. If you're still not convinced, there are some really excellent rifles out there for as little as $180!
Be Careful about Battery Space
One of the real struggles of the M4 variant in airsoft is finding enough battery space. There are two types of M4, front-wired and rear-wired. Front-wired rifles have battery terminals wired out the front of the receiver, to the handguard of the rifle. If the rifle has something like a milspec M4A1 handguard installed (two-piece, polymer, held in place by the delta ring) you should be able to fit most sizes of battery inside. However, if you've got a railed handguard, it's unlikely you'll be able to fit a battery inside, and you'll need to find an external battery box (sold as "dummy PEQ boxes") that can be mounted to a rail and hold small to medium sized batteries.
Rear-wired rifles have the battery terminals wired out the stock attachment point. If the rifle's got a fixed M16-stock, my preferred type, it can fit almost any battery size, but if you're looking at a rifle with an adjustable stock, that makes things a bit tougher. Some rifles with SOPMOD or "Crane" style stocks can fit a split "butterfly" battery in the stock, but if that's not an option, you'll have to find a battery slim enough to fit in the buffer tube, and since that's a small space, your battery capacity is likely to be pretty limited.
The Best Airsoft M4s on the Market
Best Airsoft M4 (Budget):
DBoys is a one-stop shop for budget-line M4s, and their CASV variant is a particular gem. It's the same good-for-the-price internals as the rest of their sub-$200 rifles, but this model also features a replica of VLTOR's CASV-system handguard, as well as accurate VLTOR-styled stock and grip. Unfortunately, there isn't space in the stock or handguard for battery, so batteries must be stored in an external battery box on the handguard rail. Still, that's a small hassle for a decently-performing metal M4 at this price point!
Pros:
Reasonably compact and lightweight with a decent barrel length

Easily modifiable

Removable rail panels for use with or without accessories

Accurate to about 150ft with .2s

Shoots around 400fps with stock spring, fair for outdoor games

Metal build

Flip-up sight for use with or without optics
Cons:
No trademarks

Handguard is a cast alloy, not milled aluminum

Battery must be stored outside handguard

Does not include battery and charger
Best CQB M4:
ICS has been rocking the airsoft market for some years now with a string of excellent new releases in the $200-$300 range. This one's an older product, but it's still a good one, especially for CQB applications. Its looks are a little idiosyncratic, but I'm personally a fan of the layout since it gives you everything you need for close-quarters fights and nothing you don't. The plastic handguard tube may seem unusual, but thankfully it didn't bother me when I got a chance to handle it. (For what it's worth, if you're not a fan of this one, check out the ICS CXP Captain- it's an even smaller pistol-style M4 AEG and it's gotten a great critical reception)
Pros:
$230 at the time of this writing

Extremely light and compact; could be used one handed

Metal receiver

Split gearbox

Stock collapses to an absurdly short length of pull

RIS attachment points at 12, 3, 6, and 9 o'clock on handguard, plus an optics rail
Cons:
Battery is stored in stock tube, which restricts size and capacity

Handguard tube is polymer-made, not metal
Best Long-Range M4:
Although technically it's an M16, it's still a pretty excellent rifle. G&G's struck a nice balance between external quality and internal reliability with nearly every one of their products, and this one isn't any different. The sole knock against most G&G rifles, especially this one, is the price- it's a good rifle, to be sure, but it is a fair amount of cash.
Pros:
Lovely finish, excellent build

Replica of the M16A4, which is in service with, I believe, every branch of the US armed forces including the Coast Guard

CNC aluminum handguard

Full 20" barrel, which is sometimes hard to find in an airsoft M4.
Cons:
Runs around $350

Some users have reported issues with the wiring overheating and melting

Fixed front sight may be an issue for low-profile optics users

20" rifles can feel a little cumbersome/front heavy
Best GBB M4: 
GBB rifles are, simply, really really fun to use. They're also extremely expensive and temperamental, and one of the biggest issues with them is the magazines- they can cost $40-50 apiece, can't be refilled mid-game, don't work well in the cold, and are easy to damage beyond repair. The Tippmann M4 fixes most of these problems by giving you the option to use AEG magazines with the rifle, or if you really want a traditional gas blowback experience, you could also use their proprietary C02 magazines. There are a couple issues that have been noted in the Tippmann design, but there's an awesome community surrounding the rifle that's been known for helping new users get used to the quirks of the system.
Pros:
It's a GBB with none of the hassle of a regular GBB

Impressive recoil

Can use C02 capsules, paintball C02 tanks, or HPA tanks, either with or without a remote line

Highly modular

About as foolproof as an airsoft gun can be

Compatible with most real-steel M4 accessories like handguards, stocks, grips, etc.
Cons:
Expensive at $450, although the ability to use AEG magazines will save you a ton of money in the long run

Requires about 1000 rounds of break-in period

Some users report the hop-up can be inconsistent

Requires proprietary barrels instead of standard AEG barrels.
Weirdest M4: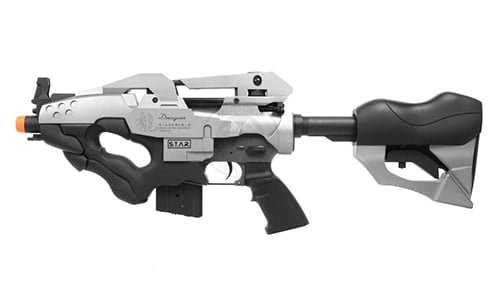 Okay, I lied earlier. Although most M4s won't be anything special on the field, there are definitely some more unusual models out there, ones that will certainly get you weird looks at the field. Case in point: the JG "Thunder Maul" M4, also known informally as the "fish gun". If I remember rightly, it's supposed to be designed to replicate a rifle from the anime "Ghost in the Shell," but no matter what it's based on, it's definitely unusual.
Surprisingly, though, it's actually a really-well-built rifle. Although it's all ABS plastic, it felt really, really sturdy, the rubberized grip areas and cheek rest were comfortable, and for a short-barreled M4 clone, it seemed to get out to about 160 feet in range. My advice? Well, you know what, go for it. Life's too short to be playing with boring rifles and there's no shame in rocking an anime-inspired primary.
Pros:
Super weird

Usually comes in at under $150

Sturdy construction, decent range

Oddly comfortable
Cons:
Super weird

Will never not be weird

People might give you strange looks

Actually really weird

Seriously though, it's a pain to take apart

Not particularly customizable either
Best Airsoft M4 Final Thoughts
Ever since they first entered the airsoft market, M4s have been a staple of the airsofter at all levels of play. With their availability, customizability, and ergonomics, they're an excellent rifle platform, and every airsofter ought to own one at some point or another. Personally, I'm pretty interested in the Tippmann M4, and would love to get the chance to do a more in-depth review in the future, but there are an enormous number of other options out there, and if you're interested in the M4 platform, I imagine that at least one of those is a good fit for you! 
Thank you for visiting iamairsoft.com! If you like any of the products that you see in this article, please click on one of the BUY NOW buttons to make your purchase on Amazon. As an Amazon affiliate, we make a small commission off any purchase made through our website. This commission is how we can provide you with informative articles. You will not pay more on Amazon if you click through our website because the price is the same. For more great products and information about the game, check out our Airsoft Buyers Guides and Airsoft U!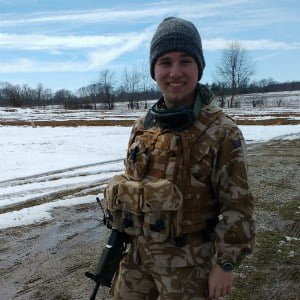 Noah Mains is a writer, an airsofter, and most importantly, he's stuck in the 80s. From Colt SMGs to David Bowie to brick phones, he has an acute appreciation for the greatest decade, and is more than happy to share his enthusiasm for the ALICE gear system (the superior loadout, of course) with anyone who'll listen.