Are you looking to get an airsoft rifle for yourself, but you're totally lost as to what you really want? It's often pretty hard to make a decision like that right off the bat, especially if you don't have much experience with the sport. That said, even though the number of options can seem a little intimidating, it also means you're pretty likely to be able to find a rifle out there that appeals to you, no matter what you're looking for. In the article below, I've put together a short guide on picking out a rifle, as well as eight solid choices in a bunch of different styles, from CQB rifles to compact bullpups to sniper rifles to a GBB/HPA rifle!
Short On Time? Here Is The Bullet List:
**Below are our more detailed reviews. Click the links above to see current prices or read customer reviews on Amazon.
What Sort of Rifle Should You Get?
Like I said up above, there are a ton of airsoft primaries in all sizes, shapes, and costs. That said, for ease of classification airsoft rifles can be divided into five rough categories: SMGs, standard rifles, DMRs, LAWs, and sniper rifles.
SMGs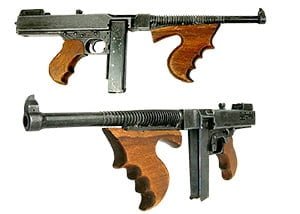 In terms of real firearms, SMGs are compact, fully-automatic firearms chambered in pistol cartridges, generally equipped with a shoulder stock. In airsoft, the same definition (mostly) applies. Their advantage, in a word, is size: they're tight, compact (generally less than 2 feet long), and lightweight. Their magazines are generally small and so a larger combat load can be carried if necessary. While in airsoft they avoid the real-world disadvantages associated with the real thing (high recoil impulse, low controllability, low relative power), they still have their problems. Due to low barrel length, they won't be as powerful or accurate as a comparable M4, G36, or AK, and since they're less common than most assault rifle models, it's harder to find inexpensive SMG magazines or magazine pouches. Additionally, for some SMGs, like the Uzi, Mac-10, or Vz.61, the gearboxes are known as "pistol gearboxes", and can't output the same power or rate of fire as a full-size gearbox.
Standard Rifles (Assault Rifles)
If you are only interested in these types of rifles check our full article on the Best Airsoft Assault Rifles. In my experience, standard-length rifles, with a barrel length of between 10.5" and 16", are the best choice for most airsoft games. Usually they come in at around three feet long, compact enough to fare well inside a CQB environment, but at the same time they offer an inner barrel of between 339 and 440mm, (between CQB M4 length and AK length) which works more than well enough to excel on most indoor and outdoor ranges. In general, most combat gear, particularly surplus military gear, is designed around the ergonomics and function of assault rifles, (especially rifles using M4 magazines- the vast majority of magazine pouches in the US are made for M4 mags) which is great for playing on a budget. Weight can vary, depending on what sort of rifle you're looking at, but a good average is around 7.5 lbs, light enough for most people to be able to handle without a problem. If I had to sum the advantages of the assault rifle up, it'd be that it's versatile enough to fit most situations and the most common platforms are widely-used enough that there's a variety of cheap upgrade options available.
DMRs
The designated marksman's rifle (DMR) is one of the more interesting concepts in the real world, and in airsoft as well. If you really want a DMR we have a Best Airsoft DMR buyers guide. Essentially, it's a rifle meant for a single specialized member of a squad, giving the squad the ability to engage enemies from a longer-than-standard range. When used well, as a point suppression weapon or a counter-sniper tool, it can be the most important weapon in a team's arsenal. Unfortunately, in airsoft, it isn't usually as easy as just buying a DMR off the shelf. Most fields set standards for what is and what isn't a DMR in the rules, and usually they mandate that the rifle must be permanently modified to only fire in semi-auto. Additionally, to get that extra bit of range out of a rifle, the necessary upgrades can be pretty expensive; a Prometheus tightbore barrel can be as much as $80, upgrade motors can cost $40, and having a competent tech install an R-hop can cost $30-$40. What's more, DMRs, whether in airsoft or real combat, are generally longer and heavier than the standard rifles used by the rest of the squad, meaning that they'll be at a disadvantage in tight quarters.
LMGs
The light machine gun (LMG) is a suppression weapon designed to quickly and accurately provide heavy firepower to a squad. They're generally heavier than a standard automatic rifle, and carry a greater amount of ammunition. In airsoft, they're a handy tool to have, especially when moving to attack enemies in cover, and it's worth keeping one around just for that sort of assault. Plus, it's fun to play Rambo every now and again. But again, they have their drawbacks. For starters, they're expensive to own and run. Even the bargain-basement airsoft LMG, the A&K M249 SAW, costs somewhere around $270, and since a LMG user will be going full-auto most of the time, they'll run through five and ten thousand BBs a day. Consequently, costs of using one are pretty high, especially when replacing worn-out gearbox components. And, for what it's worth, they're heavy, often upwards of fifteen to twenty pounds. They're not a good choice if you like running around or aren't comfortable with your upper body strength.
Sniper Rifles
Sniper rifles in airsoft are fun, plain and simple. If you really want a Sniper Rifle check our Best Airsoft Sniper Rifle Buyers Guide. They're heavily handicapped by their low rate of fire, especially in a fast-paced combat situation, but if the user can find a way to make concealment, cover, and stealth work to their advantage (a spring or gas sniper rifle is near-silent past 30 feet), a properly-upgraded sniper rifle can be used to great effect on targets out to 320 feet. They'll be disadvantaged at most ranges when paired up against AEG-equipped enemies, as sniper rifles are usually long and unwieldy, but sometimes the challenge makes the game more fun! For snipers, it's of paramount importance to communicate properly with the team, to relay intelligence, and to ensure they have backup ready to respond if they're found. Just keep in mind that sniping in airsoft will be a large investment to remain competitive, both in time practicing with one's rifle, and in money spent on upgrades.
What Are The Best Brands For Airsoft Rifles?
$100-$200 Range
CYMA:

maker of a variety of rifles, like M4s, Thompson SMGs, etc., but most famous for their AK line

DBoys:

produces both M4- and AK-style rifles

A&K:

makes a wide variety of rifles, from bolt-action M24s to M16s to lever-action 1873s

JG:

sells all kinds of rifles, from AKs to P90s to M4s to Steyr AUGs, although their prices have been rising of late

S&T:

makes a lot of "unusual" rifles like Tavors, PP19s, WWII rifles, etc., occasionally partners with ARES

G&G:

at the sub-$200 price point, they sell their Combat Machine line of polymer rifles, in various configurations
$200-$300 Range
ICS:

a strong and growing brand that makes primarily futurist-inspired variants of modern rifles, but also manufactures SIG 551s and 552s, Galils, and L85s

Classic Army:

an old but still strong brand that currently sells M4s, SR25s, and miniguns in the US market

Lonex:

primarily an internal part manufacturer, but OEMs for several companies' rifles

King Arms:

makes a few more unusual rifles, like L1A1s, unusual M4s, and the like
$300-$400 Range
G&G:

M4s, AKs, F2000s, SCARs, SR25s, and a few other one-off rifles

G&P:

makes some of the best M4s on the market, but they're hard to obtain in the US

LCT:

primarily AKs, AK variants, and other Russian weapons, with some M4s

E&L:

produces the best-looking AKs commonly available in the US

VFC:

SCARs and M4s, excellent external quality, internal quality is so-so

Tokyo Marui:

the granddaddy of Airsoft manufacturers, produces all kinds of pistols, rifles, and shotguns, although the body construction is largely polymer due to Japanese restrictions

ARES:

produces small runs of unusual rifles, especially sniper rifles
A Word of Warning on Brands
If you're buying an airsoft gun from the brands ASG, Cybergun, Echo1, Umarex, Elite Force, or Lancer Tactical, or the rifle is labeled with its real-world manufacturer, like Colt, Smith and Wesson, Kalashnikov, FN, or H&K, you should know that none of these companies are the original manufacturers (OEMs) of their rifles. Instead, they're "rebranders", companies that take one manufacturer's products and sell them, possibly in a new market, with their own brand label. While some of these companies, like ASG, are very upfront about who makes their products for them, many of the others are not. If you're absolutely dead-set on a product from one of these brands, do some research online to see who the original manufacturer was, and you might even find the same thing for a cheaper price!
Best Airsoft Rifles on the Market
Best "Cheap" Airsoft Rifle:
The CYMA M14 series is one of the better airsoft guns to be had in its price range.  While the full metal construction is a nice bonus, its best attributes are certainly its price and the fact that it uses an excellent M14-style rotary drum hop-up. Unfortunately, its greatest flaw is its weight, around 11 pounds, and that's without a scope; I'd advise using iron sights or a red dot to keep weight down. Also, this M14 doesn't accept standard AEG inner barrels, but if you're comfortable with a Dremel tool, you can make the necessary modifications to convert a barrel to M14-spec. Personally, I'd mark this rifle as an excellent choice for a loaner gun or a field rental.
Pros:
Classic style; used continuously by the US military since the late fifties
Full stock offers excellent battery storage capability
Cons:
Requires separate scope mount for optics
Inner barrels must be modified to fit
Polymer stock may be flimsy
Cosmetic charging handle is noted for breaking if used excessively
Magazines are large and may not fit some chest rigs or vests
Best Beginner Airsoft Rifle:
CYMA's always been one of the best brands for inexpensive, reliable airsoft guns, and it's in their AK line that they've always put out the best value for money! The CM048 is a VFC-based rifle, and it comes in a number of variants, like an AKM, AKs-74, black railed tactical, and even an Romanian-style underfolding stock version. No matter what version you get, the insides are the same: reliable, powerful gearboxes, with a decently snappy trigger response. The only issue I ever had with mine was that the hop-up adjustment slider (made of a zinc alloy) snapped after about two years of use, but that's an easy, cheap repair. Otherwise, it's a durable gun, ready to function whether muddy or wet or beat-up, just like its real-world counterpart.
Pros:
Include basic battery and charger
Popular and widely available
Accurate to about 165 feet with .2s
Shoots around 420fps with stock spring, good for outdoor games
Good weight at around 7.5lbs
Cons:
Weak hop-up adjustment slide
Zinc-aluminum alloy trunnion
On models without a fixed stock, battery space is tight
Best Airsoft Bullpup:
The JG AUG has been a benchmark for a quality entry-level rifle for probably about ten years, and they're still being produced in significant number. This model's, the AUG A3, is my personal favorite. While it has little in common with the real Steyr AUG A3, it's incredibly well-balanced for quick movement and response. Rail space is plentiful and mounting an optic is easy. One of the particular quirks of the platform is the fact that a half pull of the trigger fires semi-auto while a full pull goes full auto. I'm not a huge fan of the appearance, but I can certainly respect the ergonomics and the advantages of a bullpup layout!
Pros:
Rails at 12, 3, 6, and 9 o'clock for optics, grips, lights and lasers
Easy to disassemble/takedown
Balances well around the grip
Numerous sling mount points
Cons:
No included iron sights; optic is pretty much necessary
As a bullpup, may be difficult to get used to
Uses proprietary AUG magazines
Some users report problems with the trigger malfunctioning
Best Tactical Airsoft Rifle:

Want to customize your rifle with lights, lasers, even grenade launchers? Add a suppressor? Use your favorite M4 stock on an AK? If that's you, then the LCT TX-MIG rifles have you more or less covered. LCT's probably the biggest player in the airsoft AK game, and for good reason: their guns are good to go, both internally and externally. If you're looking for a high-end gun and you want an AK platform, you'll have to pick between an LCT, an E&L, or a Real Sword. Out of those three, LCT not only has the widest variety of models available, they also have the best availability within the United States, so you won't have to pay overseas shipping! This particular rifle is one of their TX-MIG series of railed AKs, offering a collapsible Crane stock for battery storage, as well as a SAW style grip and a forend rail for lights, lasers, and foregrips.
Pros:
Full lower rail system compatible with all Picatinny accessories
Collapsible M4 "Crane" stock
Large battery storage capacity
Range out to about 190 feet with .2s
Shoots 415 FPS consistently, good for outdoor games
Cons:
Runs around $300, though LCT AEGs are frequently discounted
Brass, 6.08mm inner barrel isn't ideal for a rifle at this price point
Best CQB Rifle:
ICS is a pretty seasoned Taiwanese maunfacturer and they've been rocking the airsoft market for some years now with a string of excellent new releases in the $200-$300 range. Recently, they've definitely stepped things up with a few exciting releases! Now, this one's an older product, but it's still a good one, especially for CQB applications. Its looks are a little idiosyncratic, but I'm personally a fan of the layout since it gives you everything you need for close-quarters fights and nothing you don't. The plastic handguard tube may seem unusual, but thankfully it didn't bother me when I got a chance to handle it. (For what it's worth, if you're not a fan of this one, check out the ICS CXP Captain- it's an even smaller pistol-style M4 AEG and it's gotten a great critical reception)
Pros:
Extremely light and compact; could be used one handed
Stock collapses to an absurdly short length of pull
RIS attachment points at 12, 3, 6, and 9 o'clock on handguard, plus an optics rail
Cons:
Battery is stored in stock tube, which restricts size and capacity
Handguard tube is polymer-made, not metal
Best Airsoft DMR:

Based on the German G36 derivative of the same name, the SL8 is a long-barreled airsoft rifle manufactured by Ares and branded by Elite Force. While the SL8's not a rifle used by any real-world militaries, it's certainly got a great sniper-ish look to it, especially with the included suppressor. A particularly nice feature for DMR aficionados is the use of a Version 3 gearbox, long believed to be one of the strongest gearbox designs due to the amount of material forward of the piston and cylinder. Beyond that, the SL8 is an extremely attractive, exotic rifle, one I imagine will catch more than a couple stares at the local airsoft field.
Pros:
Long barrel, especially with suppressor.
High-quality polymer body.
Can be modified to accept M16 magazines.
Stock can be adjusted for height and length of pull.
Cons:
Considering it's polymer, it's still pretty heavy and unwieldy
Natively accepts G36 magazines, which can be harder to find
Some users report the grip ergonomics fit them poorly
Best Airsoft Sniper Rifle:
The L96, made by Accuracy International, is one of the most well-respected rifle series in the world for professional marksmen. The WELL replica may not be made with the same care and precision as the real thing, but it's a very nice airsoft rifle for the price, and in this particular bundle, even includes a cheap scope and bipod, both good enough to last you until you find something more to your liking. The MB4403 offers a few nice perks over most other airsoft sniper rifles, too- the fluted barrel improves barrel rigidity and cuts down on barrel resonance harmonics, while the folding stock allows you to transport the rifle in a more compact form (which is especially nice given the incredibly long barrel). The realistic magazine is nice too, and adds to the realism, although some users have raised concerns that the feeding fin may be damaged over time. To top it off, fortunately, the rifle takes TM L96 upgrades, which are fairly common and fairly cheap.
Pros:
Durable body and externals; good platform for future upgrades
Takes TM-pattern L96 upgrades
Hop-up adjusts with an easy-to-access dial adjustment on the bottom of the frame
Realistic magazine size, weight, and position
Fluted barrel and clamp-on flash hider
Cons:
Heavy and long; unwieldy in heavy brush or CQB
Included scope is fairly hit-or-miss
Occasional slack in the hop adjustment
Included barrel is 6.08mm diameter, ought to be replaced with a tightbore
Best Airsoft GBB Rifle:
GBB rifles are, simply, really really fun to use. They're also extremely expensive and temperamental, and one of the biggest issues with them is the magazines- they can cost $40-50 apiece, can't be refilled mid-game, don't work well in the cold, and are easy to damage beyond repair. The Tippmann M4 fixes most of these problems by giving you the option to use AEG magazines with the rifle along with a HPA-style remote feed, or if you really want a traditional gas blowback experience, you could also use their proprietary C02 gas magazines. There are a couple issues that have been noted in the Tippmann design, but there's an awesome community surrounding the rifle that's been known for helping new users get used to the quirks of the system!
Pros:
It's a GBB with none of the hassle of a regular GBB
Can use C02 capsules, paintball C02 tanks, or HPA tanks, either with or without a remote line
About as foolproof as an airsoft gun can be
Compatible with most real-steel M4 accessories like handguards, stocks, grips, etc.
Cons:
Requires about 1000 rounds of break-in period
Some users report the hop-up can be inconsistent, especially during break-in
Requires proprietary replacement barrels instead of standard AEG barrels.
Best Airsoft Rifle Final Thoughts
So you've seen a bunch of rifles now, and maybe you have a decent idea which one might suit you best… what's the next step? Well, for starters, take the chance to see which ones fit your budget, and check some other reviews online to see if there are any issues that might be a real dealbreaker for you. If there's a local airsoft field near you, check to see if they rent any of the guns you're looking at; in my experience, the best way to see if you want to buy a gun is to test it out first in person. Some airsoft stores may also let you handle their rifles and maybe even take a few test shots! Once you've got a good idea of what you're planning to buy, look at the accessories you'll need: batteries, BBs, magazines, and a way to store your gear during a game (like a chest rig, vest, or battle belt).
Especially important is making sure you can find batteries that easily fit inside whatever storage space is available, because some rifles have rather small battery compartments. Lastly, make sure your purchases will be welcome in whatever games you want to play (some fields may ban HPA-powered rifles, and any reputable field will have a limit on how powerful a rifle can be, so if your pick is overpowered and you're not comfortable replacing the spring, you may want to see if you can find a less powerful option). Once you've got all your ducks in a row, you should be good to go! Make your order(s) and you should be ready for game day as soon as your gear arrives. 
Thank you for visiting iamairsoft.com! If you like any of the products that you see in this article, please click on one of the BUY NOW buttons to make your purchase on Amazon. As an Amazon affiliate, we make a small commission off any purchase made through our website. This commission is how we can provide you with informative articles. You will not pay more on Amazon if you click through our website because the price is the same. For more great products and information about the game, check out our Airsoft Buyers Guides and Airsoft U!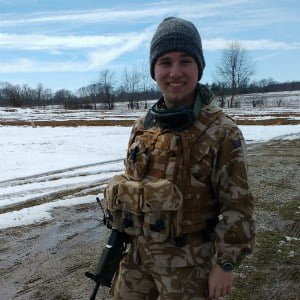 Noah Mains is a writer, an airsofter, and most importantly, he's stuck in the 80s. From Colt SMGs to David Bowie to brick phones, he has an acute appreciation for the greatest decade, and is more than happy to share his enthusiasm for the ALICE gear system (the superior loadout, of course) with anyone who'll listen.