Do you want to be fast and mobile on the airsoft field, but without sacrificing range,  power, or capacity? Chances are, you'll probably want some sort of assault rifle in your hands. By definition, an assault rifle in the "real world" is a detachable-magazine rifle chambered in an intermediate cartridge, and capable of semi-automatic and fully automatic fire. In this article I'll cover some of the best airsoft replicas that meet that description. (No M4s or AKs, though, since I covered those in two other recent articles!) While there's no such thing as a "perfect" sort of rifle to match every playstyle, an assault-rifle replica, whether AEG or GBB, is a great choice for beginning and veteran players alike as it gives you reasonable power without compromising the ability to suppress or take rapid follow-up shots. Especially if you're just starting out in airsoft, the assault rifle is an excellent way to learn the sport!
Short On Time? Here Is The Bullet List:
**Below are our more detailed reviews. Click the links above to see current prices or read customer reviews on Amazon.
Who Makes Non-M4, Non-AK Assault Rifles?
CYMA:

Makes a number of rifles, like an Israeli Galil replica, MP5s, and P90s for <$200.

JG:

Makes some fairly good polymer guns, like their Steyr Aug replica, their "G608" G36 replicas, and their plastic-bodied Sig 552, all <$200.

DBoys:

Manufactures mostly M4s, but also produces a great SCAR at the $180 price point.

APS:

Generally makes poorly performing guns, but their UAR bullpup rifle is surprisingly good for $150.

AGM:

Makes a replica of the WWII German StG. 44 rifle for around $150.

S&T:

Makes a huge number of rifles, most of which are rebranded in the US by Echo1 and Umarex. Notable are their "competition-line" Tavor TAR21, their AR-57, VSS Vintorez and VSS Val. Generally priced <$250.

WE-Tech:

Most well-known for their GBB rifles, such as their SCAR, L85, P90, HK416, T90, and KAC PDW, but they also make some good-looking AEGs, such as their SCAR series and their Bushmaster ACR replica. Most of their guns hover around $340

Classic Army:

Makes an enormous number of guns, most of which aren't easy to find in the States. In particular, they have a good line of HK-styled weaponry, including G33s, G36s, and more. Prices vary heavily.

G&G:

Notable for being the only manufacturer of the FN F2000 "fish gun" on the market. They also make L85s, Sig 550, 552, and 553 models, and SCARs, among other things.

ICS:

Makes a series of L85/L86 replicas, Sig 551s and 552s, and Galils as well; generally around $300-$340.

ARES:

Valued mostly for their high external quality and unusual variety, but their selection is limited in the US. Rifles readily available include the H&K SL8, VZ-58, and Tavor TAR21. Prices vary from low $200s to high $400s.

King Arms:

Makes good Galil rifles for around $300.

LCT:

Makes the Russian VSS Val and Vintorez rifles, along with a few other niche Russian weapons.

VFC:

Makes a SCAR rifle with superb external looks, but mediocre performance, for around $350
Be Careful Who You Buy From!
If you're buying an airsoft gun from the brands ASG, Cybergun, Echo1, Umarex, Elite Force, or Lancer Tactical, or the rifle is labeled with its real-world manufacturer, like Colt, Smith and Wesson, Kalashnikov, FN, or H&K, you should know that none of these companies are the original manufacturers (OEMs) of their rifles. Instead, they're "rebranders", companies that take one manufacturer's products and sell them, possibly in a new market, with their own brand label. While some of these companies, like ASG, are very communicative about who makes their products for them, many of the others, like Cybergun and Umarex/Elite Force, are not. If you're determined to get a product from one of these brands, do some research online to see who the original manufacturer was, and you could potentially get the same thing at a better price point!
Airsoft Assault Rifle vs. SMG vs. Designated Marksman's Rifle
Generally, as an airsofter, you'll be wanting to fill a role in a team, whether that's simply to score some kills for a deathmatch game or to take and hold objectives in a longer milsim. Either way, it's worth some consideration as to what armament you ought to take out on the field.
Assault Rifle
Assault rifles, like the Galil, Sig 552, or SCAR 16, are generally a pretty fantastic all-around option. Usually, they come in at around three feet long, compact enough to fare well in a CQB environment, but at the same time, they offer an inner barrel of between 339 and 409mm, which is just fine for long range accuracy. In general, most combat gear, particularly surplus military gear, is designed around the ergonomics and function of assault rifles, (especially rifles using M4 magazines- the vast majority of magazine pouches in the US are made for M4 mags) which is awfully handy if you want to play cheaply. Weight can vary, depending on what sort of rifle you're looking at, but a good average is around 7.5 lbs, light enough for most people to be able to handle without a problem. If I had to sum the advantages of the assault rifle up, it'd be that it's versatile enough to fit most situations.
SMG
The SMG, a term reserved for compact, automatic pistol-caliber firearm, takes all the size advantages of the assault rifle and improves on them. Usually compact enough to clumsily conceal under a jacket, light enough to be wielded one-handed, it's perfect for spies, action heroes and extremely close quarters. While they're generally nice pieces of kit, they're also rarer in airsoft and suitable magazines (e.g. MP5, AR9, Uzi, etc.) are harder to find. One thing to be cautious about when buying an electric airsoft SMG- make sure it has a full-size gearbox. Mac10s, VZ-61s, and Uzis all have smaller "pistol" gearboxes, which limits their power and battery storage severely.
DMR
The DMR, on the other hand, is generally a much bigger beast with a 7.62-style or larger magazine. This encompasses rifles like the FN FAL, SCAR 17, H&K G3, and others. While they're my personal favorite style of rifle, because they look fantastic and many fields will allow you to utilize more powerful rifled in DMR roles, they have some severe drawbacks, the greatest of which is size. Once you get to 18-20" of barrel, you're putting a lot of unwieldy weight out in front of you, which can hamper your mobility and prevent you from performing well in tight, reflexive environments. Additionally, the magazines are harder to store because of their larger size. Not too many pouches are available for large magazines and the ones that are, are pretty pricey. But, if you really want the looks and the range, go for it!
Best Airsoft Assault Rifles on the Market
Best Airsoft G36:
Okay, so this is stretching it a bit because the ICS is only loosely based on the H&K G36. That said, it's a fantastic price for a fantastic rifle, light, sturdy, and chock-full of rail space. If you can get over the futuristic stylings ICS tacked on to avoid paying royalties, it's a good primary and it'll serve you well.
Pros:
Excellent price for a G36 model, around $230
Sturdy without being too heavy
Takes inexpensive, plentiful M4/STANAG magazines
Futuristic-looking body, if you like that sort of thing
Folding stock for storage/tight quarters
Shoots at around 360 FPS, good for outdoor play
Cons:
Not a

true

G36 replica in appearance
doesn't take G36 magazines
Fairly short barrel; 263mm.
360 FPS is too high for most CQB play
Best Airsoft Galil:
The Galil, an Israeli derivative of the basic AK47 operating system, is one heck of a rifle; the airsoft version, no less so. This one's expensive for a CYMA, but it's still as good a rifle as any of their other models, and it's on the cheaper side for a Galil model. As an added plus, even though the real rifle can only take purpose-built Galil 5.56 magazines, this replica is capable of accepting standard AK47/AK74 magazines.
Pros:
Replica of a rifle not often seen at this price point
Galil sights are generally excellent, IMO
340FPS, good to go at any CQB or outdoor field
Cons:
It's a bit pricey for most CYMA gun, although this one's a fairly rare model
Fire mode selector on the grip is non-functional
Galil-style magazines are somewhat hard to find and only one is included
No way to attach rails to the rifle
Best Airsoft Bullpup:
The JG AUG has been a benchmark for a quality entry-level rifle for probably about ten years, and they're still being produced. This model's my personal favorite; the A3 model, which has little in common with the real Steyr AUG A3, is incredibly well-balanced for quick movement and response. Rail space is plentiful and mounting an optic is easy. One of the particular novelties of the platform is the fact that a half pull of the trigger fires semi-auto while a full pull goes full auto. I'm not a huge fan of the appearance, but I can certainly respect the ergonomics and the pure effectiveness!
Pros:
Rails at 12, 3, 6, and 9 o'clock for optics, grips, lights, and lasers
Inexpensive at around $180
Easy to disassemble/takedown
Balances well around the grip
Numerous sling mount points
Cons:
As a bullpup may be difficult to get used to
Uses proprietary AUG magazines
Some users report problems with the trigger malfunctioning
Most Unique Airsoft Assault Rifle:
This G&G is a weird one, and chances are, you've never heard of it before. It's the AK5c, the standard issue rifle of the Swedish military. It's essentially an FN FNC that's been slathered in rails and a green finish, with an upgraded folding stock to boot. Some folks may think it's ugly, and while they have a point, I'd prefer to refer to its looks as a rugged charm. For what it's worth, if you end up buying one and hate it, I'd be more than happy to take it off your hands!
Pros:
Its uniqueness is its best feature- you've never seen one of these on a field before
Uses standard M4 magazines
Contains a sturdy V3 gearbox; well-built, too
Folding, adjustable stock with cheek rest
Copious amounts of rail space
400FPS is a decent speed for outdoor play, though no good for CQB
Cons:
Okay, I'll admit it, the color is kind of ugly
$410 is on the high side for most airsoft guns
Best GBB Airsoft Assault Rifle:
Unfortunately, I haven't had the chance to handle this beauty of a rifle in person, but I've heard very good things about this generation of KWA. This PTS MKM has decent reliability, high recoil, well tuned for accuracy out of the box. Hopefully, I'll get a chance to take one out on a game sometime soon! Until then, if you snag one, let me know what you think.
Pros:
It's a GBB, therefore it's fun to use!
Enlarged trigger guard, good for gloved use (not sure why you'd use a GBB when it's cold outside, though)
Fantastic build quality, or so I've heard; difficult to distinguish from the real thing
Compact length, decent power at 360FPS
Cons:
Expensive to buy, and expensive to run with magazines at $40 each
Handguard uses Keymod, not M-LOK, which may be an issue for some
As with all GBB rifles, requires regular maintenance, tuning, and love
Best Airsoft Assualt Rifle Final Thoughts
As with all things airsoft, the best strategy is to buy the things you like. If you like SMGs, buy one, or if you like shotguns, buy a bunch (they're cheap!). But, if you're unsure what role you want to play on your team, or you don't really care and just want to get out with your friends and play some games, the assault rifle is a fine place to start, and it's a perfectly respectable choice for a veteran player as well! Me personally, I'm a big fan of that GK5C, and I'll be on the lookout for one at a decent price in the near future! 
Thank you for visiting iamairsoft.com! If you like any of the products that you see in this article, please click on one of the BUY NOW buttons to make your purchase on Amazon. As an Amazon affiliate, we make a small commission off any purchase made through our website. This commission is how we can provide you with informative articles. You will not pay more on Amazon if you click through our website because the price is the same. For more great products and information about the game, check out our Airsoft Buyers Guides and Airsoft U!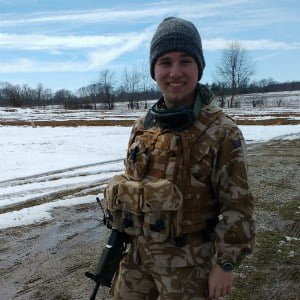 Noah Mains is a writer, an airsofter, and most importantly, he's stuck in the 80s. From Colt SMGs to David Bowie to brick phones, he has an acute appreciation for the greatest decade, and is more than happy to share his enthusiasm for the ALICE gear system (the superior loadout, of course) with anyone who'll listen.