Have you ever been pinned down by an enemy player whose rifle just seemed to shoot further than your own? I have, and believe me, it's frustrating to be stuck in that particular situation- it goes to show, in airsoft, it's vital to be able to outrange your opponent. If you're able to put accurate shots on target from 20 yards further than your enemies can, you have an enormous advantage in any large-scale airsoft game- you can suppress enemy movement and potentially eliminate several of their players without putting your own team at risk of being tagged. That's why every effective team needs at least one Designated Marksman, and every player should try to own a proper Designated Marksman's Rifle (DMR) sometime in their airsoft career. Even though DMRs have developed a reputation for being an expensive project, any player can start their journey to Designated Marksman status, even with a minimal budget, by investing in an appropriate rifle platform and the necessary upgrades.
Short On Time? Here Is The Bullet List:
**Below are our more detailed reviews. Click the links above to see current prices or read customer reviews on Amazon.
What Makes a DMR?
In the real world, a DMR is an accurized infantry rifle capable of firing beyond the range of the standard-issue rifle. In airsoft, the term has a number of definitions, and it's usually best to look up the rules of the field or organization you play with. This is because definition varies from place to place…some fields only allow rifles with certain features or specifications to be classified as DMRs. In airsoft, the only thing worse than being outranged by your opponents is not being able to play at all, because your rifle exceeded the maximum safe FPS or broke some other site rule.
As an example, American Milsim, one of the more prominent military simulation event organizers in the US, defines a DMR as "a special purpose weapon; it is a standard infantry rifle equipped with optics that have been enhanced for longer range and accuracy." Additionally, they mandate that all DMRs must be semi-automatic, be longer than a carbine-style weapon, and have a maximum FPS of 450 FPS with a .2g BB. Essentially, this makes the airsoft DMR a stepping-stone between select-fire/automatic rifles and bolt-action rifles: shooting a more powerful round than the automatic weapons, but with a higher rate of fire than a bolt action. It also makes the DMR a useful tool for not only long-range kills but long-range suppression: allowing your shorter-ranged comrades to approach and flank the enemy. Generally, most airsoft rifles right off the shelf will make for an underpowered, inaccurate DMR. Fortunately, there are several relatively easy modifications that can help take your rifle from mediocre to excellent!
What are the Most Important Attributes of a DMR?
The single most important facet of a DMR is effective range, which I'll define as the maximum distance at which you can expect to repeatedly hit a human-size target. This is generally a function of two things- power and accuracy. An accurate but underpowered rifle may never get its shots anywhere near the target, where a powerful, inaccurate gun may never hit the target either.
In the end, I'd say that my arbitrary, minimum set of requirements for a DMR is that it is semi-automatic only, can reach 440 FPS with .2g BBs, and with .3g BBs, and can hit a human-size target at 220ft 7/10 times. I've found that a rifle that can meet these goals is well-suited for its role as a marksman's rifle. Unfortunately, these goals can be expensive- I'll talk a little about what that means in terms of price in a few sections.
What Are Some Handy Features For a DMR?
It's easy to build a rifle that looks good on paper (fulfills the minimum requirements I mentioned above) but is really unpleasant to use on the field. From my experience, here are some things I like to see in a truly effective rifle:
For target acquisition, use a scope of between 2x and 4x power. Variable zoom is handy too! Any more than 4x is a waste at airsoft ranges, and too much zoom can encourage "tunnel vision"

A good Designated Marksman must be mobile; the complete rifle with optic and magazine should weigh less than 10lbs.

There should be minimal delay between the trigger pull and the firing of the BB. This can be improved by using thicker wiring, stronger motors, and high-response LiPo batteries.

A full combat load should include enough magazines to hold at least 250 BBs, for a medium-length game. Adjust accordingly for longer and shorter games.

The length of the inner barrel should be between 455mm (AK47 length) and 509mm (M16 length).

The hop-up should be shimmed to avoid any inconsistencies with the arm shifting.
How Much Does a DMR Cost?
This is the real question, isn't it? If you're just getting into airsoft and don't have much money to spend, it can be frightening to look over other players' builds and see $600 worth of parts. That said, I'd assert that there is such a thing as the budget DMR. If you're cautious with your spending, you do your own work DIY to save money, and especially if you wait for good sales, a bargain-basement DMR can be built for well under $250. There are all sorts of good parts out there for airsoft rifles, but for a budget build, I have a few recommendations based on my experiences. All of the items below can be had for less than $100, and they're all compatible with nearly any AEG rifle.
Lonex 70° Hop-Up Bucking (If you're feeling like you want a project, a better option would be to install an R-hop or flat hop. The benefit of this bucking is that it's an easy installation)

ZCI Stainless Steel Tightbore AEG Barrel (sizes vary, pick the correct length for your rifle)

E&L or ZCI Neodymium High-Torque Motor (sizes vary, make sure the one you're buying matches the layout of the one currently in your rifle)

Lonex Aluminum Ventilation Piston Head

Guarder SP120 (420 FPS) or SP130 (450 FPS) springs
What Are The Best Base Guns For a DMR?
Like I said, there aren't many guns that are perfect DMRs right off the shelf. That said, it's important to start with a base gun that provides a reliable base for upgrades, not to mention that it's got to look the part too. I've included a few of my favorite starting places for DMR build below. Many of these will need upgrades to become excellent performers, and most will need to be converted to semi-automatic only to be legal at your local field.
Best Airsoft DMRs on the Market
Best Budget DMR:
The CYMA M14 series is one of the better airsoft guns to be had for around $120.  While the full metal construction is a nice bonus, the reason I'd recommend it as a DMR starting platform is that the Tokyo Marui M14 it's based on has a mechanically excellent drum-style hop-up adjustment system. Unfortunately, its greatest flaw is its weight, around 11 pounds even without a scope. Also, this M14 doesn't accept standard AEG inner barrels, but if you're comfortable with a Dremel tool, you can make the necessary modifications.
Pros:
Classic style; used continuously by the US military since the late fifties

Very long inner barrel

Robust gearbox design

Excellent hop-up

Inexpensive

Widely available
Cons:
Long and heavy

Requires separate scope mount for optics

Inner barrels must be modified to fit

Polymer stock may be flimsy

Cosmetic charging handle is noted for breaking if used excessively
Best "Tactical" DMR:
Classic Army is one of the "old hands" of airsoft- they've been around for years and years. That said, they're good about keeping up with the market, and their new line of 7.62-styled AR rifles is recent proof. Designed in the last few years, the ARS2 builds on several recent developments, like the keymod rail system, full-length free-float handguards, and the current popularity of 7.62 in an AR-10 platform.
Pros:
The ARS2 design has an extra-large cylinder, giving it greater upgrade potential for use with longer barrels

Keymod system keeps the front end light but allows for accessory mounting/customization

Controls and operation are familiar to any M4 users

Besides, the burnt bronze is a reasonably attractive color
Cons:
AR-10/SR-25/M110/ARS2 magazines are relatively hard to find compared to M16 mags

A price of around $300 is on the higher side of things, but not unmanageable
Best Unique DMR:
Based on the German G36 derivative of the same name, the SL8 is a long-barreled airsoft rifle manufactured by Ares and branded by Elite Force. A particularly nice feature is the use of a Version 3 gearbox, long believed to be one of the strongest gearbox designs due to the amount of material forward of the piston and cylinder. Beyond that, the SL8 is an extremely attractive, exotic rifle, one I imagine will catch more than a couple stares at the local airsoft field.
Pros:
Long barrel, especially with suppressor

Ambidextrous design.

Bipod included.

High-quality polymer body.

Version 3 gearbox.

Can be modified to accept M16 magazines.

Stock can be adjusted for height and length of pull.
Best GBB DMR:
Generally, it's unusual to see someone using a GBB rifle as a DMR, since AEGs have dominated the market for years. However, there's one particular rifle that pops up now and again: the KJW KC-02. It's a pseudo-replica of the Ruger 10/22 rifle, and it's gained enough of a following that there are a remarkably large number of upgrades available for aftermarket. What's more, since it's based off the 10/22, many 10/22 parts, such as stocks, will fit with minimal modification. Unfortunately, all GBBRs suffer from problems like "Magazine cooldown" and falling pressures, meaning that later shots in the magazine will have less power than the first.
Pros:
Gas blowback means a greater degree of realism, besides, it's fun!

At around $225, it's inexpensive for a GBBR

430 FPS out of the box

Well-known for having a decent hop-up unit

Extremely light and compact

High availability of aftermarket products by manufacturers like RA-Tech and Falcon
Cons:
Magazines can cost around $30 a piece, similar to other GBBRs

Lower ammunition capacity than an AEG

Aftermarket parts are mostly available overseas and are often expensive
Best Off-The-Shelf DMR: Real Sword SVD:
The Real Sword SVD, modeled after the Russian designated marksman rifle of the same name, is one of the Holy Grails of modern airsoft collectors. Real Sword is best-known for their faithful AK-style replicas, and while their products are expensive, many hobbyists with money to spare have chosen to purchase from them. (If you can't afford the Real Sword SVD, a cheaper, more available option is the CYMA SVD, a direct budget copy of the Real Sword.
Pros:
Highly accurate without upgrades

Semi-automatic only

Full steel construction

Attractive fit and finish
Cons:
Very, very expensive

Extremely rare in the US

Costs in the $750 range, plus overseas shipping

Replacement parts are difficult to find
Best Airsoft DMR Final Thoughts
As with all things in airsoft, you've got to choose what features are important for you, and what your budget is. If I had all the money in the world, I'd get myself a Real Sword SVD and spend a metric ton of cash turning it into the perfect rifle. But, if I were just starting out and wanted a good base for my first DMR, I'd have to go ahead and pick the CYMA M14 due to the low cost and availability of replacement parts. As I stand now, my current pick would have to be the Classic Army ARS2 rifle, for the warrantied, high-quality internals, attractive external finish, and large cylinder volume for use of long inner barrels, but just because I like it doesn't mean it's the best choice for you!  
Thank you for visiting iamairsoft.com! If you like any of the products that you see in this article, please click on one of the BUY NOW buttons to make your purchase on Amazon. As an Amazon affiliate, we make a small commission off any purchase made through our website. This commission is how we can provide you with informative articles. You will not pay more on Amazon if you click through our website because the price is the same. For more great products and information about the game, check out our Airsoft Buyers Guides and Airsoft U!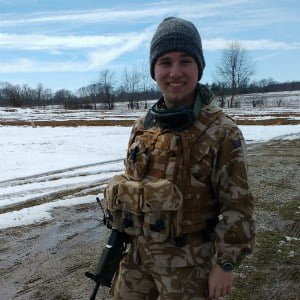 Noah Mains is a writer, an airsofter, and most importantly, he's stuck in the 80s. From Colt SMGs to David Bowie to brick phones, he has an acute appreciation for the greatest decade, and is more than happy to share his enthusiasm for the ALICE gear system (the superior loadout, of course) with anyone who'll listen.