Have you gotten a bit bored with electric airsoft rifles lately? It's not unusual- no matter how fast or hard they can shoot or how much they've been modified, they still sound like rapid-fire kitchen appliances and having to charge batteries before every game can be a hassle. If you want an alternative airsoft gun, with no batteries and no electric whirring, I'd recommend the humble airsoft shotgun. If you've played mostly with rental guns so far and want to find a first gun on a tight budget, the shotgun is a common (and inexpensive) way to start out. On the other hand, if you're well past your first, second or fifth airsoft gun, a higher-end shotgun can still be an excellent primary or secondary weapon.
Regardless of where you are in the hobby, introducing a shotgun into your game play can be a great way to try some new tactics and improve your mobility, and it'll also serve as a reliable "trunk gun" for backup if your primary weapon ever breaks down during an event.
Short On Time? Here Is The Bullet List:
**Below are our more detailed reviews. Click the links above to see current prices or read customer reviews on Amazon.
Why Should You Buy an Airsoft Shotgun?
The main advantage of the airsoft shotgun is that it'll be useful no matter how much experience you have with the airsoft sport. My first gun was an inexpensive shotgun and though it's been modified a little, it still comes to every game with me! There are several more upsides to keeping a shotgun around in your arsenal as well.
Cost
Like anything in airsoft, you can spend very little on an inexpensive Chinese-made shotgun, or you can spend thousands on an obscure vintage model from a defunct Japanese manufacturer. On average, though, usable quality airsoft shotguns can be had for well under a hundred dollars, where a comparable AEG might cost twice that. If you're just getting into the sport, or you're saving for something like good quality eye protection (which I would recommend!) that can be a big difference.
Reliability
In my experience, the only thing as dead reliable in airsoft as the typical spring or gas powered shotgun is the gas non-blowback pistol. The most popular types of spring shotguns have few moving parts and are unlikely to need much maintenance beyond occasionally greasing the action and cleaning the inner barrels. Gas shotguns are even less maintenance intensive since the "green gas" that powers them also has lubricant mixed in – all they need is a light swab of the barrels every now and again to prevent residual plastic buildup.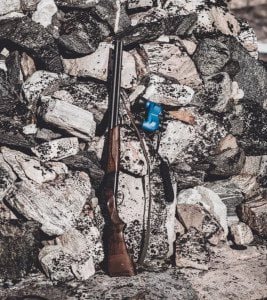 As a consequence the shotgun is a great primary that never breaks, but maybe more importantly, it's an even better backup for in case your main rifle breaks down. Some weekend-long scenario games can cost upwards of a hundred dollars and might be several hours' drive away. If you go to one, and all of a sudden your sector gear shears inside your gearbox, mangling most of the other parts in the process, you've got a problem! And if you don't have a spare gun, or you can't get your hands on a rental, chances are you'll be sitting out for the rest of the event. Having a relatively inexpensive shotgun with your gear as a backup can keep you in the game without having to spend hours repairing your gun or drop more money on a subpar rental gun.
Weight
Most airsoft shotguns, especially those with a plastic construction, are on the lighter end of things. They'll generally be eight pounds or less – what's more, many of the best shotguns use lightweight shell-styled magazines, which are compact and can fit in nearly any storage solution, from coat pockets to a purpose-built shell pouch or bandolier sling. All this is a great help to going lightweight, which means faster movement, quicker response times, and a lot less bulk, which very handy in tight CQB or games with inflatable obstacles.
Fun Factor
I think the best airsoft match I ever played was a CQB match with a cheap plastic shotgun, a handful of shells, and sneakers. Winning games is great, for sure, but winning games with less than $100 worth of gear? It's practically priceless. Airsoft shotguns can't lay down the amount of fire a tuned AEG can, but if you've got some speed, a few obstacles to duck behind, and a couple of buddies to cover you, it's a breeze to flank enemy cover and tag them out.
Which Airsoft Shotgun is Right for You?
There are a number of different types of airsoft shotguns, all using different mechanisms, power sources, and magazine styles. Some shoot a single BB per trigger pull, some shoot three or six, and some shoot a whole cloud of them (probably the most realistic style!).
Spring-Powered Shotguns
The majority of airsoft shotguns (and pretty much all airsoft shotguns in the entry level range) are going to be spring-powered pump action. The big choice to make here is, do you want a blast of three BBs (simulating buck shot) or a single round per trigger pull?
If you want the three, you'll most likely choose a shotgun based off a system developed by Japanese manufacturer Tokyo Marui. These airsoft guns are spring powered and accept a single "shell-style" magazine that resembles a real shotgun shell and holds 30 BBs, allowing for 10 three-round blasts per shell. Although Tokyo Marui developed this type of gun, they're not the only manufacturer, especially in the United States, other manufacturers (such as CYMA, UTG, and Double Eagle) sell close copies of these guns at much better prices. Most of the time, these models will be plastic, just like the original Tokyo Marui guns, although CYMA released a series of these guns made with all metal parts in late 2016.
If you'd prefer a single shot, you'll be best off choosing a pump-action, magazine-fed shotgun based off the system originally developed by manufacturer Maruzen in the 1980s. While the original version was plastic, most of the modern versions available in the US, from manufacturers such as A&K, S&T, Classic Army, and G&P, are full metal, and accept magazines interchangeably. Unfortunately, many of these models fire a .20g BB at 400 feet per second or above. it's unlikely that you'll be able to use them for CQB at your local field, so be sure to take that in account before buying.
Gas Shotguns
While generally more expensive and slightly more finicky than dirt-reliable spring shotguns, gas shotguns offer a lot of cool options for play on the field! There are three major types of gas shotguns currently available in the US, offering anywhere from a three round burst to a small cloud of BBs.
The first, and probably most common type, is the 3-round blast style based on the Tokyo Marui gas shotgun system. These function very similarly to their spring 3-round blast shotguns, using interchangeable "shell-style" magazines and still relying on pump action. However, the BBs are propelled by a gas reservoir usually located in the stock or grip, meaning the pump action is much smoother than on a spring gun. While up until recently, Tokyo Marui was the only manufacturer to make these, clone versions under the brand "Jag Arms" have begun to show up in US markets and they've been pretty well received.
The next sort is the shell-ejecting, gas-in-shell style, where, surprise surprise, the gas that powers the BBs is contained inside the shell holding them, and shells are ejected after use (as a consequence, they can be a challenge to keep track of in a game). PPS, SHS, Hwasan, and APS (Gen 1 only) shotguns all function this way. Each shell holds between 3-5 BBs (except for shotguns by APS, which hold a small handful of about ten BBs, topped with a paper wad). There are a number of manufacturers that produce these sorts of shotguns, all using their own proprietary system, which means that the shells aren't interchangeable between them.
The last sort is the shell-ejecting, gas reservoir style, where the shells hold only the BBs, and the gas power comes from a reservoir usually hidden in the stock. The shells are still ejected after use, but at least they're a little cheaper per piece than the more complicated gas-in-shell sort. Newer APS pump-action shotguns (Gen 2) are designed to use ejectable shells and keep the gas in the stock, as are the (currently out-of-production) Maruzen 1100-series semi-automatic shotguns.
Electric Shotguns
Electric shotguns are largely a side note since they're a relatively recent development in the world of airsoft shotguns. They were first released in January 2016 and for now, there are only two models, both made by Tokyo Marui: the AA-12 and the SGR-12 'Thor's Hammer' (a fictional gun popularized by video game Resident Evil). They both fire three-round blasts in semi-automatic or automatic modes from either 90 round stick magazines or 800 round drum magazines, both using the same internal mechanism and differing only in appearance. Unfortunately, both are quite expensive. As of early 2019, they also have no parts support in the United States, which means if a component breaks it's unlikely it will be able to be replaced until third-party manufacturers develop compatible parts.
Best Airsoft Shotguns on the Market
Best Entry Level Airsoft Shotgun:
Now that CYMA's selling their 870 line of shotguns, they're my new recommendation for the best-in-class at an entry level price point, beating out the old UTG and Double M3 shotguns. A couple of the parts that used to be ABS plastic in tose older models have been replaced by some sort of sturdy nylon polymer. What's even better is you've got the choice whether you want the less expensive polymer-bodied variant or whether you'd like to upgrade to the metal body instead. CYMA also offers substantially more available lengths and stock types, from pistol grips to an overfolding SPAS-12 style stock. There are a ton of options, so pick the price and size that's perfect for you.
Pros:
Tons of length and stock options
Choice between metal or plastic body
Very inexpensive
Good FPS for CQB
Uses shell-style magazines
Sturdy internal construction
Cons:
Some models have a bit of wobble or rattle from the factory
Check Amazon
Best Single-Shot Airsoft Shotgun:
S&T builds a pretty good piece for the money. I'm a fan of their T21 (Tavor) AEGs but they've made a niche for themselves making relatively unusual airsoft guns with nice externals at a budget price point. Their shotguns are priced well and built on the Maruzen single-shot mechanism, using a full metal construction and accepting all Maruzen-type magazines. What really impressed me was the real hardwood stock, which is pretty unusual at this price point! Be careful here: with a factory spring in it, this gun might shoot a little too hard for CQB use.
Pros:
Metal construction
Real wood furniture
Multiple finish options (black or silver)
Accepts standard magazines
Cons:
Shoots too hard for most CQB fields
Best Gas-Powered Airsoft Shotgun:
The Jag Arms shotguns, based on the Tokyo Marui 3-round gas shotgun, is a pretty good value for money. I've handled a couple and thought they were nice for the price- they group tightly, and the action is much smoother than a spring shotgun. The finish on the metal parts wasn't quite as nice as on the Tokyo Marui shotguns but those are substantially more expensive and can be tough to find in the States. Some people have had difficulties with the gas reservoir leaking after a few months of use, but I've never seen it personally.
Pros:
Gas-powered
Full metal
CQB-appropriate FPS
Accepts "shell-style" magazines
Reasonably inexpensive
Cons:
Plastic parts feel a little flimsy
Gas reservoir reported to leak after time
Check Amazon
Best "Money is No Object" Airsoft Shotgun:
I'd say this is the sort of airsoft shotgun that compliments fine chilled caviar and a yacht in the Baltic. While unfortunately I haven't had the chance to field this particular model, I've played with the APS CAM870, the base platform this particular custom gun is built from. It's a solid airsoft gun, and even better, with its 10-12 round blast of BBs, it's probably the closest thing to a real shotgun that exists in airsoft. While it can be tough to keep track of all the loose shells you'll need to game with this, chances are, if you can afford the sticker price, you can afford enough spare shells to keep you going even if you lose one or two.
Pros:
Extremely heavy-duty build quality
Gas-in-shell design reduces shell cost
12 BBs per shot
Realistic proportions, handling
Aggressive grip areas
Cons:
High cost
Shell-ejecting
Largely cosmetic upgrades
Check Amazon
Best Airsoft Shotgun Final Thoughts
If you're interested in getting an airsoft shotgun, there are an enormous number of options for you. Though choosing may seem daunting at first, once you decide whether you want single-shot or burst fire, whether you'd prefer spring or gas power, and what your budget looks like, the decision should get a lot easier! You should be able to find something that'll be fun to use for many games down the road, and that'll serve as an excellent primary or backup gun for as long as you're playing airsoft!
Thank you for visiting iamairsoft.com! If you like any of the products that you see in this article, please click on one of the BUY NOW buttons to make your purchase on Amazon. As an Amazon affiliate, we make a small commission off any purchase made through our website. This commission is how we can provide you with informative articles. You will not pay more on Amazon if you click through our website because the price is the same. For more great products and information about the game, check out our Airsoft Buyers Guides and Airsoft U!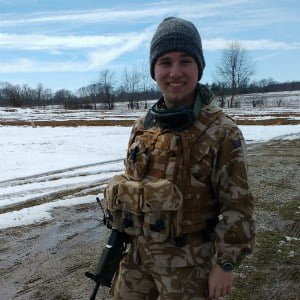 Noah Mains is a writer, an airsofter, and most importantly, he's stuck in the 80s. From Colt SMGs to David Bowie to brick phones, he has an acute appreciation for the greatest decade, and is more than happy to share his enthusiasm for the ALICE gear system (the superior loadout, of course) with anyone who'll listen.