Most airsoft guns aren't particularly historical. They replicate arms and armaments from the last twenty to thirty years, from the M4A1 carbine to the Kriss Vector SMG. With all this focus on the modern-day tactical, it's tempting to want to escape the status quo of quad rails and red dot sights, and go back to the days of the Thompson SMG and the Walther P38 (WW2 airsoft). Building a WW2 airsoft loadout with period guns and gear can be some of the most fun you can have on the field. Surprisingly, it can also be incredibly game-viable if you make the right choices in designing your kit. With all the options out there in the US market, if you're looking to build a WW2 airsoft loadout, now's the best time to do it!
Short On Time? Here Is The Bullet List:
**Below are our more detailed reviews. Click the links above to see current prices or read customer reviews on Amazon.
How Has WW2 Airsoft Grown?
Up until somewhat recently, there were only a few options for weapons for the WW2 airsoft reenactor or player. The most widely-sold WW2 airsoft gun was a Chinese-made AEG version of the M1A1 Thompson SMG, based upon the earlier design by Japanese manufacturer Tokyo Marui. These were available widely, often in mass-market sporting goods stores. If you're really interested in one, chances are you can find a lightly used inexpensive copy. Chinese company AGM also manufactured versions of the German MP40 SMG and StG44 assault rifle as well as of the British STEN submachine gun. Beyond those, especially for a reasonable price, there were essentially no other options.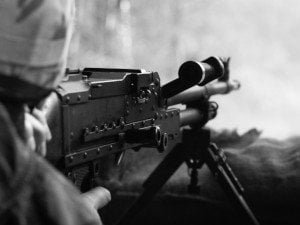 A couple producers stepped in to fill the gap right around the early 2010s. S&T, a Hong Kong-based manufacturer, built its brand on budget-priced airsoft replicas of niche firearms, so they were a force in introducing several new models. These included the Russian PPSh submachine gun as well as the German MG42 featured at the end of this article. ICS, a Taiwanese company, also tended towards the more unique side of things, most notably designing the first AEG replica of the American M1 Garand (the primary infantry weapon used by the US for most of the war). WE Tech also began its "legends" series, introducing the Mauser M712 and Walther P38 pistols to its lineup alongside its existing 1911 and Luger models.
What Sort of WW2 Airsoft Guns Are Available?
Now, of course, your armament options are much more varied. On the German side of things, replicas of everything from the MP40 and MP41 SMGs to the Walther P38 pistol, the Kar98K rifle, and the MG42 general-purpose machine gun are available from US retailers. The US arsenals are well-represented from the humble 1911 pistol to the M1919 emplacement machine gun and nearly everything in between. I'd say that the majority of WW2 airsoft AEGs today come from S&T, with a few from AGM, ICS, and a couple incidentals, while WE Tech is the clear leader in historic sidearms.
This isn't to say you'll be able to find a replica of absolutely any WW2 era firearm. Unsurprisingly, the majority of WW2 airsoft guns released represent automatic and semi-automatic firearms, despite the historical prevalence of bolt-action rifles as primary service weapons. Replicas of rifles like the German Kar98K, Russian Moisin-Nagant or Japanese Type 99 (Arasaka) are relatively rare and difficult to find in current production. I believe PPS produces gas-powered versions of the Kar98K and Moisin-Nagant, and Chinese manufacturer DBoys makes a spring-powered, shell-ejecting Kar98K. I'm not sure if a Type 99 replica currently exists. Additionally, finding any replicas of weapons used by the "minor" countries, such as Italy or France or even Japan, is challenging. As you can see, most manufacturers concentrate on US, Soviet, and German weapons.
What Should go Into a WW2 Loadout?
Putting together a WW2 airsoft loadout isn't all that different from putting together a modern loadout: Start with an idea and work out from there. While it may seem like getting your armaments around is the most important part, it's worth paying careful attention to the other clothing and gear you're looking at, especially with web gear. Unlike with a modern MOLLE or ALICE setup, where there are adjustment straps and buckles pretty much everywhere, your ability to adjust a poorly-fitting piece of WW2-era gear is pretty limited.
WW2 Airsoft Weapons
Generally, it's smart to begin with your primary weapon. I'd advise sticking to loadout impressions that allow you to field an AEG, just for practicality's sake. However, if you're dedicated, you can absolutely use a GBB submachine gun as a primary or even an accurate bolt-action rifle. Even better news if you're on a tight budget: not that many soldiers (on either side) were issued sidearms, so you can forgo that if you feel like it. Heck, some Soviet soldiers weren't even issued rifles and were ordered to pick up weapons from their dead comrades, though I wouldn't recommend trying that at the local airsoft field.
WW2 Airsoft Uniforms And Gear
In terms of gear, the big difference between then and now is that they had a lot less flexibility in how they combined it all. Where with a modern rifle setup, you have the option to use one, two or three-point slings, with any WW2-era primary you have exactly two loops to run a leather or canvas two-point sling. In terms of magazine storage, where a modern setup might have a MOLLE vest, a battle belt and six to ten pouches distributed so you can stick your mags exactly where you want, you're more likely to have a single piece of web gear with all of your magazines (combat load being around six for most SMGs) stored on it. That said, it was pretty common for infantry to modify the living daylights out of their issued gear, so if you want to add an extra pocket here, stick a zipper there – no one's going to complain.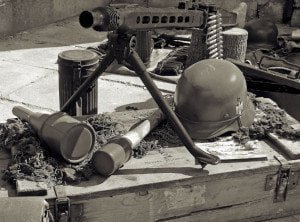 The best thing about WW2 uniforms? The well-designed ones have plenty of pockets. You'll likely be using those pockets pretty heavily, especially your breast pocket. They're a great spot to stick maps and dead rags. Keep in mind that your biggest expenditure, if you're doing an infantry impression, will likely be a helmet replica. metal versions are pretty incredibly expensive at times.
Of course, I'd have to recommend doing a little modernization of any loadout. While dump pouches were definitely not a thing on the beaches of Normandy, it's a wise idea to add one on to your loadout somewhere on your belt. Magazines for WW2 airsoft guns are rarely cheap and one good drop might end their operational life. Additionally, especially in cold weather, using modern synthetic underlayers will make your time on the field much more pleasant!
How Can You Find WW2 Airsoft Gear?
Getting an airsoft replica is fun and all, but if you want to go all the way, you'll have to look into the other parts of the WWII infantryman's kit. If you want to build a whole loadout with pouches, gear, uniform and boots, you may have to do some hunting. While right now is a great time to be buying and using US army gear from the 90s and early 2000s, WW2 equipment has definitely achieved "collector's item" status and is better off in a museum than in an airsoft game!
Instead, keep an eye out for makers of period replicas. There are a number of really dedicated folks out there on the internet that work hard to preserve history by replicating historical artifacts. If you hang around long enough on a militaria or reenactor forum, you're sure to find a few companies run by people passionate about making good gear. A quick internet search for "replica WW2 gear" will turn up about twenty manufacturers who'd love it if you bought all kinds of cool stuff from them. If you're used to buying tons of MOLLE gear, you might even be pleasantly surprised by some of their prices!
One last note: for safety's sake, don't try to find period eyewear to keep your eyes safe from BBs. ANSI and MILSPEC standards for ballistic eyewear didn't exist back then and you're likely to suffer some serious injury if you rely on the structural integrity of lenses designed three quarters of a century ago. To a lesser extent, this applies to boots. Modern footwear offers better traction, stability and ankle support than period shoes. Before you add some awesome replica hobnail boots to your gear closet, decide how much safety you're willing to trade for extra realism on the field!
The Best WW2 Airsoft Guns on the Market
Best Entry-Level WW2 Airsoft Primary:
The AGM MP40 is an entry-level airsoft SMG with a stamped construction and underfolding stock, used primarily by the Wehrmacht and SS during WWII. Even if you're not interested in using a German SMG like the MP40, it's worth mentioning that many Allied soldiers "acquired" these weapons to replace their rifles, which were ill-suited for street-to-street combat. In airsoft terms, the AGM MP40 has been in production since the early 2000s, and it's pretty widely respected as a reliable AEG and a good start for a beginning airsofter or one on a budget.
There are a number of guides and a lot of community support on the more popular airsoft forums, which is one of the AGM MP40's greatest advantages. Since it's been in constant production for so long, it lacks some of the features that newer budget-oriented releases often have like steel-toothed pistons, ported cylinder heads or rudimentary MOSFETs. Even so, if you'd like to get into a WW2 loadout quickly and cheaply, this is one of the best ways to do it.
Pros:
Inexpensive
Full metal construction
Folding stock
Uses standardized internal parts
High degree of community support
Shares mags with AGM's STEN AEG
Cons:
Tight battery storage
Slightly poorer internals than modern guns at this price point
Wobbly stock
Check Amazon
Best Entry-Level WW2 Airsoft Pistol:
The WE Tech 1911 handgun is a great starting point for a WW2 airsoft loadout. The 1911 design has seen use across so many time periods and places that it's just as realistic in a modern-day MARSOC loadout as it would in the hands of a WW2 US Airborne soldier. For gas blowback 1911s in airsoft, especially in the US market, you've got two major manufacturers to choose from: WE Tech and KJW. Both build a good gun. The biggest difference between the two is that the KJW tends to be more expensive. The KJW does have 26rd capacity, while the WE only has 8rd. That said, this doesn't matter too much in practice because both magazines have the same size gas reservoir, about enough to fire 10 rounds. As a consequence, the effective capacity of both pistols is similar.
Pros:
Inexpensive
Metal construction
Can be used in many time-period-specific loadouts
Enormous aftermarket support
Good holster availability
Stiff recoil
Inexpensive magazines
Cons:
Plastic grip panels
Low magazine capacity (8rds)
Moderately difficult disassembly process
Less-than-durable painted finish
Check Amazon
Best WW2 Airsoft GBB Primary:
The WE Tech M1A1 Thompson SMG, a gas blowback airsoft gun by a Taiwanese manufacturer, is a 2018 release and one of the few WW2 airsoft GBB SMGs available. While, like all GBB guns, its capacity is realistic, accuracy is lesser than a comparable AEG and cost of new magazines is high, it does have some advantages. The people I've talked to who've used it in a game say that they've had no problems with reliability midgame so long as the gun's properly cleaned afterwards. Effective range seemed about comparable with most AEGs, 180ft or so. And, of course, if you're willing to put the money in towards a GBB primary, chances are you're looking for realism above most other factors, in which case the standard magazine capacity, stiff recoil, and so-so accuracy aren't dealbreakers.
One final note: the entire front sight assembly is orange plastic. If you're the sort of player who likes to get the orange tip off, you're going to just have to paint the whole sight instead. Using masking tape and spray paint, you shouldn't have too hard of a time, just be sure to plug the barrel too so paint doesn't enter it and interfere with the BB!
Pros:
Realistic Thompson GBB option
High capacity (for a GBB) magazines
Metal construction
Solid range, about 180ft
Cons:
Expensive
Plastic furniture
Plastic (bright orange) front sight
Poor accuracy
Barrel screw needs threadlocker'd
Check Amazon
Best WW2 Airsoft Support Weapon:
The S&T MG42, an airsoft replica based on the German MG42 general purpose machine gun: hoo boy, this is a cool one! Unfortunately, I haven't gotten the chance to handle this piece myself, so I'm recommending it based on what I've heard from other airsoft community members. The body of the gun is a combination of stamped steel and aluminum, with a steel bipod to boot. Additionally, the gearbox is a split-shell design, so spring swaps are pretty easy. Performance is what you'd expect of the average mid-to-high-end AEG these days, RPM in the low 20s with an 11.1v LiPO battery and FPS around 360ish. On the minus side, there are quite a few proprietary parts on this particular WW2 airsoft replica, including the gearbox shell. If, despite the remarkably tough build of the rifle, one of those parts should break, it's likely to be tough to find a replacement.
Side note: if you're a fan of the movie Aliens, you should know the MG42 was the basis for one of the coolest props from the series: Vasquez's M56 Smartgun. If you've got the fabrication skills and the right parts, you might just be able to build a conversion yourself!
Pros:
VERY sturdy construction: steel, aluminum, and wood
Better than average rate of fire
Cheaper than comparable WW2 airsoft GPMGs
Very unique platform
2500rd capacity
Skirmishable FPS
Cons:
Value-priced but still pretty expensive
Heavy, at around 16lbs
Many proprietary (non-replaceable) components
Best WW2 Airsoft Pistol:
The WE Tech M712 is a gas blowback pistol with detachable shoulder stock and the capability to select semi-automatic or automatic fire modes. The firearm it replicates (the M712 Schnellfeuer) is a variant of the Mauser C96 semiautomatic pistol that found some use among the officer corps of the German Wehrmacht (land army) and units of the Luftwaffe (air force). Within the WW2 airsoft community, it's been shockingly well-received. The primary fault with most airsoft machine pistols is their gas consumption on full-auto is obscene. Fortunately, this pistol uses an (accurate to the real steel) independent bolt as opposed to a reciprocating slide, which offers both reduced recoil and reduced gas consumption. This, along with a large gas reservoir, means the pistol is able to fire a full 26rd magazine before running out of gas or suffering much from FPS-reducing "cooldown effects." The stock is a nice (although somewhat superfluous) addition to the package and can actually store the pistol itself inside a hinged compartment.
One slight downside to this particular model: it has markings that identify it as a unit made prior to the WW2 period for Chinese Nationalist forces and is not period-correct for any German battlefield use. If this bothers you, there are versions available without any marking, although they might have to be ordered from overseas. The select-fire capability is also anachronistic, but that's pretty easy to overlook.
Pros:
Select fire
Unusually practical full-auto mode
Highly distinctive shape and function
Metal construction
FPS suitable for CQB
Multiple magazine options: high and low capacity
Includes detachable shoulder stock
Cons:
Grip is an odd shape, some peoples' hands struggle with it
Anachronistic Chinese markings
Check Amazon
Best WW2 Airsoft Guns Final Thoughts
These last few years have been an exciting time for WW2 airsoft enthusiasts! If you've ever been curious about doing a historical loadout, now's the time to start piecing one together- with all the options out there for replica guns and gear, you can get a pretty decent gear setup at good prices, and maybe even start participating in reenactment games. If you're bored with the tactical and the "high-speed, low-drag," getting started with a historical WWII loadout might just be the best way to start enjoying airsoft games again!
Thank you for visiting iamairsoft.com! If you like any of the products that you see in this article, please click on one of the BUY NOW buttons to make your purchase on Amazon. As an Amazon affiliate, we make a small commission off any purchase made through our website. This commission is how we can provide you with informative articles. You will not pay more on Amazon if you click through our website because the price is the same. For more great products and information about the game, check out our Airsoft Buyers Guides and Airsoft U!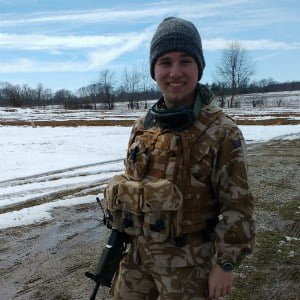 Noah Mains is a writer, an airsofter, and most importantly, he's stuck in the 80s. From Colt SMGs to David Bowie to brick phones, he has an acute appreciation for the greatest decade, and is more than happy to share his enthusiasm for the ALICE gear system (the superior loadout, of course) with anyone who'll listen.