KWA Airsoft has become one of the leaders in both design and manufacturing in the world of airsoft. Their products are known for their high quality, reliability, and performance, making KWA one of the top choices for the more professional airsofters. Their guns do have some hefty price tags as well, but if you're looking for a high-quality piece that won't break down after a few months, this brand may be worth checking out. For more information on the KWA brand and what they have to offer, read on.
Short On Time? Here Is The Bullet List:
**Below are our more detailed reviews. Click the links above to see current prices or read customer reviews on Amazon.
KWA Airsoft Background
Other than the fact that this company is based in Taiwan and started out in 1988, there really isn't a whole lot of information about them or their early success in the airsoft industry. They are known mostly for their high-quality products which excel in both performance and reliability.
KWA's market consists partly of hobbyists looking for high-quality replicas in the airsoft world. Since KWA specializes in the more professional products, they have also found a market with the police and the military who buy these airsoft guns for training purposes, due to the realistic look and feel of these products, plus the fact that are cheaper than the real-world versions.
What Does KWA Sell in the Airsoft Market?
KWA Airsoft manufactures two main types of airsoft guns, gas-blowback and electric. For the GBB guns, they have gas pistols, rifles, and sub-machine guns available. The majority of these are based on real-world firearms, all of which have internal systems that are proprietary to KWA.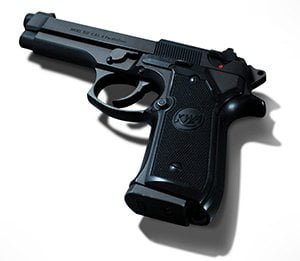 In the electric market, they have rifles and submachine airsoft guns, like their new Ronin TK-45 submachine gun model. Most of the guns in their electric market are based on the standard gearbox system made by Tokyo Marui.
KWA also cooperates quite frequently with branding companies like Umarex. This allows them to add some realistic trademarks to many of their airsoft products. The KWA H&K replicas are most known for this.
Does KWA Make Their Own Products?
KWA Airsoft manufacturers all of the products under their brand name. They also don't rebrand the products of other companies and sell them under their name, so everything you buy from KWA is an original KWA product.
Where to Buy KWA Airsoft Guns
Since all of the KWA's guns are in the mid- to high-end range, you can't just buy them anywhere. You need to check out the specialty retailers, such as Evike, Airsoft Megastore, or AirsoftGI to get your hands on a KWA product. You will likely also be able to find one of these airsoft guns on some web stores like Amazon or eBay.
Top KWA Airsoft Products
Best KWA AEG for Beginners:
The KWA VM4A1 is a replica of the M4A1 rifle and is one of the models in KWA's AEG 2.5 line. Though this model uses a lot of standard AEG components, it does include a few interesting features that are usually found on the more advanced electric airsoft guns, such as the Systema PTW. Some of these features include the firing cutoff on an empty magazine, which reduces dry firing, as well as an adjustable FPS and an electric blowback recoil action.
One of the features that most players find important is the MOSFET circuitry incorporated in this airsoft gun. This prevents the trigger switch from burning out, which allows airsofters to use a high-voltage battery indefinitely during their games. The magazine included with the gun is also unique, featuring a variable capacity, so you can swap it from 30 to 90 rounds using the simple switch at the bottom.
Though most of the parts for this airsoft rifle are standard AEG parts, the gearbox shell, hop-up, and spring guide are all proprietary to KWA, so you must get replacements from them.
Pros:
Adjustable FPS
Variable-capacity magazine
Well-built
Cons:
Not all parts are standard to all AEGs
Extra mags are expensive
Check Amazon
Best KWA AEG for Close Quarters:
The KWA TK-45 is a unique electric-powered submachine gun. Like the VM4A1 that we reviewed above, the TK-45 has built-in components for an adjustable FPS. It also uses pistol-sized magazines, which are unique to this model. They are compact but can hold 120 rounds using a standard midcap configuration.
There is also an angled polymer magwell that you can use as a foregrip to give you a bit more control when maneuvering in a game with a lot of tight spaces and corners. There is an extremely compact adjustable stock that you can collapse when needed.
The rail system includes a KeyMod-style attachment section which allows you to add some accessories or even some small Picatinny rail segments, whichever suits you best. The quick-change spring system lets you customize it to suit your needs.
The downside to the TK-45 is that the gearbox it uses is highly proprietary to KWA. This makes it quite difficult to find any replacement parts or to upgrade it unless you're dealing with KWA themselves.
Pros:
Adjustable FPS
KeyMod rail system
Angled polymer magwell
Cons:
Check Amazon
Best KWA Sidearm:
The KWA M9 replicates the Beretta M92, which is also called the M9 by those in the U.S. military. This gun is full metal, like most of the KWA guns on the market, plus is known to be accurate, reliable, and extremely gas efficient.
The M9 is also the first production gas pistol by KWA to use their new gas system, called the NS2 Gas Blowback System. This system is hit and miss with a lot of airsofters, some of whom have become fans while others prefer different mechanisms to drive their airsoft guns. Though this model is great right out of the box, it can be tricky to repair, so take this into account if considering the M9 for your airsoft arsenal.
A nice bonus with this model is the included magazine, which has a 24-round capacity. This gun is also lightweight, making it easy to carry with you, though still built well enough to last for quite a while. Since the real-world M9 was formerly used as a sidearm in the U.S. Army, there are several holster options available for the replica, especially if you check out the surplus market.
Pros:
24-round magazine capacity
Numerous holster options available
Accurate
Cons:
Check Amazon
Best KWA Automatic Pistol:
The M93 Raffica is an Italian-designed sidearm, much like the M9. They are not identical though, with one major difference. The M93 has a fire selector that gives you three different firing options, including semi-automatic, 3-round burst, or the hidden automatic mode. Unfortunately, there is an unreliable sear that gives you the 3-round burst. It has been known to wear out after extensive use, which then limits you to only the semi-automatic and the automatic firing.
This airsoft pistol has some other great features, including the adjustable hop-up, the NS2 gas system, and an attachable, folding shoulder stock that adds some stability when you're shooting, though this isn't included with the gun and needs to be purchased separately. The magazines come in both 32- and 50 -round capacities.
Another slight flaw with this pistol is the recoil, which can be quite stiff, though most airsofters still find it more than manageable. Using the forward foregrip makes it even more so, adding a decent amount of stability to the gun to counter this recoil.
Pros:
3-option fire selector
32- or 50-round mag capacity
Full metal construction
Cons:
Unreliable sear for 3-round burst
Stiff recoil
Check Amazon
Best KWA SMG:
Based on the Brugger and Thomet submachine gun with the same name, the KWA MP9 is one of the higher-quality lightweight SMGs on the market for airsofters. There are a variety of models available, plus it comes in multiple colors, so you can match this gun to your other gear or pick one that stands out from the rest. It also comes with optional rail or fixed foregrips on the front end of the gun, so you can pick your favorite configuration.
The MP9 includes a folding stock, which is handy to help you manage the recoil for better aim and more accurate shots. Of course, this airsoft gun isn't difficult to handle, so you should be able to keep it on target with only one hand.
The magazine can hold 47-48 rounds. In a temperate environment, you'll likely be able to get through the entire magazine in automatic fire on one gas charge. KWA also manufacturers a matching suppressor for the MP9, which offers some quick-detach use whenever needed, though it must be purchased separately.
Pros:
Multiple models available
Folding stock
Lightweight
Cons:
Check Amazon
KWA Airsoft Brand Final Thoughts
KWA airsoft has a wide variety of mid- to high-end airsoft replicas available for those who are looking for more authentic pieces that will give them the performance and reliability they need on the field. These airsoft guns also come with some higher price tags, but the quality materials and parts that go into them ensure that they are built to last, making them worth the extra few bucks.
Thank you for visiting iamairsoft.com! If you like any of the products that you see in this article, please click on one of the BUY NOW buttons to make your purchase on Amazon. As an Amazon affiliate, we make a small commission off any purchase made through our website. This commission is how we can provide you with informative articles. You will not pay more on Amazon if you click through our website because the price is the same. For more great products and information about the game, check out our Airsoft Buyers Guides and Airsoft U!
Even More Related Buyers Guides: