Airsoft guns have been around for decades, with a ton of different brands to choose from. Of course, if you're just starting out or don't want to spend too much on a part-time hobby, Cyma is a great brand to start with. Their airsoft products are decently priced without sacrificing quality. If you're curious about what Cyma has to offer, keep reading!
Short On Time? Here Is The Bullet List:
**Below are our more detailed reviews. Click the links above to see current prices or read customer reviews on Amazon.
Origins of Cyma Airsoft
Cyma has been in business since the early 2000s, offering quality products without the high-end price. Though based out of China, their products are sold around the world. This brand is most known for taking other manufacturer's designs, creating clones that are stripped of the trademarks or licenses, and building them at a lower cost. This saves their customers money while still offering good products.
Though they seem to put out new products quite often, Cyma doesn't have its own website, so you can't order directly from them. They also don't have any contact information available, which means no customer support, either.
Types of Cyma Products
Most of Cyma's products are sold by foreign retailers, though they still maintain the Cyma brand name. The products are all marked using a numeric code to distinguish them. For example, the Cyma replica AKM rifle uses the code CM.048. Similar Cyma products follow the sequence.
Cyma is best known for their AK series airsoft guns. These are created using replicas of the AK models found in the real gun world, as well as similar guns of this type, from the AMD-65 to the RPK. When first released, these airsoft models were the best quality available at this price. This is mainly due to the fact that they mainly use steel for their construction and maintain their internal quality. These are still a favorite of beginners and intermediate airsofters alike.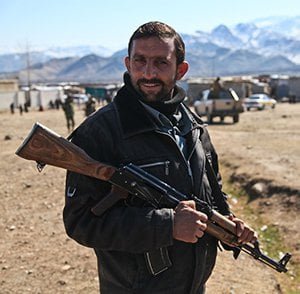 Other Cyma products include the CM.032 series, which is based on the M14 and is still a top pick for beginners who prefer to stick to a DMR role. The M4-style airsoft guns aren't quite as cheap as some other models but still, have their place among full metal rifles under $200 that maintain their compatibility with magazines and other upgrades.
Some of their newest releases include more modern versions of the AK rifles, many of which include handguards and stocks designed to emulate the Magpul products.
Cyma Repackaging
Though all products that are labeled Cyma are obviously made by this company, there are some brands that purchase these guns, repackage or upgrade them, and then sell them as their own.
The most notable example of this type of rebranding is done by Evike's house brand, Matrix. This brand repackages Cyma, DBoys, and a few other Chinese manufacturer's airsoft products.
Cybergun has is also known for this, taking Cyma's popular Thompson sub-machine gun and selling it under their name. For a while, this model was even found at most United States sporting goods stores under the Cybergun name.
More Related Buyers Guides:
Where to Buy Cyma Products
It isn't hard to find Cyma products. Some models, like the Thompson, are available at department stores. You may want to check out some specialty airsoft websites as well, like Evike, Airsoft Station, or AirsoftGi. Of course, there are always sites like Amazon or eBay for your Cyma shopping as well.
Top Cyma Airsoft Products
Best Cyma Airsoft DMR:
The Cyma M14 features a variety of features that make it a worthwhile purchase. It is made of using one solid piece of an injection-molded polymer combined with a few metal parts. Not only does this add to the rifle's durability, but it also gives it the steel look of a real M14 rifle.
The DMR variant stock is designed to replicate those used by the United States special forces. There are an ergonomic pistol grip and an adjustable cheek rest, both of which increase your comfort level when firing. There is also a rotary hop-up system for more precise settings.
Another great feature is the Tokyo Marui-style internals with a Metal Version 7 gearbox, which is compatible with many other Version 7 components, so you can upgrade it as you see fit. The 500-509 mm inner barrel is well volume-matched, utilizing the spring's power without adding extra muzzle noise. There are even a few color options to choose from.
Pros:
Compatible with standard M14 optic mounts
Adjustable cheek riser
2 stock color options
Cons:
Check Amazon
Best Budget Cyma Airsoft Rifle:
If you're hoping to save a bit of cash on your next airsoft gun, the Cyma CM.048 comes with a decent price tag, saving some money for upgrades or other gear. Of course, despite the low price, it is still a durable piece of equipment.
This model uses mostly steel in its construction, with the exception of the wooden stock and handguard. The battery storage is in the stock, so they're easy to change out whenever needed. In fact, it's pretty easy to access all the internal components for added convenience.
Other features include a high-strength polymer pistol grip and an integrated AK-style scope mount. There is a VFC-style takedown that uses pins instead of screws, so you don't need to carry extra tools with you. You do need to be careful with it, though, since the slide-style hop-up is a bit fragile. It is also easy to pinch the electrical wires when disassembling the rifle, so be extra careful.
Pros:
Decent price
Durable construction
Easy to access internal components
Cons:
Fragile slide-style hop-up
Electrical wires easy to pinch when disassembling
Check Amazon
Best Cyma Automatic Electric Pistol:
Some airsofters prefer a more compact airsoft gun, which is one of the reasons the Cyma CM.128 Hi-Capa is so popular. This model is designed to replicate the competition pistols of 2011. The frame is polymer, with full metal on the slide and the controls. The gearbox design is common to all of these brands AEP pistols, plus can be easily upgraded to a Tokyo Marui gearbox if needed.
The Hi-Capa pistol is electric, so you don't need to carry any gas canisters with you. Instead, it uses a standard NiMh AEP battery, though this is tricky to change out, especially if you're in the middle of a game.
Another benefit of this pistol is that it can hold up to 30 rounds in a standard magazine, plus you can get a few extra mags without spending a fortune. This pistol fits nicely into a variety of holsters, so you can pick your favorite.
Pros:
High ammo capacity
Metal slides and controls
Uses standard NiMh AEP battery
Cons:
Difficult to change the battery
Check Amazon
Best Cyma M4 Airsoft Gun:
The Cyma CM.619 Keymod-S M4 is an inexpensive option, plus it is lightweight, so you won't wear yourself out carrying it all day. It uses polymer for the receiver and the handguard, with a 14.5-inch aluminum alloy outer barrel. The Keymod-S handguard is designed to make it easier to configure the rail space to add your favorite accessories.
The battery is wired for storage in the 6-position adjustable stock, giving you quick access when it comes time to change it out. In fact, the entire internal construction is of good quality, so you know this model is built to last.
Other great features include the ergonomic motor grip, the enhanced selector switch, and the ambidextrous magazine release. The CM.619 is compatible with most of the other M4 AEG platforms, so you can customize it as you see fit. It comes in a few color options, so you can pick one to match your other gear.
Pros:
Great low price
Multiple color options
Handguard is fully customizable
Cons:
Check Amazon
Best Cyma Airsoft Shotgun:
If you prefer the close-up action of a shotgun, this model may be a good choice. The price tag is pretty low but this model doesn't sacrifice quality to keep it that way. It is fully adjustable, with a variety of stock options, barrel lengths, and even pistol grips available, so you can customize it however you like. It also comes in both polymer or metal-bodied versions.
The M870 includes a standard 30-shot steel magazine. It also uses a tri-shot system, which uses a high-power spring to give you bursts of 3 rounds every time you pull the trigger. This feature mimics a real shotgun much more accurately than the single-shot airsoft shotguns out there, for a more authentic feel during a game.
This model doesn't require the use of batteries, gas, or CO2, so you can just load it up and start shooting. It also has a simple internal design that makes it easy to disassemble for cleaning or maintenance.
Pros:
Metal and polymer versions available
No gas or batteries needed
Inexpensive
Cons:
Only good for close range
Learn More
Cyma Airsoft Final Thoughts
There are so many airsoft brands out there that it may be a bit difficult to find one that offers decent products that are durable and easy to use. Cyma Airsoft gives you the best of both worlds, plus these guns come with price tags that even those with the tightest budgets can afford. If you're in the market for a new airsoft gun, check out what Cyma has to offer.
Thank you for visiting iamairsoft.com! If you like any of the products that you see in this article, please click on one of the BUY NOW buttons to make your purchase on Amazon. As an Amazon affiliate, we make a small commission off any purchase made through our website. This commission is how we can provide you with informative articles. You will not pay more on Amazon if you click through our website because the price is the same. For more great products and information about the game, check out our Airsoft Buyers Guides and Airsoft U!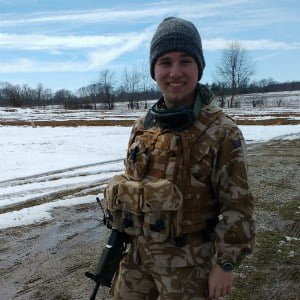 Noah Mains is a writer, an airsofter, and most importantly, he's stuck in the 80s. From Colt SMGs to David Bowie to brick phones, he has an acute appreciation for the greatest decade, and is more than happy to share his enthusiasm for the ALICE gear system (the superior loadout, of course) with anyone who'll listen.
Even More Related Buyers Guides: