Airsoft games have become quite popular and those who play likely want the right guns for the job. Cybergun is one of the most well-known brands in the airsoft world, making them a top choice for many airsofters. This is due to the wide range of airsoft guns this brand sells, including replicas of real-steel guns and licensed rifles and pistols, as well as numerous airsoft parts. These aren't high-end products, either, so you don't have to spend a ton of money to get the one you want. If you're interested in Cybergun and what they have to offer in the airsoft market, keep reading.
Short On Time? Here Is The Bullet List:
**Below are our more detailed reviews. Click the links above to see current prices or read customer reviews on Amazon.
Origins of Cybergun
Cybergun was founded in France in 1983 by Jerome Marsac and Vincent Bouvet, who developed a business making French scale models. Ten years later, they launched Air Soft Group, where they started creating replicas that could fire 6 mm plastic pellets. In 1997, they signed licensing agreements with real-steel brands like Colt, Smith, and Wesson, and IWI Desert Eagle.
It was in 1999 that they renamed their company Cybergun, which they then listed on the French stock exchange. The brand acquired Palco Sports in 2007, which is why many of the Cybergun products sold in the United States still have the Palco brand name attached to them.
Despite the quality airsoft products Cybergun produces, this company isn't without its problems. They have had several contract disputes with many airsoft manufacturers since Cybergun is a bit overzealous in their patent defense. This has given Cybergun an unfavorable reputation in some areas of the airsoft community.
What Does Cybergun Sell in the Airsoft Market?
Cybergun sells a wide variety of airsoft guns, with the exception of the HPA-powered rifles. This brand sells several AEG models, plus has some GBB pistols and rifles under their name. Cybergun even has a pretty significant amount of low-end spring pistols and rifles for sale. They mainly focus on the low- to mid-end airsoft products, which is mainly due to the fact that their guns are sold in department stores.
One of the strengths Cybergun is known for is their ability to acquire the licensing of real-steel firearm manufacturers. They currently hold the licenses for numerous notable firearm manufacturers, including FN Herstal, Colt, and Swiss Arms (Sig Sauer), just to name a few.
Does Cybergun Make Their Own Products?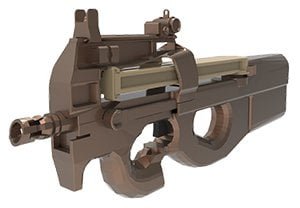 When it comes to the airsoft market, Cybergun generally doesn't make its own products. Most of their airsoft guns are produced by another established airsoft manufacturer. Some of the firms that have partnered with Cybergun in the past include Cyma, A&K, DBoys, VFC, and KWC. In most cases, Cybergun is the one that owns the licensing rights from the real-steel manufacturers. The guns they resell include the realistic trademarks and branding that many customers look for.
For this reason, many customers tend to buy their airsoft gun from the original manufacturer located overseas for a much cheaper price than if they bought the same gun with the branding from Cybergun. The lower price means the gun will lack the manufacturer trademarks, though this is worth it for some airsofters, especially those buying their guns on a budget.
Where to Buy Cybergun Airsoft Guns?
If you're looking for some of the lower-end airsoft guns that Cybergun has to offer, including the cheaper AEGs, gas non-blowback pistols, and spring pistols, they won't be too hard to find. Check out the department stores or sporting goods stores in your area for these models. You can find the higher-end Cybergun products at dedicated airsoft stores and many online retailers.
Partial Listing of Cybergun Products
Best Beginner Cybergun AEG Rifle
If you're new to airsoft and want a decent gun that doesn't cost a lot and is easy to use, the FAMAS may be the right choice. It's a replica of the FAMAS F1 rifle used by the French military. This airsoft model has a bullpup design that gives it a compact size while keeping barrel nice and long. It also has plenty of battery space in the stock for added convenience.
This airsoft gun gives you adequate performance, even though the motor is a bit weak. The outer barrel, gearbox, and foldable bipod are metal, but the rest of the build is plastic, which is a bit flimsy, with plenty of creaks. It also uses proprietary magazines, so it may be hard to find spares. It isn't known who actually manufactures this model, either, though it may be made by CYMA.
Pros:
Adjustable sights
Bullpup design
Battery space in the stock
Cons:
Weak motor
Flimsy plastic build
Check Amazon
Best Beginner Cybergun AEG SMG
The Cybergun P90 is a replica of the FN Herstal P90 submachine gun, which was designed to fire the 5.7 x 28 intermediate armor-piercing rounds. It is manufactured by either CYMA or JG/Golden Eagle. Like the FAMAS, this model has a highly compact bullpup design that makes it easy to carry and store without sacrificing the barrel length. It's also easy to use for beginners just getting the hang of airsoft guns.
Though it is lightweight and fairly accurate, it has a few flaws. It uses a top-load magazine that has an unusual cartridge geometry that takes some getting used to. The high-capacity magazines for the P90 are also rather unreliable, so you may want to stick with the mid-capacity mags for the best results. There aren't any iron sights on this model, either. Instead, you'll need to mount an optical sight on the top rail for any type of distance shooting.
Pros:
Affordable price
Compact design
Lightweight
Cons:
No iron sights
Limited battery space
Check Amazon
Best Cypbergun WWII Airsoft Gun
The Auto Ordnance Thompson submachine gun was used from the mid-1920s up to and throughout the Korean War. It is most known for its use by gangsters in the pre-Depression era. The Cybergun airsoft model, which is manufactured by CYMA, is a replica of this famous piece, with a realistic look and feel. It isn't very heavy, either, though it still has a solid feel to it.
The M1928 SMG has faux-wood on the handguard and stock, with metal for the upper receiver and polymer for the lower one. It also has steel gears and metal bushings to increase its durability. The gearbox is a bit uncommon, though, so it may be a bit tricky to find the parts needed for a replacement somewhere down the line. This Cybergun SMG also includes a Chicago Typewriter Thompson drum magazine as well, which has a huge capacity of 450 rounds.
Pros:
High-capacity drum magazine
Adjustable hop-up
Realistic look
Cons:
Check Amazon
Best Cybergun CO2 Blowback Pistol
The Cybergun Colt MKIV 1911 is a full-metal CO2-powered blowback pistol, with full metal construction and faux-wood checkered grips with a medallion. This model is a replica of the Colt Series 70 1911 pistol, which is chambered for the .45 caliber bullet. The airsoft version is most likely manufactured by KWC.
This airsoft pistol is the classic 1911 GI style, which has no front rail for optics and fixed sights on the front and the rear. The magazine has a 14-round capacity, making it a decent sidearm. This pistol also accepts the 14-round KWC CO2 magazines, so you should be able to find a few spares to carry with you for those longer games. It does have a pretty high FPS of 390, which may be a bit much for a CQB field, so be sure to check out the rules before you take this airsoft pistol out with you.
Pros:
Stylish look
14-round magazine capacity
Durable
Cons:
High FPS for some CQB fields
No front rail
Check Amazon
Best Cybergun GBB Pistol
The Cybergun FNX-45 GBB pistol is a replica of the FN Herstal FNX-45 .45 caliber pistol. The airsoft version is made by VFC and is well-built, with a durable nylon-reinforced polymer frame, aluminum alloy for the slide, and threaded aluminum on the outer barrel. It is mostly ambidextrous, too, so it's a good model for lefties and righties.
The high-profile sights combined with the threaded barrel make this pistol a great choice for those who like to add suppressors, compensators, and other handy accessories. There is also a red dot mounting area, as well as a mount cover. The magazine holds 25 rounds, though they are proprietary to the FNX-45, so it may be hard to find spares, especially since they are also a bit pricey. The whole piece is lightweight, though, with a decent FPS of about 320, making it a great choice for CQB fields.
Pros:
Mostly ambidextrous
25-round magazine capacity
Durable build
Cons:
Expensive proprietary magazines
Check Amazon
Cybergun Airsoft Final Thoughts
Though Cybergun doesn't manufacture its own products, and they aren't as high-quality as some other brands out there, they are still a good choice for certain airsofters. This brand makes some great replicas, all of which come with a decent price tag. This makes Cybergun airsoft guns a good choice for collectors or beginners who are just starting in the airsoft world.
Thank you for visiting iamairsoft.com! If you like any of the products that you see in this article, please click on one of the BUY NOW buttons to make your purchase on Amazon. As an Amazon affiliate, we make a small commission off any purchase made through our website. This commission is how we can provide you with informative articles. You will not pay more on Amazon if you click through our website because the price is the same. For more great products and information about the game, check out our Airsoft Buyers Guides and Airsoft U!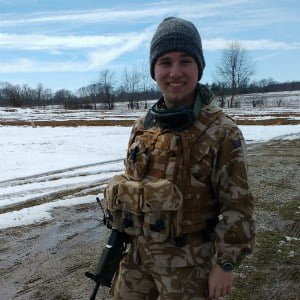 Noah Mains is a writer, an airsofter, and most importantly, he's stuck in the 80s. From Colt SMGs to David Bowie to brick phones, he has an acute appreciation for the greatest decade, and is more than happy to share his enthusiasm for the ALICE gear system (the superior loadout, of course) with anyone who'll listen.
Even More Related Buyers Guides: