Those buying airsoft guns and other products for the first time likely don't want to spend a fortune on one. Brands like AGM Airsoft are a great starter brand for newbies to the airsoft world. This brand has a variety of entry-level spring guns to choose from, all of which come with low price tags. They also offer some accurate WWII replicas available for those reenactors who like to look authentic. Keep reading to learn more about what AGM has to offer.
Short On Time? Here Is The Bullet List:
**Below are our more detailed reviews. Click the links above to see current prices or read customer reviews on Amazon.
AGM Airsoft Origins
There is very little known about the AGM Airsoft company. They are based in China, where their guns are manufactured. Even their name is a bit vague, with the letters AGM standing for "Airsoft Gun Manufacturer". They don't even have their own website, so it is difficult to find even small shreds of information about the company.
What Does AGM Sell?
AGM Airsoft makes a few different types of airsoft guns, including AEG rifles, spring pump-action shotguns, and some spring bolt action sniper rifles. They have also added some modern and historical electric AEG rifles to their selection, plus make a variety of modern shotguns and sniper rifles as well.
The downside of this brand is that the majority of the airsoft products that AGM produces are strictly entry-level guns at best. This is due to the fact that most of their airsoft products have rather poor reputations when it comes to their performance and reliability.
Where AGM stands out is with its WWII replicas. Many of the models they manufacture, like the German StG44 assault rifle or the Sten SMG, are actually high-quality pieces with a decent price tag.
What Brands are AGM Airsoft Guns Sold Under?
Most of the time, the AGM airsoft guns are sold under their own brand name. There are some other airsoft stores that do rebrand AGM products and then sell them as their own house brand. The most notable brand that does this is Evike, who rebrand some of AGM's airsoft rifles under their "Matrix" brand name.
More Related Buyers Guides:
Where to Buy AGM Airsoft Guns?
If you're looking for an AGM airsoft gun, you have limited options on where to look. Your best bet is to go through a specialized airsoft retailer to get the one you want. You can also try out large online stores, such as Amazon or eBay, though they may have limited selections.
Top AGM Airsoft Products
Best AGM Entry-Level Gun:
Though it isn't the best airsoft gun out there, the M500 single-shot shotgun is a great model for those who are just starting out. It is a replica of the Mossberg 500 shotgun, with a magazine-fed spring-powered single pump shot. It is also full-size with a heavy barrel, adding to the realistic look. The full stock also includes a comfortable rubber butt pad to reduce bruising after a long day on the field.
This airsoft shotgun is made mostly of plastic, with a metal heat shield covering the barrel. Both the pump guide and the heat sink are also made of metal, adding to its durability, while the satin-black finish gives it a bit of style. It comes with one magazine that has a 14-round capacity, though you can purchase spare magazines if needed.
This gun also has a lot of power, with a rating of 400 FPS. Though this makes it a bit too powerful for many of the CQB fields out there, it may fall under their sniper rules, so you don't necessarily have to leave it at home.
Pros:
Low price
Accurate
14-round capacity
Cons:
Check Amazon
Best AGM SMG:
The MP44 SMG AEG is a replica of the MP40 SMG used by the German Armed Forces in WWII. It has a realistic appearance, making it a great option for reenactors or those just wanting a cool airsoft gun to mess around with.
This model has full metal construction for the frame and the gear. Some areas do use ABS plastic, though, including the side plates and the grip plates. These can be replaced if needed using aftermarket replicas of the original Bakelite polymer parts. This gun also includes a folding stock and an adjustable hop-up system.
The magazine is the same used on the AGM STEN SMG model. How many rounds it holds depends on the type your using. With mid-capacity rounds, it holds only 55, but with high-capacity, you can fit 300 in there. As well as holding your ammo, the magazine also doubles as a foregrip, giving you more control.
The MP44 has an FPS of 340, so it is legal to use it on CQB fields. You can also use it on other fields as well, so it is a pretty good all-around gun for any type of game.
Pros:
Folding stock
Full metal construction
Realistic look
Cons:
Check Amazon
Other Best AGM SMG:
The AGM STEN SMG AEG is a replica of the simple, yet effective, open bolt STEN SMG, which both the British SOE and the infantry used during WWII. It has a full metal construction, which makes it quite durable and a bit heavy, so a shoulder strap is recommended. It is rated at 330 FPS, so it is a good choice for CQB use, plus it is likely legal in most other fields.
This gun features a modified Version 7 (M14) gearbox, an adjustable hop-up, a high torque motor, and an adjustable magazine location, which allows you to mount it on the side or the bottom, which depends solely on your comfort level. The magazines are the same as on the AGM MP40 and can hold either 55 or 300 rounds, depending on if you use mid-capacity or high-capacity rounds.
There is a tube stock, which can be a bit uncomfortable for some but still usable in most situations. The metal front and rear sights are a bit awkward to use as well. Of course, they won't be needed much at an SMG range, so this may not be an issue for everyone.
Pros:
Full metal construction
High ROF
Accurate
Cons:
Uncomfortable tube stock
Awkward sights
Learn More
Best AGM Machine Gun:
The MG42 is one of the most durable airsoft guns that AGM has produced. It is a replica of the MG42, which was a medium machine gun used in WWII by the German army. This gun had the capability to fire at an incredibly high cyclic rate and its airsoft counterpart is no different. The AGM MG42 uses a 1500-round drum located near the trigger that fires ammo in full-auto.
This model has a steel construction, with a real wood stock and some textured imitation wood panels on the pistol grip. This makes it quite heavy at about 16 lbs, but this also adds to the durability, so it may be worth the extra weight. There is also a folding steel bipod to help lighten the load and increase your accuracy when you're laying down.
Another great feature on the MG42 is the unique gearbox design. This system is fully reinforced using steel bushings and an extremely thick metal shell. This not only increases the strength of the whole gearbox system, it adds some reliability to it as well.
Pros:
1500-round capacity
Steel construction
Unique gearbox design
Cons:
Learn More
Best AGM Assault Rifle:
The original StG44 Sturmgewehr assault rifle was a limited edition model that the Germans issued between 1943 and 1945. Its main purpose was to counter the Soviet submachine gun troops. The AGM StG44 AEG rifle is a surprisingly good replica.
It uses full metal and wood for the construction, with some polymer components added in for the handguard and the grip plates. It also features a standard metal Version 2 (M4) gearbox, an adjustable hop-up, and front and rear sling points. The battery is located in the stock for quick and easy change-outs. There is no provision for optics, though, so don't expect to add any laser sights or lights to this one.
The magazine for the StG44 is a unique piece, holding 300 rounds, making it a good option for longer games. The downside is that spares aren't readily available, so you may not be able to carry a few extra mags with you while you play.
Pros:
Full metal and wood construction
Adjustable hop-up
Lightweight
Cons:
Spare mags hard to find
Can't add optics
Learn More
AGM Airsoft Final Thoughts
Those who are well beyond the beginner stage in the airsoft world know that the AGM brand is not known for being a high-quality manufacturer. In fact, those in the know believe that the AGM sniper rifles should be avoided by most players. For entry-level guns, though, their spring guns aren't the worst choice out there, especially if you don't want to spend too much on a first gun. For quality, the AGM WWII replicas are where its at, with shockingly good quality for the price. In many cases, these models are the only option for certain guns, making them the top choice for WWII reenactors.
Thank you for visiting iamairsoft.com! If you like any of the products that you see in this article, please click on one of the BUY NOW buttons to make your purchase on Amazon. As an Amazon affiliate, we make a small commission off any purchase made through our website. This commission is how we can provide you with informative articles. You will not pay more on Amazon if you click through our website because the price is the same. For more great products and information about the game, check out our Airsoft Buyers Guides and Airsoft U!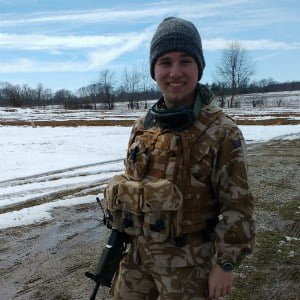 Noah Mains is a writer, an airsofter, and most importantly, he's stuck in the 80s. From Colt SMGs to David Bowie to brick phones, he has an acute appreciation for the greatest decade, and is more than happy to share his enthusiasm for the ALICE gear system (the superior loadout, of course) with anyone who'll listen.
Even More Related Buyers Guides: