There are a ton of airsoft brands out there, making it hard to choose the best one to meet your needs. That's why most airsofters look for a brand that makes quality products, building up their reputation in the airsoft world in the process. The G&P brand meets these qualifications, earning the respect of their customers with their amazing products, including their airsoft guns, upgraded parts, conversion kits, and so much more. If you'd like to know more about what G&P Airsoft has to offer, read on.
Short On Time? Here Is The Bullet List:
Best G&P Airsoft Rifle for Beginners: G&P Advanced M4 Carbine
Best G&P Airsoft DMR: G&P M14 DMR
Best G&P Airsoft LMG: G&P MK23 LMG
Best G&P Airsoft Assault Rifle: G&P EMG Salient Arms GRY Carbine
Best G&P Airsoft HPA Rifle: G&P M4 Jack
**Below are our more detailed reviews. Click the links above to see current prices or read customer reviews on Amazon.
Origin of G&P Airsoft
Originally called G&P Industrial Co. Limited, this brand was founded in 1995. They started by producing and distributing a variety of wargame products. A year later, they began selling flashlights under the G&P brand name as well.
It wasn't until 2002 that G&P started selling airsoft guns under the G&P Laser Product name, or G&P Airsoft to their customers. Their first product was the SVD Dragunov GBB semi-auto airsoft rifle. This model's success leads to the development of a variety of other airsoft guns, which were designed in Hong Kong and manufactured in mainland China.
Their quality products and attention to detail have made the G&P brand one of the higher-end airsoft makers in the world. Their customers also appreciate that the higher quality doesn't always come with high prices as well, making some of these guns accessible to even the budget-conscious airsofter.
What Airsoft Products Does G&P Sell?
G&P Airsoft produces a combination of great rifles, included AEG, GBB, and HPA models. They focus quite heavily on the M4/AR-15 products, though there are also some other models in their lines. This includes AKM-type rifles, as well as some light machines guns, such as the Stoner MK23.
G&P doesn't only manufacture their own guns, though. This brand also produces parts for the GBB rifles of other companies, particularly Western Arms. This has helped them expand their reach in the airsoft world.
Does G&P Make Their Own Products?
Every one of G&P's products is manufactured in a G&P factory, so each one is built using the attention to detail this brand is known for. G&P doesn't just make their own stuff, though. They also manufacture some products specifically for other brands. One example of this is the (EMG) SAI GRY carbine replica that is mostly made by G&P for the Evike Manufacturing Group.
More Related Buyers Guides:
Where to Buy G&P Airsoft Guns
Since they are such a high-end brand, the best place to find the G&P airsoft products that you're looking for is at your local airsoft store or online from a specialty store. Keep in mind that many of G&P's guns aren't available in the United States. This means you'll have to import them directly from Hong Kong, which may add some pricey shipping costs to the total. Of course, if a G&P product is what you want, it may be worth the extra money.
Top G&P Airsoft Guns on the Market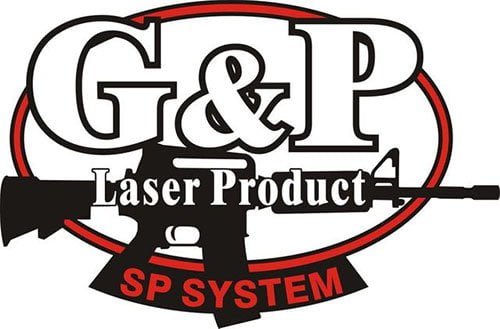 Best G&P Airsoft Rifle for Beginners:
G&P Advanced M4 Carbine
This G&P rifle is an AEG replica of the M4 Carbine that is currently used by most branches of the U.S. military. It is extremely durable, with great features, making it a good choice for beginners, plus it is a decent model for expert airsofters as well. It is also cheaper than some of the other G&P replicas available, making it an even better option.
This model uses heavy-duty metal in its construction, including the barrel assembly, receiver, and buffer tube. The internal metal parts are all reinforced as well. It features adjustable rear and front sights, a flat-top Picatinny rail for easy mounting optics and sights, and a 5-position adjustable SOPMOD or "Crane" stock that also stores its battery. This G&P airsoft rifle uses standard M4 internal parts, so it is easy to modify as you see fit.
There is a downside to this airsoft gun for some people. It doesn't include the real-steel trademarks, though there are G&P trademarks on it. Of course, the great features it offers may make up for this.
Pros:
Easy to modify
Full metal construction
Adjustable sights
Cons:
Best G&P Airsoft DMR:
G&P M14 DMR
The G&P M14 DMR is an AEG replica of the M14 DMR modification used by the U.S. Marine Corps. It has a bunch of great features that make it one of the top choices for airsofters.
First of all, the buttstock is highly adjustable, including the modification of the length-of-pull and the height of the cheek rest. The pistol grip helps to improve the ergonomics when prone. There is also a long inner barrel of 590 mm, which means there is ample time to accelerate and add stability to the BB when you're shooting.
Of course, this DMR isn't without its flaws. It doesn't include any mounting systems for scopes or optics, so these need to be purchased separately. Though it is compatible with the Tokyo Marui internal system, it isn't compatible with the G&G M14 internal system. This is due to the unique inner barrel found on the G&P gun. It also uses the more common TM or Cyma M14 magazines, so you can get a few extras if needed.
Pros:
Ergonomic pistol grip
Adjustable buttstock
Cons:
No scope or optics mount
Not compatible with G&G M14 internal system
Best G&P Airsoft LMG:
G&P MK23 LMG
If you want the best LMG from G&P, you can't go wrong with the MK23. It is an AEG replica of the Stoner 63 LMG modification, which is also called the MK23 light machine gun. Starting in 1967, the real-steel version of this gun saw some limited service in Vietnam when it was used by the Navy Seals.
This airsoft gun offers some pretty high firepower for its lightweight of about 10 pounds, which is less than the M249 model. It has a sturdy build as well, despite its low weight, due to the amount of steel and milled aluminum used in its construction.
This gun has a bunch of great features, too, including the 1200-round capacity of the attached box magazine and the adjustable hop-up. It also has a reinforced metal gearbox with steel gears and a spring guide. The MK23 LMG is a bit pricey when compared with some other G&P airsoft guns, though, so be prepared to pay a bit more for this high-quality model.
Pros:
Lightweight
High firepower
Huge round capacity
Cons:
Best G&P Airsoft Assault Rifle:
G&P EMG Salient Arms GRY Carbine
The EMG Salient Army GRY Carbine gives you a bit more power on the airsoft field, though it comes with a much higher price, even when you compare it to some of G&P's other AR-15 models. This doesn't stop airsofters from getting their hands on one, though.
This airsoft assault rifle is an AEG replica of the Salient Arms competition AR-15 model. It comes in both GBB and HPA versions, so you can get the one you're most comfortable with. It is also fully compatible with other airsoft parts, so you can customize the stock, grip, and much more as you see fit.
One of the best features that this airsoft gun has to offer is the rail system, which is fully configurable, plus includes a detachable mock muzzle blast dissipator. This model also uses G&P's i5 generation gearboxes, which is a decent improvement over the previous models. Of course, this is still a Version 2 compatible system, it just includes better parts, so it is much more reliable.
Pros:
Compatible with M4 parts
Available in GBB and HPA options
Upgraded gearbox
Cons:
Best G&P Airsoft HPA Rifle:
G&P M4 Jack
The M4 Jack from G&P is a competition-style airsoft replica. It includes a pre-installed PolarStar HPA engine, as well as a small air tank that's been hidden in the stock. This gives this model the advantages of the PolarStar engine, including the fully tunable FPS and RPS, plus the operation is extremely reliable, so it won't break down on you.
The M4 Jack is lightweight, making it easy to carry, even during long games. It also has quite a bit of rail space, so you can fit the optics and scope you want with ease. It does come with the keymod-style rail system, though, which is currently being phased out.
Though this model forgoes the usual issues of the HPA remote line that are common with this platform, it does have a low HPA capacity. This means that you may need to carry multiple high-pressure air bottles with you for a full day on the airsoft field. The G&P M4 Jack is also pretty pricey, though this isn't uncommon for a complete HPA system.
Pros:
Lightweight
Lots of rail space
Cons:
Low HPA capacity
Expensive
G&P Airsoft Final Thoughts
With so many airsoft brands on the market, it may be hard to choose the right one to meet your needs. In terms of AEG, GBB, and HPA rifles, there aren't too many brands that offer higher quality or durability than G&P. This brand has earned its reputation as a top airsoft manufacturer, giving their customers great products that will last for years.
Thank you for visiting iamairsoft.com! If you like any of the products that you see in this article, please click on one of the BUY NOW buttons to make your purchase on Amazon. As an Amazon affiliate, we make a small commission off any purchase made through our website. This commission is how we can provide you with informative articles. You will not pay more on Amazon if you click through our website because the price is the same. For more great products and information about the game, check out our Airsoft Buyers Guides and Airsoft U!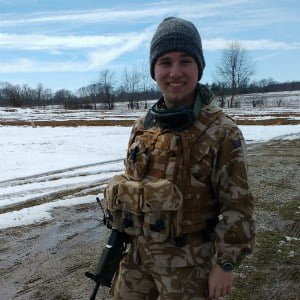 Noah Mains is a writer, an airsofter, and most importantly, he's stuck in the 80s. From Colt SMGs to David Bowie to brick phones, he has an acute appreciation for the greatest decade, and is more than happy to share his enthusiasm for the ALICE gear system (the superior loadout, of course) with anyone who'll listen.
Even More Related Buyers Guides: