ASG hasn't been in business for very long but they know what their customers want. They offer a variety of airsoft guns with a wide range of prices, making them a great choice for beginners and experts alike. They've even added some gear to their line, giving you everything you need to head out to the field. If you'd like to learn more about what ASG has to offer, read on!
Short On Time? Here Is The Bullet List:
**Below are our more detailed reviews. Click the links above to see current prices or read customer reviews on Amazon.
ASG Origins
Action Sports Games, Ltd, or ASG, has been in business since the early 2010s. Though their headquarters is located in Denmark, they have multiple subsidiaries in the U.S., the U.K., France, and Sweden.
ASG mainly focuses on sales and licensing. Though many of the airsoft guns sold under their brand name are made exclusively for ASG, the majority of those guns are manufactured by some other airsoft companies under ASG's licensing agreements. For instance, ASG's Challenger DP18 gas pistol is manufactured by the airsoft company KJW.
Because ASG has licensing agreements with quite a few firearms manufacturers, they can add the legal trademark branding to the airsoft guns they sell. Of course, they do have some innovations of their own. This brand has designed several unique AEGs, including the CZ Bren 805 and the CZ Scorpion Evo. Who actually manufactures these guns isn't always stated anywhere but the only seller of these models is ASG.
What Airsoft Products Does ASG Sell?
When it comes to airsoft products, ASG has a huge variety of guns under their name. This includes the cheaper spring and electric pistols as well as the pricey high-end CZ Scorpion SMG model.
Included in their airsoft product lineup are spring-powered pistols, gas, and CO2 blowback and non-blowback pistols, and CO2 revolvers. For their larger airsoft guns, ASG has AEG carbines, rifles, and SMGs, as well as both spring and gas-powered bolt-action rifles. They even make a gas-powered airsoft mini-gun, plus have a few pellet pistols, revolvers, and rifles that use the larger 4.5 mm BBS in their arsenal.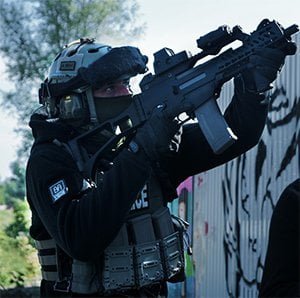 As well as the wide variety of guns listed above, ASG sells some airsoft gear and clothing, including some protective eye-wear, gloves, and gun bags. They even have a wide variety of BBs available from other manufacturers.
ASG has the amazing ability to acquire the licensing from quite a few of the real-steel firearm manufacturers out there. In fact, ASG currently has licenses for all of the Armalite, Accuracy International, B&T, and CZ airsoft replicas, which they sell in both Europe and the United States.
Of course, just because ASG holds the licenses for these replicas, it doesn't mean you can't get an almost identical gun somewhere else. There are many other airsoft products available with identical features, lacking only the branding you'd find on the ASG models.
Where to Buy ASG Airsoft Products
If you're looking for ASG airsoft guns in the U.S., you'll only be able to purchase their branded products through a specialty airsoft retailer. As well as the smaller local brick-and-mortar locations, this includes the online airsoft stores.
ASG Airsoft Products on the Market
Best Unique ASG AEG:
The ASG Scorpion EVO is a replica of the modern CZ Scorpion 9 mm SMG and was designed using a collaboration between ASG and CZ, so it is practically identical to the real-steel gun. It is constructed using nylon fiber polymer for the body with a metal barrel and a few other metal parts.
This gun features a folding adjustable stock for added comfort and a newly designed gearbox that fully encases the cylinder. There is a 4-position fire selector that gives you a safe position, as well as semi-automatic, 3rd burst, and full-auto fire options. When the magazine is empty, this model will stop firing until you've reloaded the magazine and activated the bolt catch. The fire control, magazine release, and safety are all ambidextrous as well, so anyone can use this model.
Another great feature the Scorpion has to offer is the fact that there are plenty of aftermarket parts available, so you can swap them out and customize this airsoft gun as you see fit.
Pros:
Well built
Ambidextrous controls
Very accurate
Cons:
Hard to change the battery
Expensive
Check Amazon
Best Bullpup ASG AEG:
The Steyr Aug A2 is a replica of the Austrian Steyr AUG bullpup that was introduced in 1978 and used by their army. The airsoft version of this rifle may be manufactured for ASG by JG, though it is uncertain. Either way, it's a solid gun with a range of great features.
For materials, this airsoft gun uses polymer for the body and metal for the barrel, receiver, and the optics rail. There are rails on the top and the bottom, giving you the ability to add any tactical accessories that you like. It also includes an ambidextrous charging handle and safety/fire selector, so you can adjust these easily during a game, no matter what your dominant hand is.
This model includes a high-capacity 1400-round magazine, plus it is compatible with all types of TM AUG-style magazines, so you can get your hands on some extras. The only issue with the Steyr Aug A2 is that the fire selector electronics can be a bit unreliable in certain situations.
Pros:
High-capacity magazine
Top and bottom rails for accessories
Folding vertical grip
Cons:
Unreliable fire selector electronics
Check Amazon
Best ASG Blowback Pistol:
The CZ P-09 is a full-sized tactical airsoft pistol and a detailed replica of the CZ P-09 striker-fired handgun. It is believed to be manufactured by KJW for AGS, with a polymer frame and a metal slide. The blowback moves the slide with every shot for a more realistic recoil. The textured grip keeps it firmly in your hand, even on a hot, sweaty day.
The tactical rail allows you to add most pistol lasers and lights to customize your pistol as you see fit. This model also has a threaded barrel and high-profile sights that can be used with a mock suppressor. The downside of the high-profile sight is that it may catch on your holster when drawing, so you do need to be a bit careful with it.
Other features include the 24-round magazine, the ambidextrous safety, the 3-dot sight system, and the adjustable hop-up. This pistol has an FPS rating of about 320, which is low enough to use on CQB fields or pretty much anywhere else.
Pros:
Realistic blowback
Adjustable hop-up
Accurate
Cons:
Barrel sight isn't always holster-friendly
Check Amazon
Best ASG CO2 Revolver:
The Dan Wesson 715 is a sleek CO2 airsoft revolver that is possibly manufactured for ASG by WinGun. This revolver has a durable metal build and can be purchased in either black or chrome, depending on your personal preference.
The Dan Wesson 715 has an 8-inch barrel and a double-action trigger system, which allows you to cock it with your thumb or just fire it by pulling the trigger. It holds six metallic cartridges, and each of those holds one BB, giving you a total of 6 rounds. The CO2 cartridge used with this revolver is stored in the grip.
The downside of this revolver is that it is rated at about 480 FPS, which makes it far too powerful for most airsoft fields. Of course, you can do some modifications to reduce its power to a more reasonable level.
Pros:
Durable metal build
Sleek look
Double action
Cons:
Check Amazon
Best Beginner ASG AEG:
Though it looks rather large, the M15 Armalite is quite lightweight, making it a great gun for all-day games. This model is a replica of the Armalite AR-15 rifle with an ARMS SIR rail attached, which was used by the U.S. special forces, so it's no wonder the airsoft version is so popular.
Possibly manufactured by Classic Army, this AEG airsoft rifle has a 14.5-inch metal barrel, with polymer for the rail system and receivers. The battery is stored in the handguard, though you do need to buy one separately, as well as the charger for it, as these pieces are not included with the gun.
The LE stock is adjustable, allowing you to choose one of six positions for it. There is a high-capacity 350-round magazine included, plus this rifle is compatible with all standard M4 mags, so you can get as many as you need for any situation. It also has an FPS of 380, so should be good to go on most airsoft fields.
Pros:
Adjustable stock
High-capacity magazine
Easy-access battery compartment
Cons:
No battery or charger included
Check Amazon
ASG Airsoft Final Thoughts
When it comes to airsoft guns, ASG is a leader in replicas and accessories, even if they don't actually manufacture the majority of their products themselves. Their exclusive licensing agreements with so many firearms manufacturers make them a top choice for those looking to add some realistic replicas to their airsoft arsenal. Best of all, they offer quality products at a wide range of prices, so you can get a great airsoft gun without breaking your budget.
Thank you for visiting iamairsoft.com! If you like any of the products that you see in this article, please click on one of the BUY NOW buttons to make your purchase on Amazon. As an Amazon affiliate, we make a small commission off any purchase made through our website. This commission is how we can provide you with informative articles. You will not pay more on Amazon if you click through our website because the price is the same. For more great products and information about the game, check out our Airsoft Buyers Guides and Airsoft U!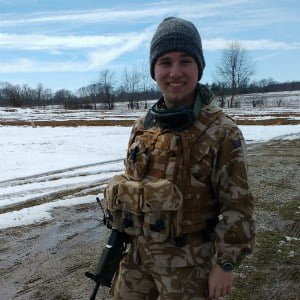 Noah Mains is a writer, an airsofter, and most importantly, he's stuck in the 80s. From Colt SMGs to David Bowie to brick phones, he has an acute appreciation for the greatest decade, and is more than happy to share his enthusiasm for the ALICE gear system (the superior loadout, of course) with anyone who'll listen.
Even More Related Buyers Guides: