Airsoft enthusiasts always appreciate quality guns. That's why so many airsofters choose G&G Armament products for their airsoft needs. This brand has been in the airsoft market for over 15 years, creating airsoft guns that are as reliable as they are durable, thanks to the high-quality materials and the attention to detail that goes into each product. G&G also has a wide variety of products to choose from, so every airsofter can get the exact gun their looking for. If you're interested in what G&G Armament has to offer in the world of airsoft, keep reading.
Short On Time? Here Is The Bullet List:
**Below are our more detailed reviews. Click the links above to see current prices or read customer reviews on Amazon.
Origins of G&G Armament
G&G Armament, which is officially known as Guay & Guay Armament, was established in 1986. The started out designing and manufacturing a variety of tactical gear, plus they focused on reselling military-themed products such as action figures, airsoft guns, and other memorabilia that were made by other companies.
It wasn't until 2001 that they entered the airsoft world in terms of manufacturing their own products. Their first AEG was sold in-house in 2004. Three years later, G&G developed a pneumatic blowback system that enhanced the realism of the AEGs they produced.
This system is designed to bleed some compressed air out of the cylinder, which cycles a replica bold carrier found inside the receiver. This is different than most electric blowback systems on the market since the pneumatic version doesn't cause the same amount of wear and tear to the gearbox, so it lasts longer than the ones on the electric systems.
In 2017, G&G also created its first gas blowback pistol, giving airsoft enthusiasts even more options to choose from within this brand.
What Does G&G Sell in the Airsoft Market?
When it comes to airsoft guns, G&G mainly manufactures AEGs. This includes several M4/AR-15 variants, some of which are based on real-world firearms. The rest are all G&G original designs. There are also quite a few other rifle types under the G&G name, including the AK5C, the F2000, the Sig 55x series rifles, and a few AK-pattern rifles, just to name a few.
There are even some CO2 bolt-action rifles manufactured by G&G. These include the replicas of the L96A1 and the Kar98k rifles. Recently, there have been some gas blowback pistols added to the G&G lineup, with a Beretta 92 replica as their very first model.
Does G&G Make Their Own Products?
G&G Armament isn't just a brand name, they are also a manufacturer. This means that they not only make their own products, but they also distribute them as well.
Where to Buy G&G Airsoft Guns
G&G Armament manufacturers mid- to high-end products, so they can usually be found in specialized airsoft stores around the world. They can also be bought off of many online marketplaces, such as Amazon, AirsoftGI, Evike, and a few others. Even local airsoft stores will likely have some G&G airsoft guns in stock.
Partial Listing of G&G Armament Products
Best G&G Airsoft Rifle for Beginners:
The Raider 2.0 is one of G&G's entry-level M4 models aimed at the airsoft hobbyists. It is built well, with some solid features that look great and perform well in pretty much any situation. This includes the polymer billet-style receiver, the M-Lok rail system, and the high-quality KAC-style iron sights that give you the precision shooting you need to hit your target every time.
This model also features a full metal Version 2 gearbox and an adjustable stock with battery storage inside. A Deans/T-connector attaches to the battery. Some find this to be a better option than the usual mini Tamiya-type connector since the Deans have low resistance and a larger contact area. The downside is that the Deans is less common, so you may need to rewire your batteries to make it work.
Another great thing about the Raider 2.0 is that it is fully compatible with standard M4 magazines, parts, and upgrades, so you can customize it as you see fit.
Pros:
Accurate
High-capacity 450-round magazine included
Adjustable stock
Cons:
Uncommon battery connector
Check Amazon
Best G&G Gas Airsoft Pistol:
The G&G GPM92 is a high-quality gas blowback pistol. It is modeled after the Beretta 92-derived M9A1 pistol, which was once used by every branch of the U.S. military. It has a durable full metal construction and is manufactured using molded aluminum and zinc alloy.
As well as having a high-quality build, the GPM92 pistol has a variety of features that make it one of the best GBB pistols on the market. Integrated into this gun is a 20 mm front frame rail, which allows you to mount a wide variety of accessories, such as lasers, lights, or action cameras. It also comes with a 27-round magazine, which is a pretty high capacity for a pistol, so your sidearm should have more than enough rounds to get you through a game.
As well as the gun and the magazine, there are also a BB loader and a pistol case included, so you have everything you need to get started with this pistol. It is relatively new, though, and quite popular, so many stores are having trouble keeping it on their shelves. This also makes it harder to get your hands on this gun and its accessories.
Pros:
Durable metal construction
27-round capacity
20 mm accessory rail
Cons:
Sights aren't adjustable
Barrel opening isn't as recessed as a real 9 mm
Check Amazon
Best G&G Airsoft Rifle:
This G&G airsoft rifle is a replica of the FN Herstal SCAR-L 5.56 rifle. It is compact for a gun of this type, making it a decent model for both field and CQB games. It is also ambidextrous, so you don't have to fumble with the controls, no matter which hand is your dominant one.
The G&G Scar-L has some great features, like the compact tower-style rear iron sight and the flip-up front sight that's been mounted on the gas block. The stock retracts, plus it includes an adjustable cheek pad and a rubber butt pad for added comfort. The stock also folds for easy storage or vehicle use and has plenty of room for battery storage.
The Scar-L also comes with a few handy accessories, such as a grip-pod-style vertical grip and an entry-level LiPO battery and smart charger. These are great extras, especially for the beginners who may not have invested in a LiPO yet. This airsoft gun is also compatible with many M4 magazines, parts, and upgrades for easy customization.
Pros:
Ambidextrous
Compact size
Well-built
Cons:
Check Amazon
Best G&G SMG:
Though the ARP-9 is an original G&G design, it is still similar to quite a few of the 9 mm AR-based carbines that you'd find in the real world. The design is heavily compact and includes a sliding stock that is similar to what you'd find on the AAC Honey Badger carbine.
This airsoft gun is durable, with a polymer billet-style receiver and handguard. It includes great features too, like the flip-up iron sights, the paddle magazine release, and the adjustable and collapsible PDW-style stock. The ARP-9 comes with a compact high-capacity 300-round stick magazine but there are mid-capacity mags available as well. There is also an ergonomic grip that has an enhanced trigger guard, which allows you to use this gun with gloves on.
Another great feature is the electronic trigger unit, which includes MOSFET circuitry that allows you to use a high-voltage battery like an 11.1V LiPO. The MOSFET also allows you to program the gun to fire in either a 3-round burst or in fully automatic, depending on the type of game you're playing.
Pros:
Lightweight
Great trigger response
Accurate
Cons:
Small battery compartment
Check Amazon
Best G&G Airsoft Bullpup Rifle:
The G&G F2000 is a replica of the FN Herstal F2000 bullpup rifle. The bullpup design gives it a compact size without reducing the length of the barrel. This gives you a smaller gun to use and store but doesn't sacrifice the accuracy or the muzzle velocity.
This airsoft gun has a variety of great features, such as the lightweight nylon fiber used in the body, the ambidextrous controls, and the full-metal reinforced 8 mm bearing with strong steel gears for increased durability. It also includes an integrated medium-magnification scope, which you can remove if you need to access the top rail system.
The large stock has plenty of room for battery storage, so you shouldn't run out during a game. This guns also comes in 2 colors, Flat Dark Earth (FDE) and black. The only downside is that it may have some feeding issues with certain magazine brands, so be sure to read up on them before you buy any spares.
Pros:
Lightweight
Integrated scope
Ambidextrous controls
Cons:
Feeding issues with some mag brands
Expensive
Check Amazon
G&G Armament Airsoft Final Thoughts
There are several airsoft brands on the market today, so choosing one can be a difficult task, especially if you want a quality gun that will last for a few years. G&G Armament is a great choice, giving you mid- to high-range guns with decent price tags and all the features you could want. This makes it much easier to get the guns you need for field or CQB games, or just for doing some target practice in your backyard.
Thank you for visiting iamairsoft.com! If you like any of the products that you see in this article, please click on one of the BUY NOW buttons to make your purchase on Amazon. As an Amazon affiliate, we make a small commission off any purchase made through our website. This commission is how we can provide you with informative articles. You will not pay more on Amazon if you click through our website because the price is the same. For more great products and information about the game, check out our Airsoft Buyers Guides and Airsoft U!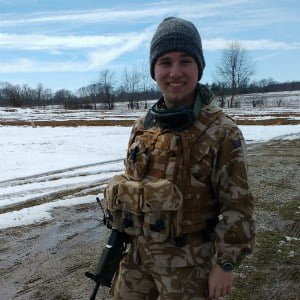 Noah Mains is a writer, an airsofter, and most importantly, he's stuck in the 80s. From Colt SMGs to David Bowie to brick phones, he has an acute appreciation for the greatest decade, and is more than happy to share his enthusiasm for the ALICE gear system (the superior loadout, of course) with anyone who'll listen.
Even More Related Buyers Guides: