ICS Airsoft believes in constantly creating innovative products that push the boundaries without sacrificing quality. They offer mid- to high-end AEGs and pistols that are built well with high performance while still maintaining a low cost. If you're considering an upgrade to your old airsoft gun, here's what ICS Airsoft has to offer.
Short On Time? Here Is The Bullet List:
**Below are our more detailed reviews. Click the links above to see current prices or read customer reviews on Amazon.
ICS Airsoft History
The original name for this company was Shih Shen, which was founded in Taiwan about 30 years ago. Like many other airsoft brands, they started out manufacturing toys and gas pellet guns.
It wasn't until 1995 that they renamed themselves. The formal title was I Chih Shivan Enterprise Co. but to their customers, they became ICS Airsoft. In 2018, they even created a motto to match the ICS part of their name, which became "Innovation Competition Satisfaction".
ICS Airsoft manufactured their very first airsoft gun in 2000. This was their metal MP5. In the following years, this company has become one of the top mid- to high-end airsoft brands around.
ICS Airsoft Products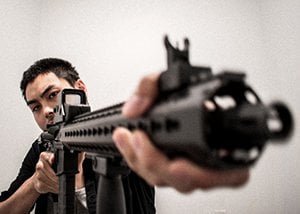 Since starting out in the airsoft world, ICS has mainly focused on manufacturing metal-bodied AEGs. Their current models include the M4 AEG rifles that fall under their CXP line. They also manufacture a variety of realistic-looking historical and modern metal AEGs.
ICS is also known for its unique design and patent on the split gearbox for their AEGs. This type of gearbox allows them to separate their M4 airsoft rifles into upper and lower receivers, plus drastically simplifies the changing process for the springs. This even makes it possible to pair different upper receivers and spring powers. This can turn a 320 FPS CQB airsoft gun to a more powerful 450 FPS DMR.
ICS has also manufactured a number of replica rifles during their history in airsoft guns. Some of these include the H&K MP5 and G36, the Sig 551 and 552, The British L85 bullpup rifle, and the Israeli Galil. The M4, M16, and AK-47, plus all their respective variants, are also included in this list.
When it comes to replicas, ICS has added some slight changes to the designs, so their models look a bit more futuristic than those in the real world. Though not outwardly stated, this may be done to help reduce copyright issues or lawsuits from those real-world firearms manufacturers.
In about 2008, ICS also added some plastic-bodied "sportline" variants of a few of their metal guns to their manufacturing list. This allowed them to provide their customers with a brand-average performance at a much lower price.
The current sportline products fall under ICS's Lightway name, referring to the lighter weight of the polymer material, though their older models still fall under the sportline category.
ICS also introduced their Black Leopard's Eye, or BLE, line of GBB pistols two and a half years ago. Rather than modifying a Tokyo Marui design for these ones, ICS uses their own in-house clean-sheet designs for them, earning some very high praise from airsofters in the process.
Does ICS Make Their Own Products?
ICS is proud of the fact that every one of the products under their brand name is designed and manufactured in-house by their company. There may be one exception to this, which is their BBs since no information about the manufacture of this specific product can be found.
Around 2010, many of the ICS products available were sold under the Airsoft Elite name. Though this brand is currently defunct, it is still possible to find some Airsoft Elite guns on secondhand markets today.
More Related Buyers Guides:
Where to Buy ICS Airsoft Guns
Since ICS guns are rated mid- to high-end airsoft products, it's likely easiest to find them at specialty airsoft retailers. This includes local airsoft stores, dedicated airsoft retailers, or even sites like Amazon, so it shouldn't be too hard to get your hands on the one you want.
Top ICS Airsoft Products
Best ICS AEG Assault Rifle:
The ICS L85 is a replica of the main service rifle currently used in the United Kingdom. The L85 is made of steel, which makes it a bit heavy at about 9 lbs. Of course, this also increases its durability, so it may be worth the extra weight.
This model has a bullpup design, giving you a shorter rifle without sacrificing the length of the barrel. It has a proprietary gearbox, so there aren't going to be any aftermarket replacements available for the gearbox shell. It uses common M4 magazines, though, so extras should be easy to come by.
Many of the parts are also easy to swap out as needed. This includes the internal fuses and the battery that is located in the handguard. The spring is also easy to change by removing the buttplate. Even the top carry handle and sights are simple to take off, though you may need an aftermarket rail mount to add any optics.
Pros:
Bullpup design
Solid build
Easy alterations
Cons:
Not left-hand friendly
Heavy
Learn More
Best ICS WWII-era AEG:
The ICS M1 Garand is a replica of the American service rifle used in both WWII and the Korean War. The barrel and trigger assembly are full metal, with walnut for the stock. These materials make this model a bit heavy at about 8.5 lbs, but the accurate and realistic construction make it a favorite among airsofters. The Garand even comes in a gold-plated 70th Anniversary Edition model.
The gearbox is mainly based on the Tokyo Marui specs. The internal parts can all be replaced as needed, though the shell cannot. The battery is located in the stock, making it simple to change it out. The 40-round removable magazine isn't exactly accurate to the real-steel clip-fed internal magazine of the real world gun, though. It is also a bit large for standard pouches, making it harder to carry a few extras during games.
Pros:
Metal and wood build
Accurate
High FPS
Cons:
Heavy
Large mags don't fit standard pouches
Learn More
Best ICS DMR AEG:
The CXP-MARS DMR is built to last, with full-metal CNC-finished billet-style aluminum-alloy upper and lower receivers, a full-metal upgradeable gearbox, and an adjustable hop-up. It has an 18″ barrel, a full-length rail, and an adjustable stock as well, making it a solid, durable airsoft rifle.
This model is 430 FPS right out of the box. It takes standard M4 upgrades and parts, plus comes with Keymod rails and handguard, so you can add any type of standard Keymod accessories that you like. There is an integrated MOSFET for high-voltage batteries, giving you better efficiency and response in the trigger. The batteries are stored in the stock for added convenience.
Other great features include the ambidextrous mag release and fire controls, the ergonomic motor grip, the folding CRS front, and rear sights, and the M120 spring for much more reliable performance. The included magazine has a 300-round capacity for less refilling in long games.
Pros:
Ambidextrous parts
Accurate firing
High-capacity magazine
Cons:
Learn More
Best ICS GBB Pistol:
This ICS airsoft pistol is part of the brand's Black Leopard's Eye full-metal GBB pistol line. It's compact and lightweight, so you can carry it easily, even during long games. The BLE-XFG isn't a one-pistol replica, either. It has a number of design cues that combine the best features of multiple real-world pistols, including the Glock 17, Sig P320, and HK45 pistols.
This product has a lot of great features, too. It is CQB-friendly, with an FPS rating of about 300. It has a high magazine capacity as well, holding up to 18 rounds, though some find the magazine release to be a bit awkward.
Another plus with this airsoft pistol is that it is built well. It uses metal for the slid and internal parts, with a polymer frame. It is also fully ambidextrous, with a Picatinny accessory rail that allows you to mount Mil-Std lasers and lights.
Pros:
Very light
Fully ambidextrous
High mag capacity
Cons:
Learn More
Best ICS Heavy Weapon:
If you want to add some extra power to your squad, the ICS MGL is a great addition to your team. A replica of the Milkor MGL, this airsoft model is made almost entirely of polymer, which keeps the weight down while giving you a decent gun that can handle some heavy use. This also keeps the price low, which leaves you with some extra cash to spend on grenades for it since these aren't included with the launcher.
The MGL is a 6-round rotary grenade launcher. It is hand-tensioned, so you need to rewind the cylinder before firing and then again when you reload. It is compatible with most of the standard 40 mm airsoft shells available and can be used with burst shells, BB shower, foam projectile, or many other options. The cylinder also swings out for easy reloading during a game.
Pros:
Inexpensive
Lightweight
Well-built
Cons:
No grenades included
Hand-tensioned
Learn More
ICS Brand Final Thoughts
There are a few reasons many airsofters choose ICS guns. This brand is in the mid- to high-end market for AEGs and GBB pistols but maintains a good value for the money. They also have a wide variety of unique and innovative designs to choose from. Those who are looking for an upgrade from their original entry-level airsoft gun to one that offers more balanced performance and a higher external quality should add the ICS brand to their list of airsoft guns to check out.
Thank you for visiting iamairsoft.com! If you like any of the products that you see in this article, please click on one of the BUY NOW buttons to make your purchase on Amazon. As an Amazon affiliate, we make a small commission off any purchase made through our website. This commission is how we can provide you with informative articles. You will not pay more on Amazon if you click through our website because the price is the same. For more great products and information about the game, check out our Airsoft Buyers Guides and Airsoft U!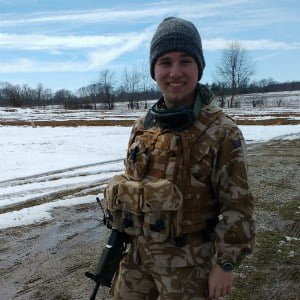 Noah Mains is a writer, an airsofter, and most importantly, he's stuck in the 80s. From Colt SMGs to David Bowie to brick phones, he has an acute appreciation for the greatest decade, and is more than happy to share his enthusiasm for the ALICE gear system (the superior loadout, of course) with anyone who'll listen.
Even More Related Buyers Guides: