Are you looking for the best of the bests in the world of airsoft? Do you want airsoft guns that not only work, but look super realistic? Whether you are new to airsoft or you have been participating for years having a realistic look greatly enhances your game or role-play experience. For over 50 years, Umarex has been providing their customers with the most realistic looking airsoft reproductions and firearm replicas.
Short On Time? Here Is The Bullet List
**Below are our more detailed reviews. Click the links above to see current prices or read customer reviews on Amazon.
Origins of Umarex GmbH
Founded in 1972, Umarex originated in Germany. The first product they manufactured was the Perfecta G1, which was a blank-firing pistol. After the success of the Perfecta G1, Umarex decided to expand their market moving into the recreational non-toy air gun market. This expansion was successfully as it allowed their German consumers to enjoy target shooting without having to obtain a deadly weapons permit.
In 1992, Umarex decided to expand even further into the firearm manufacturing arena with their acquisition of Walther. Walther is a well-known company behind a number of popular firearms, including the Walther P38 from WWII and the Walther PPK carried by Ian Fleming's James Bond character. Firearms weren't the only thing Walther was known for. By the time Umarex acquired the company Walther had already made a name for themselves as a high quality manufacturer of target airguns and airgun barrels.
In 2006, the German parent company of Umarex decided they needed to expand even further and came to the United States as Umarex USA. Under this part of the company, they began offering paintball guns and air rifles, but most importantly they began offering airsoft rifles and pistols.
Types of Airsoft Guns Umarex Offers
Now that you know a little about who Umarex is and how they got started in the airsoft market, let's take a closer look at what they sell. Interesting to note is that Umarex has several sub-brands that they use to market and sell a lot of their airsoft products.
Umarex Tactical Force
This line of products by Umarex is considered their entry level hobby-grade line. These products offer players the bare minimum when it comes to competitive play. The designs featured in this line are often the older designs that were first introduced back in early 2010. This line of products is slowly being phased out by Umarex and can only be found in select department stores.
Umarex Combat Zone
Although this line of products is sold widely in a variety of departments stores, it is not a product line we would recommend. The line is being phased out as it is made up of mostly old designs. The biggest downfall to this line of product is they are what we term toy-grade spring, gas, and low-grade electric guns.
Umarex Legends
This line of products is currently one of Umarex's more active lines. Products offered under this sub-brand are historical replicas of firearms from mainly the American Old West and WWII. One thing to pay close attention to when purchasing products under this label is all products are available as airsoft guns and non-toy air guns, pay attention to see which one you are purchasing.
Umarex
Yes, this product line is the same as their parent company's name. Many of the newer products they offer are being sold under the Umarex name, there is very little sub-branding going on with the newer lines. Products found under the Umarex label are considered hobby-grade and range from low-grade to mid-end.
Elite Force
Although this product line is a branch of Umarex it has been kept separate for branding purposes. The separate brand focuses on all of Umarex's high-end airsoft products. We won't go into any more detail on this line because we will be covering it more in depth in another post.
When it comes to selling products one of the strengths Umarex has is their ability to acquire licensing rights from real-steel firearm manufacturers. Currently Umarex holds the licenses from Glock, Berretta, and H&K for their airsoft replicas. All of these products are sold under Umarex and Elite Force brands. Even though Umarex holds the licenses for these brand replicas that doesn't mean you can't find unlicensed replicas that are lower in price, but with a similar quality of manufacturing.
Does Umarex Make Their own Products?
When it comes to airsoft products, Umarex generally does not make their own products. Most of the Umarex airsoft guns that you see for sale are made for Umarex by another established airsoft gun manufacturer. These other manufacturers make the products under the licensing rights that were acquired by Umarex. Some of the companies that have made airsoft products for Umarex in the past include VFC (Vega Force Company, S&T, ARES, and WELL (a company that manufacturers low-end AEGs).
One thing to take notice of is that frequently you can purchase the same exact airsoft gun from the original manufacturer overseas at a lower price than if you were to purchase a replica from one of the sub-brands of Umarex. The perfect example of this is the OEM'd by S&T. With the Legends series of airsoft guns Umarex does contract manufacture those products.
Where can you Purchase Umarex Airsoft Guns?
Where you can purchase Umarex airsoft gun products will depend on the products you are looking for. If you are after the low-end Umarex airsoft guns they are easily found in various department stores and some sporting goods stores. If you are looking for the higher end Umarex guns you are going to need to look at dedicated airsoft shops. However, you can find some online retailers that sell the high end Umarex products.
Best Umarex Products on the Market
Best Umarex Gas Pistol for Beginners:
The Umarex Combat Zone Enforcer is an excellent choice for beginning players as it is a reliable non-blowback CO2 powered pistol. The full plastic construction is durable enough for beginning players and can withstand hours of play. The Combat Zone Enforcer uses a standard 12 gram CO2 cartridge and 15 round stick magazines. The CO2 cartridges claims you have 200 rounds, but in reality it is more like 160 to 180.
The manufacturer for the Umarex Combat Zone Enforcer is not known, but that doesn't affect the gas pistol at all. A downfall to this beginner's choice is that although additional mags are available for purchase they are hard to find because they are low in availability. The FPS on this sidearm is on the higher side, which means some fields may not permit players to use it unless they modify it to lower the FPS.
Pros:
Reliable and solid construction
Great beginner's option
Affordable
Accurate
Cons:
High FPS
Low availability of extra mags
Check Amazon
Best Umarex Gas Pistol for Veterans:
The Umarex Glock 19 NBB is another non-blowback option from Umarex that is CO2 powered. The Glock 19 NBB uses small stick magazines that are very similar to the ones used by the Combat Zone Enforcer. One of the greatest things about the Umarex Glock 19 NBB is that it will fit a lot of real-steel Glock accessories, including the weaponlights and holsters for the Glock 21.
For its selling price, the metal alloy slide is a huge bonus. If you are a reenactor or even a collector you will enjoy the licensed trademark located on the slide. Unlike the Combat Zone Enforcer spare magazines for this model are widely available. The downside to the Glock 19 NBB is its 11 round capacity is a lot lower than other pistols and lower than the real steel weapon. Like the Combat Zone Manufacturer, the manufacturer of the Umarex Glock 19 NBB is unknown.
Pros:
Authentic looking and trademarked
Trigger has a button safety
Accurate aim
Cons:
Check Amazon
Best Umarex Electric Pistol:
The Umarex Beretta 92 Electric NBB Pistol is an excellent choice if you are looking for a realistic looking airsoft gun that features non-blowback operation. The low-powered electric pistol offers a durable plastic construction and is powered by four AA batteries. The airsoft gun utilizes a 16 round curved stick magazine and offers a single grip safety mounted below trigger guard.
The slide features licensed trademarks, which makes a great selling point for collectors and those that are looking for realistic reenactments. Although you can purchase additional mags to have on hand, the challenge is finding them available for purchase. Like the Combat Zone Enforcer they are available, but they are nearly impossible to find. While the name of the manufacturer has not been stated, there is a possibility the airsoft gun is manufactured by WELL as they offer similar products to this one.
Pros:
Reliable and accurate
Realistic design
Mounted trigger guard
Cons:
Extra mags are hard to find
Check Amazon
Best Umarex CQB Electric Airsoft Rifle:
If you are looking for a mid-grade hobby airsoft rifle look no further than the Umarex H&K UMP Competition Airsoft Rifle that belongs to part of the Competition series of airsoft guns. Although this is the mid-grade version, Umarex also makes a high-end version that can be purchased under the Elite Force brand of Umarex. The H&K UMP Competition features a polymer construction with a metal gearbox. The airsoft rifle requires high capacity UMP magazines that are easy to find for those who wish to keep additional mags on hand.
The H&K UMP Competition offers a folding stock, which is great for using the airsoft rifle in close quarters or for stowing purposes. The rail mounts allow for the addition of a compatible scope or sight, as well as other forward accessories including vertical or angled grips, bipods, or a weaponlight. Manufactured by S&T these mid-grade airsoft rifles have a few downfalls. The handguard doesn't leave much space for battery storage and there are fewer upgrades available for this airsoft rifle due to its proprietary gearbox.
Pros:
Realistic design
Folding stock
Ability to add accessories
Cons:
Plastic body flexes and creaks
Check Amazon
Best Umarex Electric Assault Rifle:
Another mid-end hobby grade airsoft rifle that belongs to the Competition series of airsoft guns is the Umarex IWI T21 Tavor. The high end version of this mid-end option can also be found under Umarex's Elite Force brand. The polymer construction and metal gearbox create a durable design, but the BAS plastic is nowhere near the quality offered on the higher end version as it is a nylon fiber body. Extra magazines are easy to find, as the airsoft rifles uses any standard airsoft M4 AEG magazine.
Manufactured by S&T, the Umarex IWI T21 Tavor features a bullpup layout that pushes the center of balance to the shooters body and lowers the overall length of the design. The airsoft rifle offers rail mounts for scopes and/or sights, as well as a removable handguard giving you the ability to replace it wil a real-steel upgraded handguard. Other benefits to the IWI T21 Tavor include a quick spring change system in the buttstock that allows you to alter the airsoft gun's FPS while on the go, an ambidextrous hopup access and flip-up iron sights.
Pros:
Lots of features
Uses standard M4 AEG magazines
Reliable and accurate
Cons:
Air seal issues between gearbox and nozzle
Check Amazon
Umarex Final Thoughts
Even though UMAREX doesn't manufacture very many of their own products that doesn't make them any less of a contender in the airsoft market. Through their role as a licenser and distributer all of their US customers have the ability to purchase toy-grade through mid-end hobby grade replicas of various handguns and rifles. Many of these products also feature accurate licensing and trademarks from their firearm manufacturers, including but not limited to Glock, H&K, and Beretta.
Thank you for visiting iamairsoft.com! If you like any of the products that you see in this article, please click on one of the BUY NOW buttons to make your purchase on Amazon. As an Amazon affiliate, we make a small commission off any purchase made through our website. This commission is how we can provide you with informative articles. You will not pay more on Amazon if you click through our website because the price is the same. For more great products and information about the game, check out our Airsoft Buyers Guides and Airsoft U!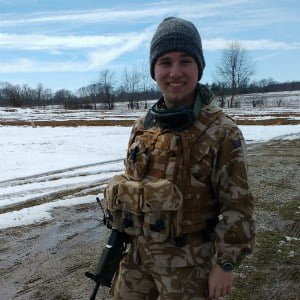 Noah Mains is a writer, an airsofter, and most importantly, he's stuck in the 80s. From Colt SMGs to David Bowie to brick phones, he has an acute appreciation for the greatest decade, and is more than happy to share his enthusiasm for the ALICE gear system (the superior loadout, of course) with anyone who'll listen.
Even More Related Buyers Guides: