Airsofters who have gone beyond the beginner stage may want to upgrade to products with a bit more attention to detail. Luckily, Elite Force is one of the brands that offer premium quality products for all levels of experience. If you're looking to up your game with some Elite Force airsoft guns and ammo, read on.
Short On Time? Here Is The Bullet List:
**Below are our more detailed reviews. Click the links above to see current prices or read customer reviews on Amazon.
Elite Force Origins
Umarex GmbH originated in Germany, primarily focusing on blank-firing pistols. Non-toy target air rifles and pistols soon followed but it wasn't until the early 2000s that this company branched out into the world of airsoft. A few years later, the Elite Force line came into production, becoming a premium-level brand most airsofters have come to love.
Types of Elite Force Airsoft Guns
Elite Force has a few different types of airsoft products available, including a few sub-brands worth noting.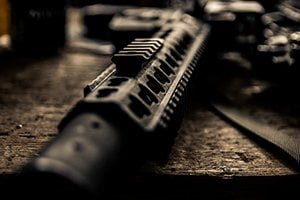 Elite Force
The main Elite Force line is full of hobby-grade products that offer the bare minimum for most types of competitive play. These products include the older designs made around 2010. Though they are still sold in select department stores, this line is slowly being phased out for newer models.
Umarex Elite Line
These products are similar to the ones sold under the Elite Force brand name, though they have been upgraded to mid- and high-level products. They may be sold under the Umarex Elite line or the Elite Force Line, depending on where you're shopping.
Elite Force Legends
Also known as Umarex Legends, this line is the one that is currently active in production. These focus on historic firearm replicas, mainly designed in WWII and American Old West styles. You do need to watch what you're buying when shopping in this line, though, as both non-toy air guns and airsoft guns are available with this label.
Elite Force BBs
The Elite Force BBs are highly regarded among airsofters, due to their great quality. These are packaged in a signature bottle and are easy to find for added convenience.
Licensing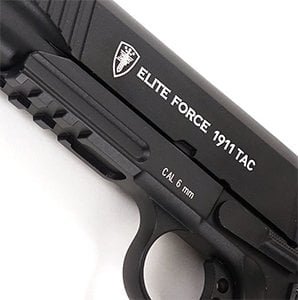 Since the Elite Force brand has Umarex as its parent company, they have access to a wide variety of real-world firearm licenses. This includes licenses for all of the Beretta, Glock, and H&K airsoft replicas. This allows both Elite Force and Umarex to create and sell these types of products.
Of course, there are some other brands out there that manufacturer similar replicas at a lower cost without the licensing, though the quality may not be up to the standards the Elite Force brand has to offer.
Manufacturing
When it comes to the airsoft market, Elite Force doesn't actually make its own products. Instead, this brand is made for Umarex by another established manufacturer of airsoft guns using a license Umarex has acquired. Some of the firms that have partnered with Elite Force include Vega Force Company (VFC), S&T, and even ARES on occasion.
Some customers have taken advantage of this outside manufacturing, purchasing their airsoft guns directly from the manufacturer instead of from the brand. This saves them a bit of money, especially when buying from S&T.
VFC has the added bonus of offering other guns similar to the Elite Force brand, though without the licensing they do lack some of the features found on Elite Force models, including the H&K airsoft guns. These are also a bit harder to find in the United States.
The exception to this is the Elite Force Legends airsoft line, which Elite Force contract manufactures. Their H8R and 1911 pistols also fall under this category.
Where to Buy Elite Force Airsoft Guns
Most of the Elite Force airsoft guns on the market need to be purchased from a specialty retailer. This includes local airsoft and paintball stores or you can go online to airsoft retailers like Evike, Airsoft Station, or Airsoft GI. There are also the more generalized sites like Amazon or eBay, which some people prefer to get those models they can't find anywhere else.
Top Elite Force Products
Best Elite Force Semi-Automatic Airsoft Pistol:
The Elite Force 1911 Tac is a great airsoft gun for beginners for a few reasons. First of all, this full metal pistol is durable and simple to use, even for those picking up an airsoft gun for the first time. The blowback is a bit strong, but still easy to manage. There are even a few color options to choose from.
The 1911 uses proprietary C02 magazines with a standard 12g CO2 cartridge, which should be easy to find in almost any sporting goods store in your area. It has a high FPS, which is fine for target practice at home, though some modifications may be required for field use. This model also isn't really parts compatible with other 1911 airsoft pistols, so upgrades aren't really an option.
Pros:
Great beginner gun
Nice build quality
Accurate shooting
Cons:
Minimal parts compatibility with other airsoft 1911 pistol
High FPS for field use
Check Amazon
Best Elite Force Revolver:
The Elite Force H8R has a great low price that will appeal to beginners but also includes some great features that will attract veteran airsofters as well. Though its construction is mostly plastic with some metal parts thrown in, it is still a solid, durable airsoft gun. Because of the revolver design, it has no blowback to speak of, so you can fire it in double action.
The Gen 2 comes with a few upgrades from the previous version. This includes the green night sights and the hop up system, which is adjustable to give you even more range. Unlike some other revolvers that use individual shells to hold the BBs, this one includes 5 discs that each hold 10 rounds. These snap right into the cylinder quickly for speed reloads on the field.
Pros:
Capable of speed reloads
Upgraded hop up
Decent price
Cons:
Check Amazon
Best Elite Force AEG Rifle:
The Hk416 A5 comes with all the licensing and features that H&K has to offer, making it one of the top electric airsoft rifles around. It is extremely durable, with solid metal construction and a high-end internal system that are right on par with other models in the VFC Avalon line.
The updated rail system includes integrated front and rear sights, which flip up when you need them and fold down again for storage or travel. This model also accurately replicates H&K's gas piston system. It uses standard M4/STANAG magazines and takes standard V2 gearbox upgrades.
Other great features include the ambidextrous magazine release, the enlarged magwell, the updated bolt release, and the larger trigger guards for bigger hands or colder days when gloves are a necessity. The downside is that the battery and charger do need to be purchased separately.
Pros:
Durable construction
Quick reloads
Ambidextrous magazine release
Cons:
Battery and charger not included
Check Amazon
Best Airsoft BBs:
Like with all BBs, you need to find the best weight for the gun you're using. For instance, the 0.2g BBs are best for low-powered rifles, shotguns, or spring pistols. Rifles with a shooting range of 350-425 FPS work best with 0.25 or 0.28g. Snipers rifles or DMRs that shoot above 425 FPS need heavier BBs of 0.32g or higher.
Luckily, the Elite Force BBs come in a variety of weights, so you can get the right ones for the airsoft guns you're using. They also come in different quantities as well, giving you as many as you need for the day or for multiple games. These BBs are also decently priced, so you won't spend a fortune on your airsoft ammo, even if you frequent the events in your area. The polished uniform construction even helps improve your accuracy.
Pros:
Polished uniform construction
Multiple sizes and quantities
Unique screw-top bottle
Cons:
Not environmentally friendly
Check Amazon
Best Biodegradable Airsoft BBs:
There are many airsoft fields that require the use of biodegradable BBs, to keep the environment clean and healthy. That's why Elite Force has added the Bio BBs to their manufacturing list. These BBs actually break down over time just from regular exposure to water and the sun, keeping pollution to a minimum and reducing cleanup at the same time.
These BBs are relatively inexpensive, though they are a bit pricier than the regular BBs on the market. They have a polished uniform construction for increased accuracy. There are a variety of weights to choose from, so you can get the right ones for your pistols, rifles, or DMRs. There are a few quantity options to choose from as well, all of which are conveniently packaged in an airtight container, which helps increase their lifespan.
Pros:
Safe for the environment
Polished uniform construction
Multiple weight and quantity options
Cons:
Check Amazon
Elite Force Airsoft Final Thoughts
Whether you're just a beginner or have moved up to the expert ranks in the airsoft world, you'll likely want some decent equipment to use. That's why many airsofters are choosing Elite Force airsoft products. These pieces are durable and well-built, giving you premium gear at a decent price.
Thank you for visiting iamairsoft.com! If you like any of the products that you see in this article, please click on one of the BUY NOW buttons to make your purchase on Amazon. As an Amazon affiliate, we make a small commission off any purchase made through our website. This commission is how we can provide you with informative articles. You will not pay more on Amazon if you click through our website because the price is the same. For more great products and information about the game, check out our Airsoft Buyers Guides and Airsoft U!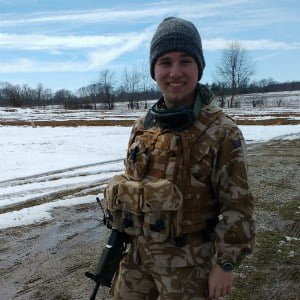 Noah Mains is a writer, an airsofter, and most importantly, he's stuck in the 80s. From Colt SMGs to David Bowie to brick phones, he has an acute appreciation for the greatest decade, and is more than happy to share his enthusiasm for the ALICE gear system (the superior loadout, of course) with anyone who'll listen.
Even More Related Buyers Guides: