Though they haven't been around very long, Valken Tactical has made a name for themselves in the airsoft world. They offer a wide range of airsoft guns, accessories, and protective gear to their customers. Their airsoft gear is generally fairly reliable and available at a wide range of prices, which makes them a great choice for novice and expert airsofters alike. To find out more about this brand and what they have to offer, keep reading.
Short On Time? Here Is The Bullet List:
**Below are our more detailed reviews. Click the links above to see current prices or read customer reviews on Amazon.
Origin of Valken Sports
Valken Sports is based in New Jersey, USA. In 2008, this company began as a major brand and distributor of paintball supplies. It wasn't long before they started incorporating other outdoor sports products into their lineup.
In 2017, the created their Valken Tactical line of airsoft products, mainly focusing on rebranding SRC airsoft guns. They have also become a distributor for several other airsoft brands in the United States, including Airsoft Innovations and Umarex.
As well as selling the products of other brands, Valken has created its own HPA drop-in system for airsoft guns, called the Valken V12.
What Does Valken Tactical Sell in the Airsoft Market?
This company has a few different names that are used to sell their house brands, including Valken, V-TAC, and Valken Tactical. They mainly focus on low- to mid-end combat gear and some M4-based AEG airsoft guns. They also have a rather inexpensive HPA engine for sale, called the Valken V12. Many of the guns they sell have the V12 preinstalled.
There are quite a few companies that do original equipment manufacturing for Valken, including Star Rainbow Corp. (SRC) and Pyramex. This allows them to maintain their brands without doing the manufacturing themselves.
As well as their own products, Valken also distributes airsoft products in the United States for several other brands. These include Airsoft Innovations, KJW, Umarex/Elite Force, Tiberius and G&G.
Does Valken Make Their Own Product?
When it comes to their airsoft products, Valken generally doesn't make their own stuff. They do not own any production facilities at all. All of the airsoft guns, accessories, and gear that are sold under the Valken brand names are manufactured in a variety of other places by SRC or other third-party manufacturers.
More Related Buyers Guides:
Where to Buy Valken Airsoft Guns
If you're looking to buy Valkens airsoft guns, it shouldn't be too hard to get your hands on the one you want. You might be able to find the low-end products at sporting goods stores or department stores. The high-end Valken airsoft guns can be purchased in their online store. You can also find these models at dedicated airsoft shops or on some other online retailers.
Valken Airsoft Products on the Market
Best Valken HPA Gun:

The Valken Tiberrius T15A1 is the flagship gun of this brand's airsoft line. It looks like an upgraded copy of the Tippmann HPA M4 operating system. This gun features a tank-in-stock approach, which integrates the air tank and the regulator right into the rifle itself. This eliminates the need for a remote airline, plus you don't need to carry a clumsy air tank backpack.
The body is made of durable aluminum die-cast with a Type III anodized finish to keep it in perfect working order in even the most rugged terrain. It also uses high-quality internal mechanics. It is compatible with many of the real-steel upgrade parts, like the pistol grip and the handguard, as well as standard M4 AEG magazines. The magazine release and the fire selector are both ambidextrous for added convenience.
It does have some flaws, though. The hop-up system is proprietary, making it hard to find replacement parts for it if needed. It also has a chunk of warning text located right on the receiver, which looks a bit ugly.
Pros:
Compatible with many real-steel upgrade parts
High-quality internal mechanics
Durable construction
Cons:
Expensive
Warning text is written right on the receiver
Learn More
Best Valken Accessory:
When you're out on the airsoft field with BBs flying at you from all directions, it won't be long before one hits your gun. This can knock out the sights or break your scope. Not only does this mean you'll have to play the rest of the day without them, but you'll also have to replace them. This can get pretty expensive over time.
To prevent this, you may want to try out Valken's Rail-Mounted Sight Protector. It is a necessary item to prevent the damage to your red dot sights and scopes. This piece attaches right to your rail, flipping up during your game and down when you're done. It also comes with two lenses, so you always have a spare, just in case one of them breaks.
This shield is made of durable acrylic, so it won't break, even if it gets hit with a few BBs during a game. It is also lightweight, so it won't weigh down your gun when you're trying to shoot. It isn't known who manufacturers this sight protector but this likely won't be an issue for most of the people using it.
Pros:
Protects optics
Flips up or down as needed
Thick acrylic
Cons:
Check Amazon
Best Valken Gun Bag:
If you spend a lot of your time traveling to games and back, you're going to need a decent carry case to hold them all. This not only keeps everything together, but it also makes it easier to transport your guns and all their accessories from point A to point B.
This soft case from Valken is a low-frills inconspicuous model, so it won't draw too much attention while allowing you to carry your guns. It is 36 inches long, so is perfect for most SMGs, bullpup rifles, and carbines that have adjustable stocks. The soft case may not be long enough for longer M16, M14, or RPK rifles, though.
The Valken soft case has multiple colors to choose from. It includes a large exterior pocket, which actually consists of 5 pouches with a large flap. This can hold your smaller magazines, ammo, eye protection, or batteries. There are interior straps for securing your guns, though these aren't fully reconfigurable. It also has some padding on the inside and comfy carry handles on the outside.
Pros:
Multiple color options available
Exterior pockets
Padded interior sides
Cons:
Check Amazon
Best Valken Gas Blowback Pistol
The Valken AV P17 is a sci-fi take on the Glock-style handgun, so it looks sleek and cool. This model is manufactured by an airsoft company called HFC and has been rebranded for Valken to sell. It includes great features like a threaded barrel, side cutouts, and a single-channel sight that is snag-free, so you won't struggle to get it out of your holster.
The AVP17 has a high-strength polymer frame, with a metal barrel, slide, and fire control parts. There is an accessory rail that is integrated right into the bottom of the barrel, so you can add a tactical flashlight or a laser sight if needed. To make it more comfortable to hold, this pistol includes a rubberized grip sleeve, which is also removable.
This GBB pistol includes a high-capacity 26-shot magazine, plus is compatible with most of the G-series airsoft magazines that are on the market today, including the WE G17 mags. Though it is also compatible with a trigger safety, for some reason the parts weren't actually installed, so you'll need to buy them separately and install them yourself.
Pros:
Comfortable rubber grip
Built-in sight
Polymer frame with metal components
Cons:
No trigger safety installed
Check Amazon
Best Valken BBs:
Low-quality BBs won't fly straight or well, so you'll have trouble hitting what you're aiming at. To ensure you're getting the most out of your BBs, you need some that are well-made to help increase your accuracy on the field.
Valken's Accelerate BBs are one of the most well-regarded BBs in the world of airsoft. They are 6 mm in size, with a weight of .25 grams. This weight gives you the perfect balance between momentum and velocity, which is a must for most of the field-level rifles on the market.
Another great feature these BBs have to offer in the way they are made. They are tumble-polished and seamless, which they have in common with most of the other enthusiast-grade BB brands. This allows them to move smoothly through the barrel of your airsoft guns. These BBs are also biodegradable, so you can use them on pretty much any airsoft field around. You won't have to worry about collecting them after the game is over or about polluting the planet if you leave a few behind.
Pros:
Seamless
Tumble-polished
Biodegradeable
Cons:
Check Amazon
Valken Tactical Airsoft Final Thoughts
Valken Tactical hasn't been around as long as some other brands but has still made a name for themselves in the airsoft world. They have a wide range of products, including guns, accessories, and gear, so you'll be able to get almost anything you need from this brand. Valken also offers these products in a wide range of price points, so you can find the perfect model for you, even on a budget.
Thank you for visiting iamairsoft.com! If you like any of the products that you see in this article, please click on one of the BUY NOW buttons to make your purchase on Amazon. As an Amazon affiliate, we make a small commission off any purchase made through our website. This commission is how we can provide you with informative articles. You will not pay more on Amazon if you click through our website because the price is the same. For more great products and information about the game, check out our Airsoft Buyers Guides and Airsoft U!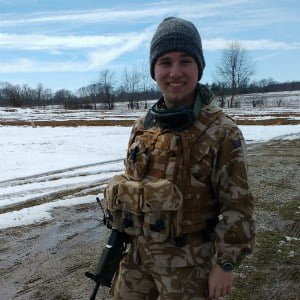 Noah Mains is a writer, an airsofter, and most importantly, he's stuck in the 80s. From Colt SMGs to David Bowie to brick phones, he has an acute appreciation for the greatest decade, and is more than happy to share his enthusiasm for the ALICE gear system (the superior loadout, of course) with anyone who'll listen.
Even More Related Buyers Guides: